Twins won't call up pitching prospect Berrios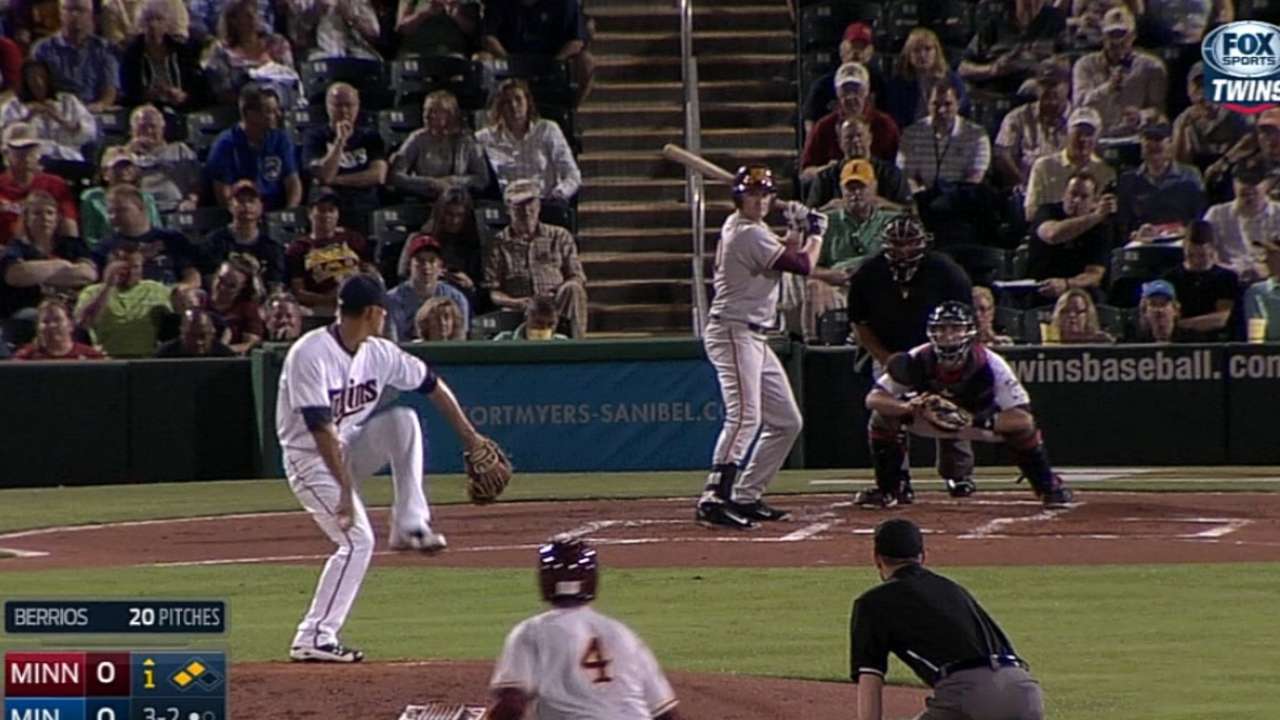 MINNEAPOLIS -- Top pitching prospect Jose Berrios will not be called up to the Majors this season, Twins general manager Terry Ryan said Wednesday.
Berrios, ranked as the No. 23 overall prospect by MLBPipeline.com, pitched twice for Triple-A Rochester in front of Ryan this week. But Ryan said after thinking it over, he decided it would be best to shut down Berrios after the end of the Minor League season because he's nearing his innings limit.
Berrios, 21, threw 139 2/3 innings last year and is at a career-high 161 1/3 innings this year. He posted a combined 2.90 ERA with 170 strikeouts between Double-A Chattanooga and Rochester.
"Once the season concludes, he's going to go home," Ryan said. "I've been thinking about this for a while since I came back from there. But we're going to send him home once the season concludes. He's had a fine year, and I don't want to risk him getting hurt. He's near the amount of innings we wanted him to get to, so we don't want to take any chances with him."
Berrios will finish out the year with Rochester and will also be shut down over the winter, as the Puerto Rico native won't participate in winter ball. Ryan said it wasn't any easy decision to make, but thought it was the best for Berrios' future.
"It was difficult," Ryan said. "We're all sensitive to the innings, and there's no question that's a factor. He's also about 5-foot-11, 187 pounds, so it's not like this is a 6-4, 200-pounder. So I'm a little concerned we don't do any damage when he's built up a good resume."
Berrios is also not on the 40-man roster and doesn't need to be added until after next season. The Twins get an extra year of control if they decide to wait until mid-April to add him to the 40-man roster and call him up. But Ryan maintained the decision is about the innings limit and that Berrios will compete for a spot in the rotation in Spring Training.
"All the other stuff is secondary," Ryan said. "He's got a great future. If he was at 120 innings, it'd be a different story. People might say, 'Why didn't you shut him down?' But you don't shut down a 21-year-old to worry about innings in September. We're trying to develop this kid."
Ryan also added he never seriously considered promoting Berrios at any time this season, but that he understands why fans want to see Berrios up with the Twins in contention.
"A lot of people who follow this club are going to shake their heads and say, 'you're in a pennant chase.'" Ryan said. "And we are. But the right thing for the kid is to send him home. So that's the decision that was made today and was given to him. He's a respectful kid, and I'm sure he's not happy, but it's what we're going to do."
Rhett Bollinger is a reporter for MLB.com. Read his blog, Bollinger Beat, follow him on Twitter @RhettBollinger and listen to his podcast. This story was not subject to the approval of Major League Baseball or its clubs.