Miggy miffed by ejection for arguing strike call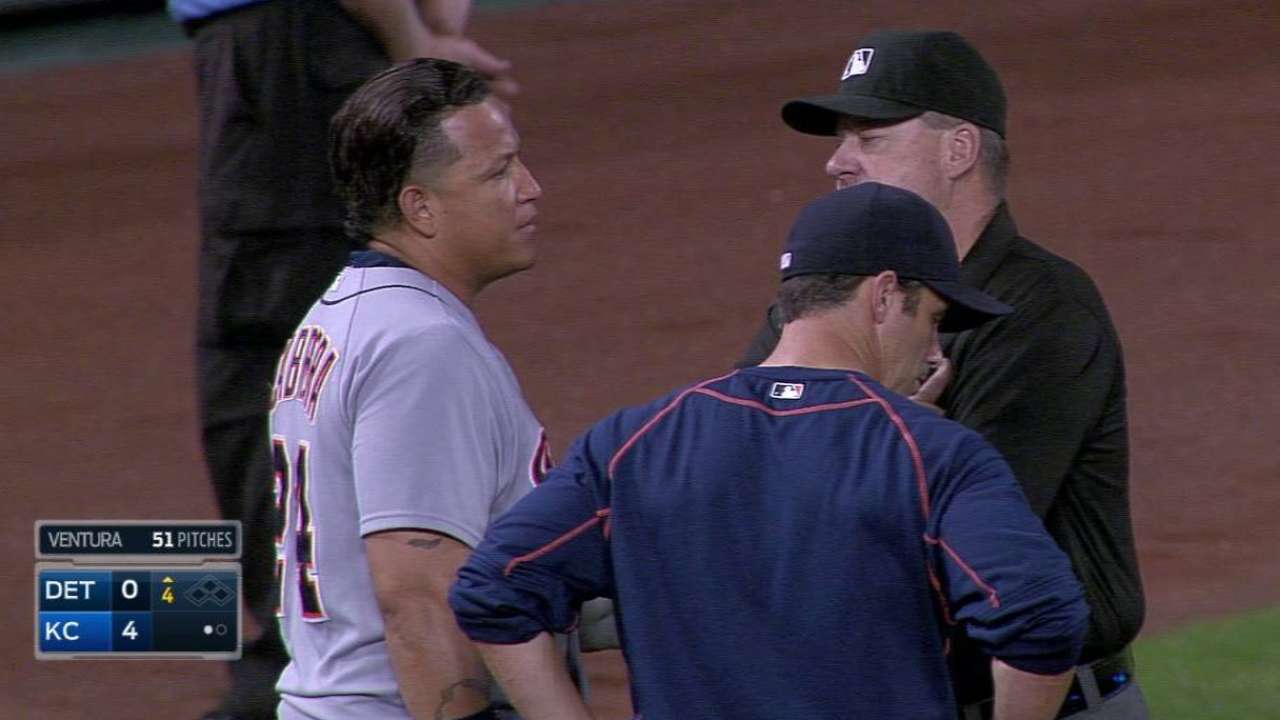 DETROIT -- The outcome of the Tigers' 12-1 loss to the Royals was decided relatively early. The drama, however, still lingered after the game, from Miguel Cabrera's argument and ejection over a called third strike to a trade of hit-by-pitches between Yordano Ventura and Randy Wolf.
Cabrera's seventh career ejection came not from home-plate umpire Quinn Wolcott, who made the call on Ventura's 99-mph full-count fastball leading off the fourth inning. Instead, crew chief Gary Cederstrom made the ejection from third base.
"I was walking to the dugout," Cabrera said. "I was saying, 'You've got to tell him to do his job. Don't tell me what I have to do.'"
MLB.com's Gameday showed the pitch around the upper portion of the inside corner. Cabrera, who singled off Ventura in the first inning, was incredulous, and made his displeasure with Wolcott known, still holding the bat as he spun around with his head tilted up. Wolcott gave him enough leeway for J.D. Martinez, who was on deck, and Victor Martinez, who was due up after that, to get in between them.
At some point, however, Cederstrom entered the dispute.
"I'm not exactly sure why he was thrown out at that point," manager Brad Ausmus said, "because he was heading back to the dugout at that point."
Cabrera was tossed as Ausmus tried to intervene. Cabrera then walked out to third base, his bat still in his hands, and went nose to nose with Cederstrom before being pulled away.
"I tried to do my job," Cabrera said. "I tried to get on base. We've got a long inning. If the umpire does what he wants to do, why do we play this game? Why are we there if we try so hard for mistakes you don't do, like they throw you out because they want to throw you out? Because that's his fault. That's not my fault [like] I call pitches down, inside, up and in. That's not my fault. I try to do my job. That's it."
Andrew Romine replaced Cabrera at first base.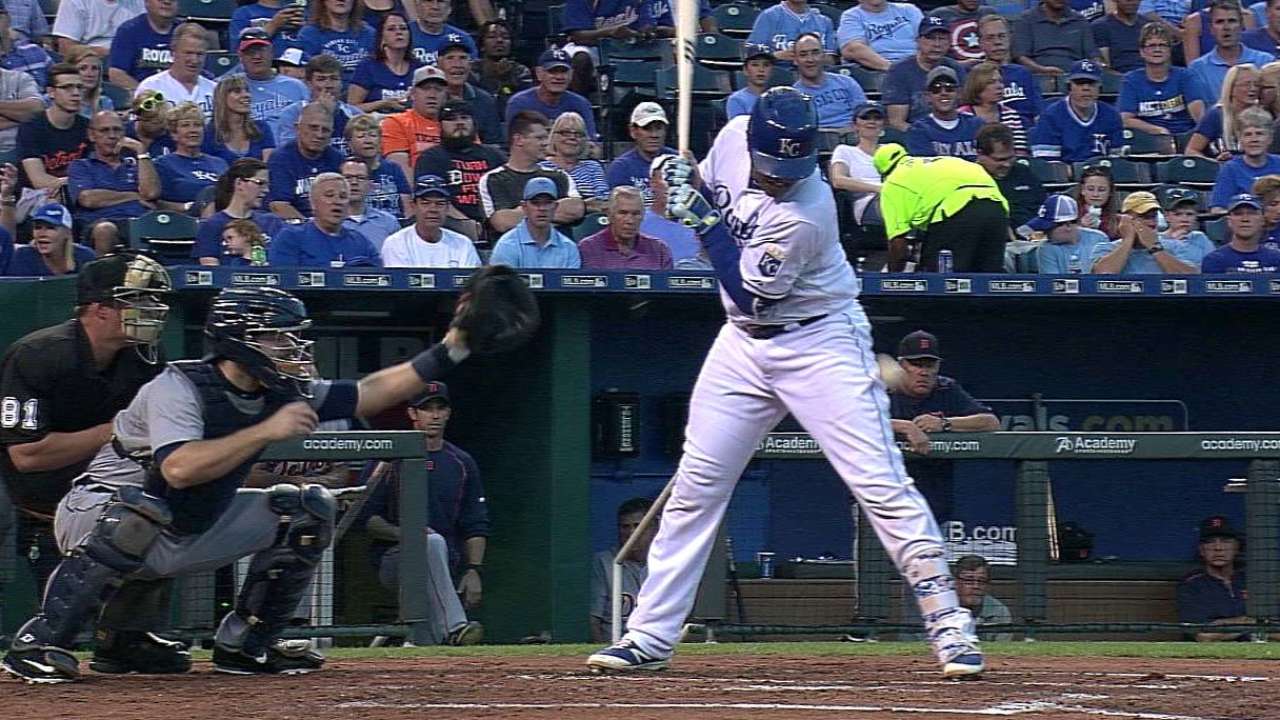 Two innings earlier, both benches were warned after Wolf hit Salvador Perez with a fastball. Ventura hit Ian Kinsler with a 98-mph fastball in the back in the top of the first inning.
Ventura had issues earlier this year with warnings, including a seven-game suspension at the end of April for his role in a benches-clearing incident with the White Sox on April 23. However, the Royals have made a point with him to pitch inside again in recent starts after working too much on the outside corner.
"I had my doubts about it," Ausmus said of the intentions.
Kinsler, asked what he thought of the intentions, said to ask Ventura about it. Ventura, who has no obvious history with Kinsler, told reporters the pitch got away.
Wolf said he missed his location on the pitch to Perez.
"Getting hit by a pitch is part of the game," Wolf said. "If you look at the inning, I had [Kendrys] Morales, 0-2, tried to go in with a fastball and left it over the middle. He got a single up the middle. Against [Jonny] Gomes, I tried to go down and away and I put the fastball right down the middle. He hits a double.
"So with a dangerous hitter like Perez, I don't want to leave it down the middle. I tried to go in. I didn't want to leave it over the plate and I hit him."
Jason Beck is a reporter for MLB.com. Read Beck's Blog, follow him on Twitter @beckjason and listen to his podcast. This story was not subject to the approval of Major League Baseball or its clubs.