Bryant's tough error offsets clutch home run
Hard-hit ball gets by rookie in ninth after game-tying homer in eighth
CHICAGO -- Kris Bryant was ready when J.J. Hoover threw a curveball on the first pitch to him in the eighth inning Wednesday, connecting on his 22nd home run. And the Cubs rookie third baseman also was ready when the Reds' Jay Bruce rifled a ball at him with two outs and one on in the ninth, but the end result wasn't as good.
Bryant's homer tied the game, but he was charged with an error on Bruce's grounder, setting up Joey Votto's three-run go-ahead homer in the ninth in the Cubs' 7-4 loss to the Reds.
"That was tough," Bryant said. "Obviously, you're on cloud nine when you hit a game-tying homer and then you blow it the next inning. Sometimes baseball works that way. It's a crazy game.
"There's nothing to hang my head about. I wished I'd blocked the ball or just tried to put a body part on it, but I wasn't able to do that."
Cubs manager Joe Maddon wasn't blaming Bryant at all.
"Bruce hit that ball really well," Maddon said. "That's a tough error for [Bryant]. The pitch to Votto is not the one you want to throw, but [Hector Rondon] did and he hit it."
Bryant said his teammates tried to pick him up after the miscue.
"All of them told me it was a tough play," Bryant said. "He hit it hard. There's no excuses for that. I have to keep the ball in front."
Bryant did make a stellar play on Jason Bourgeois' grounder in the fifth, and he has handled the corner well.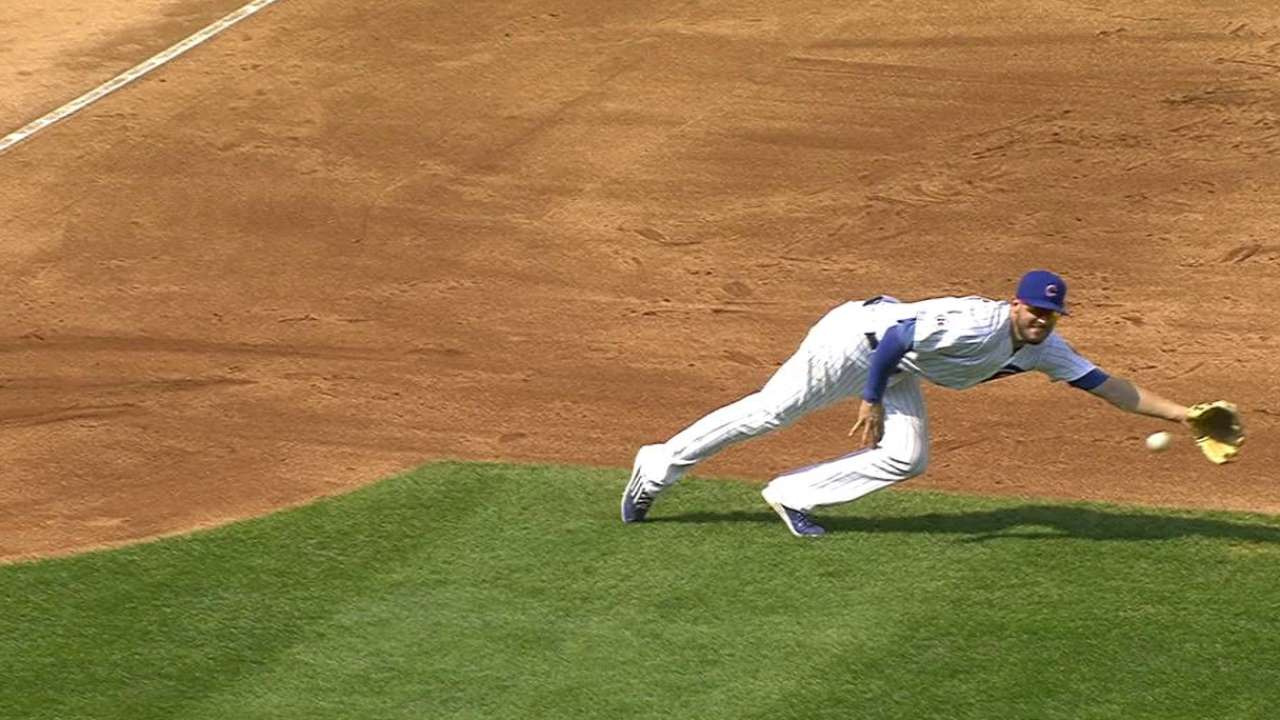 "If you're on the opposite corner of an infield playing third,and a lefty hits a bullet like that at you -- it's not like he's not ready," Maddon said. "He's ready. That ball was just on him so quickly and that's why it got through. I've no issues. He actually played a really good game at third base. He's swinging the bat great. There's nothing to point fingers at. He's been playing really well."
Bryant has been exceptional. He leads the Cubs and all Major League rookies with 84 RBIs. No rookie has led the Cubs in RBIs in a single season since Ray Grimes drove in 79 in 1921. Fifteen of Bryant's homers have either tied the game or given the Cubs the lead.
Bryant has made some adjustments with hitting coach John Mallee that allows him to stay in the zone longer, and it's paying off. He's also been clutch. Bryant is now batting .333 with 10 home runs and 42 RBIs with two outs in an inning.
"Right now, his at-bats are as good as they've been all year," Maddon said of Bryant, who is a leading candidate for National League Rookie of the Year. "I just like his approach -- whole field, two strikes, laying off, not expanding. ... I just think his whole approach has been outstanding over the last three, four weeks."
Carrie Muskat is a reporter for MLB.com. She writes a blog, Muskat Ramblings. You can follow her on Twitter @CarrieMuskat and listen to her podcast. This story was not subject to the approval of Major League Baseball or its clubs.