Royals will employ shutdown outfield defense
Yost preparing to use Dyson in center, Cain in right late in games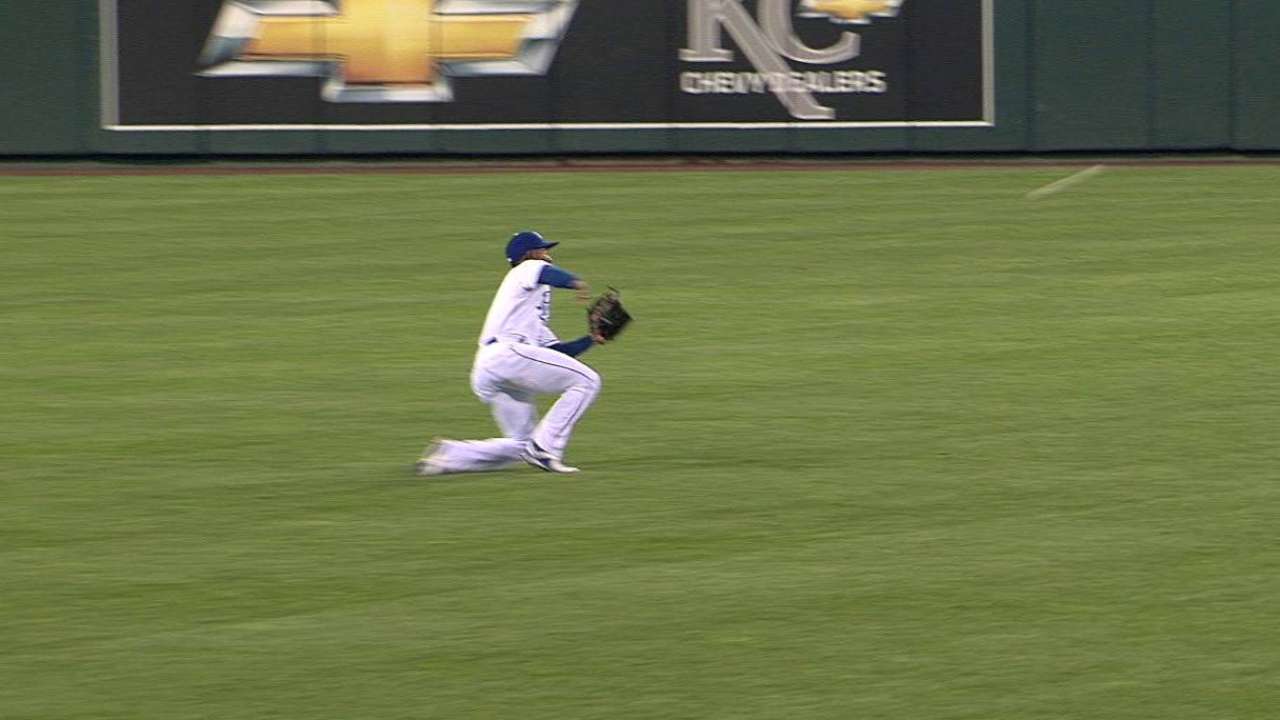 KANSAS CITY -- If you liked that defensive outfield alignment that the Royals used late in games during last October, you're in luck: You're very likely going to see it again this October.
Royals manager Ned Yost said he already is beginning to prepare for those instances when he can insert his shutdown outfield defense of Alex Gordon in left, Jarrod Dyson in center and Lorenzo Cain in right.
Yost uses that alignment when they are in "defend mode" -- with the lead late in games.
Cain played in right field on Tuesday for just the second time this season.
"Dyson is most comfortable in center," Yost said. "Cain can play anywhere.
"We're in September now. We're going to start doing things the way we would do it in late September and into October.
"If we defend late, we will move Dyson to center and Cain to right."
Yost said there was no discussion about scrapping that alignment, even though it hasn't really been used this season.
"We never junked anything," Yost said. "We were just trying to give Lorenzo an opportunity to play every day in center. But now we're going into the mode of late season, so if we defend late, it'll be Cain in right and Dyson in center. We did it a lot at the end of the year."
The Royals used Cain in right so often last season that he was unable to meet one of the Gold Glove Award requirements -- playing 75 percent of the innings at a specific position (in Cain's case, center field).
That won't be the case this time around. Cain already is close to 1,000 innings played in center and he will meet the minimum percentage required even if he doesn't play another inning in center field.
The Gordon-Dyson-Cain outfield would likely be in play late in games no matter if Jonny Gomes or Alex Rios (out with chickenpox) were to be in right field.
"If we're ahead late, we'll go into defend [mode]," Yost said.
Moose still hurting
Third baseman Mike Moustakas continues to battle a sore hamstring and did not start on Wednesday. Yost said Moustakas likely will miss Thursday's series finale, too.
"He can pinch-hit," Yost said. "But we wanted to get ahead of this [injury] thing."
Jeffrey Flanagan is a reporter for MLB.com. Follow him on Twitter at @FlannyMLB. This story was not subject to the approval of Major League Baseball or its clubs.