Franco still feeling pain in his left wrist
NEW YORK -- It sounded Monday like Phillies rookie Maikel Franco could be back at third base within the week.
Then Franco, who broke his left wrist last month, took about 20 swings on Wednesday afternoon at Citi Field.
"It was a problem," Franco said. "I felt something in my wrist. I don't know when I can come back."
There remains a chance Franco could play again this season, but the Phillies will not rush their best hitter with a little more than a month to play. Plus, once the wrist heals, Franco can make up for any lost at-bats with plate appearances in winter ball.
"They're going to back off for a day or two or more," Phillies interim manager Pete Mackanin said. "There's going to come a point where we'll probably end up shutting him down. That doesn't mean we will, but if another week goes by and we get into the middle of September and he's going to need rehab at-bats, I don't see the point in playing him for the final week or 10 days of the season.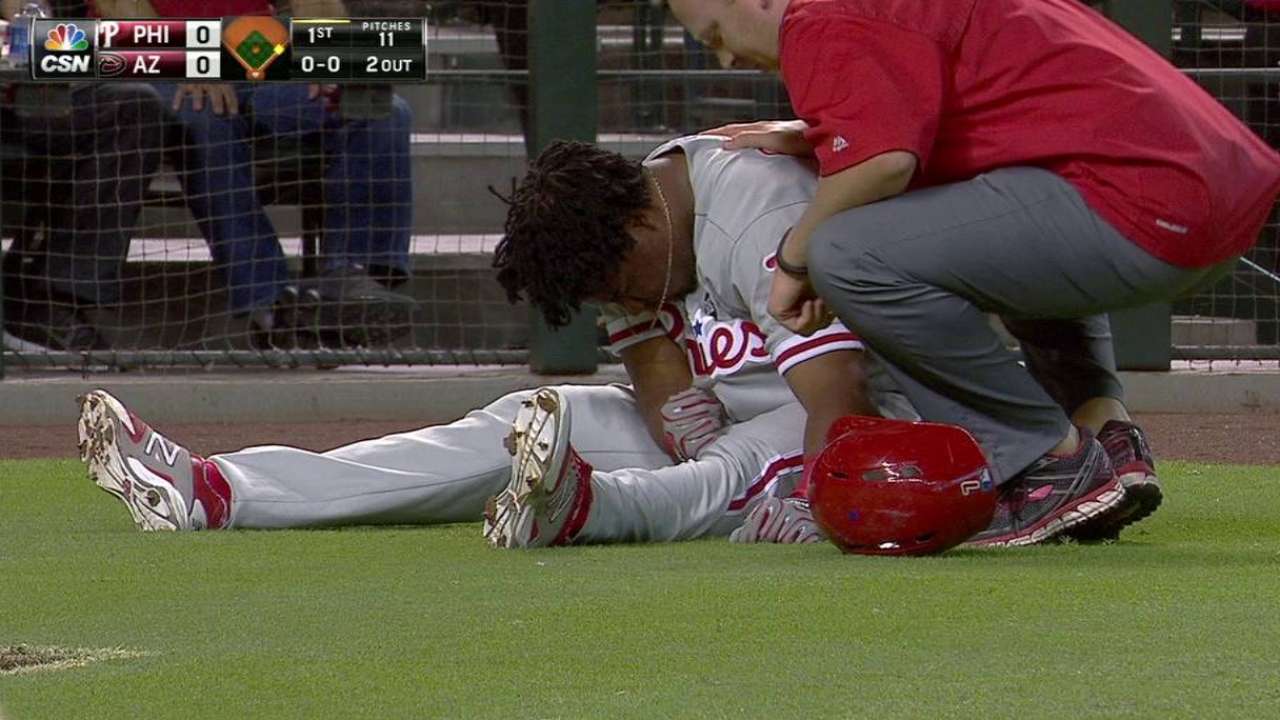 "Unless he's 100 percent, we're going to be careful."
Franco was tossed a few balls in the batting cage. He said he felt some discomfort when he made contact with the ball.
"It's the same thing. The same thing from when I was hit," Franco said.
Franco was hit with a pitch on Aug. 11 in Arizona.
"It's a big deal for me because I want to play," Franco said. "So it's hard to take. But I have to understand my situation right now. I know I want to play. I don't want to put us in the situation where I just go out and play. That could be a lot of trouble, a lot of problems."
Todd Zolecki is a reporter for MLB.com. Read his Phillies blog The Zo Zone, follow him on Twitter and listen to his podcast. This story was not subject to the approval of Major League Baseball or its clubs.