Keuchel wins 3rd AL Pitcher of Month this year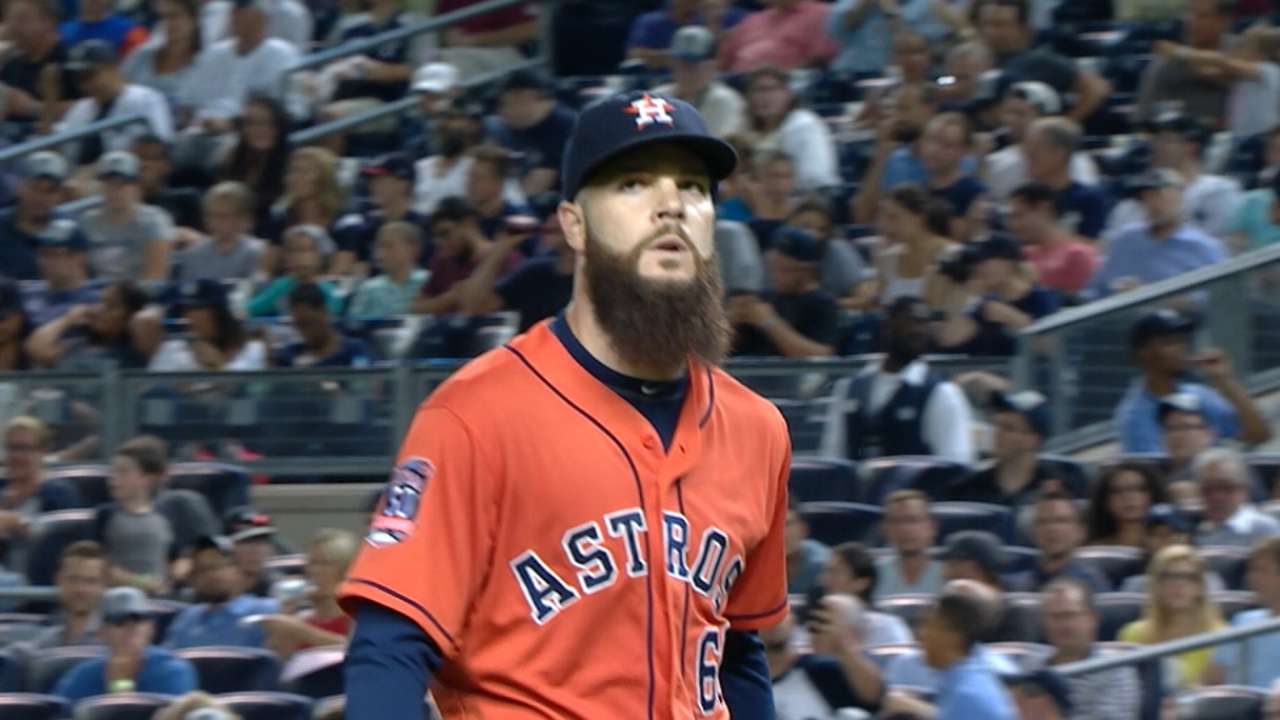 HOUSTON -- In what's become ritual, Astros ace Dallas Keuchel sat before reporters before Wednesday's game an hour removed from winning his third American League Pitcher of the Month honor, even though he sported the third-lowest August ERA of the Astros' surging rotation.
"I was looking at some of the August stats from some of the other guys, [Scott Feldman], [Collin McHugh], [Mike Fiers], and they were just as good, if not better, than me," Keuchel, who finished the month at 4-1 with a 1.94 ERA said. "I was very surprised."
Feldman was perhaps the best of the bunch with a 1.33 ERA, followed closely by McHugh's 1.89 clip. And Fiers? He threw the franchise's 11th no-hitter and first in Minute Maid Park history on Aug. 21.
But it was Keuchel, who pitched into the seventh inning in five of his six August starts, who finished his hat trick, becoming the first Astros player to win Pitcher of the Month three times in a single season. He also won Pitcher of the Month in April and May.
He's lasted six or more innings in 38 consecutive games -- a franchise record and the longest active streak in the Major Leagues.
"I don't even remember [you] pitching that well in August," Astros manager A.J. Hinch claimed he told Keuchel. "I think he just pitched pretty normal. We're getting used to it. It's nice to have him recognized again. He's having a sensational season."
Keuchel remembered the conversation differently.
"That was my quote, I said that to him, so he stole my quote," Keuchel said to an eruption of laughter. "Don't let him fool you. I really don't, it's not something I think about, it's not something I ever think about. I just like to pitch well every fifth day. Or every sixth or seventh day, now that we have a 47-man rotation."
It's not exactly a 47-man rotation, but the addition of rookie Lance McCullers back into the rotation and rookie Vincent Velasquez -- who has started seven games this season -- in the bullpen gives the Astros seven viable starters, leaving Hinch to juggle off-days and his rotation on a series-by-series basis.
And though Keuchel said the fluctuation of the rotation isn't ideal, the biggest advantage of his torrid season has been what he's provided to the youngsters now jockeying for starts.
"I said this earlier this year when the season started, if I could take some pressure off some of the younger guys, it's going to help them out in the long run," Keuchel said. "I know how much pressure there is up here to win, and if I could take some of that pressure off Lance or Vince, that's going to be good for them in the long haul."
Now positioned as the frontrunner for the American League Cy Young Award with a 16-6, 2.24 ERA overall record, Keuchel -- as is his usual tactic -- scoffed at any mention of the award.
There's only one prize he'll allow himself to envy.
"I'd much rather get a World Series ring than a Cy Young Award, and I'm going to continue to strive for that, and everyone else will, too," Keuchel said.
Chandler Rome is an associate reporter for MLB.com. This story was not subject to the approval of Major League Baseball or its clubs.