Olivera shows promise with first big league hit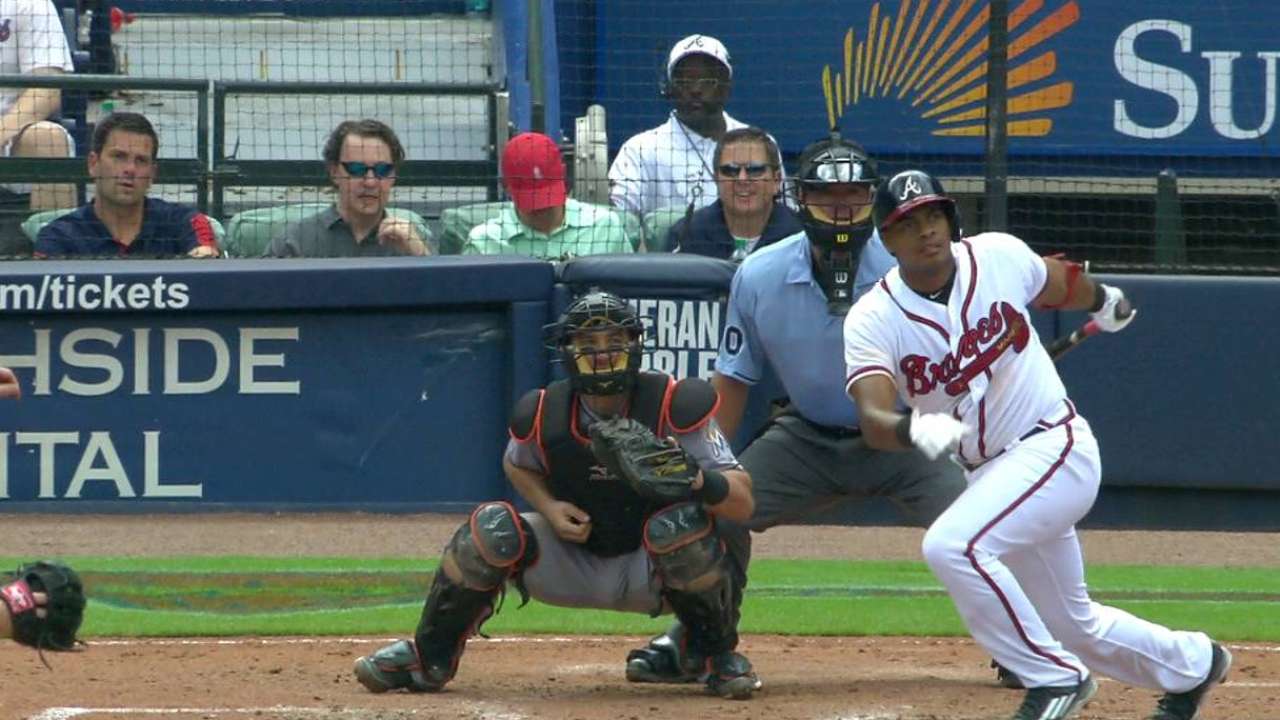 ATLANTA -- In the midst of an extremely tough stretch, the Braves got a glimpse of something Wednesday that gives them hope for what the near future may hold.
Cuban third baseman Hector Olivera, in his second big league game, picked up the first hit of his career: a two-out, two-run single in the third inning of the series finale against the Miami Marlins, briefly giving Atlanta a lead in a game the Braves eventually lost, 7-3.
Still, if you're looking for silver linings, Olivera was an enticing one for the Braves.
"That's good for him. Here's a guy that has gone through a lot of stuff," Atlanta manager Fredi Gonzalez said after the game. "We'll keep running him out there and watching and see how everything unfolds for him."
The Braves expect big things from Olivera, 30, acquired from the Dodgers on July 30 in a 13-player trade that also involved Miami. Finally healthy, he figures to get extensive playing time in the last month of the season as the Braves ready him to be their starting third baseman. He was sidelined with a sore hamstring for much of the season, and he played in only 16 games in the Braves' Minor League system before being called up.
Olivera, who defected from Cuba just over a year ago, has been on the Braves' radar for years. He played for Cuba in the 2008 Olympics and in several other international competitions, but the Dodgers beat Atlanta to the punch in March, signing Olivera to a six-year, $62.5 million contract that included a $28 million signing bonus. He played in 19 Minor League games for Los Angeles before the big trade in July that gave the Dodgers some much-needed pitching help.
After an 0-for-4 night in his Major League debut on Tuesday, Olivera struck out in his first time up Wednesday. In the third, though, he broke out - with an assist from replay and a little luck.
Earlier in the inning, Atlanta center fielder Cameron Maybin deftly sidestepped a tag from Marlins second baseman Dee Gordon in what originally was ruled a double play. (The call was overturned on replay.) Two batters later, pitcher Williams Perez avoided making the third out at home, barely sliding under a tag when the throw from center field took a high bounce to catcher Jeff Mathis.
After Nick Swisher was hit by a pitch, Olivera stepped to the plate with the bases loaded, turning on a 1-0 slider from Miami starter Adam Conley. Olivera's hit dove into the dirt in front of the plate, took a huge hop past outstretched third baseman Martin Prado and slipped past sliding shortstop Miguel Rojas.
Whatever the outcome, Olivera got what he was looking for.
"I feel really good," he said through a translator "It kind of broke the ice, so to speak. I'm looking forward to continuing to play every day and getting a little bit more experience and confidence.
"I'm looking forward to playing every day."
John Donovan is a contributor to MLB.com. This story was not subject to the approval of Major League Baseball or its clubs.