Schwarber sidelined with right rib soreness
Jackson makes first career start in right field; Rondon hits 100 mph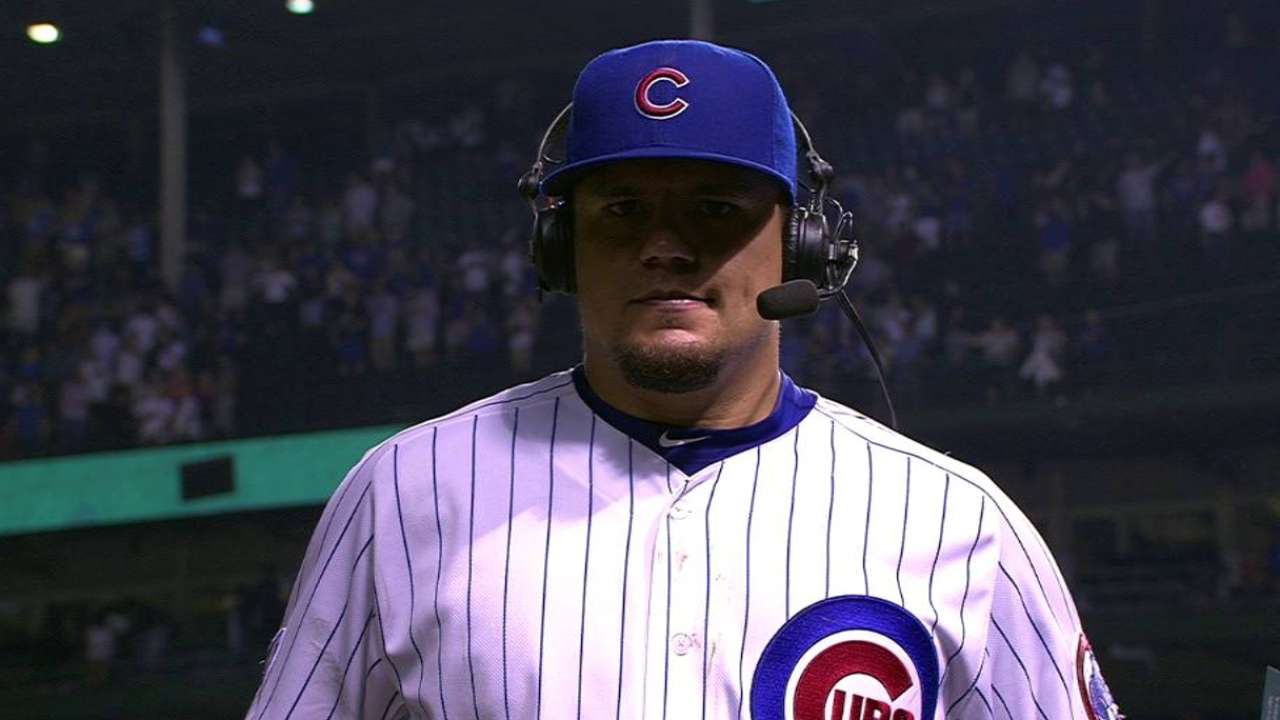 CHICAGO -- Rookie Kyle Schwarber was scratched from Wednesday's lineup with right rib soreness, which he felt while hitting in the batting cage prior to the game. He was to undergo an MRI as a precaution.
On Tuesday, Schwarber hit his 12th home run since being called up on July 17, which is second in the National League since the All-Star break. He was batting .255 since the break, with five doubles and 32 RBIs.
The Cubs have an off-day Thursday, and they hope Schwarber will be able to play Friday.
With Schwarber sidelined, outfielder Austin Jackson, acquired Monday from the Mariners, made his first start for Chicago and his first career start in right field.
• Hector Rondon said he does peek at the scoreboard radar guns to see how hard he is throwing. But it wasn't until Tuesday night that the Cubs reliever's fastball registered at 100 mph.
Rondon was facing the Reds' Eugenio Suarez with two outs in the ninth and a 5-4 lead. His first pitch was an 88-mph slider, then he fired a 100-mph fastball for a called strike. Suarez struck out swinging on an 88-mph slider.
"I was really happy with that," Rondon said Wednesday of hitting the century mark. "It was the first time. I wanted to throw another [fastball], but [catcher Miguel Montero] called for a slider."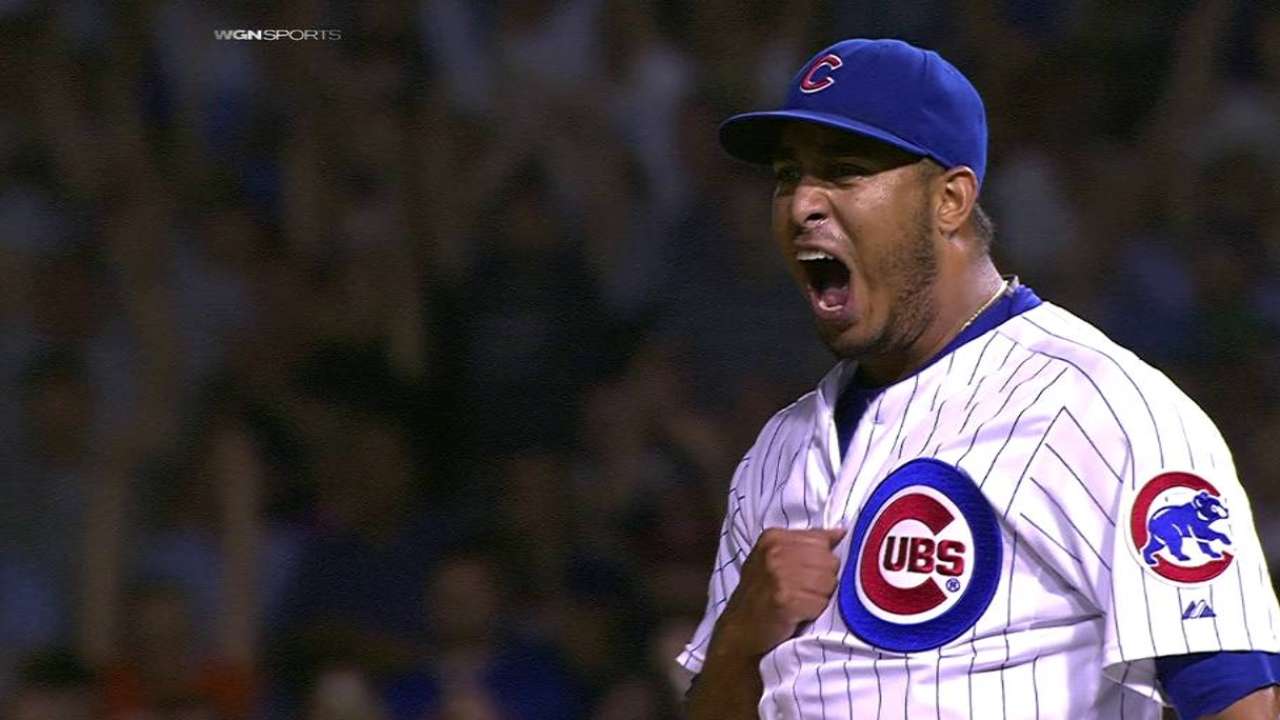 When Rondon has pitched in Venezuela in winter ball, he's been told his fastball has hit 100 mph, but he never saw the actual number on a scoreboard.
"I lost almost every pitch," Rondon said.
It was just a matter of time.
"[Bullpen catcher Chad] Noble, he always tells me, 'Hey, you're throwing 100 tonight,'" Rondon said. "As soon as I saw it, I looked to the bullpen. He saw me."
• On Wednesday, Tommy La Stella started at second base. On Tuesday, it was Javier Baez. Cubs manager Joe Maddon said he'll determine who starts based on matchups.
"There's different things to consider now, because we went deep fast," Maddon said of the callups. "Even if guys don't start, there's a pretty good chance they'll be involved."
• The Cubs did not take batting practice Wednesday, which is fairly normal for a day game after a night game. But Maddon isn't a big proponent of batting practice, calling it "overrated."
"You can get the same things done for me in the cage," Maddon said. "To go out there every day and try to hit home runs, I think it's counterproductive."
What about fans who like to watch BP?
"What you could do sometimes is have your starting pitchers go out and hit," Maddon said.
• Double-A Tennessee catcher Willson Contreras was named to the Southern League postseason All-Star team. Contreras, 23, was batting .326 with eight home runs, 32 doubles, four triples and 72 RBIs. He will play for the Mesa Solar Sox in the Arizona Fall League.
Carrie Muskat is a reporter for MLB.com. She writes a blog, Muskat Ramblings. You can follow her on Twitter @CarrieMuskat and listen to her podcast. This story was not subject to the approval of Major League Baseball or its clubs.