Betances, Miller bail out 'pen mates
After other relievers struggle, Girardi turns to top two arms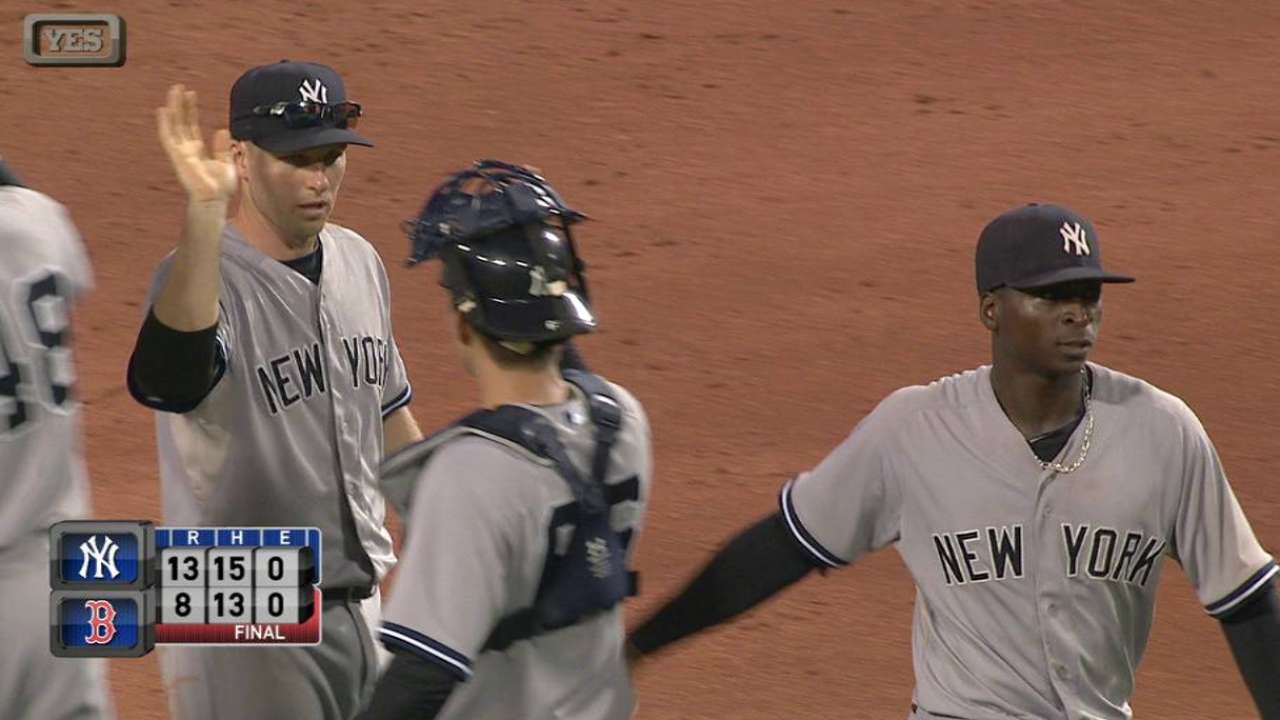 BOSTON -- The hand-operated scoreboard in left field showed the Yankees holding a 10-run advantage in the fifth inning, and if Dellin Betances and Andrew Miller had been tempted to put their feet up out in the right-field bullpen and catch a mid-day snooze, hardly anyone would have blamed them.
The Yanks would have preferred to give their bullpen anchors a day off, but the duo ended up being needed to put out fires as the Red Sox rallied for five runs in the final three innings against six relievers, with Miller getting the last outs of a 13-8 Yankees victory.
"You certainly pay attention to the game, and you don't ever fully check out, but if you have to, you start to pick it up," Miller said. "I noticed that once [Justin] Wilson went into the game, if he's pitching, I'm probably pitching."
Yankees manager Joe Girardi took the ball from starter Masahiro Tanaka with one out in the seventh, offering what appeared to be a cushy spot for reliever Andrew Bailey to make his first appearance since 2013.
Bailey struggled to throw strikes, issuing walks to Jackie Bradley Jr. and Allen Craig to set up a Pablo Sandoval sac fly. Xander Bogaerts knocked a run-scoring single to make the score 12-5, and Girardi asked the lefty Wilson to get the final out.
"I think I was just rushing a little bit," Bailey said. "I didn't command the zone. At this level, you've got to get outs. I'm healthy, I'm ready to rock, I feel great. Results-based now, I've just got to do a better job of throwing the ball."
That got activity stirring in the 'pen, especially when right-hander Bryan Mitchell allowed two runs, four hits and a walk in an ineffective eighth-inning appearance. Betances began warming despite the lopsided score, entering to get the final two outs.
"When you're up 12-1, you can't let this game get away from you, and we didn't," Girardi said.
Girardi tried once to avoid using Miller by calling upon Caleb Cotham for the ninth, but Sandy Leon clubbed a booming double to deep center and scored on a Travis Shaw double. Girardi felt he had no choice from there but to use his closer, who protected the five-run lead despite taking a Brock Holt grounder off the inside of his right leg.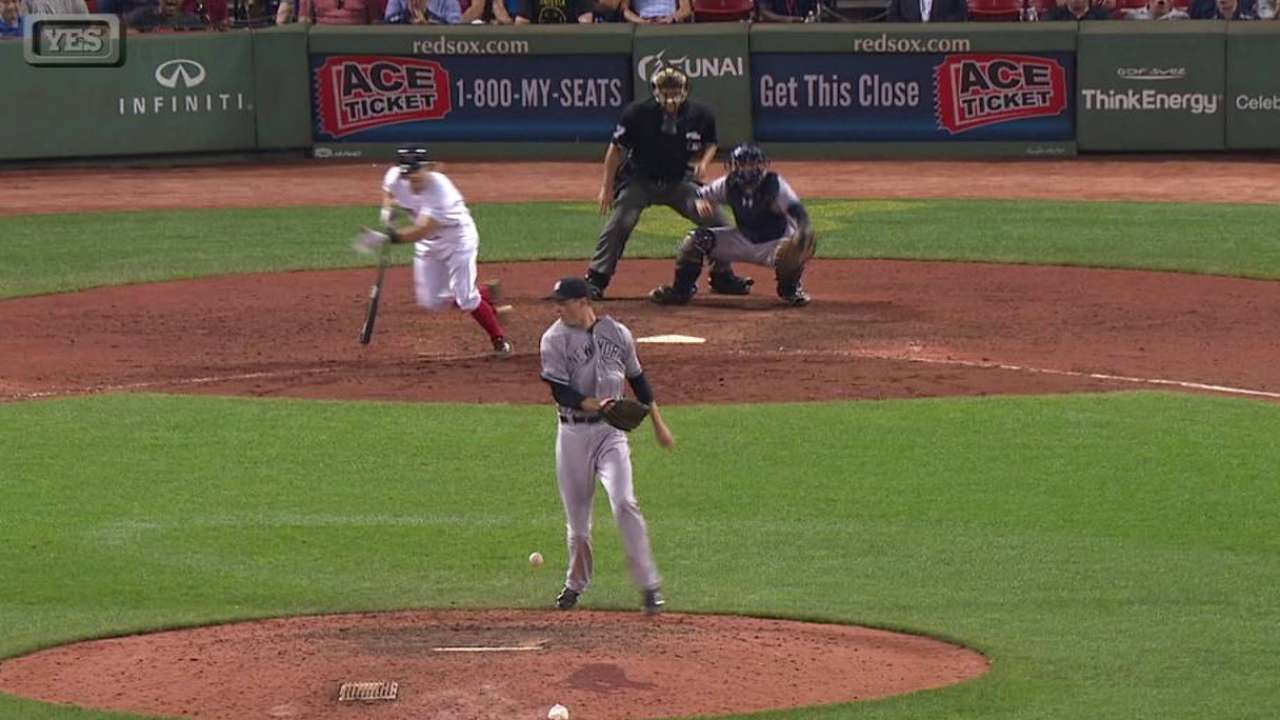 "We were hoping not to use them. That's the hope," Girardi said. "We felt, in a sense, we had to stop each inning. We didn't want to let it get out of hand. You're hoping that if you stop one inning, maybe you don't have to use the other two guys. It didn't work that way. A win is a win and we've got an off-day tomorrow. They can rest tomorrow."
Bryan Hoch is a reporter for MLB.com. Follow him on Twitter @bryanhoch, on Facebook and read his MLBlog, Bombers Beat. This story was not subject to the approval of Major League Baseball or its clubs.