Bottom of lineup jump-starts outburst
Yankees slugged their way to 5-1 record on road trip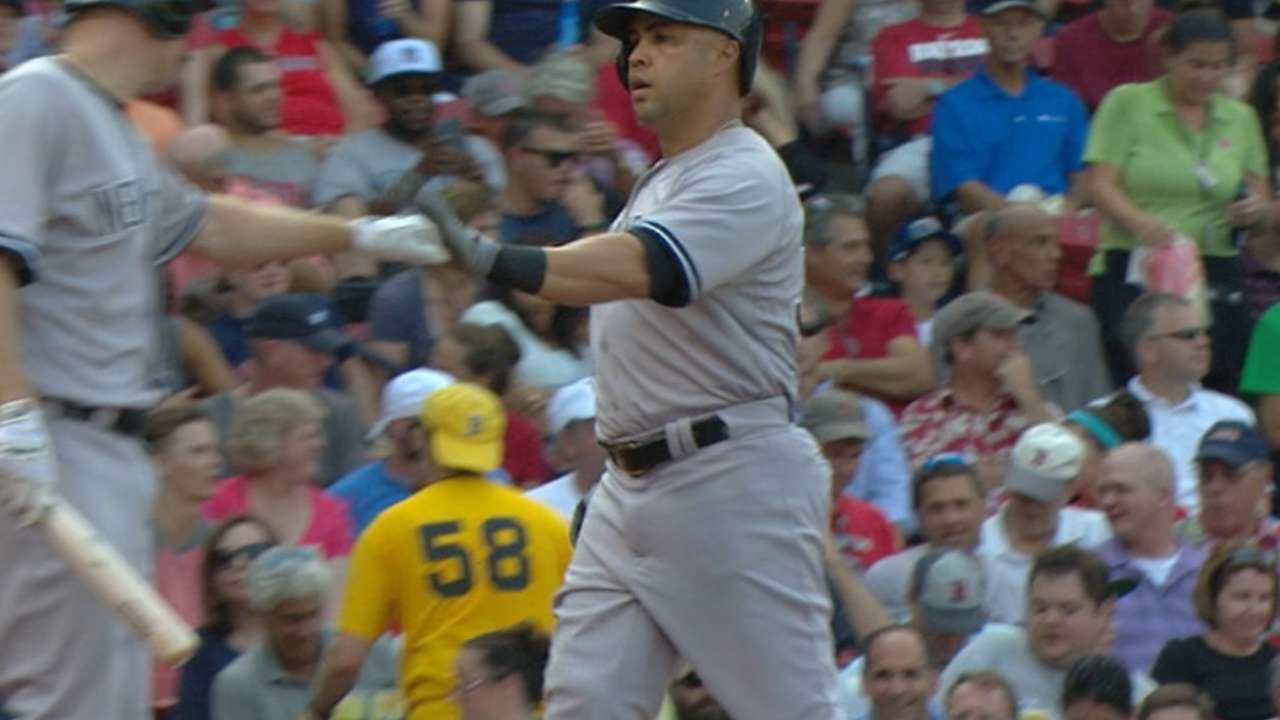 BOSTON -- Half of the Yankees' games on this trip featured a double-digit run total, wrapping up the journey with a 13-8 thumping of Henry Owens and the Red Sox on Wednesday at Fenway Park. Getting contributions from the bottom of the order has been an important key.
Greg Bird, John Ryan Murphy and Carlos Beltran homered as part of an eight-run second inning, while the red-hot duo of Stephen Drew and Didi Gregorius later added long balls. The bottom four hitters in the order all connected for homers as the Yanks wrapped up their 5-1 road trip to Atlanta and Boston.
"It's great, because you can't expect the same guys to do it every night," Yankees manager Joe Girardi said. "When you get guys down there producing the way we are, a lot of times you can have big numbers. We did on this road trip. We scored a lot of runs on this road trip. When you get production from those guys, you've got a chance to do that."
The Yanks scored 15 runs against the Braves in Atlanta to open the trip on Friday, then bested that output with an even 20 runs to wrap up the Interleague series on Sunday, a game that featured a nine-run seventh.
Wednesday's eight-run inning was the Yanks' fifth time posting that many runs or more in a single inning, the most of any Major League team. It's a feat that they have not accomplished since their 2009 World Series season.
"It does feed off each other. We always talk about that," Drew said. "It's just timely hitting. Everybody contributed today and we played really good defense. In this ballpark, anything can happen, as you could tell from the end, when the numbers on the other side started creeping up. That's just how this park plays."
In the second inning that sent Owens to the showers, Bird delivered a two-run homer to right and Murphy followed with a solo shot that cleared the Green Monster. It was Bird's third big league homer, coming as Girardi stuck with the rookie against a left-hander.
"It's definitely something I think I've worked on the last few years," Bird said. "It's something that I'm comfortable with."
Two hits and a walk set up Chris Young's RBI single, with Brett Gardner getting hung up between second and third base for an out, with Drew holding at third.
It became a moot point as Alex Rodriguez delivered a two-run single to left field that chased Owens, and Beltran greeted reliever Ryan Cook by clubbing the righty's first pitch over the Monster.
"It was a good day overall for everybody," Drew said. "It's huge. We know we're in the race here, and we've just got to worry about ourselves. To come out the way we did today early on and get the early runs, it was big."
Bryan Hoch is a reporter for MLB.com. Follow him on Twitter @bryanhoch, on Facebook and read his MLBlog, Bombers Beat. This story was not subject to the approval of Major League Baseball or its clubs.