MLB.com Columnist
Bernie Pleskoff
10 prospects to watch in Arizona Fall League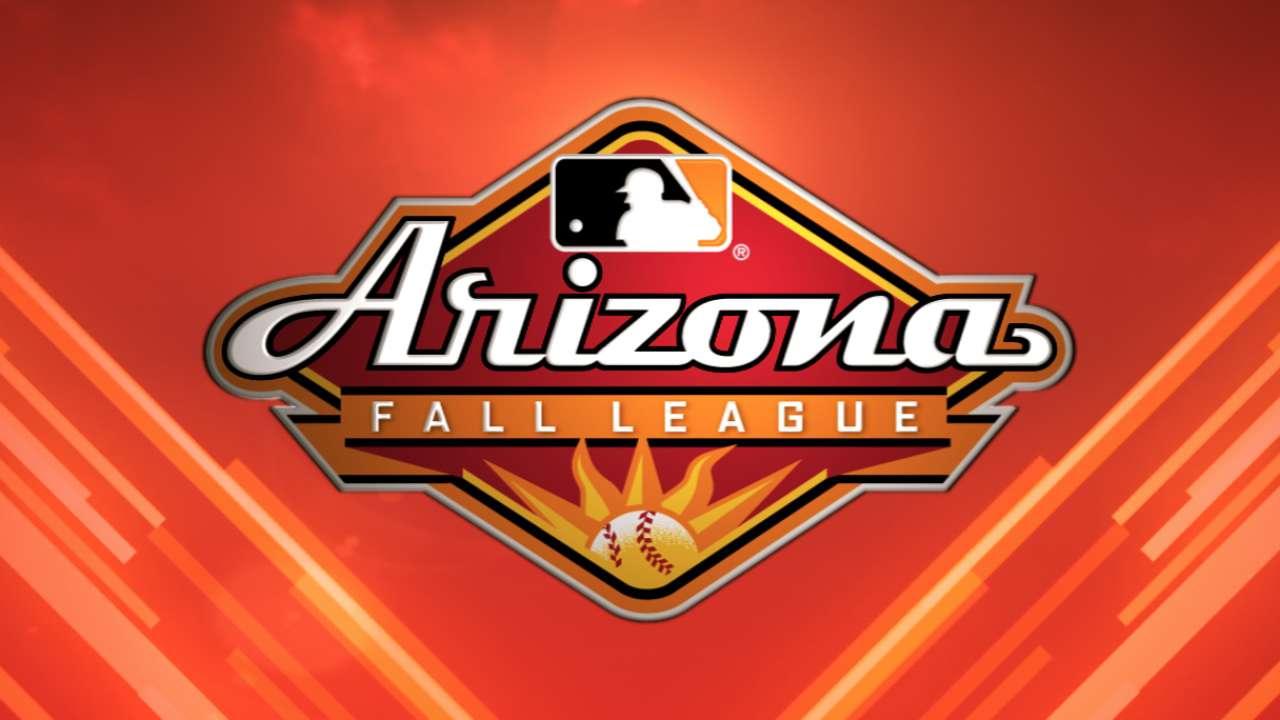 Without a doubt, the Arizona Fall League is one of the best baseball experiences of the year. Top prospects from every organization gather together and are given an opportunity to fine-tune their skills under the watchful eyes of excellent coaches.
For me, one of the outstanding aspects of the AFL is the blending of prospects from five Major League organizations to form one club. The mix provides an opportunity for players to get to know one another, learn from each other and spend the fall in fellowship with players from various clubs. Watching the camaraderie among the players and their coaches is a lesson in communication, harmony, trust and sportsmanship.
This year's AFL rosters are loaded with good prospects. These are 10 of the players I am looking most forward to scouting. They are not necessarily the best or highest-rated prospects in the league, but I am curious about evaluating their skill sets.
Mike Yastrzemski, Orioles, OF
Hall of Famer Carl Yastrzemski's grandson, Mike is a left-handed hitter who is hitting .249 at Double-A Bowie in the Eastern League. His average has dipped as he progressed from Class A Advanced to Double-A, but I am curious to see his skill set.
Oscar Hernandez, D-backs, C
A Rule 5 Draft selection from Tampa Bay, Hernandez was in the catching mix for the D-backs until he was hurt and spent months on the shelf. The Fall League will give Hernandez a chance to get some much-needed at-bats and give the D-backs an opportunity to get a better feel for his abilities.
Bradley Zimmer, Indians, OF
Zimmer is a crucial component of the Indians' future. I want to see him in sustained at-bats. He has been promoted from Class A Advanced Lynchburg to Double-A Akron. While Zimmer may be facing a few tired arms in Arizona, the exposure could hasten his development.
Gary Sanchez, Yankees, C
Sanchez has long been a top offensive catching prospect. Some of the bloom has come off the rose, but I am curious to watch him defensively. Of course I'm interested in Sanchez's hitting mechanics, but how is he calling a game and how solid are his catching skills?
Brett Phillips, Brewers, OF
From what I saw of Phillips earlier this summer, I think the Brewers have traded for an outstanding prospect. It will be great to see him over a number of games to determine if my original thoughts were correct.
A.J. Reed, Astros, 1B
Reed has put up sensational Minor League numbers and has the type of power that clubs covet. He has a chance to be an impact player. I've only seen Reed play in one game. Now I'll get a chance to see multiple at-bats.
J.P Crawford, Phillies, SS
If there is a team in need of an injection of youth and spark, it may be the Phillies. Crawford is one of the exciting players I saw at the SiriusXM All-Star Futures Game. He is extremely smooth on defense, and he hits and runs. Crawford is high on my list.
Austin Meadows, Pirates, OF
Credit the Pirates with developing an outstanding farm system. Meadows is their top-rated position player at MLB.com (No. 2 of the Top 30 Prospects), and I'm eager for my first opportunity to see him in person.
Sean Manaea, A's, LHP
A former first-round selection by the Royals in 2013, it will be interesting to see how Manaea fares in what is traditionally a "hitter's" league. He is one of two pitchers that intrigue me the most on the AFL rosters. The big lefty is 6-foot-5 and 235 pounds.
Yoan Lopez, D-backs, RHP
The other pitcher I can't wait to scout is Lopez, who was signed from Cuba as a starter. I've heard lots of buzz about his stuff. Lopez is young and has a good arm. I want to see the 6-foot-3, 185-pound righty in multiple games.
If I extended the list to 11, I'd include the Red Sox's Sam Travis -- their highly rated prospect first baseman.
There you have it -- the 10 (or 11) guys I can't wait to scout in the Arizona Fall League.
Bernie Pleskoff has served as a professional scout for the Houston Astros and Seattle Mariners. Follow @BerniePleskoff on Twitter. This story was not subject to the approval of Major League Baseball or its clubs.