Pederson shakes off slump with big fly
Adjustments show promise as rookie homers vs. lefty Bumgarner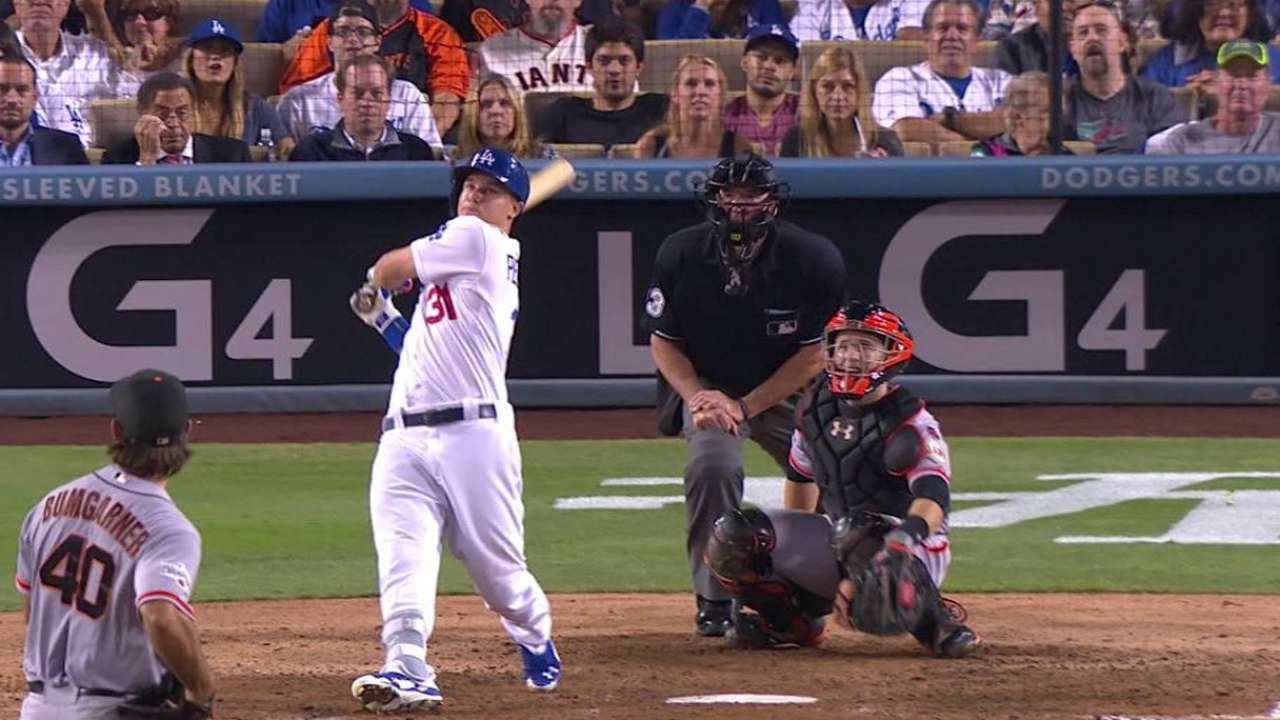 LOS ANGELES -- Joc Pederson has been slumping at the plate for most of the second half, but for one night against a division rival, he was able to break out from the funk.
With one swing, Pederson let out a month's worth of frustration as he launched a solo home run to center field in the seventh inning off the Giants' left-handed ace, Madison Bumgarner, to give the Dodgers a 2-1 win Tuesday.
Pederson nearly sprinted around the bases, shouting in jubilation, and doled out emphatic high-fives with teammates before giving hitting coach Mark McGwire a hug in the dugout.
"He's been there through the good and the bad," Pederson said of McGwire, "being there supporting me and keeping it positive. He always reminds me how hard this game is. It's a tough game and it's learning, learning and lots of learning."
It was just the second home run Bumgarner has allowed to a left-hander all season and only four of Pederson's 24 homers this year have come against southpaws.
"He's really good. I don't think there's too many comfortable at-bats against him," Pederson said. "I just try to see the ball. It's kind of coming from behind your head. I just put a good swing on the ball. He didn't make too many mistakes."
Entering Tuesday, Pederson was 6-for-63 (.095) in his last 25 games dating back to July 26. Things had gotten so bad at the plate that Pederson was moved down from the leadoff spot in the lineup, then lost his starting job in center field to Kiké Hernandez.
"Him and Mac have been trying to make some changes. We've talked about how hard that is during the season," manager Don Mattingly said. "Especially when a guy has been working on something, and you have success, that really takes hold and breeds confidence in what you're doing and believe in what you're doing. You don't really know until you have success."
One change has been adjusting Pederson's stance slightly in the past few games from having the bat vertical and away from his body to a more flat alignment over his left shoulder. It's similar to how Pederson had his stance last season, and he's had a hit in back-to-back games. For a guy more known for slamming helmets than slamming homers recently, Tuesday was a step in the right direction.
"I'm just trying to have some more rhythm and stay calm. Just nice and relaxed. See the ball and hit the ball. It sounds so simple but it's not," Pederson said. "The adjustment this offseason was to make the barrel more upright to be consistent. At the start of the year it was good. But you lose things, go down some wrong roads, struggle a bit and you adjust. Like I said, it's a learning process."
Steve Bourbon is an associate reporter for MLB.com. This story was not subject to the approval of Major League Baseball or its clubs.