Andrus' thievery can help fans steal a home
Quicken Loans sweepstakes offers chance to win mortgage payment valued at up to $1,500
The deadline from Monday's sweepstakes hadn't even closed before Texas shortstop Elvis Andrus gave fans yet another opportunity to score a free mortgage payment.
In the Rangers' 8-6 win over the Padres, Andrus pulled off the rare straight steal of home, reactivating the Quicken Loans "Steal A Home" program, barely more than 24 hours after the Angels' C.J. Cron did the same Monday night.
Each time a Major Leaguer steals home this regular season, baseball fans everywhere will have an opportunity to win a free mortgage payment of up to $1,500 from Quicken Loans. The entry window remains open for 48 hours immediately after the stolen base. Cron's window is open until 11 p.m. ET on Wednesday, while Andrus' will close at 1 a.m. ET on Friday. Both steals will provide a mortgage-free month to one fan.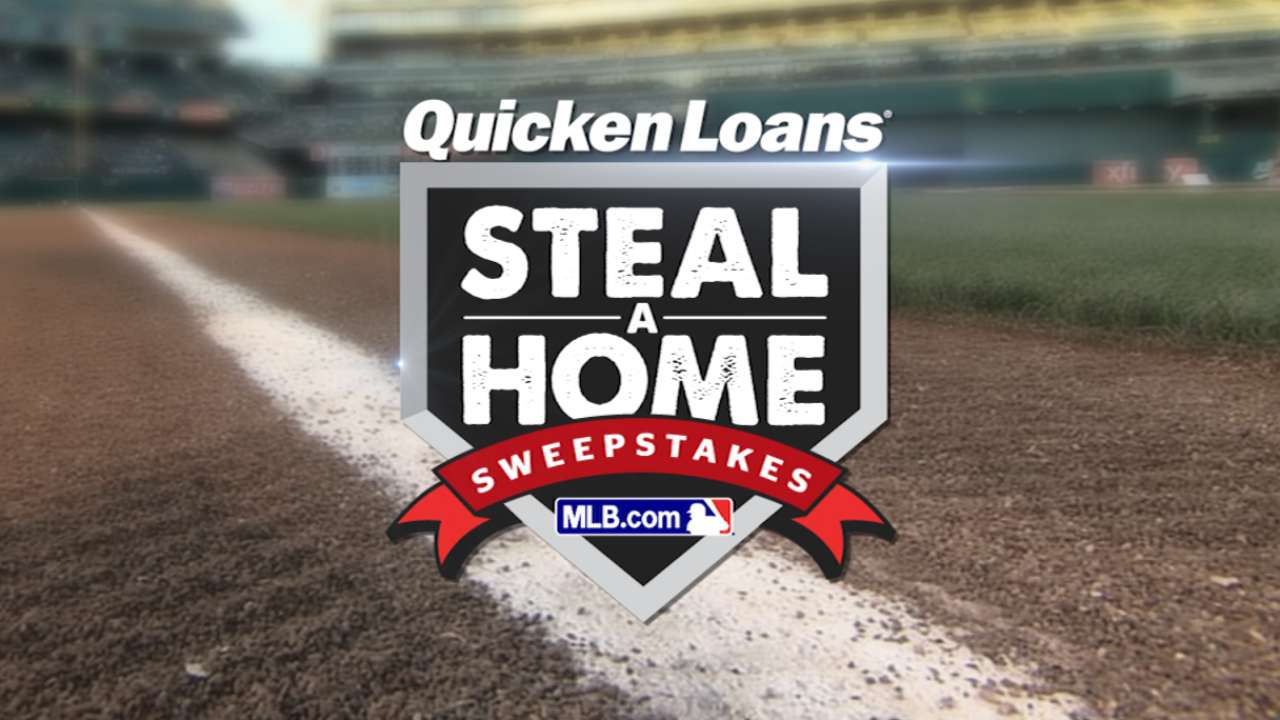 The lucky winner will also receive two tickets to see a Major League team of their choice, two MLB jerseys, two MLB.TV subscriptions and a $150 Fathead.com gift card from the MLB.com shop.
Any fans who enter the sweepstakes are also eligible for the Quicken Loans "Steal A Home" grand prize drawing at the end of the regular season, which will award one year's worth of mortgage payments (up to $12,000) and an all-expense paid trip to the 111th World Series opener. The deadline to enter this sweepstakes is open through 11:59 p.m. ET on Oct. 4.
With the Rangers up 7-4 on the Padres in the seventh inning on Tuesday, Andrus caught San Diego righty Kevin Quackenbush unaware as he took off for home. Quackenbush reacted late and his rushed throw pulled catcher Austin Hedges out of position to apply the tag, allowing Andrus to score the Rangers' eighth run.
It was the 15th stolen base for Andrus this year. The 27-year-old veteran also went 1-for-4 with two RBIs.
Andrus is the eighth big leaguer to steal home this season, matching last year's total. He joins Cron, Texas' Alex Rios, Baltimore's Jimmy Paredes, Arizona's A.J. Pollock, Toronto's Russell Martin, Pittsburgh's Starling Marte and Houston's Domingo Santana as the only players to steal home and reward a fan with a free mortgage payment in 2015.
Chad Thornburg is a reporter for MLB.com. This story was not subject to the approval of Major League Baseball or its clubs.