Encarnacion's hit streak ends at 26 games
Designated hitter finishes two games short of Green's club record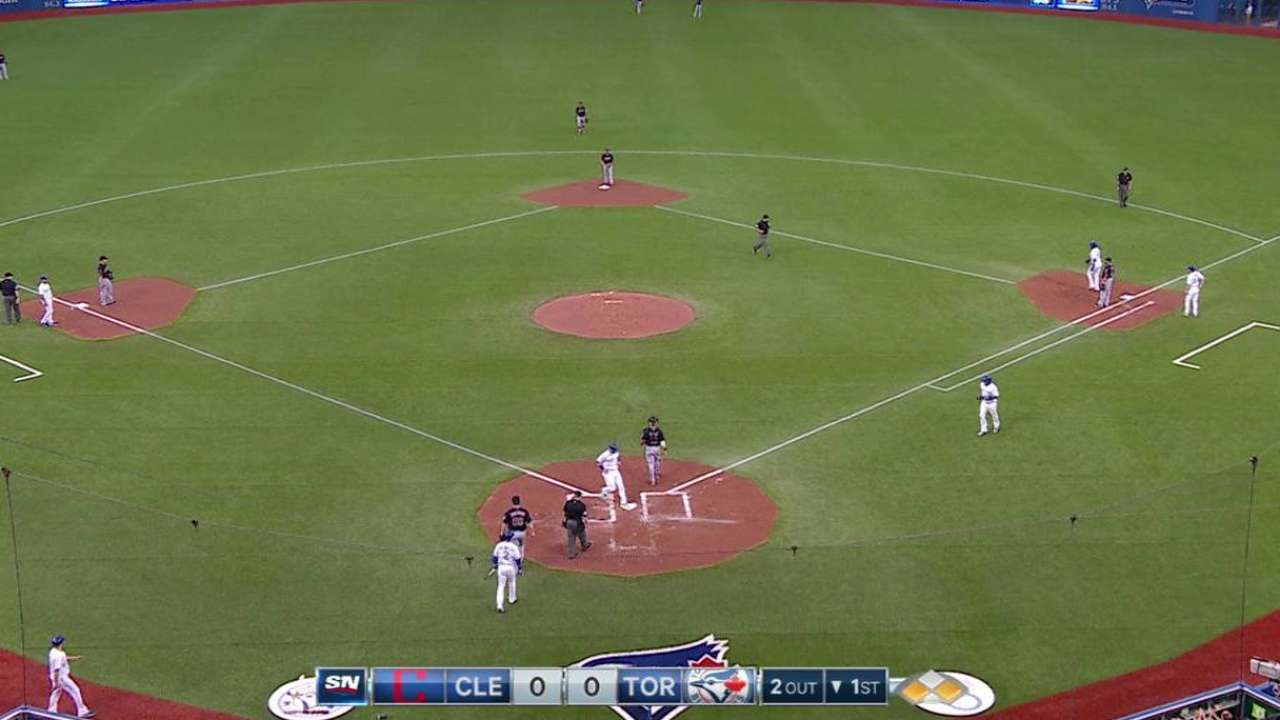 TORONTO -- Edwin Encarnacion's impressive run at the plate came to an end Tuesday night as his hitting streak was snapped at 26 games in a 5-3 victory over the Indians.
Encarnacion went 0-for-2 at the plate with a walk and a sacrifice fly. He finished two games short of the club record set by Shawn Green in 1999 but Encarnacion still holds bragging rights for the longest hitting streak in the Major Leagues this season.
During the 26-game run, Encarnacion hit .412 (40-for-97) with 11 doubles, 11 homers, 35 RBIs and a 1.340 OPS. It's the type of streak that is rarely seem from a power hitter, but Encarnacion also isn't the prototypical slugger with his ability to make contact on a regular basis.
"Eddie is a better hitter than just a slugger, he has proven that," Blue Jays manager John Gibbons said of Encarnacion, who hasn't struck out more than 94 times since 2008. "He has a good idea of the strike zone, he's not up there just wailing.
"Usually you see a lot of power hitters, they hit a lot of home runs but they strike out 150-200 times. He's not by any means that kind of guy, so there's more in there. He puts that ball in play too, but yeah, for a guy who is known as a power guy, that kind of hitting streak, that's pretty rare."
Encarnacion's hitting streak was the longest in the Majors since Colorado's Nolan Arenado had one that lasted 28 games last year. It's the longest streak in the American League since Ichiro had at least one hit in 27 games during the 2009 season.
The 32-year-old Encarnacion also had an extra-base hit in nine consecutive games going into play Tuesday night and he fell just one shy of the longest streak since Justin Upton did it four games in a row in 2011. Earlier this week, Encarnacion had a streak of eight consecutive games with at least one RBI but that was snapped Monday night and he was forced to settle for tying the franchise record.
Encarnacion is the clear favorite to pick up American League Player of the Month honors when they are announced later this week. He led the Majors during that month in average (.407), slugging (.907), extra-base hits (21), total bases (78) and OPS (1.367).
Prior to this run, Encarnacion had been enjoying a strong year, but the club had been waiting for him to go on one of his typical tears at the plate. That happened in August and his production played a major role in Toronto finishing the month with a league-high 170 runs.
"I think he's just staying on the ball better," Gibbons said of his streak compared to earlier in the season. "If you focus through the middle of the field, it keeps him on that ball, especially out over the plate. If he's too much in hook mode, he'll try to hook that pitch on the outside corner, that's where you get him to roll over or hit a lazy fly ball.
"If he stays on it just a hair longer, doesn't mean he's going to hit it that way, but it'll get the ball to travel a little deeper and get the barrel to it instead of the end of the bat."
Gregor Chisholm is a reporter for MLB.com. Read his blog, North of the Border, follow him on Twitter @gregorMLB and Facebook, and listen to his podcast. This story was not subject to the approval of Major League Baseball or its clubs.