Dull delivers as moment arrives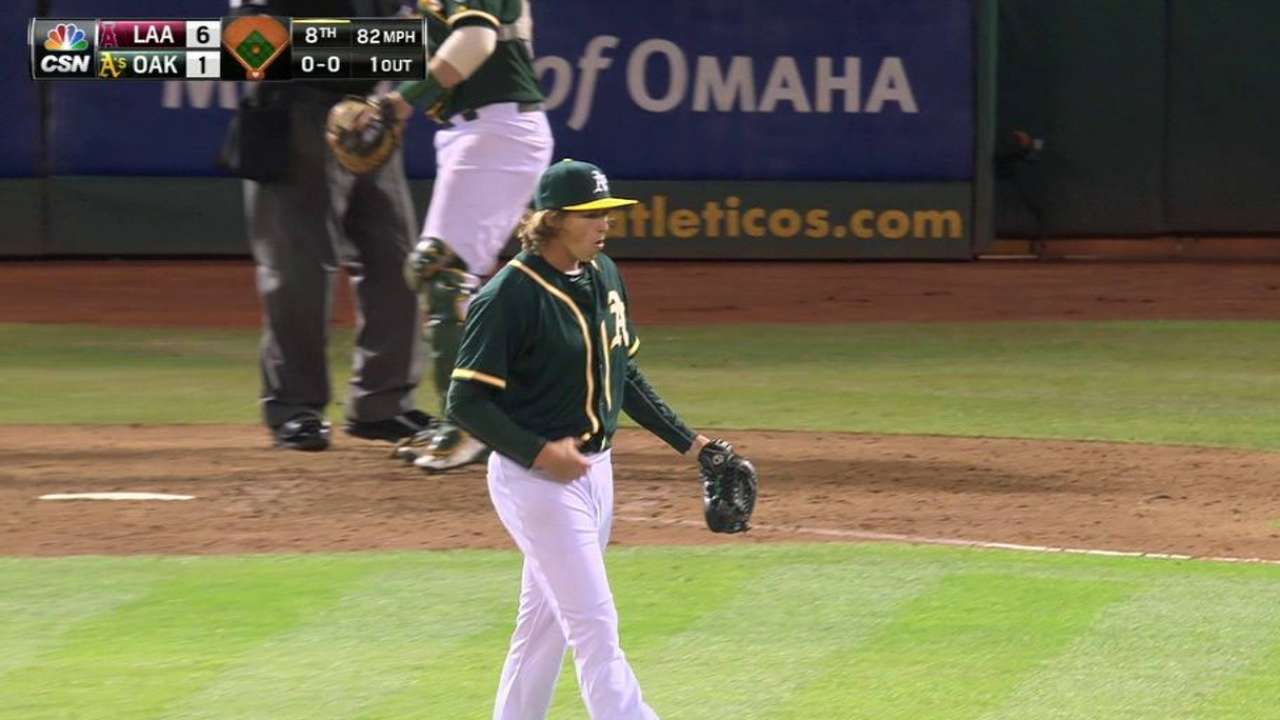 OAKLAND -- His flowing blonde locks tucked neatly inside his cap, Ryan Dull made his way to the mound for the A's in the eighth inning of Tuesday night's 6-2 loss to the Angels, quietly working his way around a one-out base hit for a scoreless big league debut.
It was a special moment in an otherwise forgettable game that saw the A's drop to 58-75, tying their loss total from 2014.
"Looks like someone's 12-year-old kid out there and didn't seem to be affected by any nerves," manager Bob Melvin said of the 5-foot-10, baby-faced righty. "Used all of his pitches, low-90s fastball with some movement, looked like some sliders to the righties, some changeups to the lefties and knew where it was going. Impressive start for him."
Dull admitted he was "a little bit nervous," but it was hardly noticeable, as he sneaked a slider past his first batter, C.J. Cron for his first career strikeout.
"Can't draw it up any better than that," said Dull, one of eight players brought up from Triple-A Nashville on Tuesday.
Dull, a 32nd-round Draft pick by the A's in 2012 who posted a 0.74 ERA in 47 Minor League relief appearances this year, offered up a one-out base hit to Erick Aybar but retired each of his next two batters, getting David Freese to pop out and inducing an inning-ending groundout from Carlos Perez.
"It was exactly how I thought it would be, just going out there and getting to experience what everyone as a kid dreamed of," Dull said. "Little bit nervous, but after my first couple of pitches under my belt, I was able to relax."
But his family and friends could hardly sit still.
"My phone hasn't stopped buzzing all day," he said, smiling.
Jane Lee is a reporter for MLB.com. This story was not subject to the approval of Major League Baseball or its clubs.