Same routine, better results for Nelson
Brewers righty holds Pirates to one run following down start in Cleveland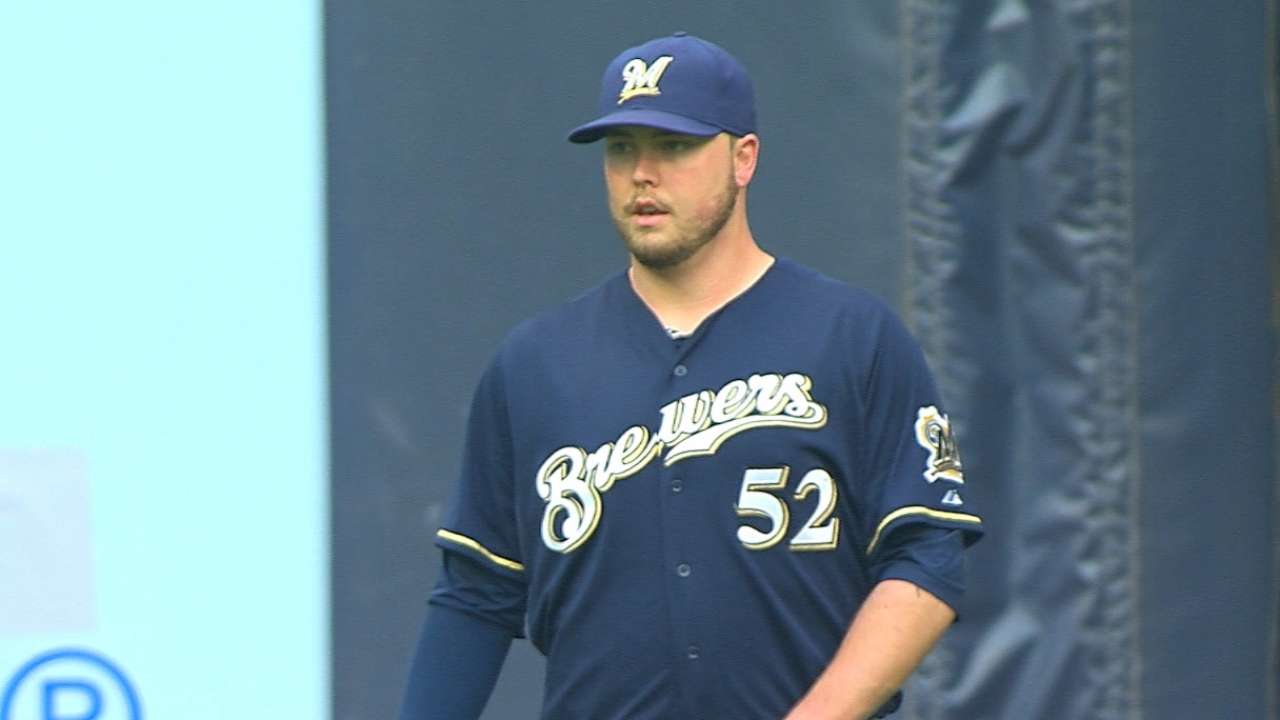 MILWAUKEE -- How did Jimmy Nelson lower his walk total from a career-high eight last week in Cleveland to zero in Tuesday's 7-4 Brewers win over the Pirates at Miller Park? He kept things simple.
"I didn't really overthink the last outing or two," said Nelson. "I stayed with my same routine between starts, had some good bullpen work and just tried to flush it out as quick as I could."
Mission accomplished. Six days after he surrendered five runs and walked eight batters in 3 1/3 innings on a rainy night in Cleveland, Nelson pounded the strike zone for seven innings against the Pirates. He threw 72 of 101 pitches for strikes, retired 10 batters in a row during one stretch from the first inning through the end of the fourth and allowed a lone run when Jung Ho Kang doubled leading off the fifth inning and scored on Neil Walker's single.
The Pirates entered the night ranked fourth in the National League in on-base percentage, fourth in batting average, fifth in runs scored and first on the list of Nelson's favorite opponents. In five career starts against Pittsburgh, all this season, he is 4-1 with a 1.72 ERA.
"He's shown us good stuff," Pirates manager Clint Hurdle said.
Asked whether the Pirates considered a more patient approach, given Nelson's command issues in his previous outing, Hurdle said, "We talked about it. But a lot of times when teams have success against him, it's because they get to him early, before breaking ball settles in. He came out throwing the breaking ball well from the start tonight."
Nelson has held Pirates hitters to a .194 batting average this season.
"It's weird," he said. "Even in the Minor Leagues or in college, there are some teams you throw well against, and then on the other side of it, it seems like there's some teams that get the best of you. It's something you try to avoid; you try to stay consistent with every team. It's just a weird game."
Nelson was the second Brewers starter in as many games to author a comeback story. Wily Peralta shook off his own poor start in Cleveland by delivering seven innings of one-run ball against the Reds on Sunday, eliminating concern about his velocity.
"Every starter is going to have starts that are less than what they want and where they are going to have to make some adjustments," Brewers manager Craig Counsell said. "It is a big part of the game. You just like how guys bounce back. You get knocked down, knocked on your heels, and you bounce back and have a nice outing."
Adam McCalvy is a reporter for MLB.com. Follow him on Twitter @AdamMcCalvy, like him on Facebook and listen to his podcast. This story was not subject to the approval of Major League Baseball or its clubs.