MLB.com Columnist
Richard Justice
Iron Man: Ripken's mark a landmark moment
Few held themselves to a higher standard than the legendary infielder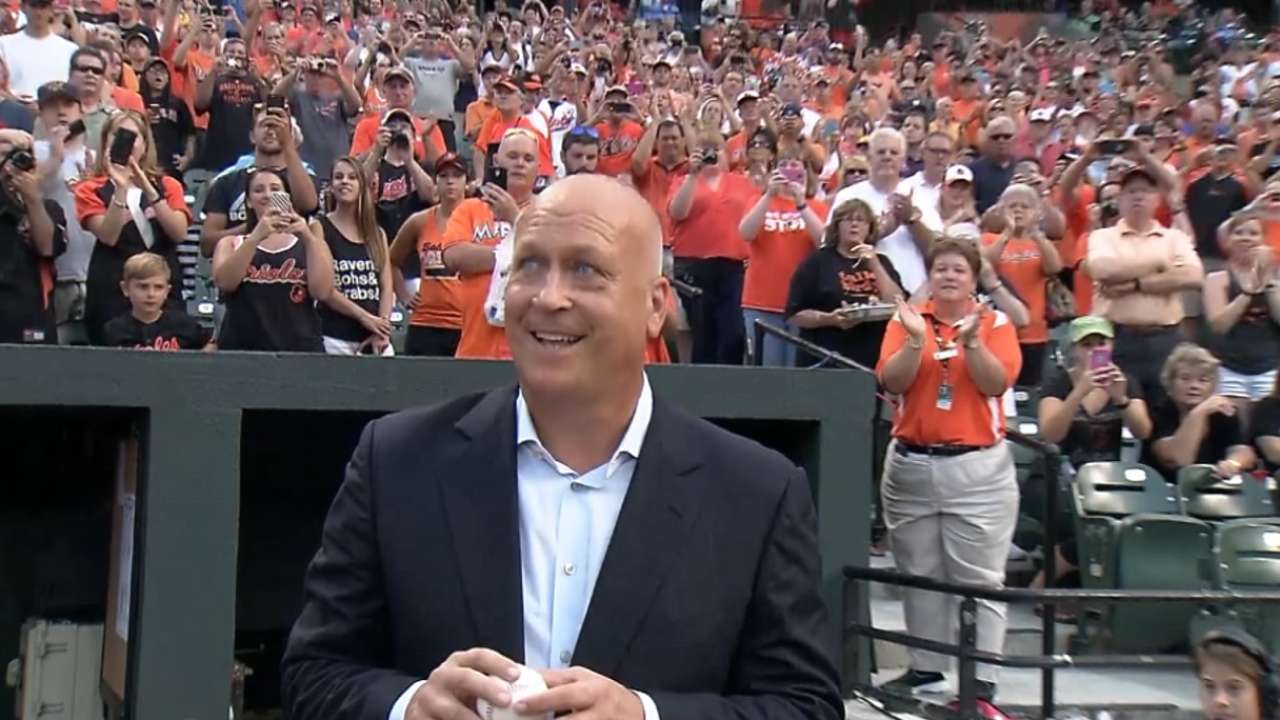 Twenty years later, it remains the sweetest and most surreal scene I've witnessed in sports -- the night Cal Ripken played in his 2,131st consecutive game to break Lou Gehrig's seemingly unbreakable iron man record.
I watched it in the press box at Camden Yards alongside Shirley Povich, one of the great sportswriters and gentlemen of our time. He'd turned 90 a few months earlier and had known Gehrig personally.
In knowing and in appreciating Gehrig -- his decency and his greatness -- Povich was touched on a different emotional level by what he saw and felt on Sept. 6, 1995.
Ripken took a long time embracing The Streak. He especially disliked that every slump was somehow traced back to it. If he'd only take a day off now and then, he'd somehow avoid those months when he hit .212. Who knows? He might have.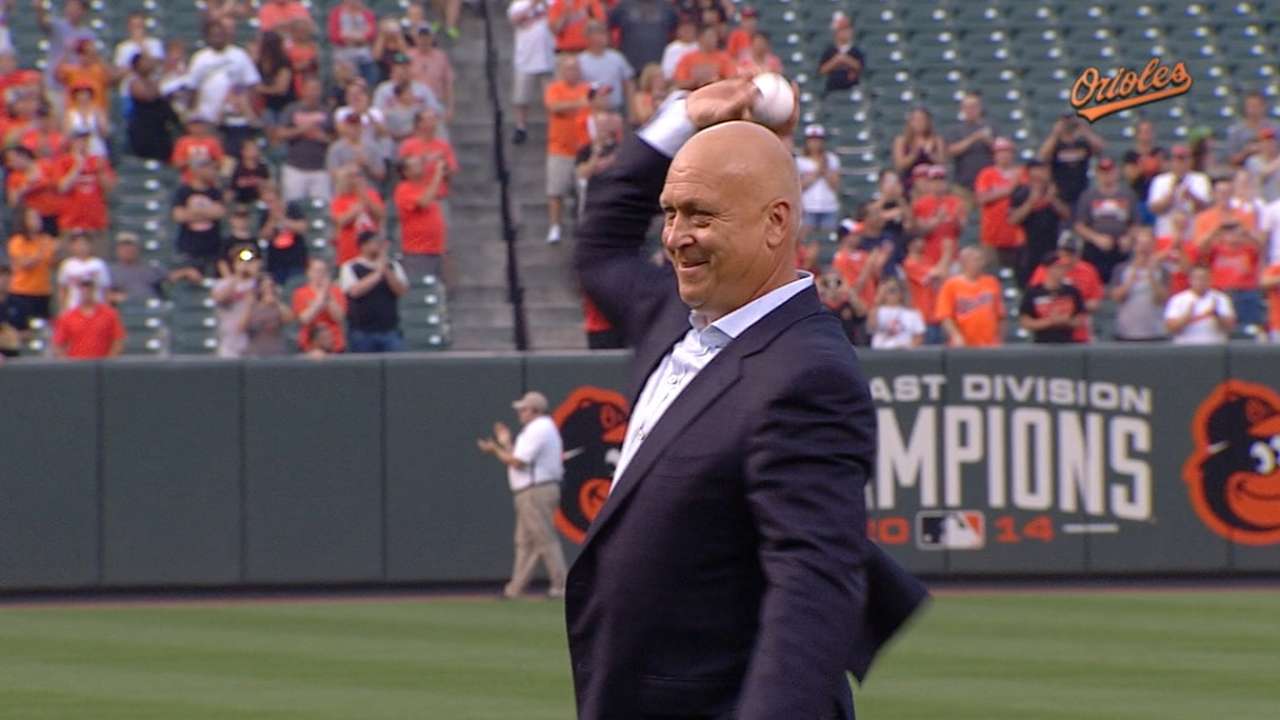 On the other hand, Ripken was the most prepared, most meticulous athlete I've ever known. He was obsessively careful about nutrition and conditioning, about mental preparation, too, all of it.
Ripken would sometimes sit in on pregame meetings as a game plan to attack opposing hitters was finalized. He used that information to position himself defensively and to cheat a step here or there. His judgment was so trusted that he occasionally called pitches from his position at shortstop.
Other parts of Ripken's pregame routine were just as exacting. He would trot out to the field prior to batting practice and take a couple dozen ground balls and make throws across the infield. Those drills allowed him to gauge the strength of his arm that night and let him know what throws he could and couldn't make.
For a long time, Ripken was defined solely for his greatness as a player. And while The Streak is a nearly incomprehensible accomplishment, he was an overall great player.
Ripken won the American League Rookie of the Year Award in 1982 and the AL Most Valuable Player Award in '83 and '91. He was a 19-time All-Star and a first-ballot Hall of Famer. He caught the final out of the 1983 World Series to begin the wild celebration of a championship for his hometown team.
But as The Streak became a living, breathing thing -- 1,500 games, 2,500 games -- Ripken tired of questions. During one season, he timed how long it would take a reporter to get around to asking about The Streak.
Ripken was unfailingly polite, and he wanted to please everyone. But he was sensitive that some used The Streak as a criticism instead of an accomplishment. Once he asked about country music star Bill Anderson. Did I know him?
Huh?
"I read that he'd never turned down an autograph request," Ripken said. "I just can't believe that."
Ripken told of trying to accommodate everyone who wanted an autograph, and then one Sunday after a game when he was supposed to meet his parents somewhere, he left a few fans waiting.
"You've become like all the others!" one guy yelled.
Days later, that remark still bothered Ripken. Baltimore was his hometown. Brooks Robinson, the nicest man to ever play Major League Baseball, was Cal's hero. He'd modeled himself after Brooksie and knew no one would ever say such a thing about him.
By the summer of 1995, Cal had fully embraced The Streak. He was comfortable with the questions and especially in discussing the meaning of it all. He surely understood that he was directing attention back to what was good about the game in the wake of the terrible 1994-95 labor dispute.
Ripken signed autographs before and after dozens of games that summer. If the whole thing was going to be one of the great memories of his life, he was going to make it special for all those fans who shared it.
There are plenty of wonderful relationships between athletes and the city in which they play, but I can't imagine any were closer than the one between Ripken and Baltimore. They loved and protected one another.
And so, on Sept. 6, 1995, when the game became official in the fifth inning, the ovation began. Only it wasn't like the ovation you usually hear at a game. It wasn't the ovation that accompanies a game-winning home run or a critical strikeout.
This one was softer at the beginning and built up gradually, spreading across Camden Yards and growing in intensity. How does one react?
Ripken stepped from the dugout, touched his heart, waved to his parents. Only the ovation grew, both in intensity and warmth. Ripken's teammates pushed him out onto the field and pretty much forced him to do something that did not come naturally for one of the oldest of the old-school players.
After Ripken had seen his parents and his family, as the ovation grew, he began a lap around the ballpark. He kept saying "Thank you, thank you" as he touched hands and smiled and continued.
Later, Ripken would say he wasn't sure the whole thing actually had happened. No athlete -- not Derek Jeter, not Michael Jordan -- is prepared for a moment like that, a moment that is singularly about you and a moment that is your hometown letting you know how it feels about you.
The Orioles will be on the road when the 20th anniversary of 2,131 comes up this weekend, so the team celebrated it Tuesday night. Ripken threw out the ceremonial first pitch to his buddy, Brady Anderson, and tried once more to put it in perspective.
Ripken celebrated his 55th birthday last week and welled with emotion as he recalled his father, Cal Sr., standing upstairs, smiling and saluting his son. His dad died less than four years later, a victim of lung cancer.
Ripken voluntarily ended The Streak at 2,632 games in 1998, and if it's not the single most unbreakable record in all of sports, it's certainly on the short list. Ripken has long predicted someone would eventually break the record.
As unlikely as that may be, here's hoping that if it happens, it'll be someone like Ripken, someone who cares deeply about his craft and represents the sport so perfectly.
And if it gives us a night at the ballpark like we had on Sept. 6, 1995, Ripken will be the first to appreciate it.
Richard Justice is a columnist for MLB.com. Read his blog, Justice4U. This story was not subject to the approval of Major League Baseball or its clubs.