Rangers hope Gallo can help off the bench
Infielder has been working to improve swing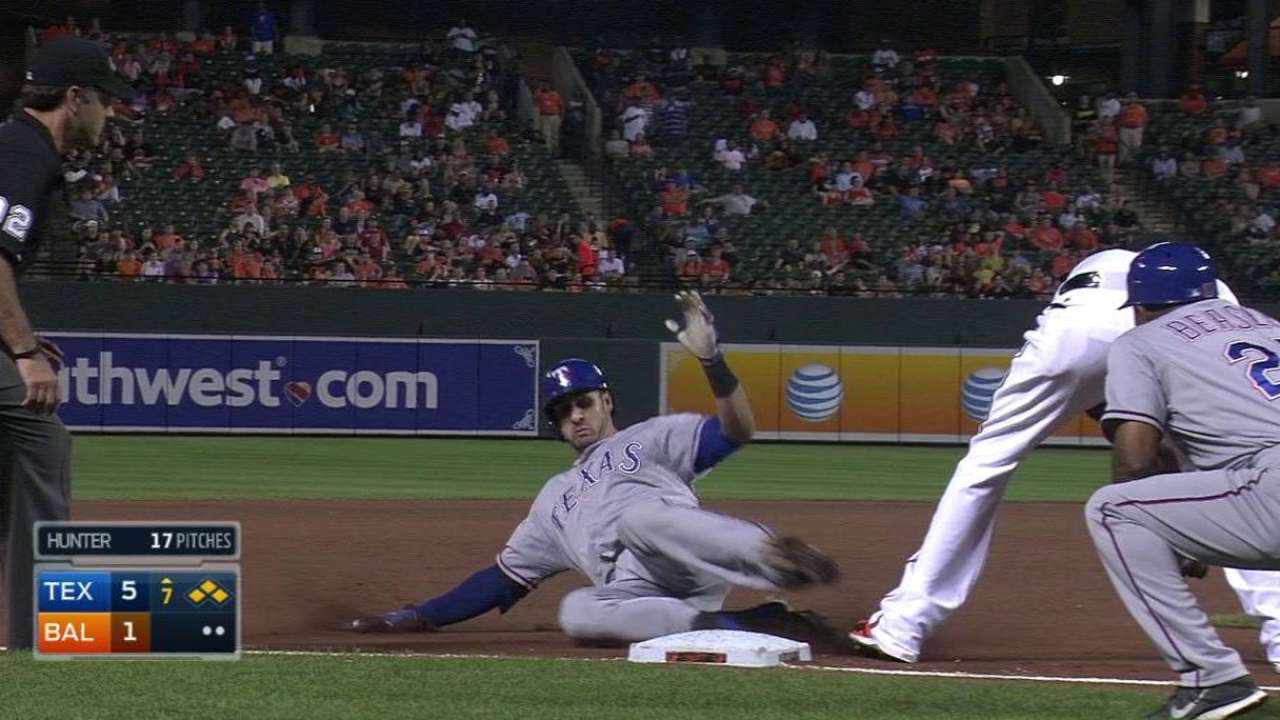 SAN DIEGO -- Rangers infielder Joey Gallo has returned from a demotion to Triple-A Round Rock that he didn't handle well. The numbers reflect that, but the Rangers still believe he can be a valuable role player for them in September.
Gallo, called up from Doubl-A Frisco, was with the Rangers from June 2-29, while Adrian Beltre was on the disabled list, before being sent to Round Rock. During his two-month stay with the Express, Gallo hit .195 with 14 home runs and 32 RBIs in 200 at-bats.
"Obviously it was my fault," Gallo said. "I blame myself. It was like I tried to eat the whole buffet in one sitting. I tried to do too much worrying about everything and I started off bad. I had too much going on. That's my fault. It was tough to struggle after playing in the big leagues."
Gallo said one change should help him. Hitting coach Justin Mashore, who has worked with Gallo since he was in the Arizona Rookie League, suggested he go back to a more open stance. Gallo said he feels more comfortable with it.
"It was the stance I had when I was young in the Minor Leagues and swinging well," Gallo said. "I feel better with it."
Gallo also had multiple conversations with Michael Young, the former All-Star infielder who now works as a special assistant to Rangers general manager Jon Daniels.
"He talked to me about the mental side," Gallo said. "He knows I'm confident enough to play, but baseball is a lot more mental than physical. He talked to me about everything, the mental side of the game, he was a big help. I can't say enough about what he has done."
The Rangers decided to call up Gallo rather than have him continue to play regularly through the Triple-A playoffs, because they believe he can help them through September. But it will be in a limited role as a pinch-hitter off the bench and backup at the corner positions. Although Gallo's primary position is third base, he has also been used in left, right and at first base.
"It is going to be different," Gallo said. "It is going to be weird. I have never been a bench player. It will be a different role, but it will be good. I can relax and just go out and play when I get there.
"I like the outfield. It's a lot of fun. I can run around a little more than an infielder and let some throws go."
T.R. Sullivan is a reporter for MLB.com. Read his blog, Postcards from Elysian Fields, follow him on Twitter @Sullivan_Ranger and listen to his podcast. This story was not subject to the approval of Major League Baseball or its clubs.