Corbin flashes top form as D-backs deny Rox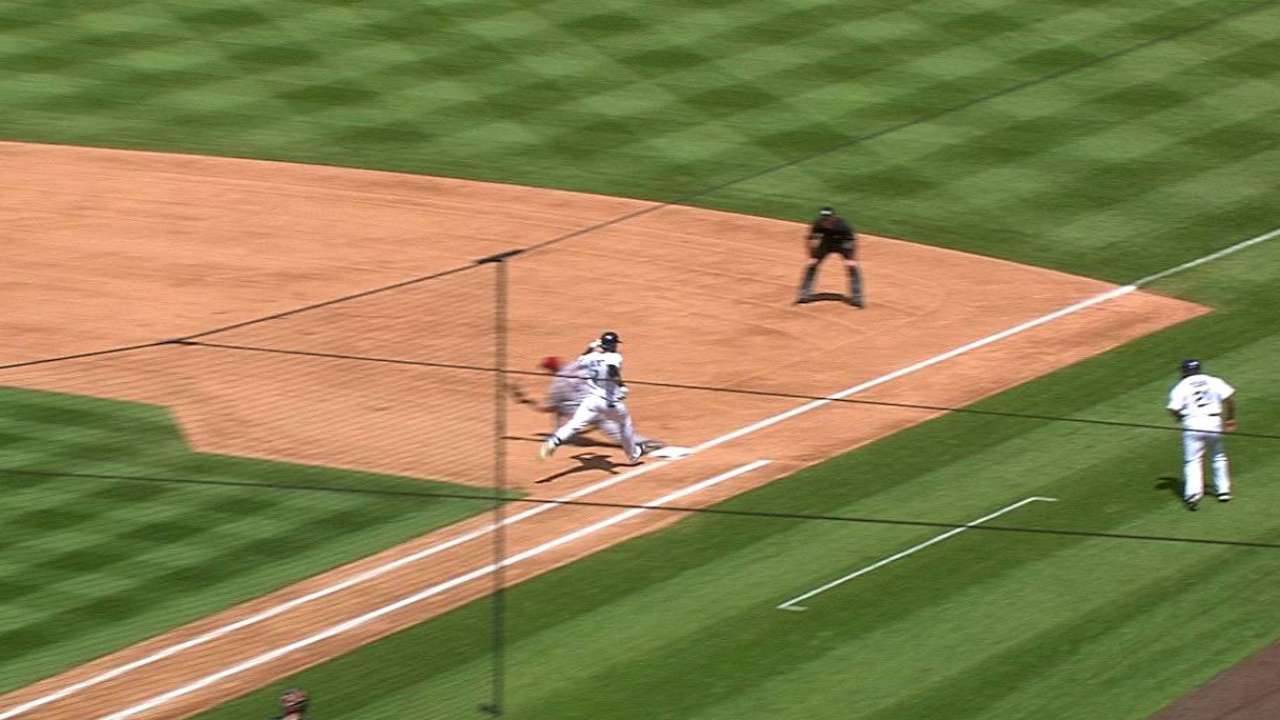 Phil Gosselin hit a three-run homer and a double, while Patrick Corbin allowed two runs and worked into the seventh en route to the win as the D-backs held off the Rockies, 6-4, in the first game of a day-night doubleheader at Coors Field on Tuesday afternoon.
While the D-backs prevailed, the Rockies nabbed the highlight of the game when they turned a 6-4-3 triple play in the ninth inning. With runners on first and second, D-backs first baseman Paul Goldschmidt hit a line drive to shortstop Jose Reyes, who threw to second baseman DJ LeMahieu, who in turn threw to first to complete the triple play.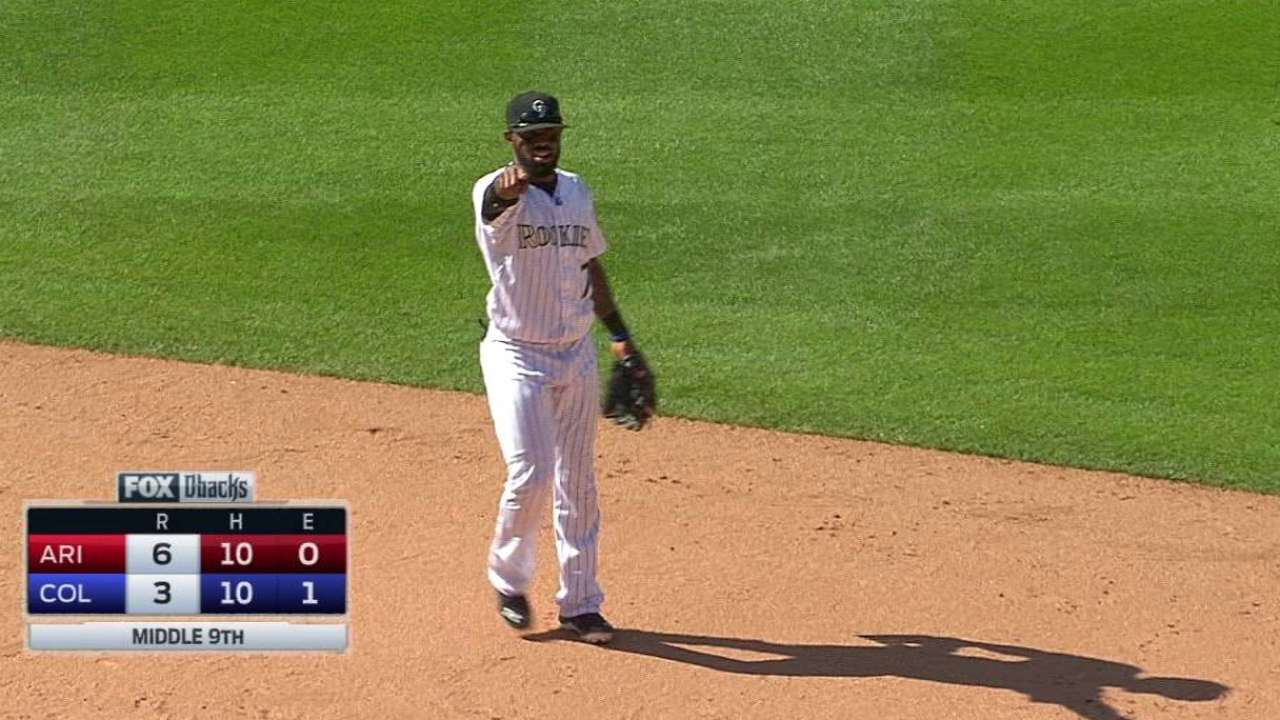 "Any time you've got men on first and second base stealing and a line drive is hit right at somebody in the infield, it's going to be a triple play," Reyes said. "There's no doubt. It's not happened too often, but that was the perfect situation."
The D-backs led, 3-2, in the seventh when Gosselin, who was activated from the disabled list on Monday, hit a 2-1 pitch over the wall in left to give the D-backs a 6-2 lead. After coughing up a 4-1 lead in a 5-4 loss on Monday night, the D-backs held off another rally by the Rockies, who scored a run in the eighth and ninth innings.
"Just fastball pretty much right there" Gosselin said. "[Miguel Castro] was having trouble throwing strikes, so I figured he would come with a fastball there 2-1, and he left it right over the middle of the plate. Luckily, I didn't miss it."
MOMENTS THAT MATTERED
Goose is loose: Gosselin is battling over the next four weeks to be a part of the D-backs' infield plans for 2016. He was on the DL at the time he was acquired in a trade with the Braves on June 20, and he's eager to be a contributing member of the team. Gosselin went 0-for-4 in his D-backs debut on Monday night.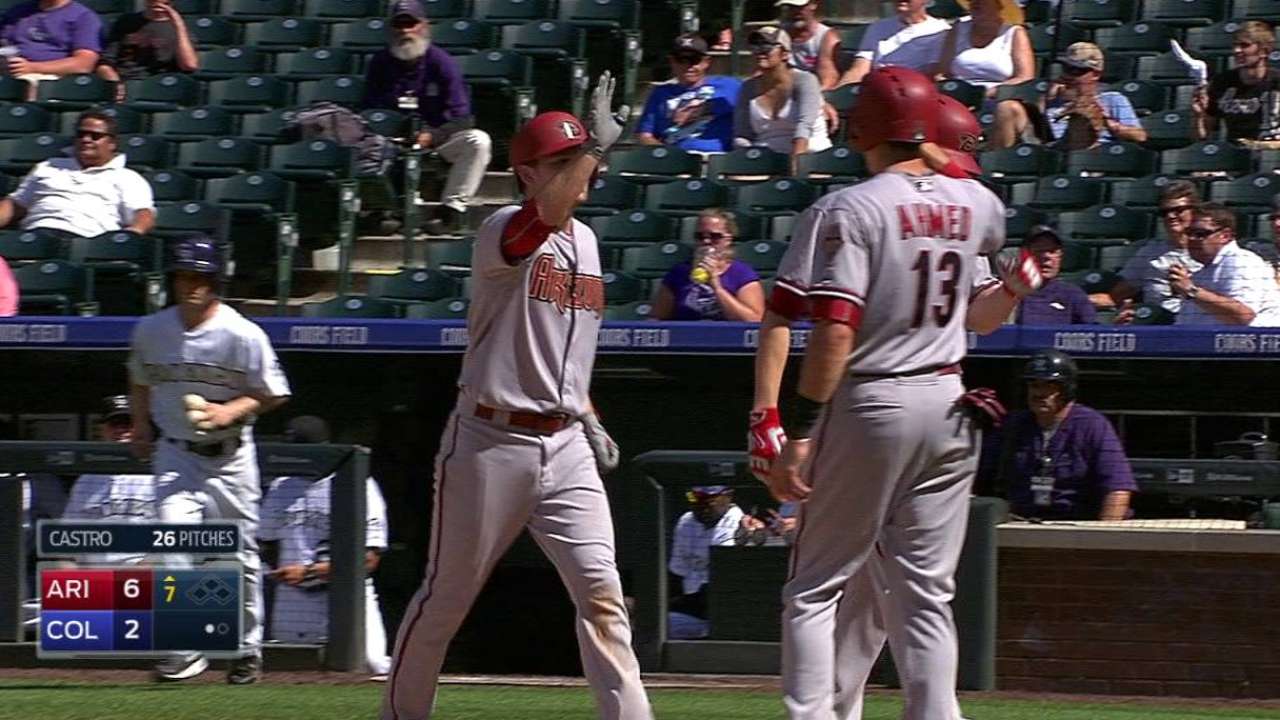 "I'm happy that Chip threw me right back in there," Gosselin said of manager Chip Hale. "Last night didn't go as I planned or the team planned, so it was good to get an early game, get right back in there and try to help the team out."
Corbin strong: Corbin continues to impress as he works his way back from last year's Tommy John surgery. After working 6 1/3 innings on Tuesday, Corbin has allowed three runs over 12 1/3 innings in his last two starts. Since his return on July 4, he has pitched poorly twice and so-so once, but the rest of his 11 outings have been impressive.
"He did a great job," Hale said. "In a tough ballpark to pitch, he made a few mistakes but did them with nobody on. He got some big double-play balls and just pitched gutsy. That's two in a row, which is important for him."
Going extra far: All of the Rockies' three homers were projected by Statcast™ to land at least at least 440 feet away, and two of them came from somewhat unlikely sources. In the second, LeMahieu set a career high with his sixth homer of the season, but it was still just his second home run since late June. Nolan Arenado's 31st of the year was projected to land 442 feet from the plate.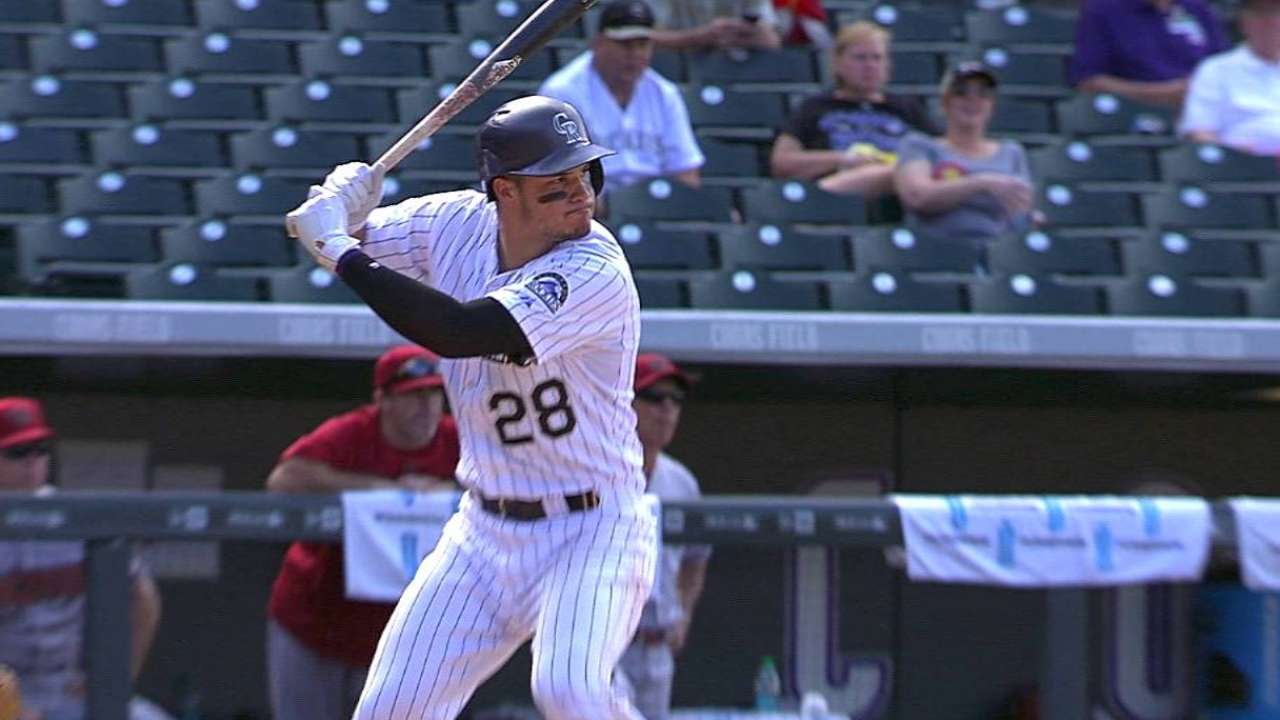 Then in the fifth, Kyle Parker snapped an 0-for-18 skid with the longest of Colorado's three homers -- a drive to center that was projected by Statcast™ to land 466 feet away.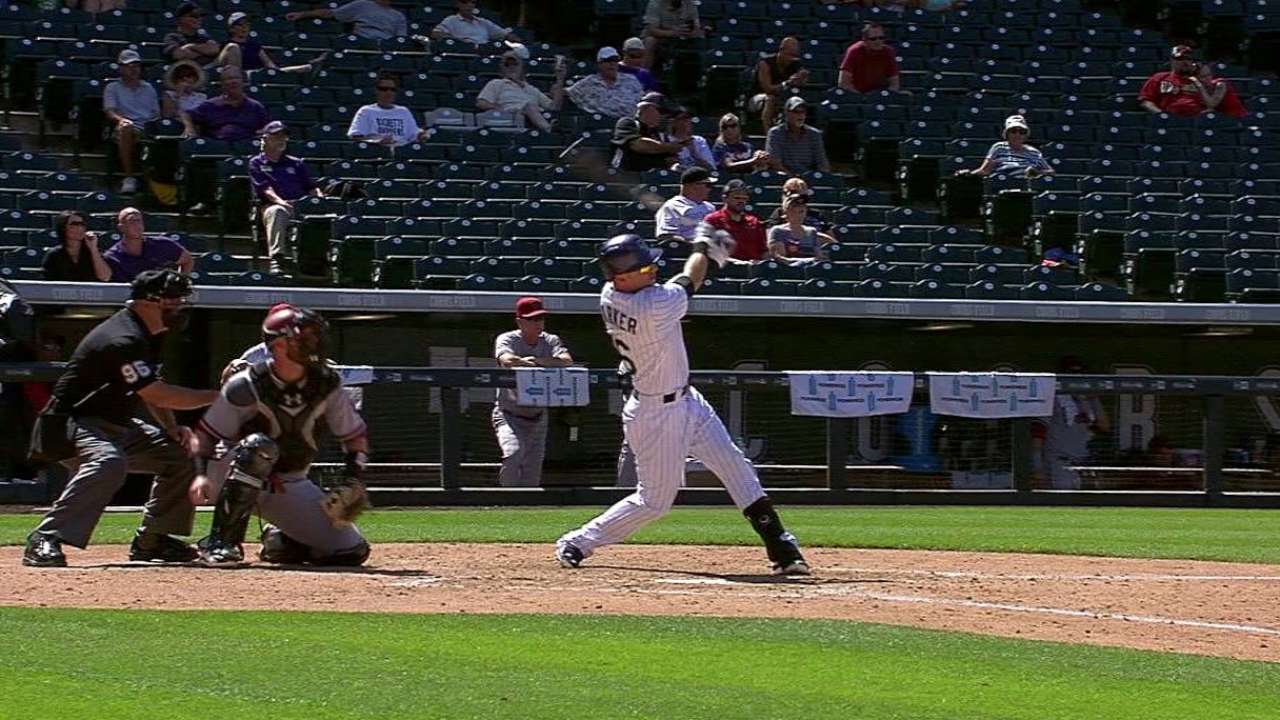 Not one to remember Reliever Miguel Castro -- who was recalled from Triple-A Albuquerque earlier in the day -- was the first prospect in the Troy Tulowitzki deal to appear with Colorado, but his debut wasn't exactly a memorable one. The hard-throwing, 6-foot-5 right-hander surrendered three hits, four runs and a walk in just 1 1/3 innings. In addition to Gosselin's homer, the 20-year-old Castro gave up a triple and a double and walked the pitcher before being pulled with one out in the seventh.
"I think he got a fastball up and out over [the plate] that got hit for a home run," Rockies manager Walt Weiss said. "But it's a good arm."
QUOTABLE
"I've seen it worse, but typically when it's gets real dry and real hot, the ball goes pretty good." -- Weiss, on the conditions at Coors Field
REPLAY REVIEW
D-backs outfielder Ender Inciarte led off the game with a grounder to first that Wilin Rosario fielded and flipped to pitcher Yohan Flande. First-base umpire Marcus Pattillo called Inciarte out, but the D-backs challenged the call, which was overturned.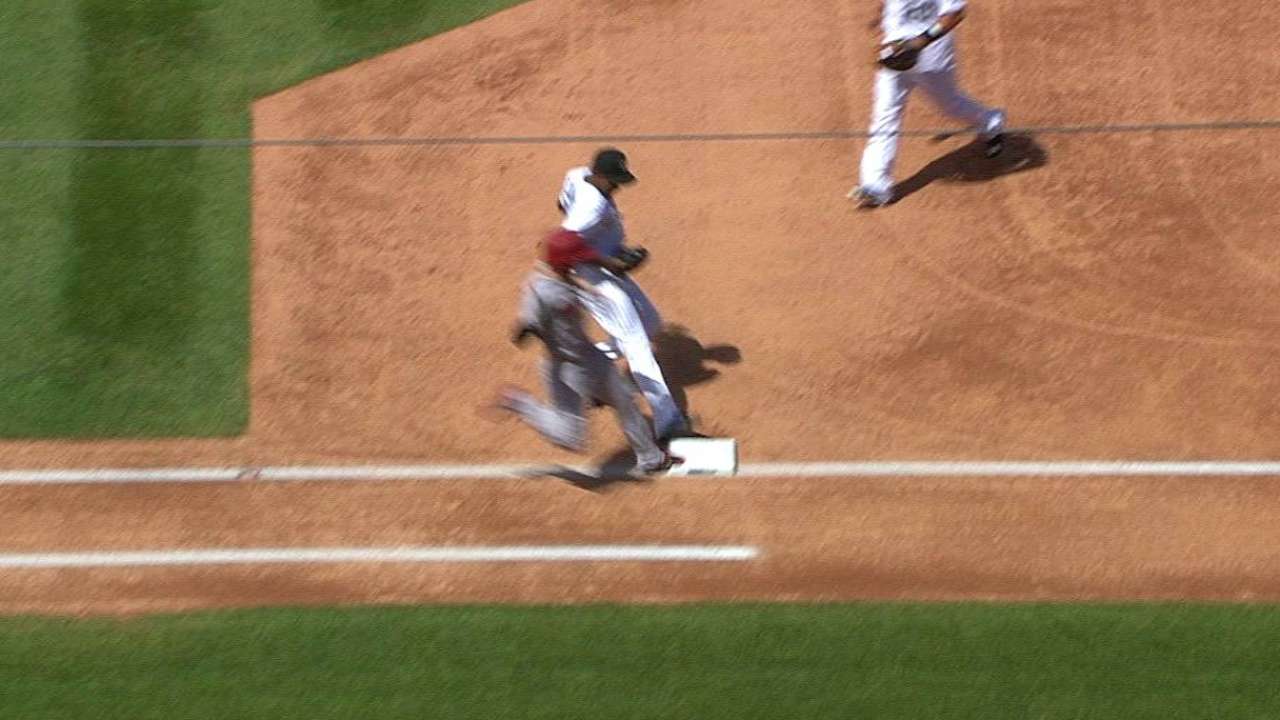 D-backs catcher Jarrod Saltalamacchia led off the second inning with a drive down the left-field line that landed in the seats and was ruled foul. The umpires met, and the play went to a replay review and was overturned, giving the D-backs a 1-0 lead.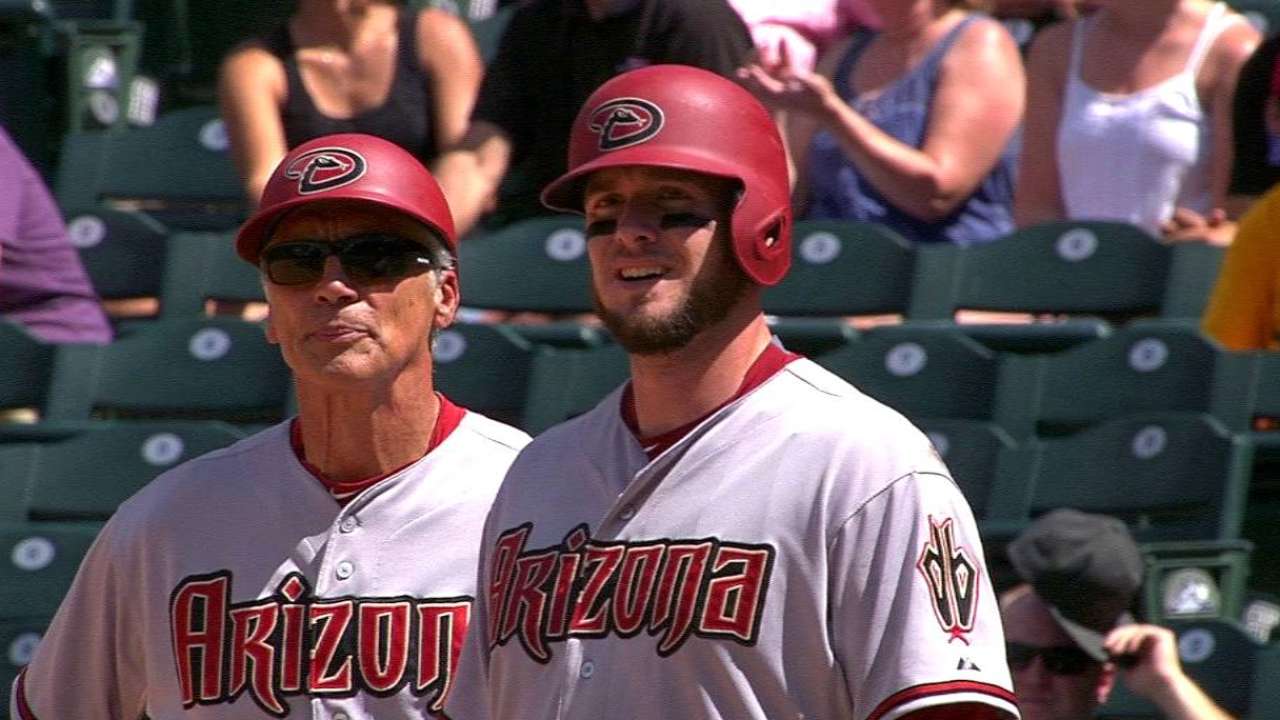 EJECTED
Hale was ejected in the second during the crew-chief review of Saltalamacchia's home run. Hale was ejected by home-plate umpire Tim Timmons. It was Hale's second ejection of the season.
"Early on, we didn't get some of the balls and strikes that were being called," Hale said. "There was some chatter from our bench … and we're really close to home plate here, and the home-plate umpire was just not going to take it. He wasn't going to have it, which I understand."
WHAT'S NEXT
D-backs: Chase Anderson will get the start for the D-backs on Wednesday night in the series finale against the Rockies. Anderson is 1-0 with a 1.42 ERA over his last two starts following a demotion to Triple-A Reno that lasted a little more than 24 hours due to an injury to Jeremy Hellickson.
Rockies: Right-hander Jon Gray will make his fourth start at Coors Field this season, looking for better results than from his last home outing. Against the Mets on Aug. 21, he surrendered seven runs and eight hits in just 1 2/3 innings. First pitch for Wednesday's series finale is at 6:40 p.m. MT.
Watch every out-of-market regular-season game live on MLB.TV.
Steve Gilbert is a reporter for MLB.com. Read his blog, Inside the D-backs, and follow him on Twitter @SteveGilbertMLB. Dargan Southard is an associate reporter for MLB.com. This story was not subject to the approval of Major League Baseball or its clubs.