Rios, Herrera sidelined with chickenpox virus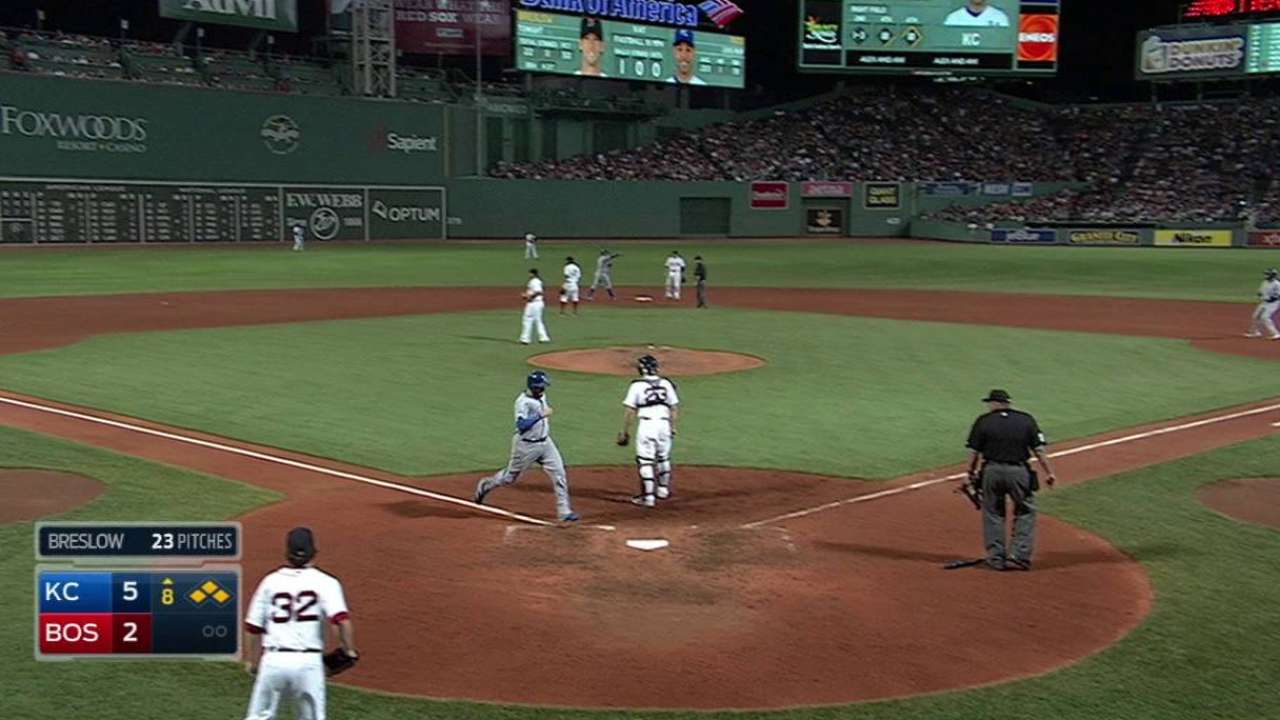 KANSAS CITY -- Royals right fielder Alex Rios and reliever Kelvin Herrera both contracted the chickenpox virus on the team's weekend trip to play the Tampa Bay Rays, and both were sent home separately by private jet back to Kansas City where they are recovering in their homes.
Rios began showing small blister-like symptoms on his chest on Saturday and reported to Royals trainer Nick Kenney, who sought out a Tampa internist who confirmed the chickenpox diagnosis. Herrera began showing symptoms on Sunday.
After Rios' diagnosis, Kenney and the club's medical staff began polling Royals players whether they had been infected with the virus as a child or if they had been vaccinated for it. All players and coaches checked out in either case.
Several players -- right-hander Chris Young, left fielder Alex Gordon, outfielder Jonny Gomes, catcher Salvador Perez and right-hander Edinson Volquez -- all said they had contracted the virus as a child. Shortstop Alcides Escobar coincidentally was vaccinated about two weeks ago in beginning the process of becoming a U.S. citizen.
Kenney stressed there is no timetable for the return of either Rios or Herrera. It could be several weeks -- one of the reasons the Royals sought out the trade for Gomes with the Braves on Monday night.
"They have to be completely healed before they can be brought back and integrated into a whole group," Kenney said.
The highly-contagious stage of the virus usually lessens after five days, but it is much longer before the tiny blisters crust over and completely heal.
Kenney also cautioned that just because one is vaccinated or has had chickenpox doesn't completely rule them out from getting the virus.
"It's a small chance, but there are no 100 percents," Kenney said. "We're still on alert. We're telling our players, 'If you see anything we need to inspect it.' We're still in heightened mode. Right now, we got two days in between our last incident. I feel good about it, but not about great."
Royals general manager Dayton Moore said everything is being done to keep the team safe and healthy. That may or may not include limiting the number of children and family members who regularly visit the clubhouse.
"We try to keep this a family-friendly environment," Moore said.
Kenney said the host for the virus could have come from anywhere.
Players' medical records are carefully examined each Spring Training, which makes it unusual that veterans such as Rios and Herrera could be susceptible to the virus.
But Kenney said sometimes those records can be incomplete because a player didn't receive full immunization or the player may have been mistaken whether or not he had been vaccinated.
Moore said he was stunned about the chickenpox diagnosis.
"My initial reaction was, 'It's 2015 and we got the chickenpox?'" Moore said.
The Royals also made several callups on Tuesday and their medical record had to be examined for the issue. And, of course, Gomes was asked if he had had the virus as a child.
"I'm definitely in the clear," Gomes said. "That's the first time I've been asked something like that, usually it's the knee or the shoulder. I think I'm up to date on all my rabies shots."
Jeffrey Flanagan is a reporter for MLB.com. Follow him on Twitter at @FlannyMLB. This story was not subject to the approval of Major League Baseball or its clubs.