Young Jr. is excited to help Mets' playoff chase
New York called up seven players with rosters expanding on Tuesday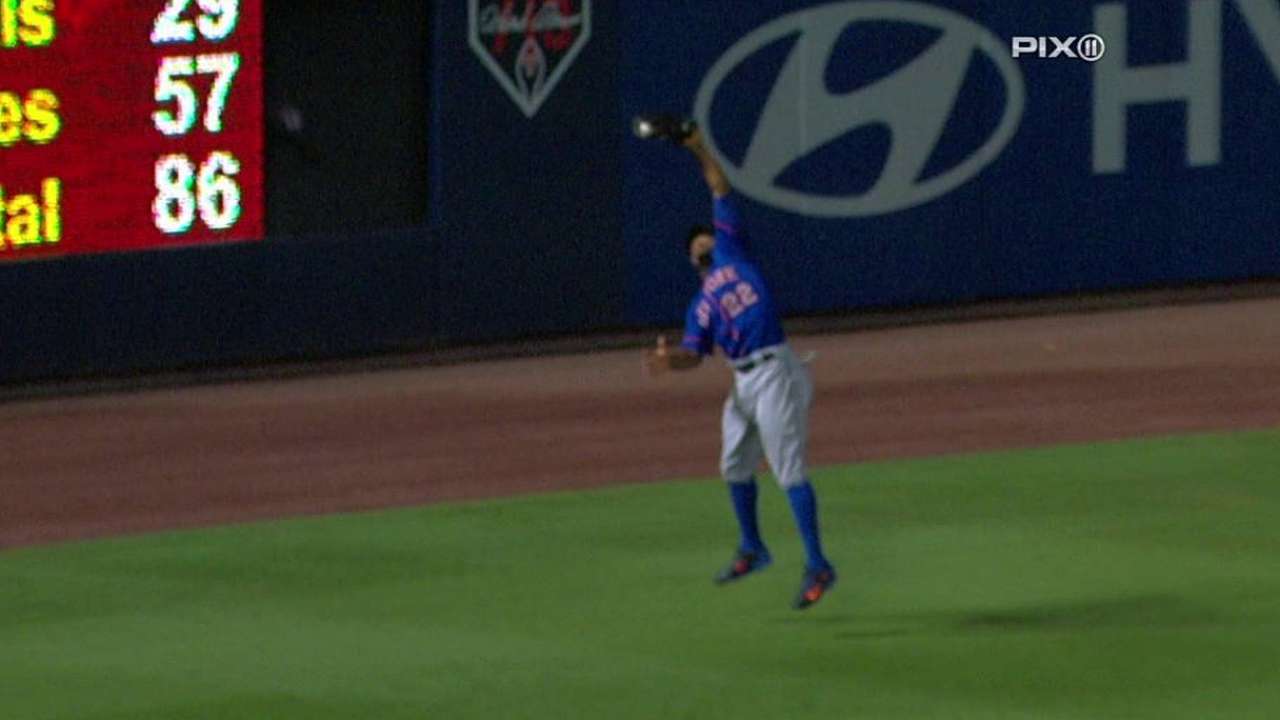 NEW YORK -- For the first time in over a year, Eric Young Jr. stepped into Citi Field's home clubhouse Tuesday afternoon. A security guard greeted him with a hug. A team cook beamed at his arrival. The Mets were thrilled to have what Young called his own "brand of energy" back in the clubhouse.
"You try to put the whole puzzle together," Young said. "Hopefully I can help complete that puzzle."
Young, who played for the Mets from 2013-14, was among seven new players crammed into a suddenly crowded clubhouse on Tuesday, the first day big league teams could expand their rosters past 25. He joined fellow callups Eric Campbell and Kevin Plawecki from Triple-A Las Vegas, as well as disabled-list returnees Steven Matz, Kirk Nieuwenhuis, Erik Goeddel and Bobby Parnell. To make room on their 40-man roster, the Mets outrighted reliever Vic Black to Triple-A Las Vegas, in a move that could end the reliever's time in the organization.
With the exception of Matz, most of those players will have minimal roles in September -- and possibly no roles in October. But Young, whom the Mets acquired via trade in mid-August, offers a skill set that none of the other 31 players in Flushing do: sheer, blazing speed.
"There's no question he brings a different dimension to our team," manager Terry Collins said. "His ability to steal bases, his ability to score is as good as anybody in the league. This guy was a huge part of our offense for two years, so it's nice to have him back. It's nice to have him sitting there, and in certain situations get in and produce a run for us."
The Mets entered Tuesday's play ranked 27th in the big leagues with 47 stolen bases, or one more than Young swiped by himself in 2013. In the playoffs, where one base can mean the difference between a win and a loss -- here's looking at you, Dave Roberts -- the Mets know his presence in October could be valuable.
"Spending the last two seasons with these guys and seeing the success they've been able to do … I'm excited for whatever role they present to me," Young said. "Right now it's all about the postseason, getting there and getting deep into it."
Anthony DiComo is a reporter for MLB.com. Follow him on Twitter @AnthonyDiComo and Facebook, and listen to his podcast. This story was not subject to the approval of Major League Baseball or its clubs.