Thatcher's addition to 'pen key with Sipp ailing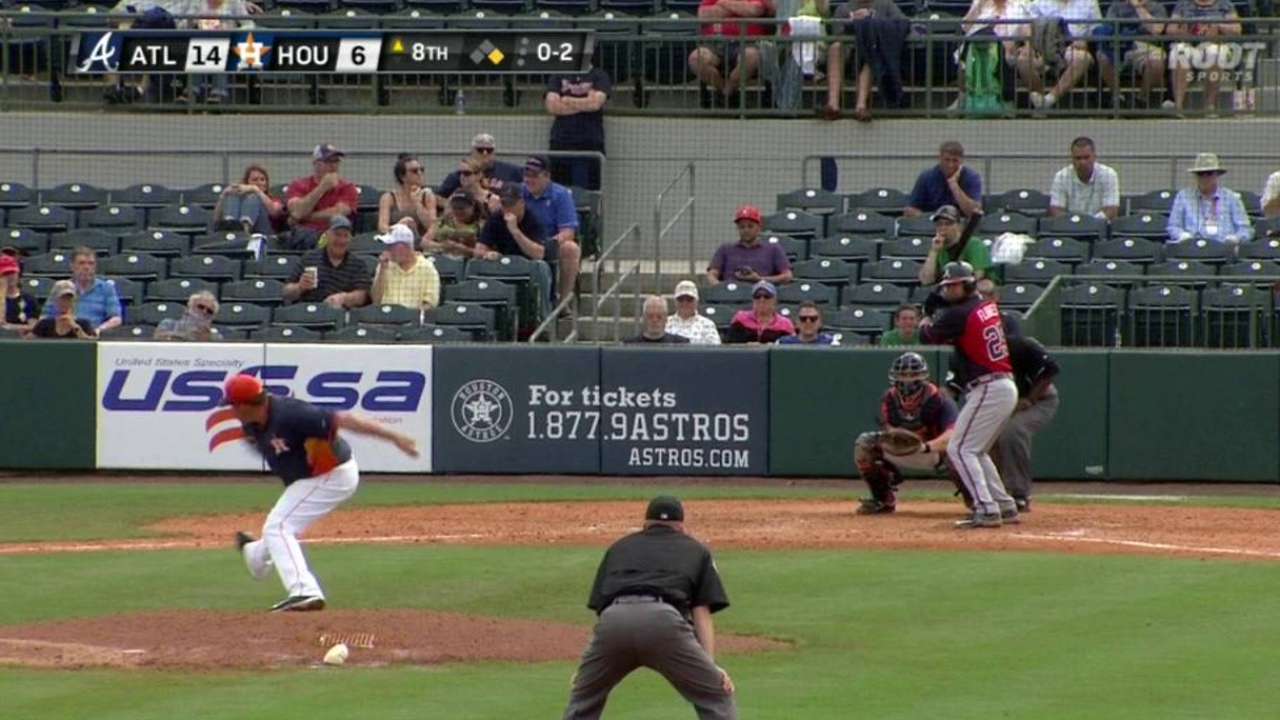 HOUSTON -- Home in Kokomo, Ind., after he was designated for assignment on July 21, Joe Thatcher fielded calls from a few Major League teams who wanted the ninth-year southpaw's services in their bullpen.
Using the unplanned summer at home to unwind and regroup, Thatcher instead accepted his assignment to the Astros' Triple-A club in Fresno, Calif.
"I feel comfortable here," Thatcher said. "We've got a good group of guys here, and I felt this is where I needed to be and where I wanted to be."
Thatcher was one of three September callups to join the Astros prior to Tuesday's game against the Mariners, joining utility man Jonathan Villar and reliever Josh Fields. Thatcher's presence could prove crucial in the coming days, after manager A.J. Hinch revealed on Tuesday that lefty Tony Sipp is dealing with a back issue and is unavailable for the series.
Hinch said Sipp -- one of two lefties in the bullpen alongside Oliver Perez -- has been dealing with the issue since the Astros' three-game series against the Yankees last week and would get more tests Tuesday.
In comes Thatcher, who saw his ERA go from 2.04 on July 1 to 3.79 before he was designated for assignment, but he rebounded to notch 10 strikeouts and allow just one earned run in nine games at Fresno.
"I felt like things kind of snowballed on me a little bit and I wasn't feeling like myself on the mound," Thatcher said. "I just got a chance to start over, work on my mechanics and dial in a slider. Ended up working out pretty good, so hopefully the break is what I needed. I feel like I'm here and ready to contribute however that may be."
Villar, the Astros' Opening Day shortstop, has also started in left field and at third base -- versatility Hinch craves in September. The switch-hitter excelled against left-handed pitching in Fresno, hitting .317 in 70 games.
"He allows me to do anything off the bench, depending on how I use the rest of the bench," Hinch said. "I can hit anybody for any player and Villar can go in for defense. I can pinch-run Villar for anybody and he's generally going to be faster than the guys we have. He's a do-everything-type player in September that finds his way into a lot of games."
Fields, the only reliever with options, returns after serving the minimum 10-day assignment at Double-A Corpus Christi, where he was optioned when the Astros called up Vincent Velasquez.
Fields is now reunited with Thatcher, who walked into a bit of a different clubhouse dynamic on Tuesday, meeting new teammates Carlos Gomez, Mike Fiers and Scott Kazmir and readying himself for the stretch run.
"The moves that were made added pieces to what was already a great core," Thatcher said. "Should make a fun September."
Chandler Rome is an associate reporter for MLB.com. This story was not subject to the approval of Major League Baseball or its clubs.