Feldman exits with right shoulder discomfort
Pitcher to have MRI exam on Wednesday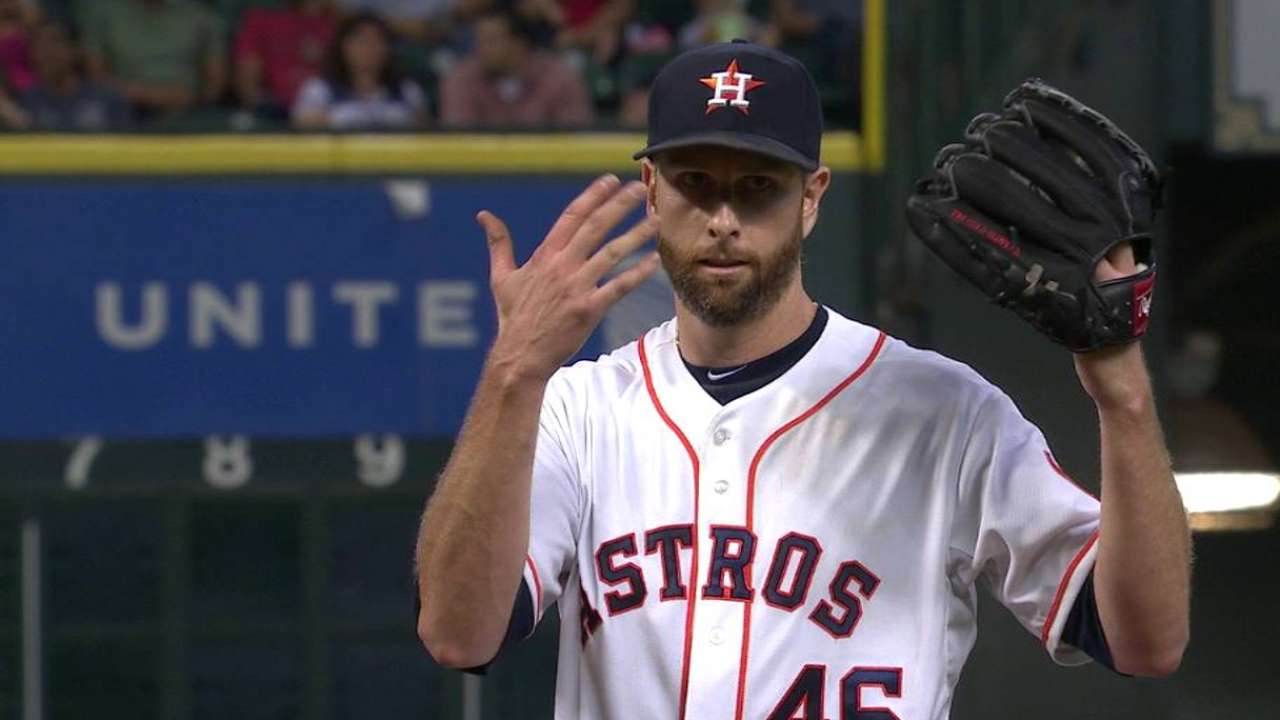 HOUSTON -- Astros starter Scott Feldman is scheduled for an MRI exam on his right shoulder on Wednesday after he exited Tuesday's start against the Mariners -- an eventual 7-5 Astros loss -- with discomfort after just 2 2/3 innings.
Feldman, who battled control issues throughout his short stint, said the pain got worse gradually throughout his outing, and he finally summoned head trainer Nate Lucero and manager A.J. Hinch to the mound after delivering his 85th pitch.
"It felt tight at the beginning of the game, but once I started feeling where it was actually starting to hurt ... you have to try to know the difference between just tightness and putting yourself and the team in a bad position," Feldman said. "Once it started hurting, I don't want to go out there and tear my shoulder, or something like that."
Feldman briefly spoke with both Hinch and Lucero before exiting the game, giving way to Vincent Velasquez, who inherited an 0-1 count on Brad Miller with two on and two out. Miller knocked an RBI single two pitches later to give the Mariners a 3-1 lead.
Feldman said he felt no pain while warming up before the game and didn't attribute his season-high five walks to the discomfort.
"I think it was just one of those nights where it was going to be a battle," Feldman said. "Didn't have my best stuff, my command or anything. I was just trying to battle through it, and then, unfortunately, my shoulder started hurting."
Hinch echoed Feldman, claiming the health wasn't to blame for the righty's erratic command, but the skipper knew as soon as he saw the veteran motion to the dugout that things were awry. Feldman said he can't ever remember exiting a game so abruptly, and admitted he's a "little nervous" given it's his shoulder that's affected.
Feldman, who spent 45 games on the disabled list earlier this season with a torn right medial meniscus, is coming off a torrid August in which he had a 1.33 ERA in four starts.
"You never want to have any shoulder problems, especially with the team playing this well and fighting for the playoffs," Feldman said. "Hopefully I can get back out there pretty soon ... It's just one of those things, part of baseball. You go through ups and downs."
Chandler Rome is an associate reporter for MLB.com. This story was not subject to the approval of Major League Baseball or its clubs.