Padres bolster 'pen with Mateo, Vincent
Club makes moves as rosters expand; Myers set for rehab assignment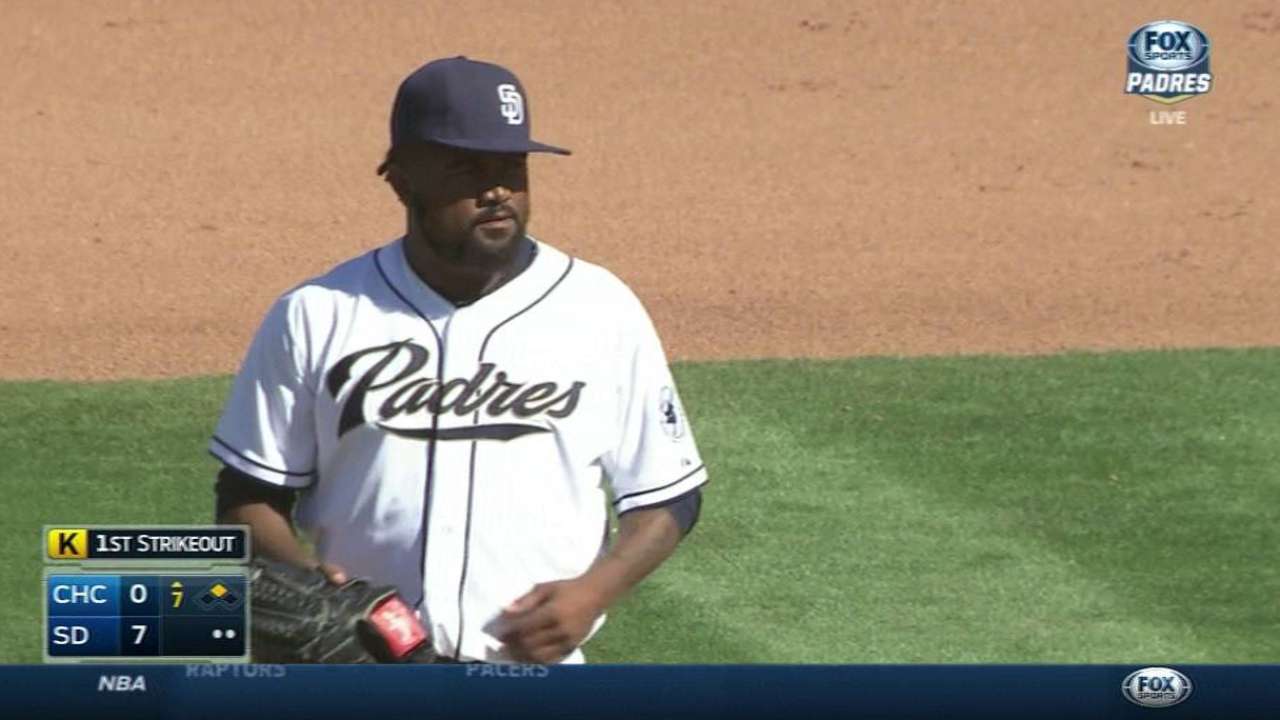 SAN DIEGO -- The Padres have called up right-hander Nick Vincent from Triple-A El Paso and reinstated Marcos Mateo from the disabled list Tuesday.
Vincent has been up and down with the Padres this season, with this marking his fourth stint in San Diego. The Poway, Calif., native was last called up June 10 before being optioned back to El Paso on June 24. The 29-year-old pitched 12 2/3 innings, allowing 17 hits and six runs in the Majors this season.
Vincent said he had a feeling he was headed to San Diego when he wasn't called into El Paso's close game on Monday night. He found out after the game that he was being called up.
"Finally it worked out. Just excited to be here," Vincent said. "Can't take anything for granted in this game. Glad to be back here and I want to help this team win. I am from San Diego and want to help out as much as I can."
At El Paso this year Vincent is 5-3 with a 3.04 ERA.
"My arm is back on top, when I first came up I was a little bit underneath the ball," Vincent said. "I have been pitching good the last month and a half. For a reliever it is confidence, coming in with confidence. ... I think the confidence for me is at a good spot right now."
Mateo returns after doing a rehab assignment with El Paso. The right-hander was placed on the DL Aug. 6 with a neck strain.
Mateo pitched in three games with El Paso, going 3-0 with a 1.69 ERA. Mateo has appeared in 15 games for San Diego, with a 5.19 ERA.
Worth noting
• Wil Myers began a rehab assignment with Class A Advanced Lake Elsinore on Tuesday night. Myers has been on the DL since June 15 with left-wrist tendinitis and played in just 35 games this season, his first with the Padres. Assistant general manager Josh Stein said there was not a specific number of rehab games set that Myers would play in. Stein said ideally they would like to see Myers have about 40 plate appearances, but will take it day by day. Stein said he thought Myers would play primarily in center field, but might spend some time in the outfield corners and first base as well.
"Just like any rehab assignment, especially for a position player, the big thing is getting that timing back," Stein said. "He has gone through this long swing progression and has gotten to the point where he is able to cut it loose in the batting cage and batting practice. It's different when you get in the box. ... There are going to be some different things he needs to adjust to."
• Josh Johnson, who has been on the 60-day DL the entirety of the season while recovering from Tommy John surgery, completed another simulated game of one inning, throwing 15 pitches. The team will wait to see how Johnson feels and then decide how to proceed.
"It felt good," Johnson said. "It was pretty much exactly what we were hoping for, and hopefully I can get out there and get a rehab assignment and get in Minor League games and be able to compete again."
Johnson said it would mean a lot to be able to pitch this season.
"Being here, showing up every day, working hard, [being able to pitch again] would make it kind of easier to go through," Johnson said. "It's been tough, it's been a long road, but things happen for a reason. I don't know why right now, but it's all part of it."
Beth Maiman is an associate reporter for MLB.com. This story was not subject to the approval of Major League Baseball or its clubs.