Gordon logs two hits in return against Tigers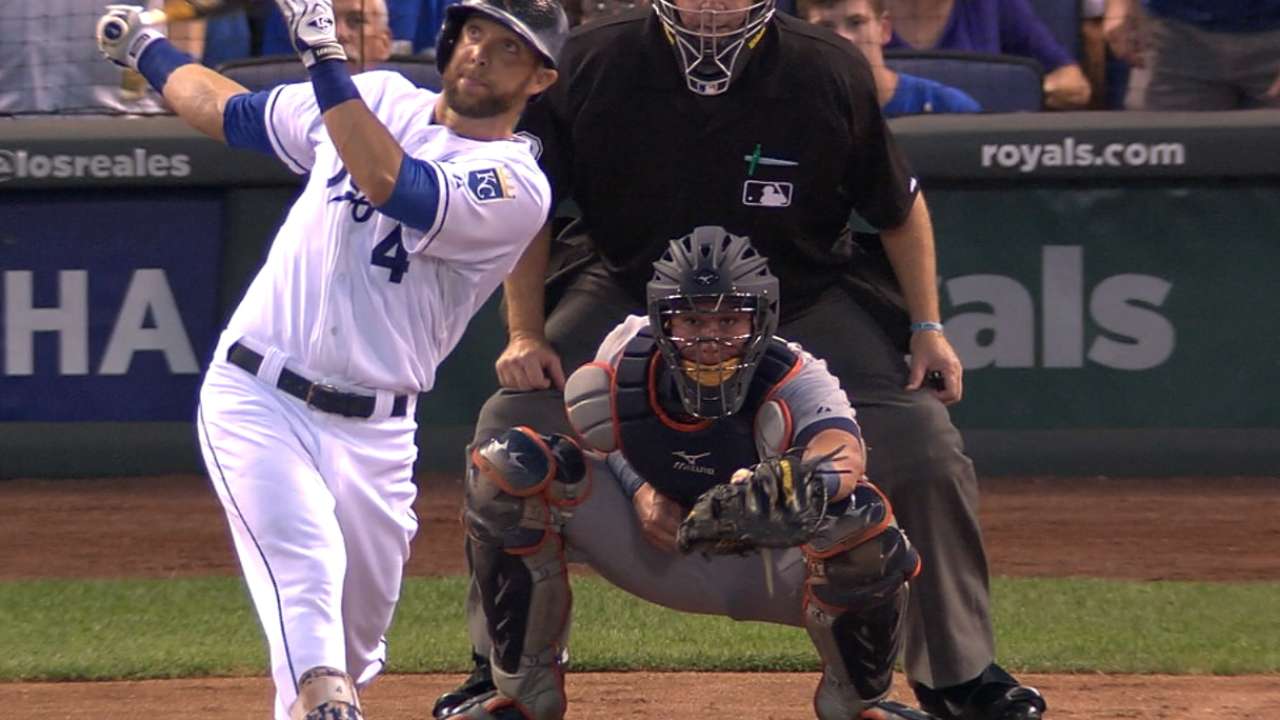 KANSAS CITY -- One familiar face -- left fielder Alex Gordon -- and one new face -- outfielder Jonny Gomes -- were in the Royals' clubhouse when the team arrived to the ballpark on Tuesday.
Gordon was activated from the disabled list after rehabbing a strained groin at Triple-A Omaha for eight games. Gomes was acquired in a trade with Atlanta on Monday, partly because of the team's concern over right fielder Alex Rios' chickenpox diagnosis.
Both Gordon and Gomes will be eased into the Royals' outfield, according to manager Ned Yost. Gordon started the series opener against the Tigers and delivered a sacrifice fly in his first at-bat after receiving a standing ovation from the crowd as he came to the plate. He went 2-for-3, logging a single in his final at-bat in the eighth before being lifted for pinch-runner Paulo Orlando in a 6-5 loss.
Gordon said his first game back went OK.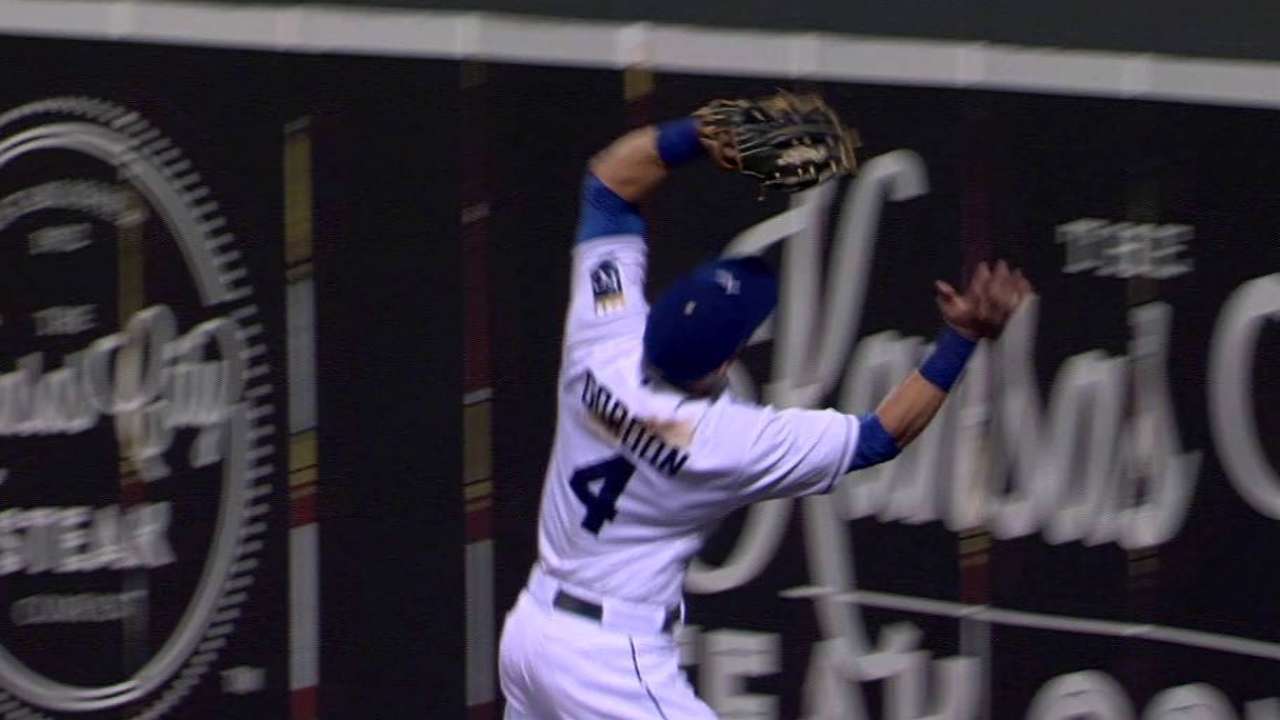 "It was fun, but I wish we could have come away with a win," said Gordon, who also made a nice play on defense with a running catch in front of the left-field fence. "It was exciting, but, at the end of the day, that's what you play for.
"I was maybe a little rusty. Hopefully, I can get back to 100 percent. I wouldn't say I'm 100 percent. I feel good out there. Just trying to be smart about it."
Gomes, a right-handed hitter, has hammered left-handed pitchers over his career to a slash line of .275/.379/.484. Gomes said he expects to be able to provide some veteran leadership as well.
"I remember when Raul Ibanez came over here last year, he was viewed as a leader," Gomes said. "So maybe anything I can bring like that. Anything I can do to help and not clog this up. Keep us going north."
Moose injured
Third baseman Mike Moustakas is recovering from sore upper hamstring issues, Yost said, and wasn't in the lineup on Tuesday.
But Moustakas did appear as a pinch-hitter in the eighth and grounded out sharply to second.
September callups
The Royals on Tuesday added reinforcements besides Gomes and Gordon. They brought up speedy outfielder Terrance Gore from Double-A Northwest Arkansas, and left-hander Scott Alexander, right-hander Miguel Almonte, third baseman Cheslor Cuthbert, infielder Christian Colon and catcher Francisco Pena from Triple-A.
Yost was especially glad to get Alexander and Almonte to help out a tired bullpen that also now is absent of right-hander Kelvin Herrera, out indefinitely with chickenpox.
Royals to Fall League
Six from the Minor League system, as well as pitching coach Carlos Reyes and athletic trainer James Stone, are set to participate in the Arizona Fall League. The players are: right-handers Andrew Edwards, Kevin McCarthy and Brooks Pounders, catcher Zane Evans, infielder Ramon Torres and outfielder Bubba Starling, the fifth overall pick of the 2011 Draft.
The Royals are now affiliated with the Surprise Saguaros, who play in the Western Division of the Arizona Fall League. The season begins Oct. 13.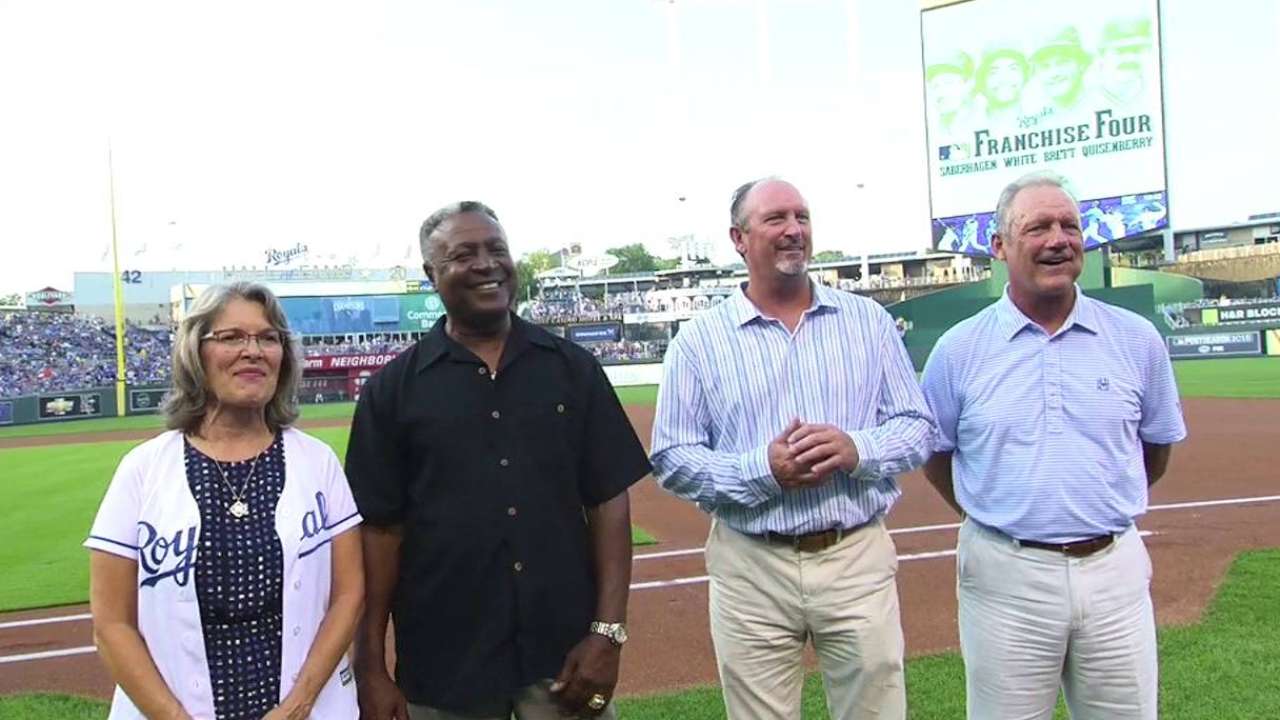 Franchise Four
Before Tuesday's game, the Royals honored their "Franchise Four" -- George Brett, Bret Saberhagen, the late Dan Quisenberry and Frank White. For White, it was his first time on the field since his last year as a team broadcaster in 2011. White's relationship with the Royals had been strained.
"It's all good," general manager Dayton Moore said. "He's a very important part of this organization's history. It's a great honor."
Jeffrey Flanagan is a reporter for MLB.com. Follow him on Twitter at @FlannyMLB. This story was not subject to the approval of Major League Baseball or its clubs.