Twins call up 5, including Santana and Vargas
Fryer, Achter, Tonkin also promoted; Berrios remains in Rochester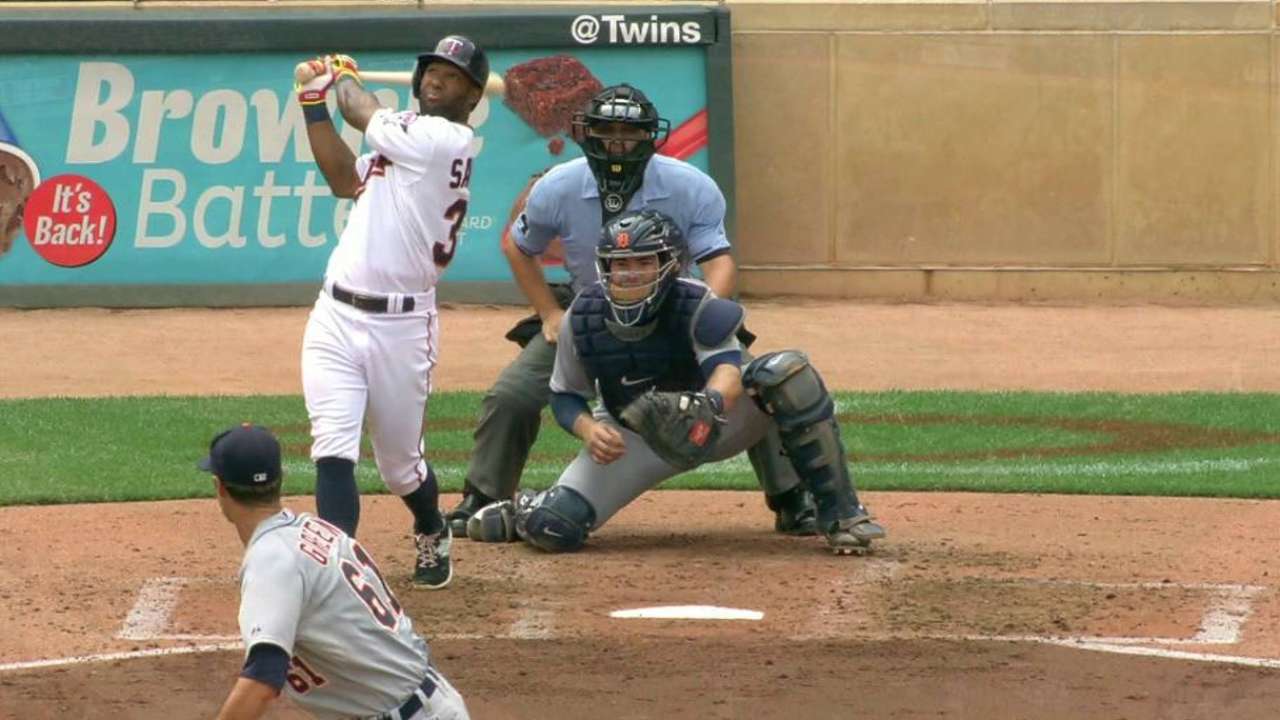 MINNEAPOLIS -- In their first wave of September callups, the Twins recalled infielder Danny Santana, first baseman Kennys Vargas and right-handed relievers A.J. Achter and Michael Tonkin from Triple-A Rochester. Minnesota also selected the contract of catcher Eric Fryer.
But just as notable, the Twins didn't bring up top pitching prospect Jose Berrios, who has a posted a combined 2.90 ERA with 170 strikeouts in a career-high 161 1/3 innings between Double-A Chattanooga and Rochester. Berrios, ranked No. 2 in the organization and the No. 23 overall prospect by MLBPipeline.com, pitched Monday in front of general manager Terry Ryan, allowing one run over six innings, but Ryan was non-committal about whether Berrios will be brought up.
"That'll be up for discussion," Ryan said. "I went down there for a reason to look at that club. He pitched well, but other guys have as well. We haven't made that decision yet."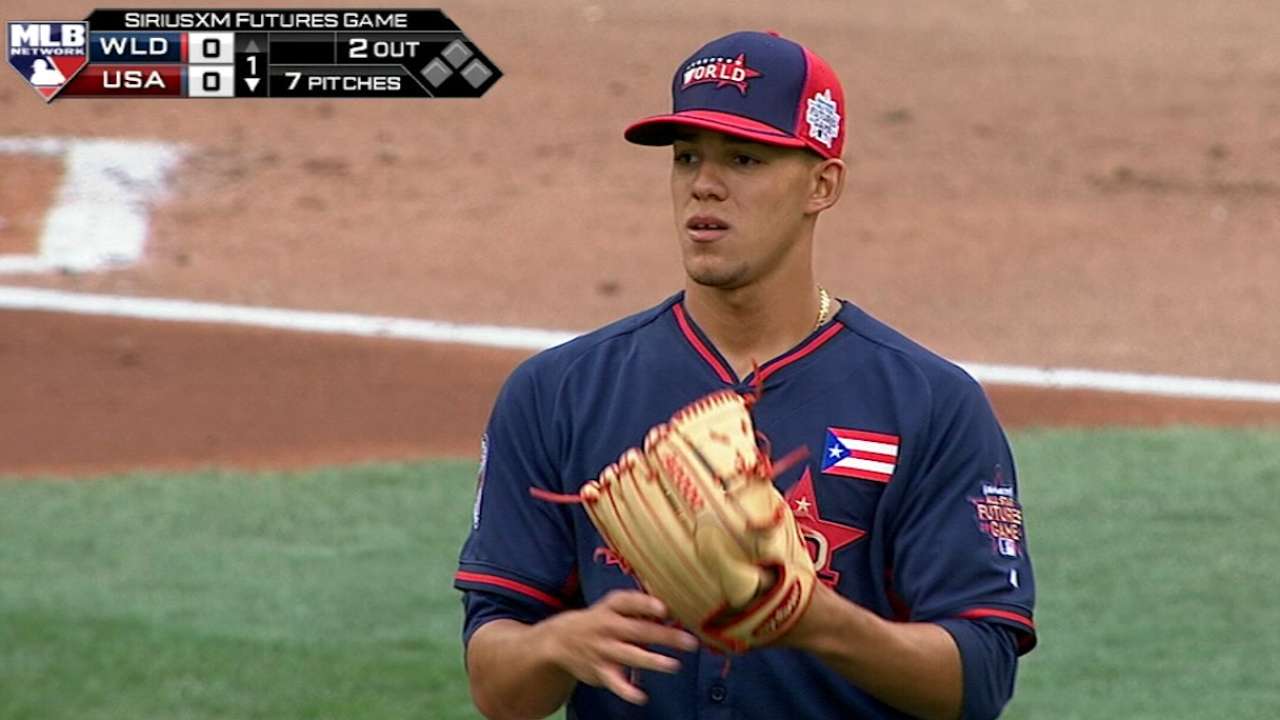 Berrios, 21, is expected to be limited to roughly 180 innings this year, and is also not on the 40-man roster. The Twins would also get an extra year of control of Berrios if they wait to call him up in mid-May next year.
"They have other considerations to worry about besides finding a way that he can be effective here," Twins manager Paul Molitor said. "If we ask him to pitch out of the bullpen, it's not something he's really done, so you can't just expect a smooth transition. So there's a lot of things to consider other than the fact he's a talented kid who had a great year and will be a big part of our future."
Santana, who was on the Opening Day roster, played in 74 games for the Twins this season, batting .218 with 10 doubles, five triples and 20 RBIs. In 35 games for Rochester, he hit .322 with 10 doubles, four triples, three home runs and 15 RBIs. He'll mostly be used as a pinch-runner, as Eduardo Escobar and Eduardo Nunez are ahead of him on the depth chart.
Vargas, who was also on the Opening Day roster, played in 47 games for Minnesota this year, batting .245 with four doubles, five home runs and 15 RBIs. In 73 games between Rochester and Double-A Chattanooga, he hit .283 with nine doubles, two triples, 13 home runs and 46 RBIs. He'll mostly be used as a pinch-hitter.
"I feel really good," Vargas said. "I've been working hard, starting when I was in Chattanooga. The first thing was my weight, I'm down a little bit. And I also worked on my approach at the plate and my defense. I'm trying to be consistent. I learned a lot during my time in the Minors. I think I'm ready to go."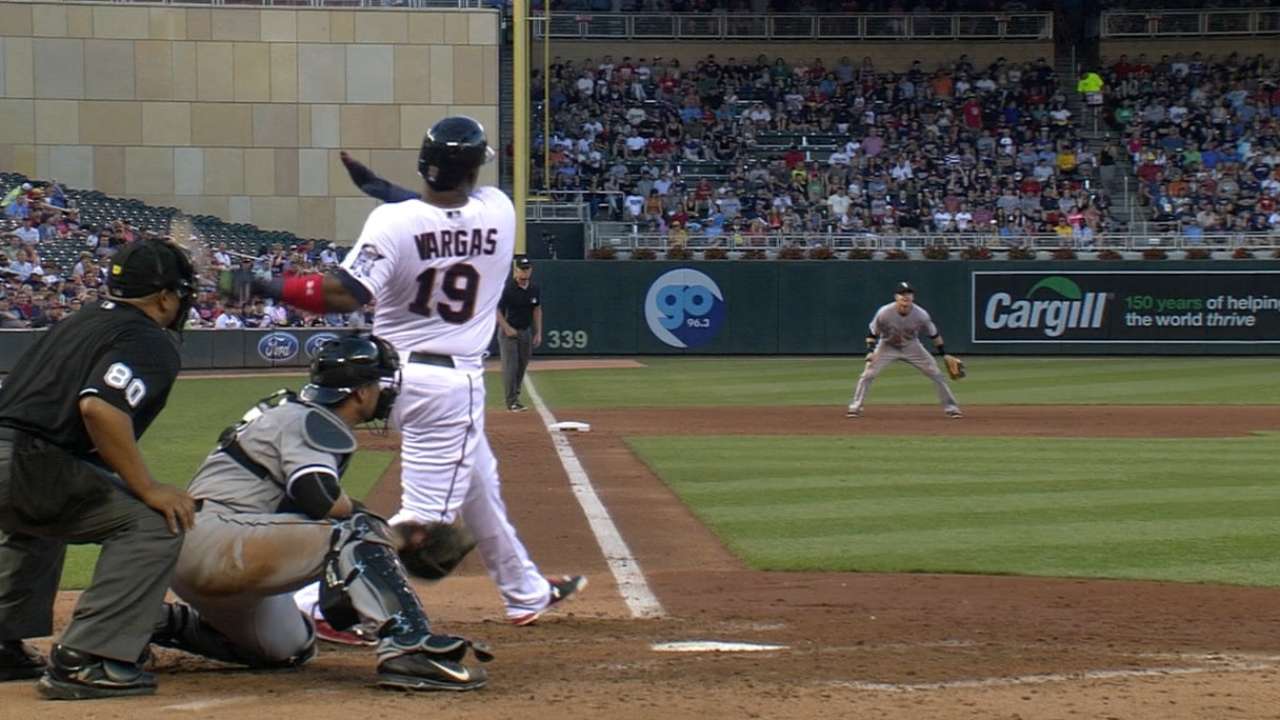 Achter spent most of the season with Rochester, appearing in 43 games, going 4-2 with a 2.62 ERA. He had 13 walks, 47 strikeouts and 14 saves over 48 innings. Achter appeared in six games for the Twins in August, allowing six runs on six hits in 7 1/3 innings with four walks and nine strikeouts.
Tonkin, who's had four stints with Minnesota this season, appearing in 17 games, has posted a 6.17 ERA over 11 2/3 innings with five walks and 10 strikeouts. He appeared in 33 games for the Red Wings this season, saving 14 games while posting a 1.10 ERA over 41 innings with five walks and 46 strikeouts.
Fryer had one stint with the Twins this season, appearing in seven games. He played 67 games for the Red Wings this season, batting .293 with seven doubles, one triple, two home runs and 19 RBIs.
To make room for Fryer on the 40-man roster, the Twins outrighted left-handed pitcher Jason Wheeler to Chattanooga.
Rhett Bollinger is a reporter for MLB.com. Read his blog, Bollinger Beat, follow him on Twitter @RhettBollinger and listen to his podcast. This story was not subject to the approval of Major League Baseball or its clubs.