Ruf helps Phillies end 10-game skid vs. Mets
NEW YORK -- Still their most conspicuous weakness despite several trades to address it, the Mets' bullpen unraveled Tuesday in a 14-8 loss to the Phillies at Citi Field. They retained a 6.5-game NL East lead thanks to the Nationals' subsequent loss to the Cardinals.
Bobby Parnell, Eric O'Flaherty and Carlos Torres combined to allow eight runs in the sixth inning of the Mets' first loss in their last 11 meetings with the Phillies. Darin Ruf's two-run single accounted for a chunk of the damage, as well as a large part of his six-RBI game. But the Mets helped things along with two defensive errors, four bases on balls and multiple questionable personnel decisions.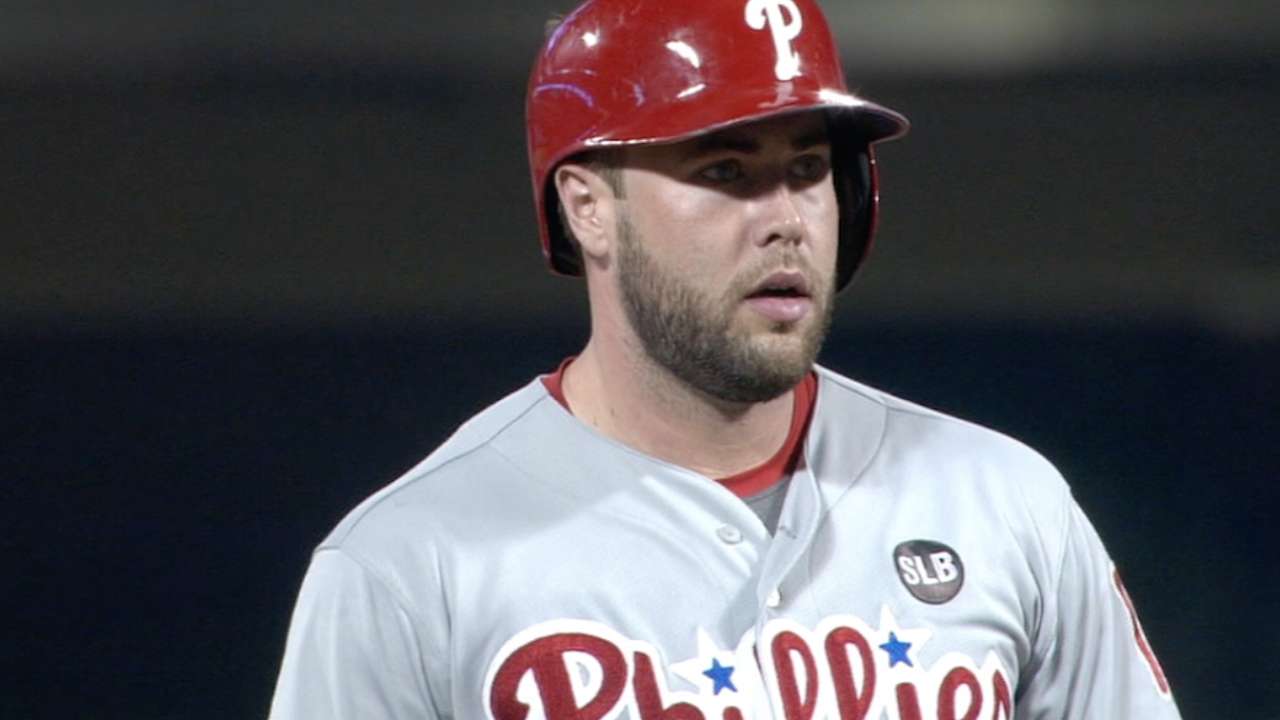 "You have to get through the sixth and seventh and you're saying, 'OK, we have a lot of choices now,'" Collins said. "The one thing you can't do is walk people."
After Yoenis Cespedes' two-run homer brought the Mets within two of the lead in the bottom of the fifth, manager Terry Collins opted to use Parnell for the first time since Aug. 16, instead of more trusted relievers Sean Gilmartin or Addison Reed. By the end of the inning, the Mets trailed by 10.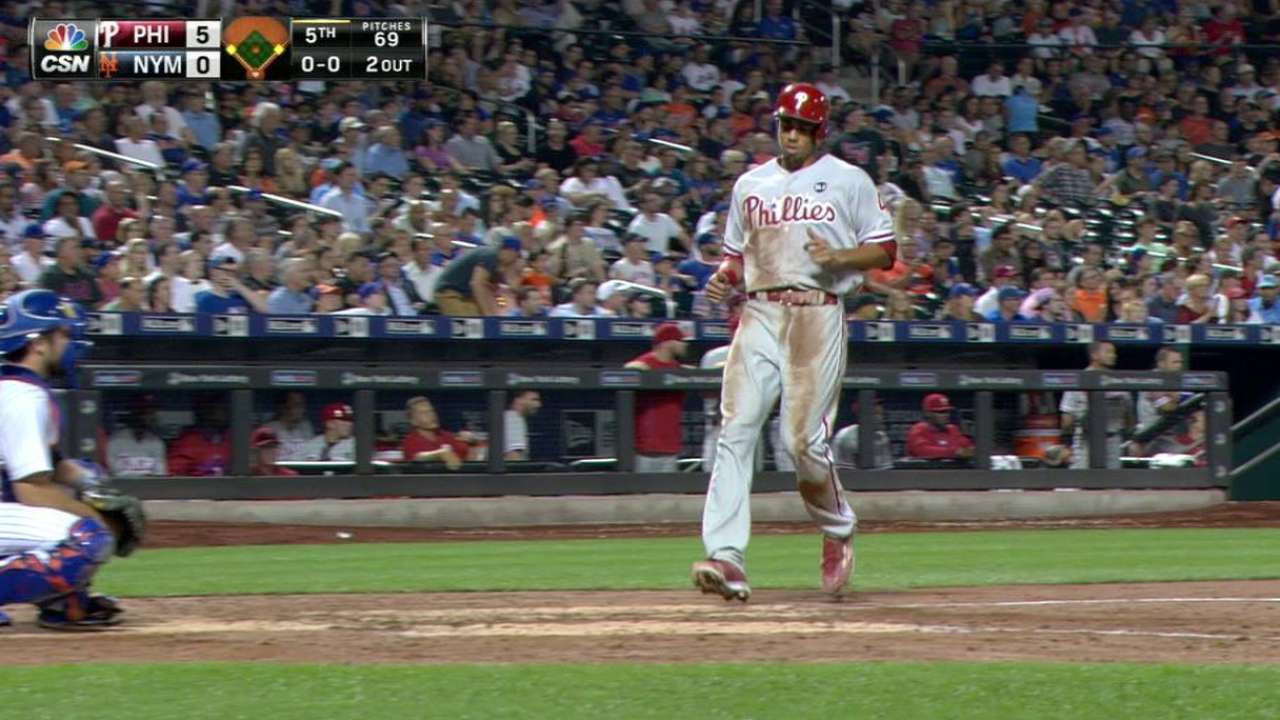 "We had other options," Collins said. "We certainly could have brought [Erik] Goeddel in tonight. He pitched last night so I wasn't going to put him into that situation. I could have went to Gilmartin. We just had a lefty in there so I thought I'd get a righty in there against that part of the order. He just didn't get it done."
Neither starting pitcher performed particularly well, with Jon Niese allowing six runs in five innings and Aaron Harang giving up four runs in 4 2/3.
"I wanted to win the game to break the spell," Phillies interim manager Pete Mackanin said of his club's second win in 15 total games against the Mets. "I didn't want to mess around. I wanted to get this one under our belt because they've just had our number all year."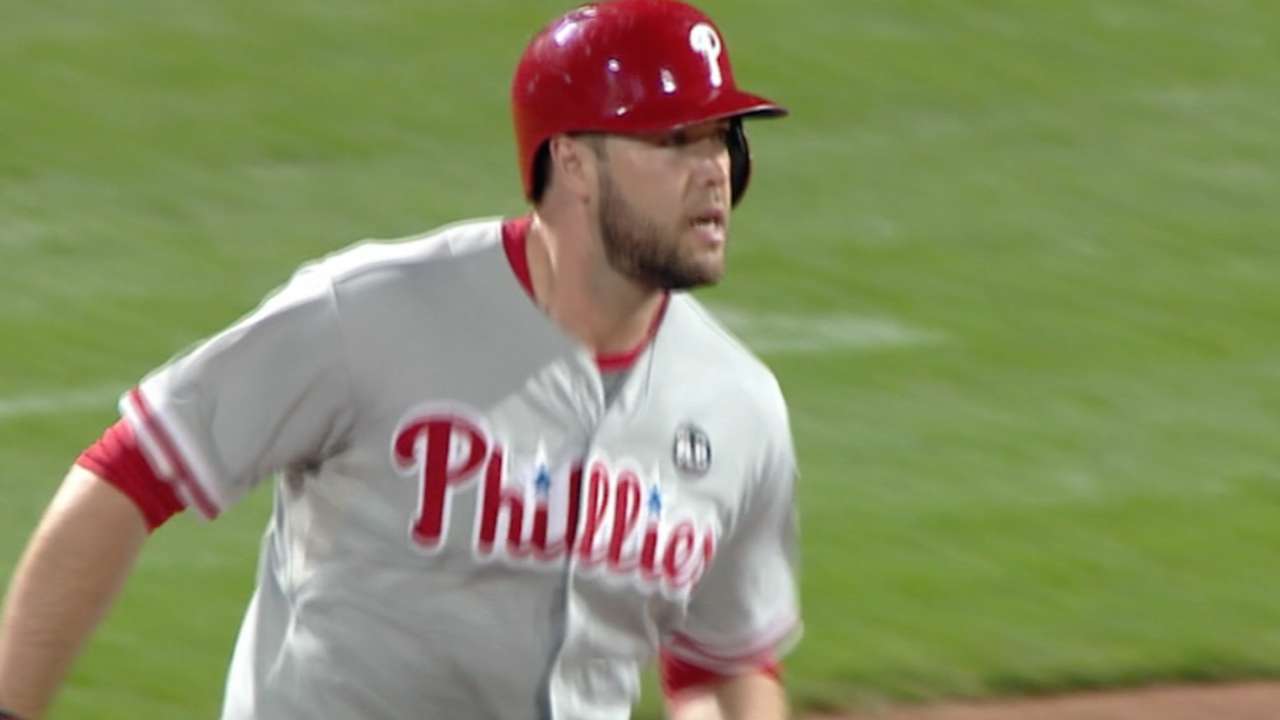 MOMENTS THAT MATTERED
Ruf does damage: Ruf has been a bit of forgotten man among the rest of the team's younger players, but has found himself playing more at first base recently, particularly against left-handed starters. He took advantage, hitting a home run and posting a career-high six RBIs.
"I had some good opportunities to drive in some runs and took advantage," Ruf said. More >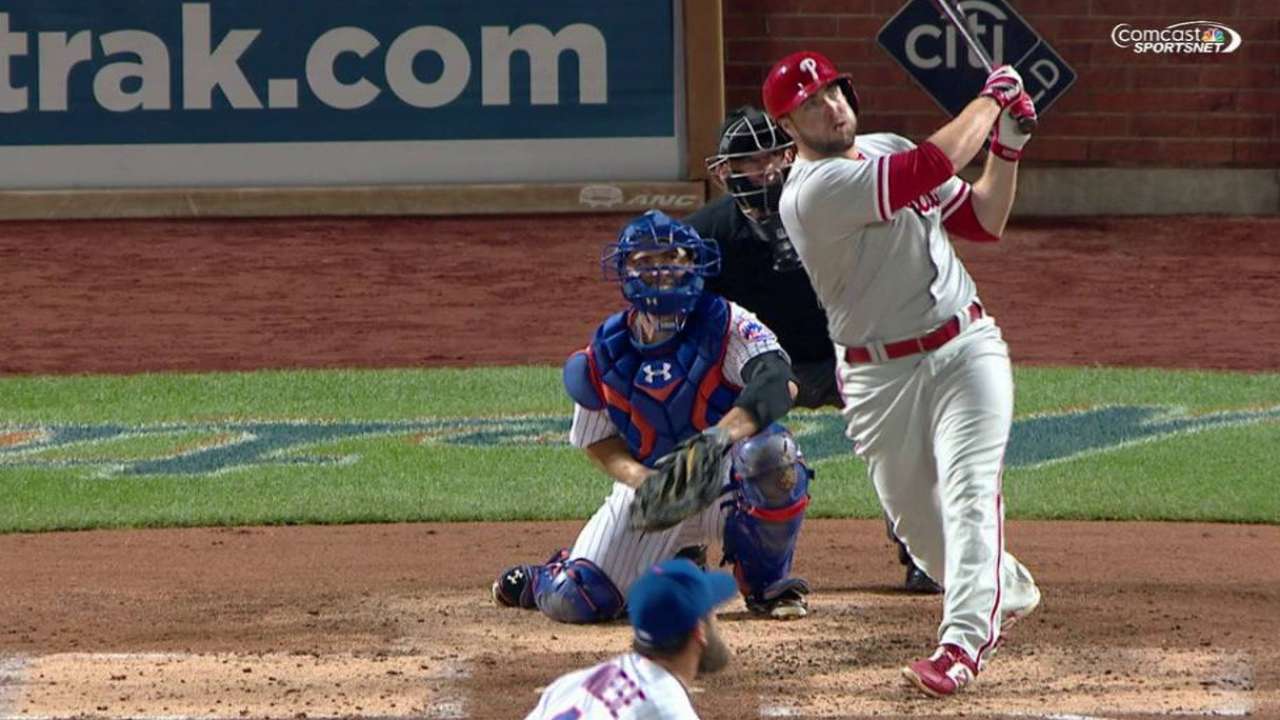 Bobby O'Torres melts down: The Mets had actually drawn within two in the bottom of the fifth before everything unraveled. Parnell, O'Flaherty and Torres combined to allow eight runs on just three hits, thanks to four walks and a pair of defensive errors -- one of them a routine throw that Parnell fired into right field. By the time it was over, the Mets were trailing by double-digits.
"I wasn't real happy," Parnell said. "Just one of those days. I've been working hard and I'll continue to work hard. Things aren't going my way right now. It's not where I want to be." More >
Sweeney keeps big hits coming: The Phillies acquired Darnell Sweeney from the Dodgers in the Chase Utley trade, and so far he has made an impact. He entered the night with two home runs and three RBIs in just 14 at-bats. He then went 2-for-4 with three RBIs in his start against the Mets.
"We'll continue to look at him because I like the way he swings the bat," Mackanin said.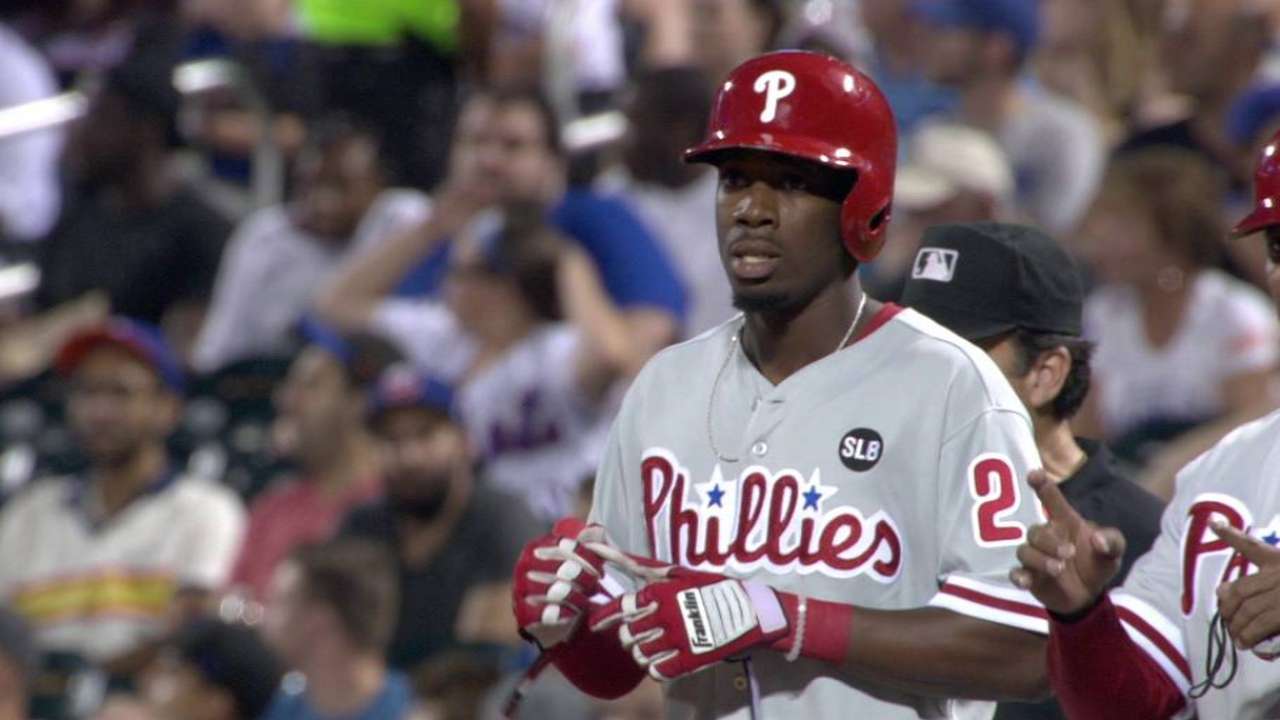 QUOTABLE
"Green ink. As long as we win I'll keep using green ink." -- Mackanin, who wrote out Tuesday's lineup card in green ink, hoping to change the Phillies' bad mojo against the Mets. More >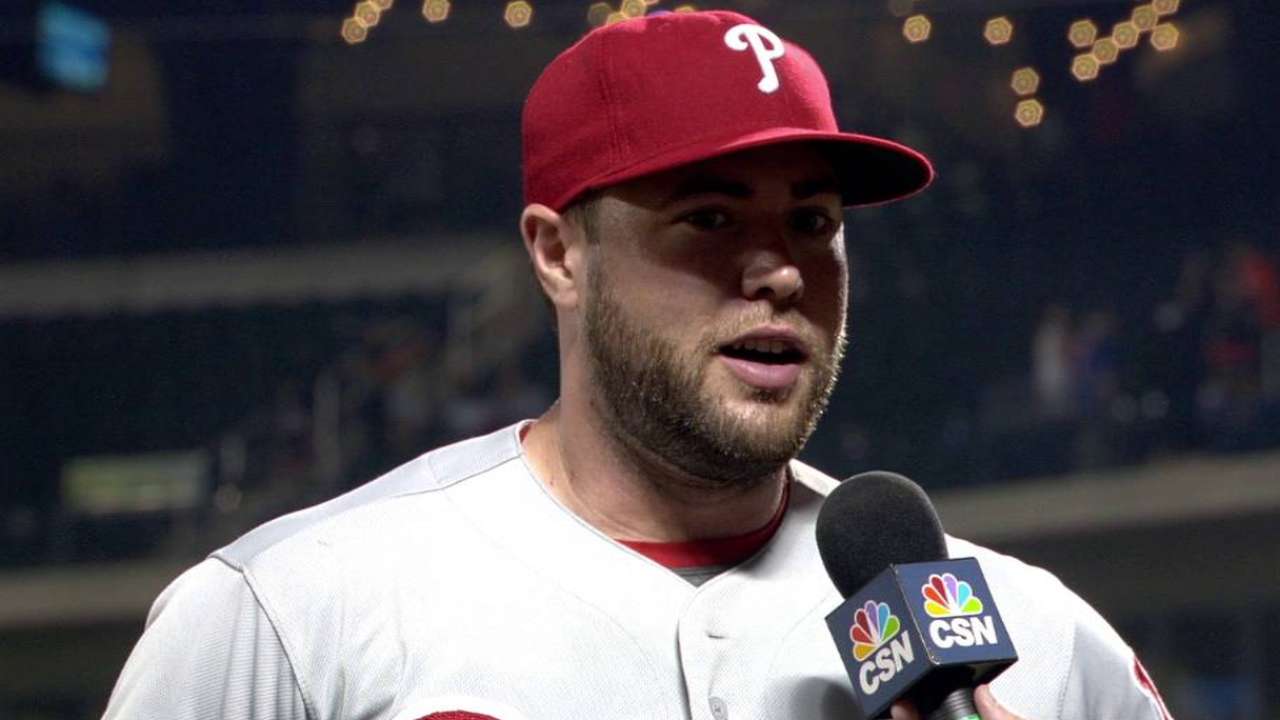 SOUND SMART WITH YOUR FRIENDS
The Phillies' 14 runs match their most in a game since Opening Day last year 2014 in Texas. Their eight runs in the sixth inning were the most they scored in a single inning since they scored eight in the first inning against the Mets on Sept. 20, 2013.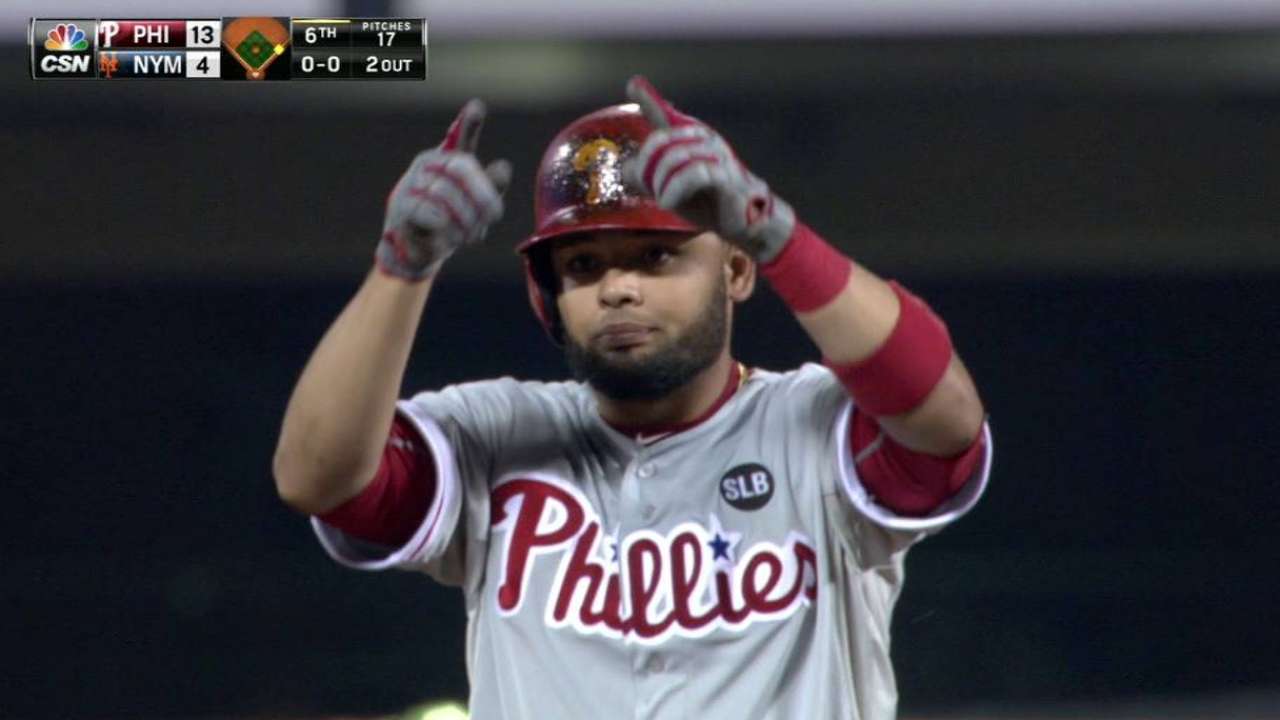 The 22 combined runs between the Mets and Phillies set a Citi Field record, surpassing the 21 runs the Mets and Phillies scored in a 13-8 Philadelphia win on July 19, 2013.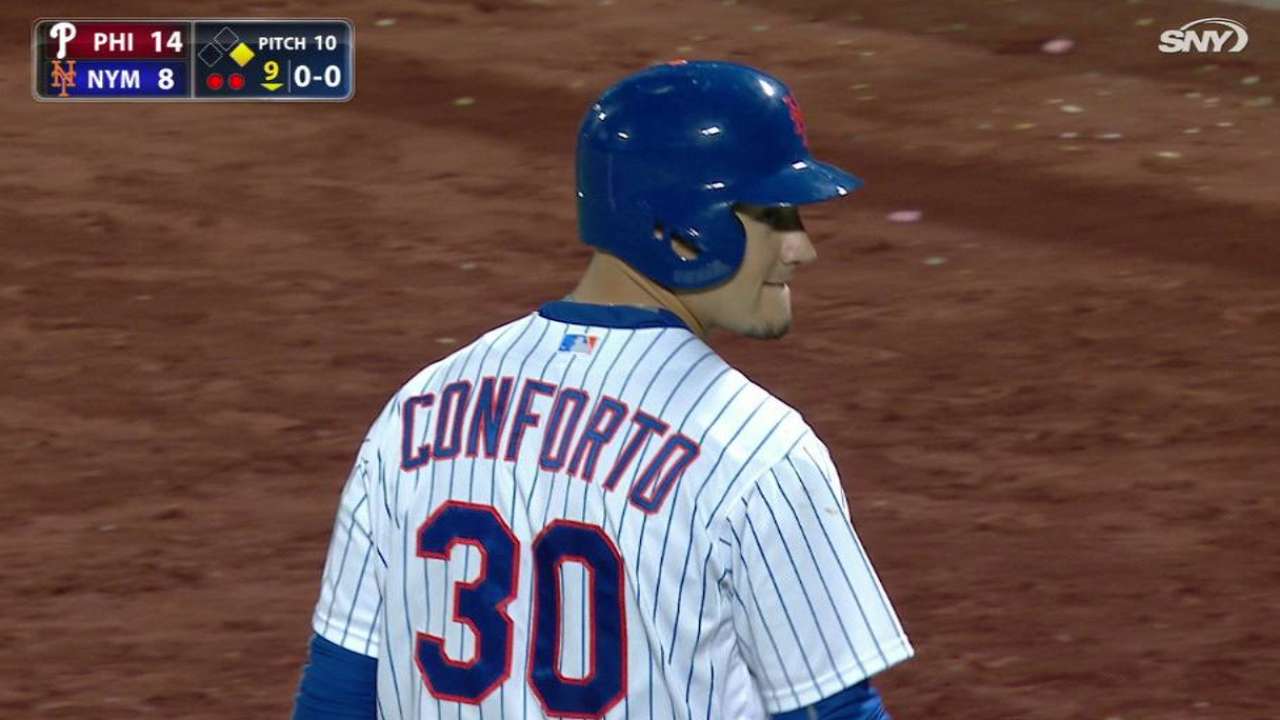 INSTANT REPLAY
The Phillies challenged a call in the second inning, when first-base umpire Phil Cuzzi ruled David Wright safe on a play at first. Cesar Hernandez's throw was high, which pulled Ruf off the bag. But replay showed Ruf tagged Wright with his glove before he reached first. The call was overturned and Wright was out.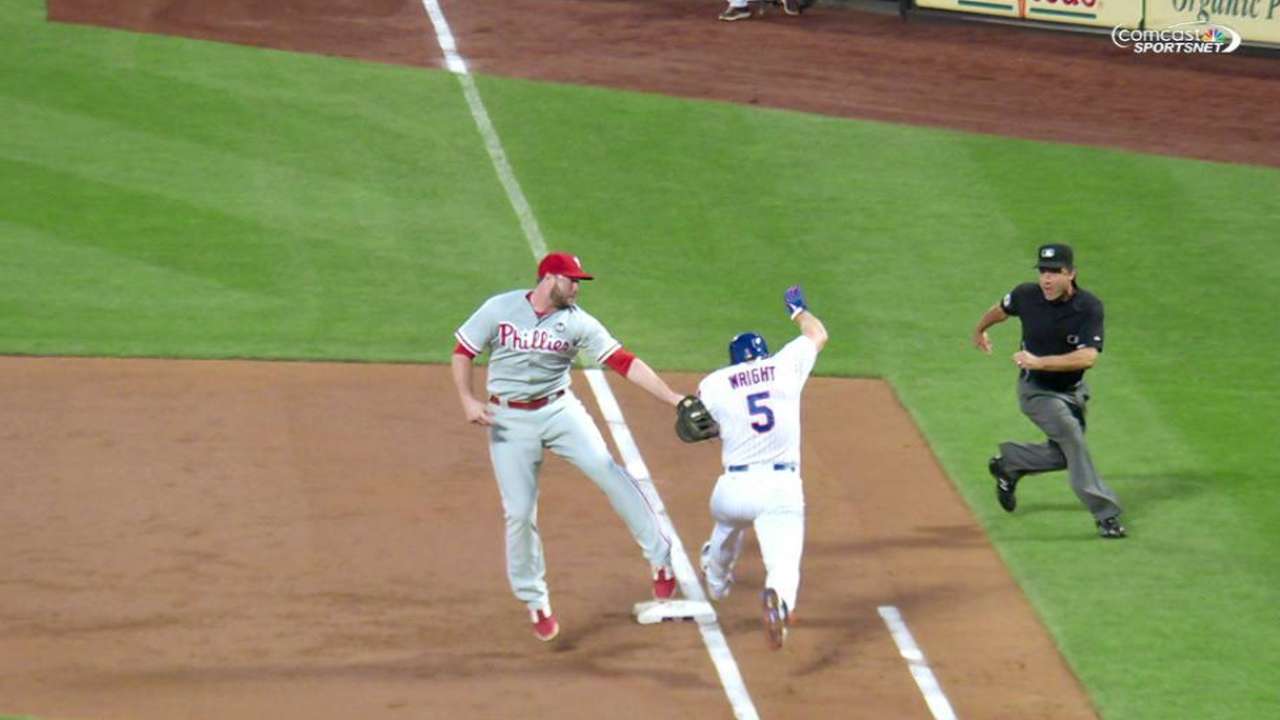 WHAT'S NEXT
Phillies: Phillies rookie Aaron Nola makes his ninth start of the season, but his first start against the Mets. He has pitched particularly well in his last two starts, allowing just five hits and one earned run in 15 innings.
Mets: Matt Harvey will start on regular rest for perhaps the last time in the regular season when the Mets and Phillies wrap up their series on Wednesday night at 7:10 ET at Citi Field. The Mets will move to a six-man rotation next week, giving Harvey and everyone else an extra day between starts.
Watch every out-of-market regular season game live on MLB.TV.
Anthony DiComo is a reporter for MLB.com. Follow him on Twitter @AnthonyDiComo and Facebook, and listen to his podcast. Todd Zolecki is a reporter for MLB.com. Read his Phillies blog The Zo Zone, follow him on Twitter and listen to his podcast. This story was not subject to the approval of Major League Baseball or its clubs.