Gomez (El Paso), Tejada (Fort Wayne) pace key wins
Renfroe hits 5th HR in 13 games in Triple-A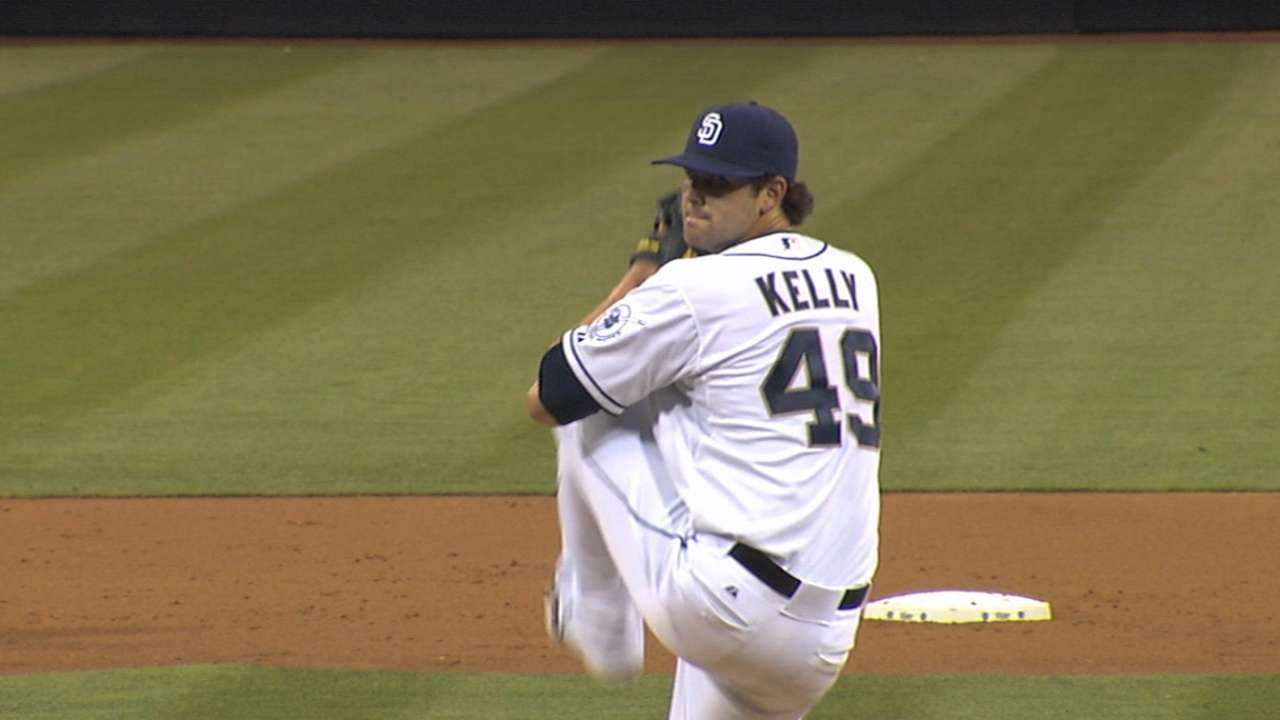 Bill Center, longtime sportswriter for U-T San Diego, is an employee of the Padres.
Infielders Hector Gomez and Luis Tejada each drove in four runs Monday night to, respectively, lead playoff contenders El Paso and Fort Wayne to important victories as the minor league seasons entered their final week.
Triple-A shortstop Gomez hit a bases-loaded triple in the top of the ninth at Las Vegas to give El Paso a 6-5 victory and cut the 51s' lead in the Pacific Coast League's Pacific Southern Division to a half game over the Chihuahuas. Las Vegas has a 74-63 record to El Paso's 73-63 mark with three games remaining in the series. The PCL season ends Sept. 7.
Low Single-A third baseman Tejada had a bases-clearing double in Fort Wayne's 11-9 win at Lansing. The victory upped the playoff-bound TinCaps' lead in the Midwest League's second-half Eastern Division race to four games and reduced their magic number to four. Fort Wayne is 73-58 overall.
Both the Chihuahuas and TinCaps came from behind Monday.
El Paso was trailing 5-3 going into the ninth. Fort Wayne trailed by 4-0 after two innings and 7-5 after three.
At Las Vegas, Gomez (.372) had a double, the triple and his third homer in five at-bats.
Right fielder Hunter Renfroe (.333) hit his fifth homer in 13 games at Triple-A and also drew a walk to score two runs.
Second baseman Ramiro Pena (.311) was 2-for-3 with a double, a walk, a RBI and a run scored. Left fielder Jake Goebbert (.301) was 1-for-4 with a walk and two runs scored. Catcher Rocky Gale (.302) was 2-for-4. Center fielder Rymer Liriano (.283) was 2-for-5 with a double.
Left-handed starting pitcher Robbie Erlin (5.93 earned run average) allowed two runs on four hits and a walk with three strikeouts over five innings.
Left-handed reliever Frank Garces (2.91 ERA) allowed two runs on two walks in a third of an inning. Right-hander Dale Thayer (1.59) was charged with one run when he allowed a three-run homer in two-thirds of an inning.
Right-hander Marcos Mateo (3-0, 1.69 ERA) allowed a walk in an otherwise perfect inning to get credit for the win. Recently-acquired right-hander Jon Edwards allowed a hit with two strikeouts in the ninth to pick up his 23rd PCL save while lowering his ERA to 1.23.
Earlier yesterday, Edwards and El Paso left fielder Alex Dickerson were named to the 2015 All-PCL team.
The 6-foot-5 Edwards, 27, was voted the PCL's best relief pitcher. Edwards transferred to El Paso from Round Rock after the Padres acquired him in the Aug. 18 trade that sent outfielder Will Venable to the Rangers. He leads the PCL in saves.
Dickerson, 25, a left-handed-hitting graduate of Poway High, is hitting .309 with El Paso with 36 doubles, nine triples, 12 homers, 71 RBIs and 82 runs scored in 124 games. He ranks 10th in the PCL in batting average, tied for fifth in hits, third in runs scored, fifth in doubles and second in triples.
Tejada's (.286) three-run double was his lone hit for the TinCaps.
First baseman Trae Santos (.262) had his 30th double and 14th homer in four at-bats for two RBIs. Second baseman Josh Van Meter (.254) was 2-for-4 with a double, two walks, two RBIs (including a run-scoring hit in the TinCaps' game-winning rally) and two runs scored.
Shortstop Rey Bruguera (.170) was 3-for-3 with a walk and a run scored. Left fielder Edwin Moreno (.320) was 2-for-4 with a triple, a RBI and two runs scored. Right fielder Franmil Reyes (.240) was 2-for-4 with a run scored.
Starting right-hander Chris Huffman (3.42 ERA) allowed seven runs (six earned) on eight hits in two innings.
Left-handed reliever Taylor Cox (3.61) allowed two hits and a walk with a strikeout in three scoreless innings. Right-hander Yimmi Brasoban (2.17) allowed two hits with four strikeouts in two innings.
Right-hander Colby Blueberg (4-1, 1.11) allowed two runs on three hits and two walks with four strikeouts in two innings - picking up the win after suffering a blown save.
There were three moves in the system Monday. Left-handed pitcher Chris Rearick was re-claimed on waivers from the Rangers and assigned to Double-A San Antonio. Right-handed reliever Michael Dimock was returned to El Paso from San Antonio. And left-handed reliever Caleb Thielbar was designated for assignment at El Paso.
AROUND THE FARM:
DOUBLE-A SAN ANTONIO (57-76): Missions 11, CORPUS CHRISTI 9 - Recently-promoted 3B Gabriel Quintana (.333) was 3-for-5 with his first two Double-A homers, four RBIs and three runs scored. Yeison Asencio (.301) hit a game-winning, three-run, pinch-hit homer (his 13th of the season) in the ninth. LF Tyson Gillies (.259) was 3-for-5 with a RBI and two runs scored. INF Diego Goris (.261) was 3-for-5 with a double, a RBI and a runs scored. CF Alberth Martinez (.276) was 2-for-4 with a walk and a run scored. Starting RHP Dennis O'Grady (5.42 ERA) allowed eight runs (three earned) on nine hits and three walks with three strikeouts in 3 2/3 innings. RHP Adam Cimber (3.23) struck out two in 1 1/3 perfect innings. Rearick (0.00) allowed a hit and a walk with two strikeouts in two scoreless innings. RHP Elliot Morris (4-9, 5.02) allowed a run on a hit with a strikeout in an inning. LHP Eury De La Rosa (1.61) allowed a hit and a walk with a strikeout in a scoreless ninth to get his seventh save.
HIGH SINGLE-A LAKE ELSINORE (47-86): The Storm was off Monday.
SHORT-SEASON SINGLE-A TRI-CITY (36-34): The Dust Devils were off Monday.