MLB.com Columnist
Jonathan Mayo
Fall League rosters packed with elite prospects
Phillies' Crawford, Cardinals' Reyes among Top 100 Prospects headed to desert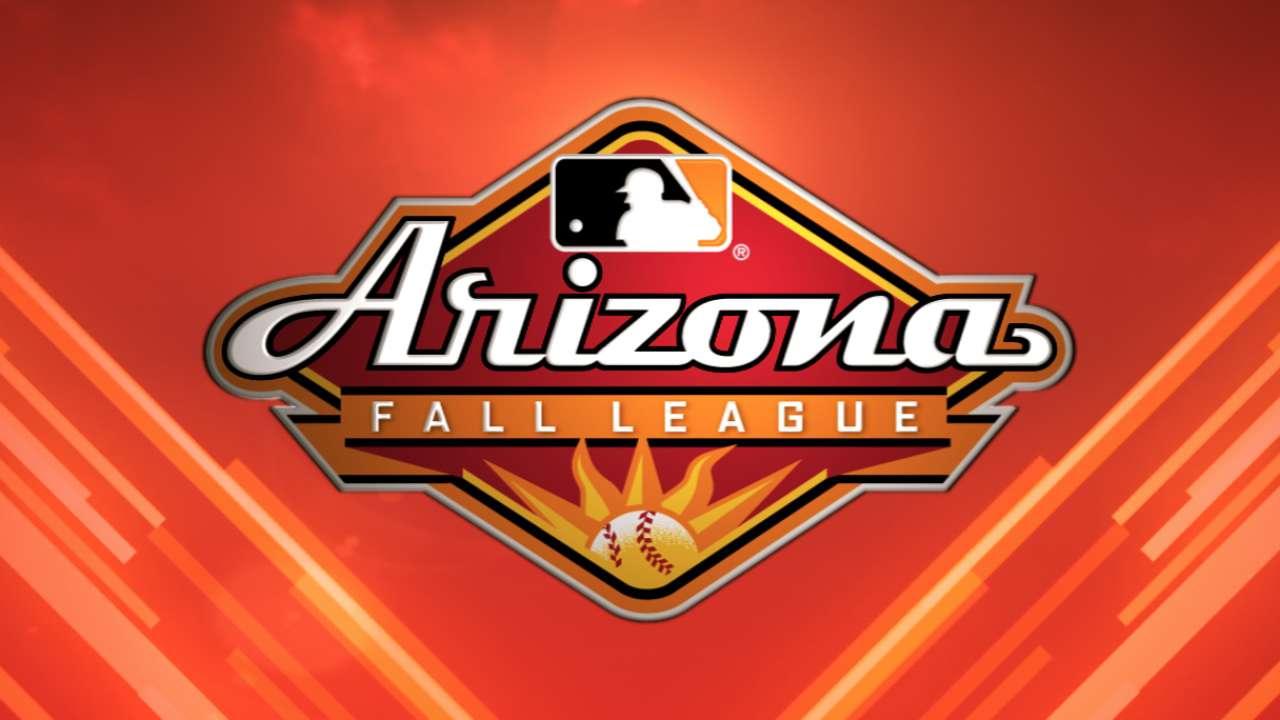 Teams like the Pittsburgh Pirates and Houston Astros are hoping to play deep into October. Regardless of their big league postseason fortunes, however, a group of select players from those organizations, as well as the other 28 in baseball, are guaranteed to be playing this fall.
That opportunity comes courtesy of the Arizona Fall League, which on Tuesday announced its preliminary rosters for the 2015 season. The campaign, the league's 24th, begins on Oct. 13 and runs through the championship game on Nov. 21. With all 30 organizations sending players to fill the six AFL teams' rosters, the league is once again providing one-stop shopping for prospect fans.
2015 Arizona Fall League rosters
Click on the AFL team name to see complete roster.

| AFL club | MLB clubs |
| --- | --- |
| Glendale | CWS, HOU, LAD, PHI, PIT |
| Peoria | ATL, BAL, CIN, SD, SEA |
| Salt River | ARI, COL, NYM, TOR, WSH |
| Surprise | KC, MIL, NYY, STL, TEX |
| Scottsdale | BOS, CLE, DET, MIN, SF |
| Mesa | CHC, LAA, MIA, OAK, TB |
While there will still be many changes and additions to the rosters between now and the start of the AFL season, Tuesday's release gives a good snapshot of who will be playing in Arizona this fall. A total of nine members of MLBPipeline.com's Top 100 Prospects list will be there working to hone their craft.
"It means a lot that the Pirates wanted me to go there," said outfielder Austin Meadows, who is No. 25 on the Top 100 list. "Coming into this season, that was my main goal: to go to the Fall League after this year. I'm really looking forward to the opportunity, to improve my game and show people what I can do."
Playing in the Fall League alone is exciting enough, but getting to do so while your parent club is still playing? Priceless. Right when the AFL gets cracking, the postseason will possibly be at the end of the Division Series (Game 4 of the National League Division Series, if necessary, is also slated for Oct. 13, while Game 5 of the American League Division Series is set for Oct. 14) and getting the chance to represent their organization in Arizona while watching it play for a title is an opportunity not lost on these young players.
AFL prospects on Top 100 list
| Rank | Player | Pos. | Org |
| --- | --- | --- | --- |
| 5 | J.P. Crawford | SS | Phillies |
| 18 | Alex Reyes | RHP | Cardinals |
| 25 | Austin Meadows | OF | Pirates |
| 29 | Bradley Zimmer | OF | Indians |
| 35 | Brett Phillips | OF | Brewers |
| 38 | Clint Frazier | OF | Indians |
| 71 | Lewis Brinson | OF | Rangers |
| 86 | Daniel Robertson | SS | Rays |
| 98 | A.J. Reed | 1B | Astros |
"Oh man, that would be awesome," said Meadows, who'll be playing for the Glendale Desert Dogs. "I love watching how those guys play the game, how they go about their business. I've been keeping up all year. Playing with the guys during [Spring Training], watching how they go about their business -- it's really cool to witness all that happening. Being in the Fall League while watching that, it's a blessing to go out there and watch them in the playoffs. That'd be really cool."
The Astros are another of those potential playoff-bound teams. They're sending Top 100 prospect A.J. Reed and two others from their Top 30 list to also play for the Glendale Desert Dogs. Outfielder Derek Fisher and third baseman J.D. Davis are two of 97 prospects on AFL rosters who are their team Top 30s (but not in the Top 100). Davis agrees with Meadows, his soon-to-be-teammate, that being there while watching Houston's improbable run is almost too good to be true.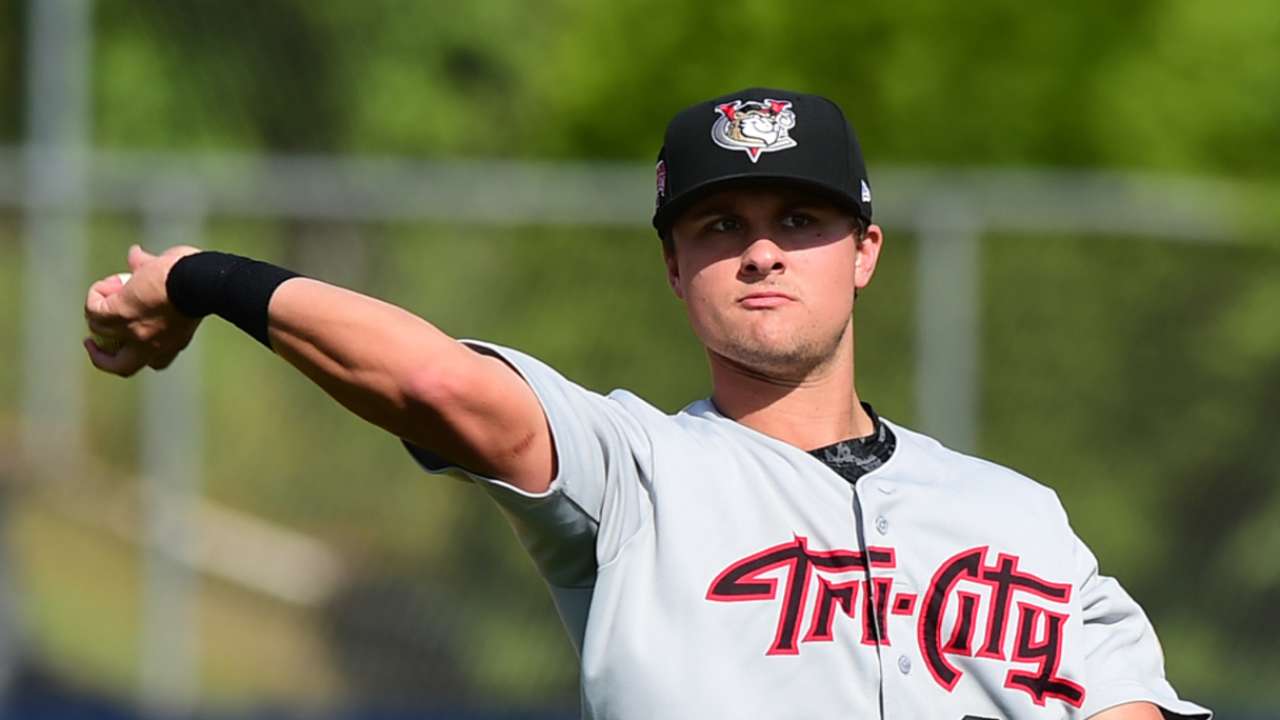 "They've come a long way over the past couple of years," said Davis, one of four Minor Leaguers with 100 RBIs in 2015. "There are a lot of good players in the system, and a lot of them are coming up. It's awesome to see that they're one of the top systems in baseball. It's great to see a Major League team doing so well and a Minor League system do so well, all while representing that organization in Arizona."
As of now, there are only two players ranked higher than Meadows: Alex Reyes of the Cardinals (No. 18) and No. 5 prospect J.P. Crawford of the Phillies. The other Top 100 prospects, in addition to Crawford, Reyes, Meadows and Reed (No. 98) participating in the Fall League are: Bradley Zimmer, OF, Indians (29); Brett Phillips, OF, Brewers (35); Clint Frazier, OF, Indians (38); Lewis Brinson, OF, Rangers (71); and Daniel Robertson, SS, Rays (86).
Crawford, the 20-year-old shortstop who is the Phillies' No. 1 prospect, is well aware of the AFL's history of success, with nearly 60 percent of all participants eventually going on to play in the big leagues -- many as quickly as the following season.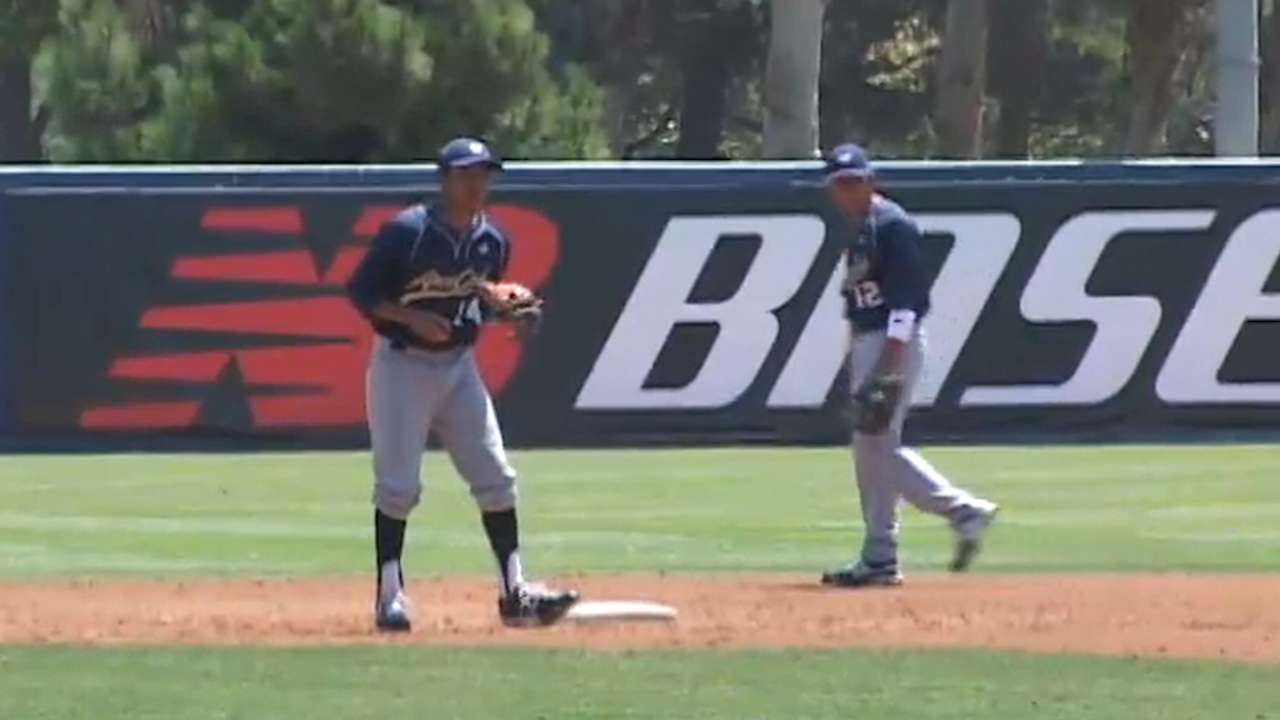 "A lot of people do that," Crawford said. "That's kind of crazy. Next year, anything can happen, and the Fall League can have a lot to do with it. It's a great experience and a great time with the top talent in the Minor Leagues."
Even for prospects not quite knocking on the door, it's obvious what the Fall League can do. Meadows and Davis have yet to play above Class A ball. Getting at-bats against a higher level of pitching competition should do nothing but aid their efforts in preparing for that leap to Double-A in 2016.
"I think it'll help me tremendously," Davis said. "I've learned a lot here in the California League. Learning those things, applying them, challenging myself in the AFL, I think it'll help me in the long run to open up in Double-A and help me be mentally better."
"It's a really good place to be," Meadows said. "It's really about just going out there and getting me ready for next year, competition-wise. I'm looking forward to going out there and improving my game."
Jonathan Mayo is a reporter for MLBPipeline.com and writes a blog, B3. Follow @JonathanMayo on Twitter. This story was not subject to the approval of Major League Baseball or its clubs.