MLB.com Columnist
Tracy Ringolsby
No rules this time around for Joba
Reliever aiming to return to Majors, but appreciates where career has taken him
COLORADO SPRINGS, Colo. -- Joba Chamberlain is never one to back down from a challenge. He is not about to start now.
Twenty-three days shy of his 30th birthday, Chamberlain is in the Minor Leagues, working out of the bullpen for the Omaha Storm Chasers, the Triple-A affiliate of the Kansas City Royals.
It is the first time Chamberlain has been in the Minors for reasons other than a medical rehab since he debuted in the Yankees' system in 2007. And that was a whirlwind tour in which he spent time at Class A Advanced Tampa, Double-A Trenton and Triple-A Scranton/Wilkes-Barre before finishing up in the big leagues.
This time, there's no quick fix. Released by Detroit in June, Chamberlain initially went to Triple-A Buffalo with Toronto, but the Nebraska native exercised an opt-out clause in his contract Aug. 14 and signed with Omaha, which affords him a chance to be at home while he pursues an opportunity to get back to the big leagues.
While September callups began Tuesday, Chamberlain wasn't among the initial group of players headed to the Royals. He was in uniform for the Storm Chasers for the opening game of their four-game series with the Colorado Springs SkySox.
Chamberlain isn't complaining.
"When you get older, your ego goes to the side," he said. "You grow up. I have only pitched a few times here."
And Chamberlain welcomes the opportunity to reaffirm his eventual big league stature.
"Everything happens for a reason," he said. "Sometimes you take a step back to take two steps forward. I didn't spend much time in the Minor Leagues early in my career.
"I am able to see things differently. I can step back and see what these guys go through. Everything happened so fast for me that first time that it was a blur."
Chamberlain was signed by Kansas City, which has the best bullpen in the Majors, primarily as an insurance policy, considering his experience. He has spent seven full seasons in the big leagues and parts of two others. He pitched in the postseason five times -- four with the Yankees and once with the Tigers -- including a World Series championship with the Yanks in 2009.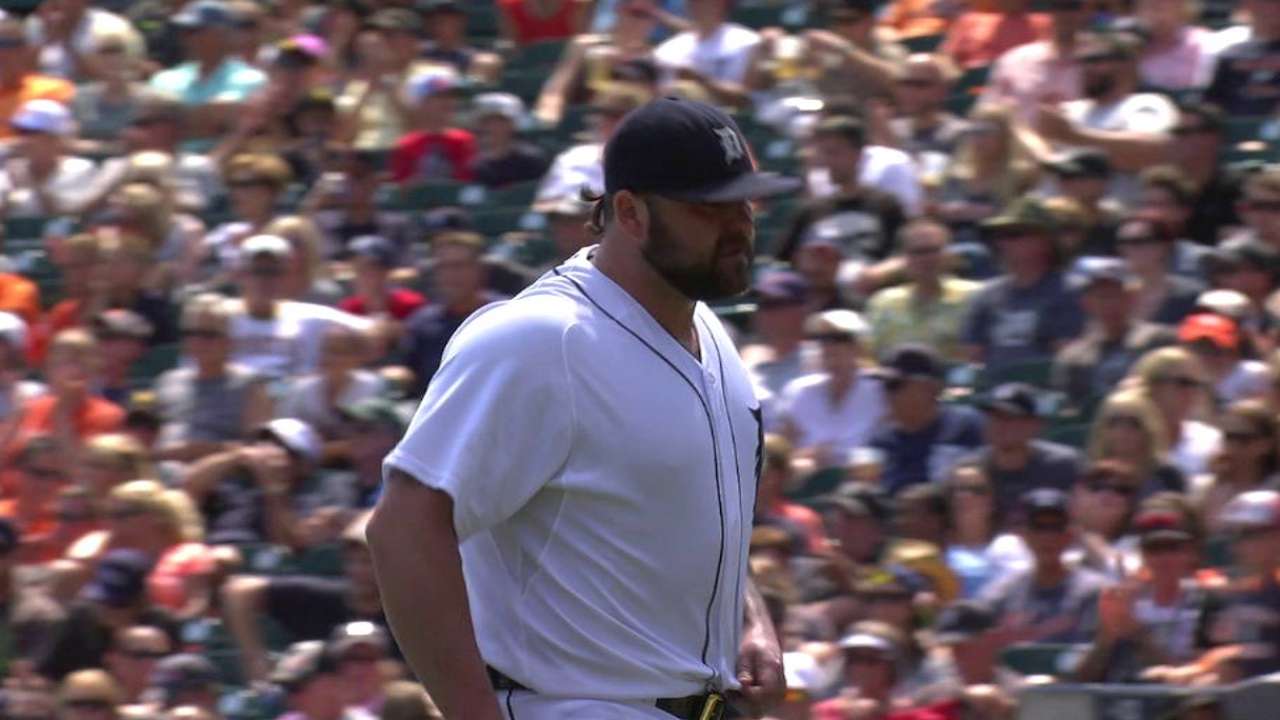 But this year has been a struggle. Chamberlain had a 4.09 ERA in 30 appearances when the Tigers released him. He did have two saves with Buffalo, but he also had a 14.40 ERA in seven appearances with the Bisons, and he has given up five runs in six appearances (five innings) with Omaha.
It has given the Royals reason to hold off any decision on bringing Chamberlain up. It, however, hasn't deterred Joba in his comeback attempt.
"You hear about a guy getting called up for the first time and he's 27, 28 and people say he's a young guy," said Chamberlain. "I guess if you've been around, 29 can be old, but I don't feel old."
Chamberlain doesn't look old, either. He has shaved off the thickness of his beard, trimmed his hair and trimmed his waistline. Joba is on a mission.
"It's happened for a lot of guys, where they get sent back [to the Minors] and get another opportunity," Chamberlain said. "I want to get back to the big leagues, but I'm also able to appreciate where I am now. I'm living at home. I'm sleeping in my own bed. I'm seeing my son all the time."
And Chamberlain feels he is going to get a legitimate look from the Royals, because Dave Eiland, their big league pitching coach, was a Minor League coach with the Yankees when Chamberlain signed, and he was later his pitching coach with the Yanks.
"He knows me better than anybody," said Chamberlain. "He has seen me at my best. That's an added bonus."
Not that Chamberlain is looking for handouts.
Growing up in a broken home and living with his father, who battled polio, Chamberlain didn't initially even make his high school team. But he kept battling until he was a second-team Super State selection in Nebraska his senior year at Lincoln Northeast High School.
Chamberlain then delayed enrollment in college to put some money away, working for the Lincoln Parks and Recreation Department. In the spring of 2005, he enrolled at Kearney State -- where, he points out, his team-leading ERA was a less-than-impressive 5.23. That summer, however, he pitched for the semi-pro team in Beatrice, Neb., where his catcher was Jeff Christy, who played at Nebraska.
Next thing Chamberlain knew, he was on the Cornhuskers' pitching staff. And in 2006, he was a first-round Draft choice of the Yankees as the 41st player taken overall. Now Joba is trying to resurrect that big league career.
"They say the prime for a pitcher is when he is 29 to 32 years old, so I should have good years ahead of me," Chamberlain said.
But if things don't go as planned, Chamberlain said he will be able to handle the disappointment.
"Life is going to hit a person harder than baseball ever will," he said. "I am fortunate to play the game, win a World Series. I've experienced a lot of cool things. I am blessed for the experiences the game has given me."
Chamberlain is just hoping there are a few more experiences in his baseball future.
Tracy Ringolsby is a columnist for MLB.com. This story was not subject to the approval of Major League Baseball or its clubs.