Jankowski halts slump with pair of firsts
Padres rookie outfielder notches first steal, triple in win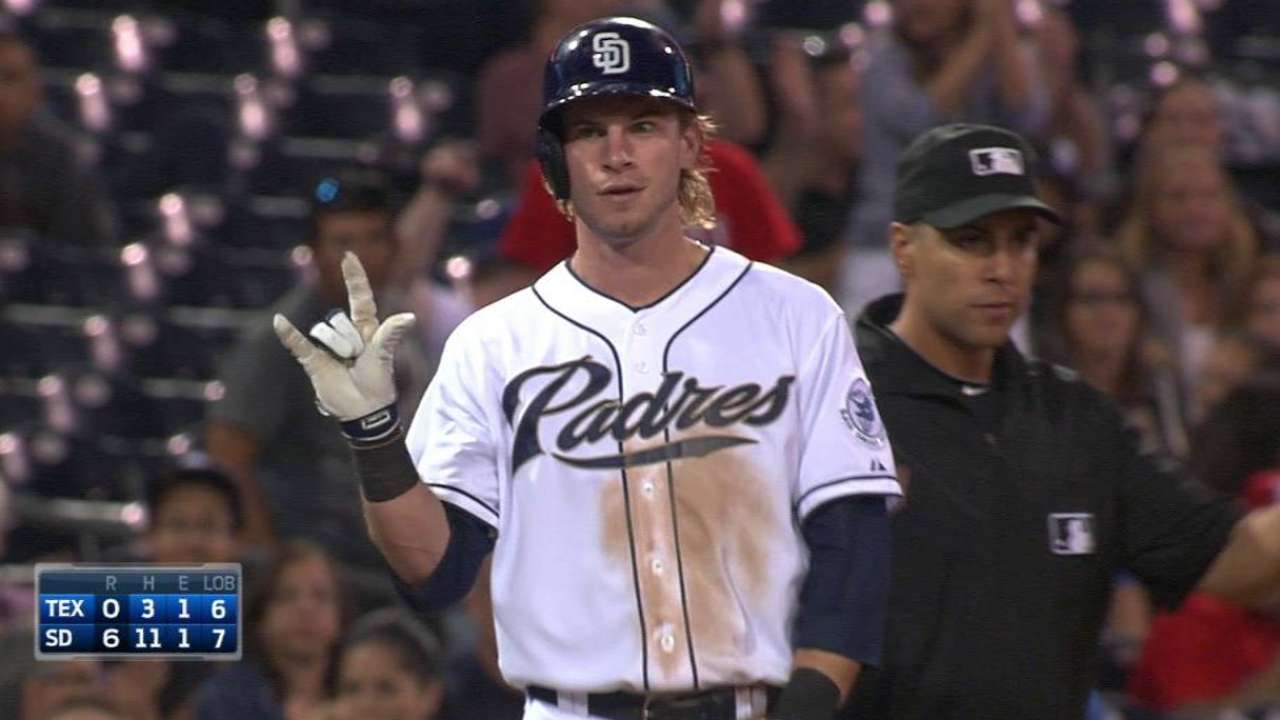 SAN DIEGO -- After going 0-for-15 on the road trip, rookie outfielder Travis Jankowski recorded his first stolen base in the third inning and later scored to give the Padres their first run in a 7-0 victory over the Rangers on Monday night at Petco Park.
But that was not the only career first Jankowski would achieve. In the eighth, he recorded his first extra-base hit with a triple down the right-field line.
"I think the stolen base and extra-base hit will be fresh in my mind for a while," said Jankowski, who went 2-for-4 and scored two runs.
"He didn't play as good on the road trip as he'd like to. Maybe trying to do too much; I like how he responded tonight," interim manager Pat Murphy said. "He showed me something tonight. Left on left at-bat, he hit the ball hard. He made good outs when he made them. ... His flight plan for his offense, the balls need to travel at a low flight plan. The ball in the air doesn't serve him."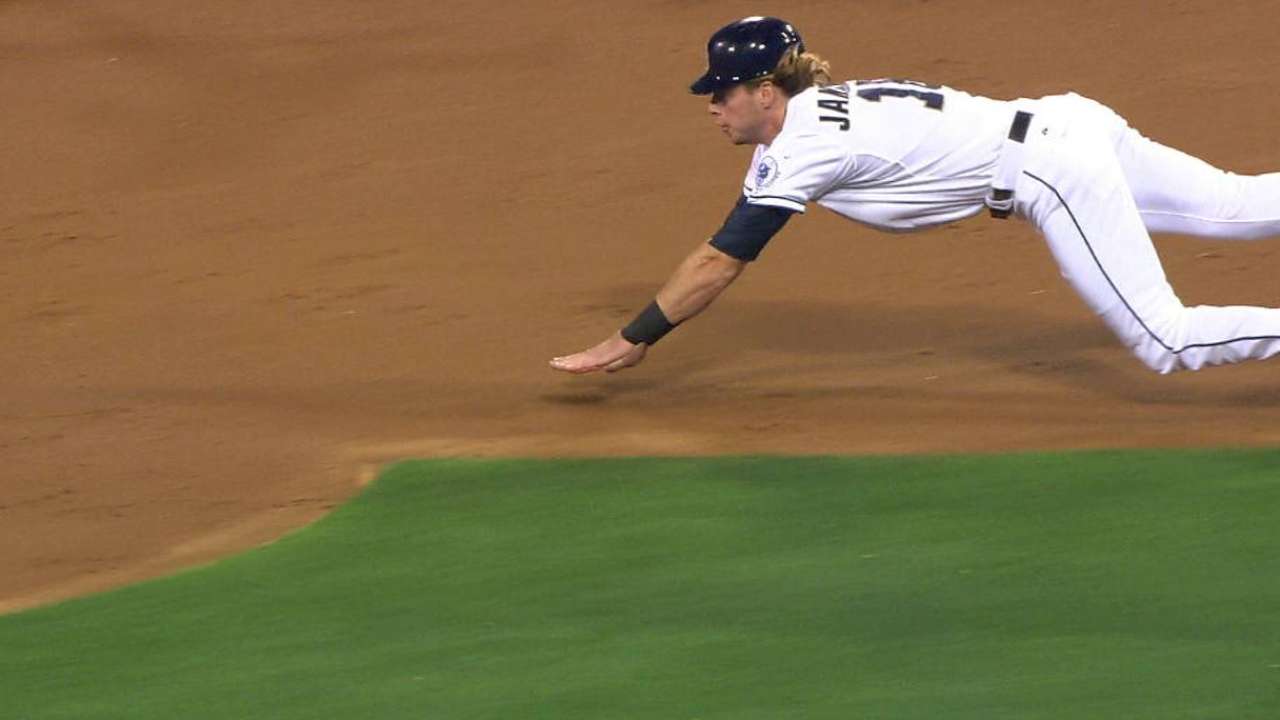 Jankowski is aware of his speed being the main component of his game, understanding that it is one reason he is in a big league clubhouse.
"Hard ground balls and line drives are my game," Jankowski said. "Anything in the air is an accident for me, a mistake. It's not what I'm trying to do at the plate. So Murph is exactly right. My swing plane can never get uphill. I can't be chasing balls up in the zone. I have to keep them on the ground on a line drive."
Jankowski said with being new to the Majors, playing at Petco does feel a little more comfortable, but added that talking to his teammates has been helpful.
"[I'm] learning how to handle a tough stretch and sticking with your strengths and playing to your strengths and not a pitcher's strengths," Jankowski said.
In the sixth, the offense played to its strengths as San Diego scored four runs and sent 10 batters to the plate. Jedd Gyorko's sacrifice fly sparked the scoring, while Tyson Ross, Cory Spangenberg and Yangervis Solarte each contributed RBI hits.
"When you have big innings like that, it's a fun thing, everyone kind of perpetuates. Every ball you hit seems to fall in, that's part of the game, the momentum of the game," Murphy said. "You see the ebbs and flows sometimes. I was pleased after maybe the second and third inning, we started having really good at-bats, consistent at-bats."
Murphy was also impressed with San Diego's approach to Texas starter Colby Lewis, and credited the right-hander.
"He has a way of pitching that kind of messes up with hitters," Murphy said. "We took advantage tonight of having a little better approach and put it together. Everybody is doing something, so that was encouraging."
Beth Maiman is an associate reporter for MLB.com. This story was not subject to the approval of Major League Baseball or its clubs.