Feeling fatigue, Ziegler hits rough patch
Hale hopes to get righty back on track with some rest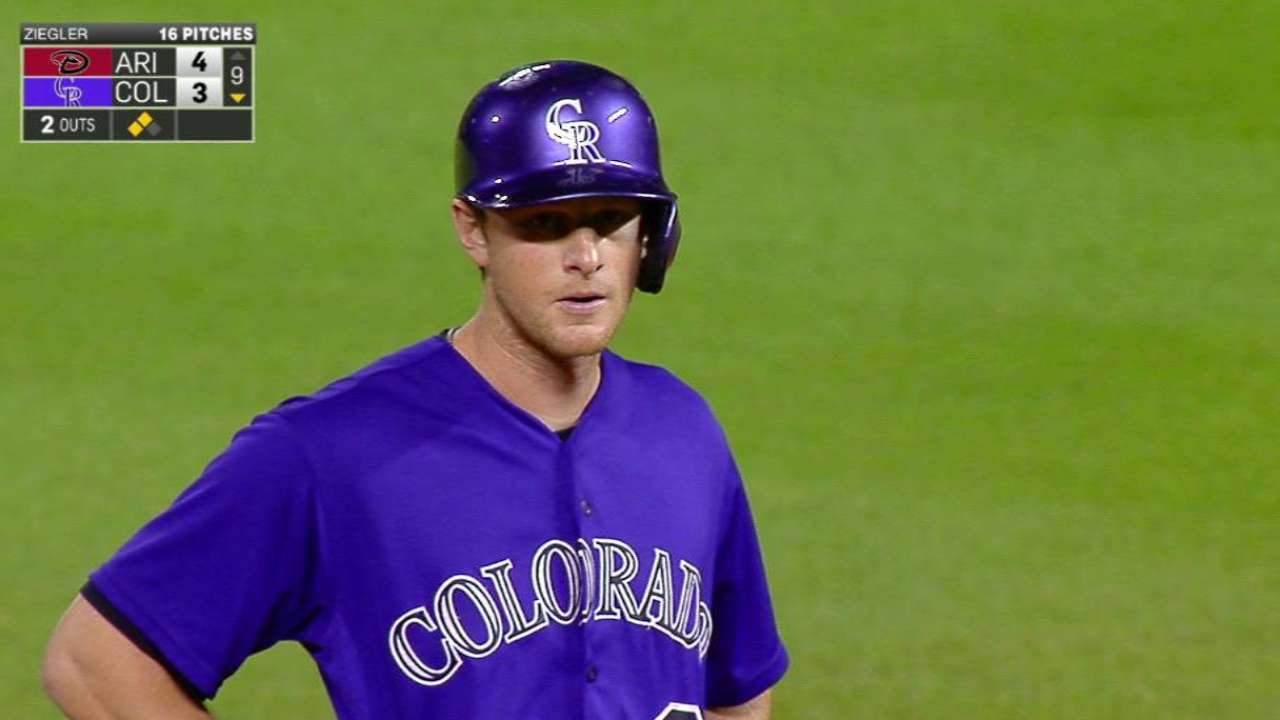 DENVER -- Sometimes in the course of the grueling marathon of a 162-game season, a manager asks too much from one of his players due to circumstances.
That's how D-backs skipper Chip Hale described things Monday night after he sent closer Brad Ziegler out to try and slam the door in the ninth inning just one day after the right-hander had thrown 30 pitches.
The D-backs' bullpen has been taxed of late and was running on fumes when Hale made the decision to go to Ziegler.
The result was back-to-back losses charged to Ziegler, the latest a tough-to-swallow 5-4 loss to the Rockies, who rallied for four runs in the ninth, all of which were charged to Ziegler.
"I think he was tired," Hale said. "We've run him out there pretty hard and thrown him a lot. He's given us everything he has. I just think he was burnt. He's given us everything he can and you can't be perfect at what you're doing, it's impossible in this game. So we'll get him some rest now and hopefully get him back on track."
Despite his fatigue, Ziegler had a chance to end the game when, with a runner on first and two outs, D.J. LeMahieu hit a chopper to the third-base side of the mound. Ziegler jumped and the ball hit off his glove. As he picked the ball up he twisted his left ankle and threw awkwardly past Paul Goldschmidt at first.
"Lost it in the lights believe or not," Ziegler said. "And then whenever I went to pick it up, rolled my ankle and so I tried to spin and throw on one foot. That probably wasn't the smartest decision. I should have just ate the ball and kept it first and second, but I know things happen and still had a chance to get out of it after that and just didn't get it done."
After the miscue, Ziegler walked Nick Hundley and Hale brought in left-hander Matt Reynolds to face lefty pinch-hitter Ben Paulsen.
Reynolds jumped ahead of Paulsen, 0-2, before Paulsen lined a single into center to score a pair of runs and give the Rockies the walk-off win.
"I got ahead of him like I wanted to and, on the last pitch, I was trying to expand with the fastball and didn't quite get it out there enough," Reynolds said.
Before the past two days, Ziegler had been as close to a sure thing as you could have. He had converted 22 straight saves -- Sunday was not a save situation.
"Yeah," Ziegler said when told Hale thought he was tired. "But I think Aug. 31 I think probably everybody in baseball is tired. So I don't feel I'm in a different spot than a lot of other people. It's been a long, grueling season so far and we've still got some time to go."
Ziegler said his left ankle was "tender" and he would see how it felt after receiving more treatment on it Tuesday.
Steve Gilbert is a reporter for MLB.com. Read his blog, Inside the D-backs, and follow him on Twitter @SteveGilbertMLB This story was not subject to the approval of Major League Baseball or its clubs.