MLB raises awareness, money with Ice Bucket Challenge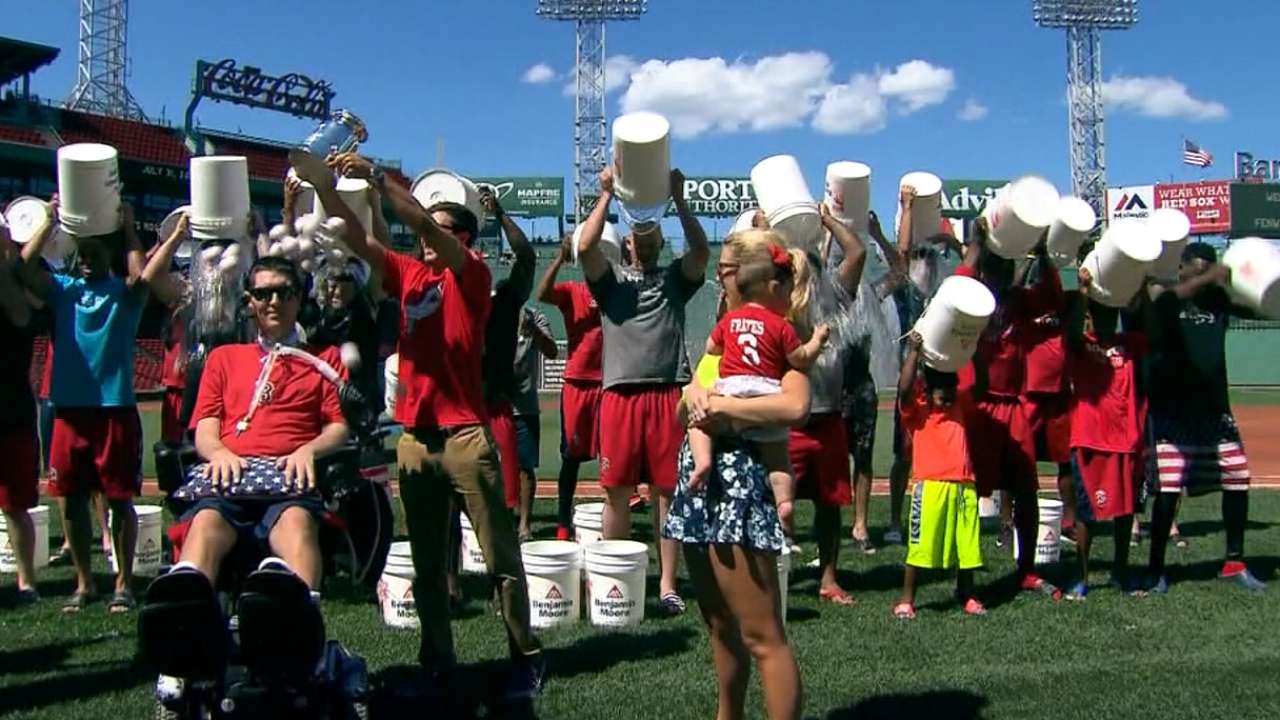 Last summer's biggest charitable trend struck Major League Baseball again this August, as the Ice Bucket Challenge made its rounds at big league ballparks.
A month-long initiative by MLB in support of ALS awareness concluded Monday at Fenway Park, the same place it began.
All 30 clubs participated with each hosting its own challenge and then challenging another franchise to partake, culminating in Monday's on-field challenge in Boston, where seven Red Sox players, including David Ortiz and Dustin Pedroia, poured ice on fans who won an auction benefiting the cause.
The winners received tickets to that evening's game against the Yankees, and they also were given Spring Training jerseys worn by Red Sox players on March 3 in honor of Pete Frates, who was a former Boston College baseball player and co-founder of the Ice Bucket Challenge.
MLB started the initiative back in July with a $100,000 donation to The ALS Association. The challenge then launched in Boston on July 31, making its way through the remaining 29 franchises and back to Boston again.
Amyotrophic lateral sclerosis (ALS) is a progressive neurodegenerative disease that leads to paralysis due to the death of motor neurons in the spinal cord and brain. The disease, of which there is no known cure, is also known as Lou Gehrig's Disease, named after the Hall of Fame first baseman, who died from ALS at age 37.
MLB also held multiple events in New York last August, raising $73,700, in addition to the donations from all 30 clubs that participated, as well. Additionally, the league presented an engraved silver ice bucket to the Frates family during Game 2 of the 2014 World Series.
Chad Thornburg is a reporter for MLB.com. This story was not subject to the approval of Major League Baseball or its clubs.