On a roll, Colon working to earn playoff role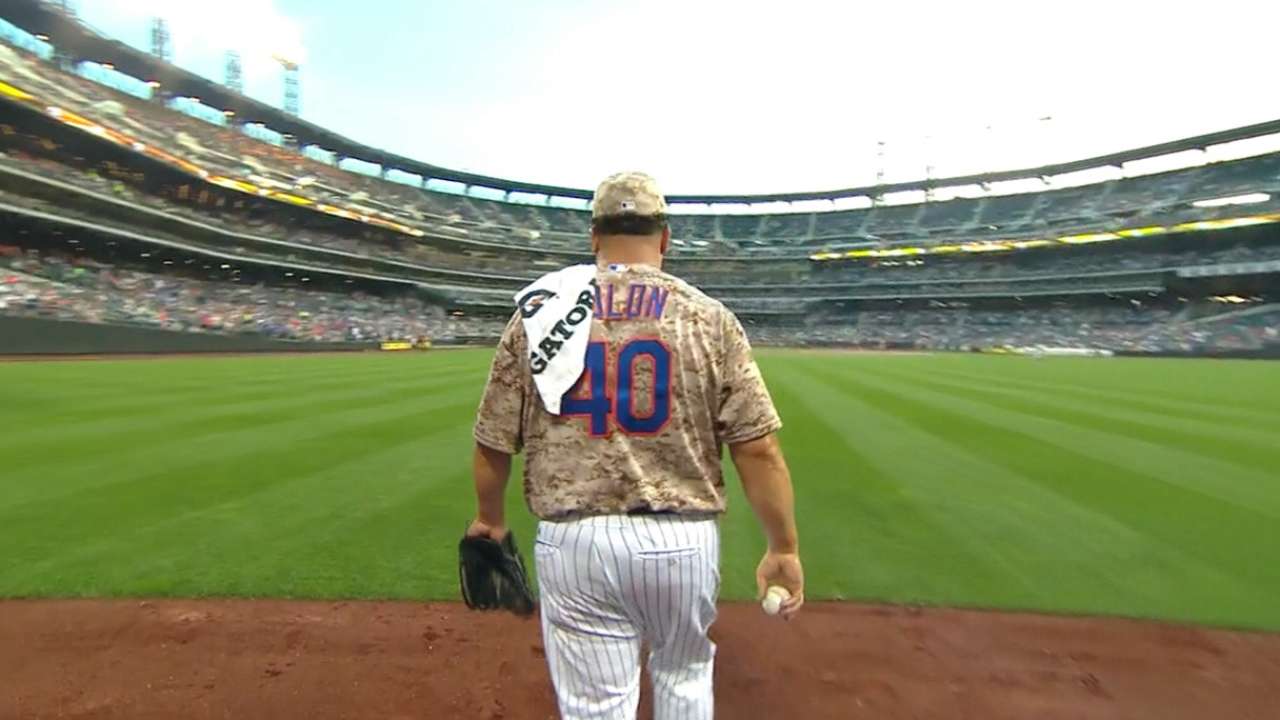 NEW YORK -- There Bartolo Colon stood on Aug. 21, owning a 4.90 ERA and an expiring contract. At the time it was nearly impossible to envision him taking the ball for the Mets in October.
And maybe it's still difficult. But with eight shutout innings in Monday's 3-1 win over the Phillies, Colon ran his streak of scoreless innings to 16 and has at least wedged his foot in the door of playoff consideration.
It is, the Mets insist, a discussion for another day. On Monday they were thankful enough to receive a second straight outing that was vintage Colon.
"I think he got a little frustrated when he went through that streak and things weren't going so good," manager Terry Collins said. "Now he's found his command. He's found his release point. He's pitched great."
Never on Monday did Colon face even a whiff of real adversity, allowing just one runner past first base. Striking out nine and walking one, he retired the first five Phillies he faced and each of the last 10, even striking out the side in the seventh on 13 consecutive fastballs. That was enough for the Citi Field crowd to serenade him with a standing ovation after the eighth, despite the protestations of some fans who wanted him to at least attempt to finish the Mets' first complete game of the season.
But Collins never gave him the chance, citing a three-run lead that qualified as a save situation. So in came Jeurys Familia for the fourth time in five games, and he allowed three baserunners and a run before escaping the jam for his 36th save.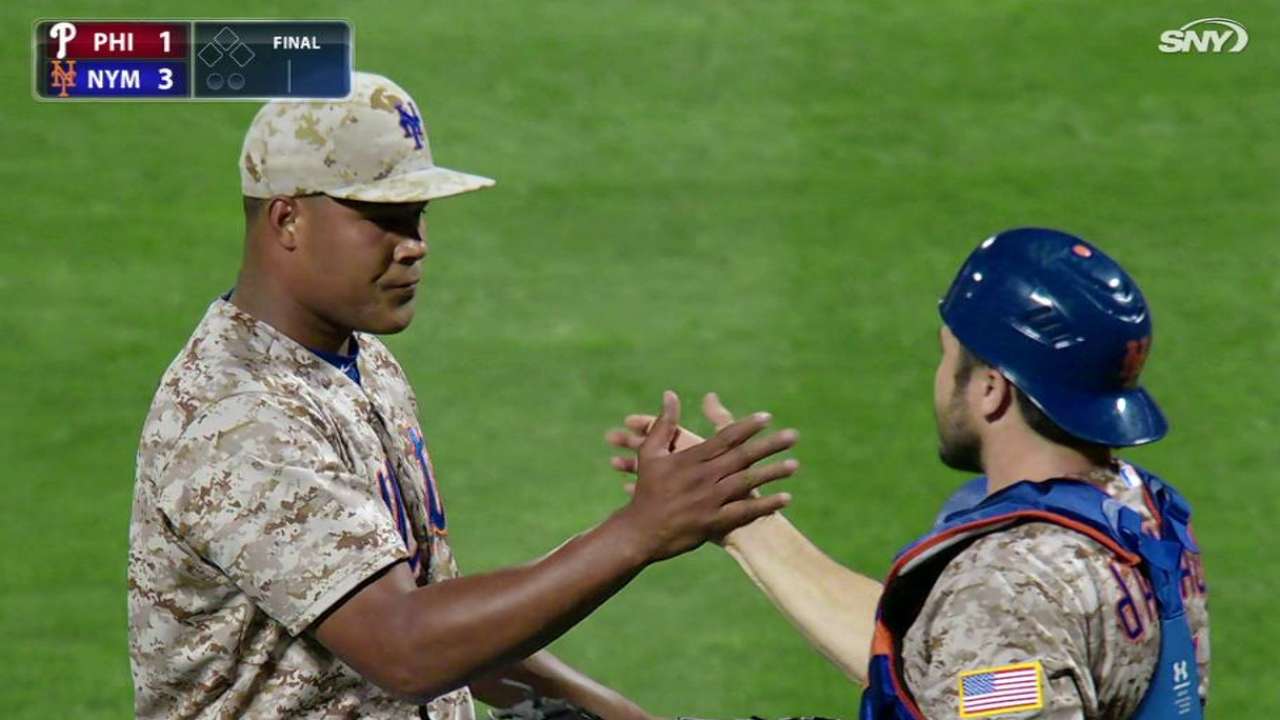 "I've got one of the best closers in the game," Collins said. "It's a closing situation. I'm closing with him."
Colon, for his part, admitted to being somewhat fatigued after pitching eight innings (100 pitches) and rapping out his career-high seventh hit in the bottom of the fifth. He wasn't complaining.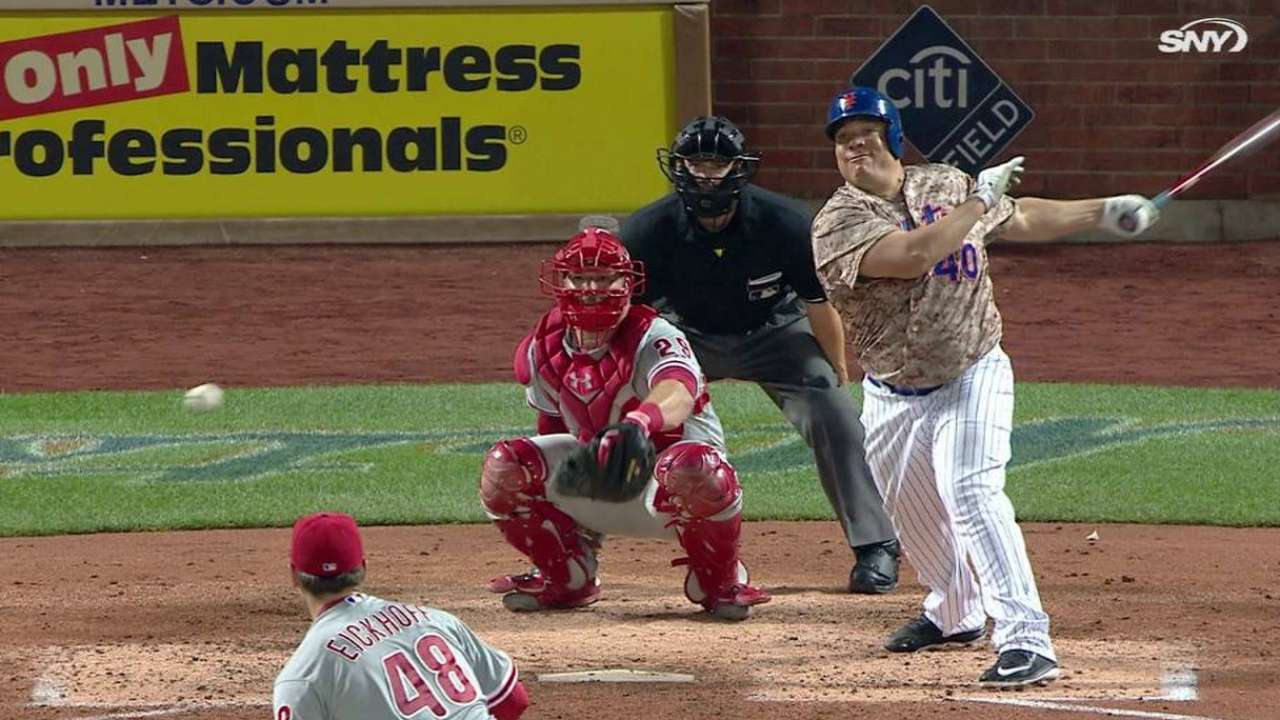 To the contrary -- at this point in the season, he is most interested in finishing strong. If he does he could still earn a role on the Mets' playoff roster -- even if the presence of Jacob deGrom, Matt Harvey, Noah Syndergaard, Steven Matz and Jon Niese makes it more likely that it will be in the bullpen. Colon's relief cameo over the weekend opened eyes around Citi Field, as did his consecutive strong starts against the Phillies.
It may be wise to take Colon's outings with a sizable grain of salt, considering he is 4-0 with a 2.33 ERA against Philadelphia and 8-11 with a 4.84 ERA against everybody else. But his performance has at least put him back on the playoff map with less than five weeks left in the regular season.
"No matter what the decision will be, I'm here to pitch," Colon said. "That's nothing I can control. That's up to them. But I'm here to pitch, and I can pitch anywhere they need me."
Anthony DiComo is a reporter for MLB.com. Follow him on Twitter @AnthonyDiComo and Facebook, and listen to his podcast. This story was not subject to the approval of Major League Baseball or its clubs.