Chapman scores a run, notches five-out save
Closer has second at-bat of big league career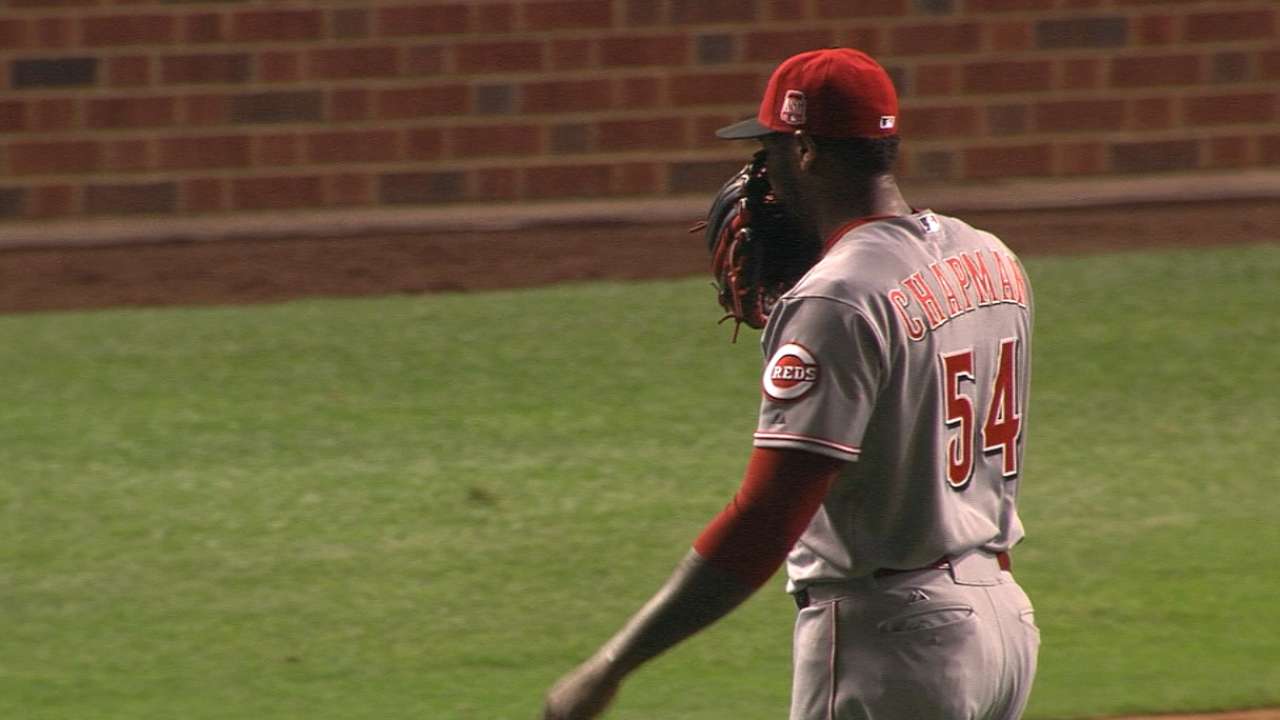 CHICAGO -- Reds closer Aroldis Chapman isn't often asked to get a save requiring more than three outs. Needing him to bat for himself is even more of a rarity. Scoring a run while running the bases? That's a new experience altogether.
And it all happened Monday night for Chapman during a wild 13-6 Reds victory over the Cubs.
As the Reds led, 7-5, Chicago threatened in the eighth against setup man J.J. Hoover with a leadoff double and one-out walk. Reds manager Bryan Price called on Chapman to attempt his first save of more than three outs in 2015.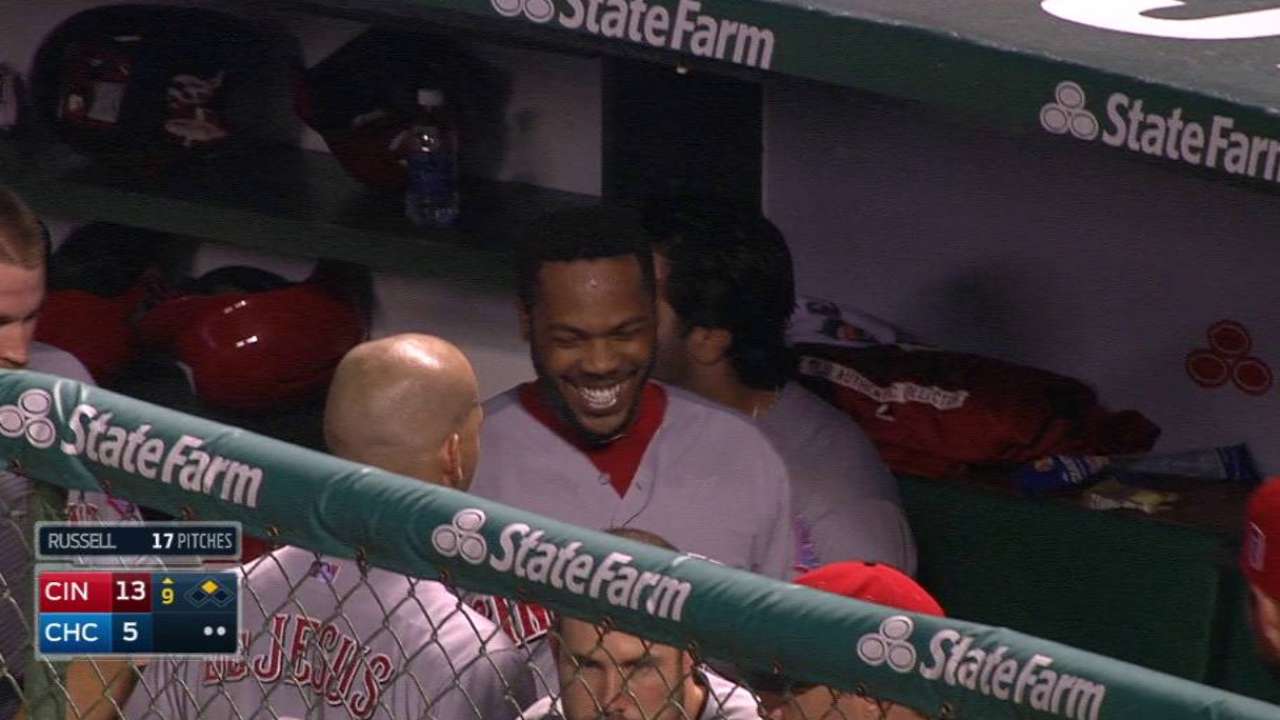 "I feel great when I do that. If the team needs me and they want me, I'm available and ready to go," Chapman said through translator Tomas Vera.
Chapman, who had his last save of more than one inning on Sept. 6, 2014, struck out lefty hitter Tommy La Stella with a 102-mph fastball. With Starlin Castro batting, the Cubs attempted a first-pitch double steal. As Chris Coghlan went to third base, Reds catcher Tucker Barnhart fired a pellet to nail Kris Bryant trying to swipe second base to end the eighth inning and a rally.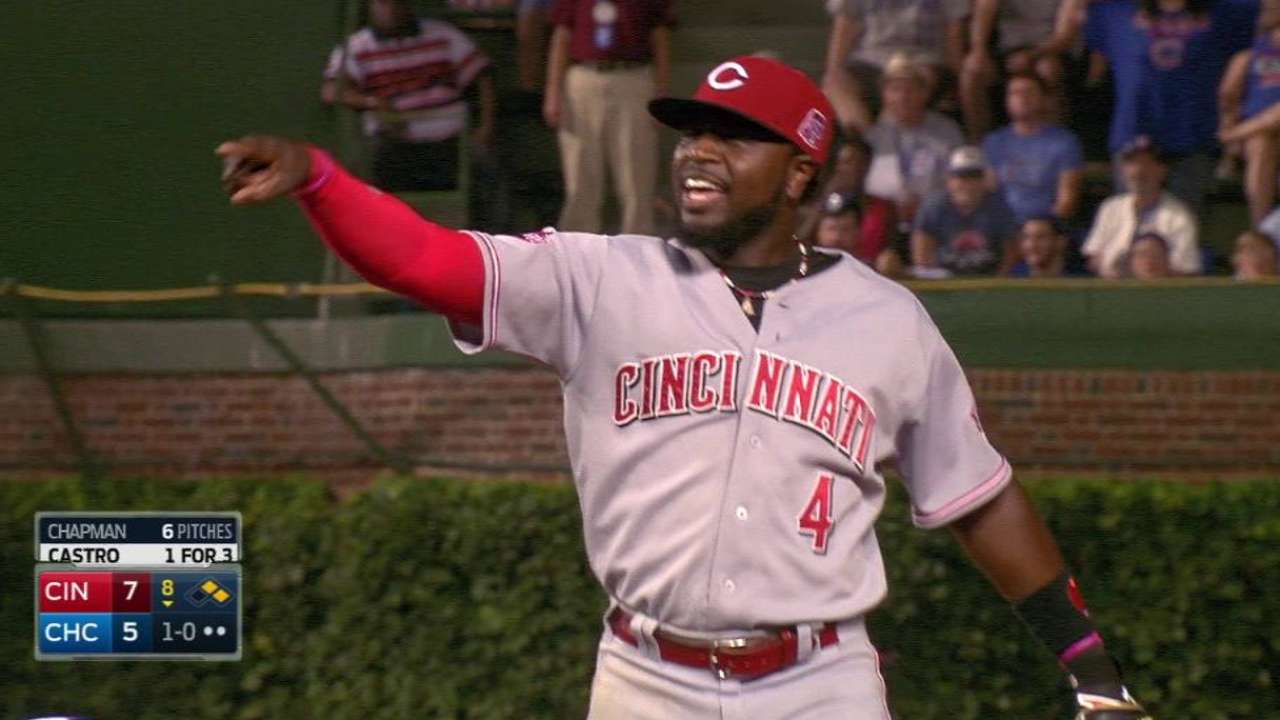 "That was a huge play. If not, they've got a chance to tie the game with a base hit," Price said.
Chapman still had three more outs, but he had to wait to return to the mound … and wait some more. Cincinnati sent 10 men to the plate in a six-run rally that put the game away.
One of those batters who came to the plate was none other than Chapman. It was only his second big league at-bat. He struck out on Aug. 21, 2013, vs. Arizona. Teammates were teasing him as he grabbed a helmet and stepped into the on-deck circle.
"I just took it for fun," Chapman said, laughing. "I enjoyed the moment. I looked for the pitch and made a good swing. All my teammates were rooting for me. It was a good time."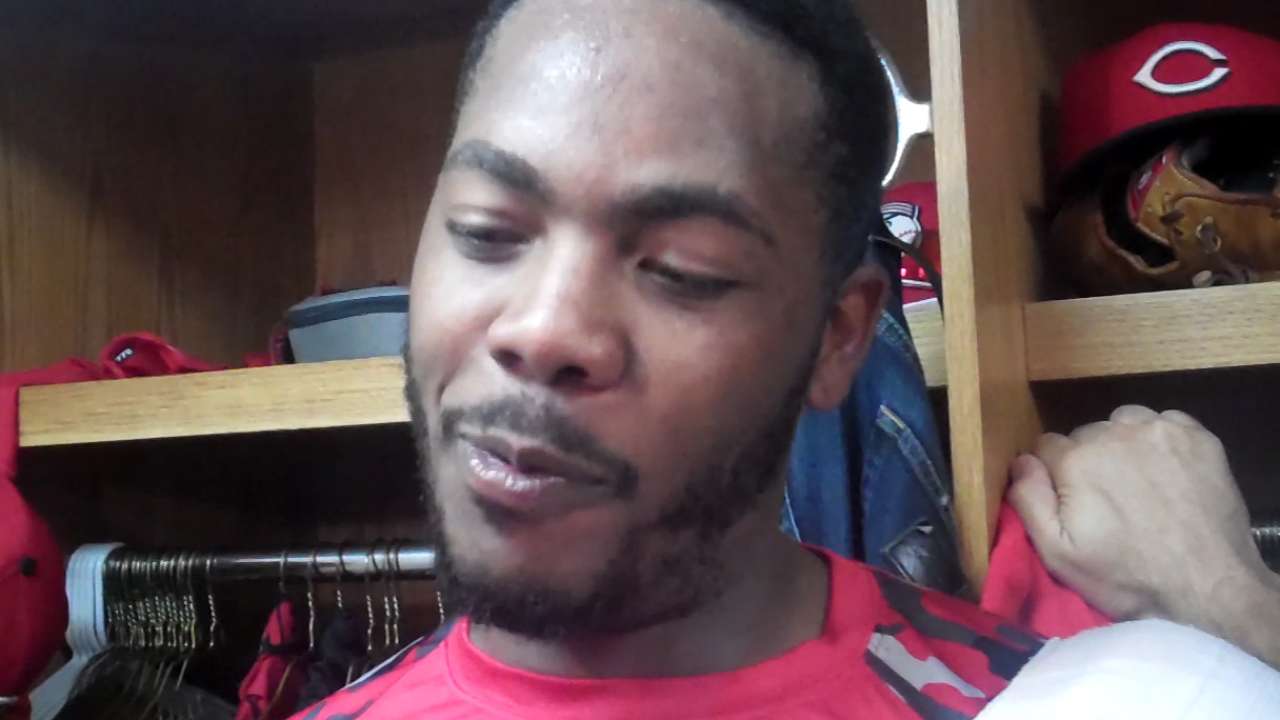 Chapman bounced a grounder to shortstop Addison Russell, who threw to second base for the force play. Castro got crossed up and botched the catch for a run-scoring error. When Jason Bourgeois followed with a two-run double to the left field corner, Chapman scored from first base.
"We're saying, 'Hey, listen. You don't need to swing. If you do put the ball in play, just go easy.' He gets on with the error," Price said. "Then of course what happens next, Bourgeois bangs one down in the corner. There's Chappy with those long strides going from first to home. There was just a lot of things we didn't anticipate happening in that game it did."
How did Chapman feel after scoring?
"Tired," he said. "I felt gassed out."
The final three outs were a little anti-climatic for Chapman at that point. He gave up a Russell homer with two outs but his 26th save of the season was easily the most interesting this season. It was also his third-ever of 1 2/3 innings or more. The last time that happened was also the last time he batted.
"He's a special guy and he came out and showed us how good of an athlete he is," Barnhart said. "At the plate and then scoring from first, it was incredible."
Mark Sheldon is a reporter for MLB.com. Read his blog, Mark My Word, follow him on Twitter @m_sheldon and Facebook and listen to his podcast. This story was not subject to the approval of Major League Baseball or its clubs.