MLB.com Columnist
Mike Petriello
Three keys to rebuilt Rangers' playoff push
26-16 second-half record is the third-best mark in American League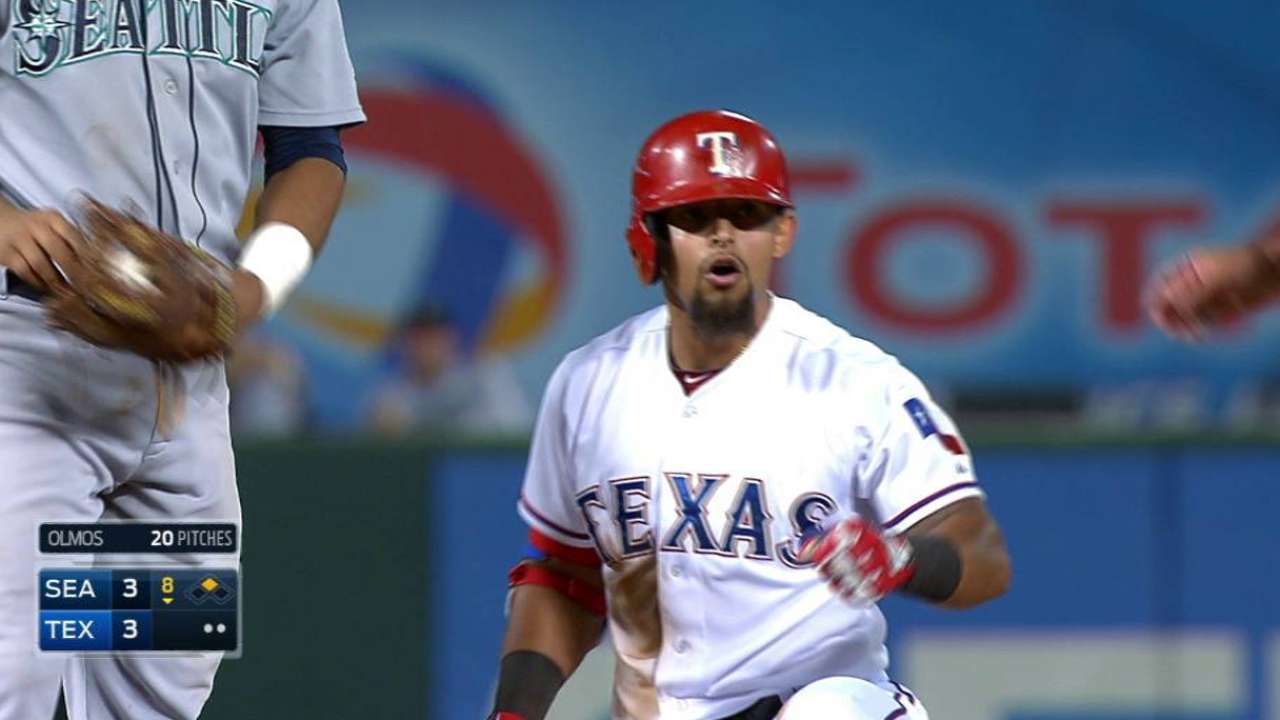 As late as July 15, the Texas Rangers sat next to last in the American League in MLB.com's postseason probabilities, ahead of only the White Sox. Though they weren't in last place in the traditional standings, it wasn't difficult to see why a team that had lost 95 games in 2014, had lost seven of eight headed into the All-Star break and had sustained such a brutal run of injuries that they used 10 starting pitchers in the first half wouldn't be looked upon with confidence.
That was six weeks ago. Since then, the seemingly buried Rangers have gone 26-16, the third-best record in the AL in that time. They've gone from six games behind the then-leading Angels to 3 1/2 games ahead of them in the AL West, and only four games behind the Astros for the division lead. Texas' playoff odds have shot from 7.2 percent on July 15 to 53.8 percent, even after losing 7-0 in San Diego on Monday night, and if the season ended today, the Rangers would be traveling to New York for the AL Wild Card Game.
So how have they performed such a massive turnaround, one that's likely to see them back in the playoffs for the first time since 2012? It's easy to say the trade for Cole Hamels, and it's easy to say the resurgence of Prince Fielder. But neither superstar has been the reason for this run, not really. Hamels (3.89 ERA/4.22 FIP) has been more "fine" than "great" since the trade, and after a stellar first half, Fielder has seen his OPS drop nearly 250 points in the second.
Instead, there are three much bigger reasons for the surge:
1. Shin-Soo Choo has been fantastic
Choo's seven-year, $130 million contract got off to a pretty rotten start in 2014 when he put up only a 100 Weighted Runs Created Plus mark (after being at 150 with the Reds in 2013), combined with below-average defense, making him a replacement-level player. Much was made of the fact that he'd played all year through an injured ankle (which would eventually require surgery), but the first half of 2015 was even worse, as he put up a .221/.305/.384 line (86 wRC+) that would have been the worst of his career.
But Choo has worked to get away from the pull-happy tendencies that he'd picked up in Arlington, and the results have been stunning. In his big year with the Reds, he pulled the ball 32.7 percent of the time, a mark that jumped to 38.7 percent last year and 47.8 percent in the first half of this season. That's been trending down to 39 percent in the second half, while Choo's Statcast™ launch velocity has skyrocketed:
Shin-Soo Choo wRC+ up from 86 in first half to 152 in second. Check that batted ball velocity trend: pic.twitter.com/r0fXVa9D5Y

— Mike Petriello (@mike_petriello) September 1, 2015
Before the break, Choo was averaging 90.05 mph on batted balls. Since, it's been 95.07 mph, and he'd reached base in 34 consecutive games before Monday. Choo's wRC+ has jumped up to 155, similar to what it was in Cincinnati, showing the Rangers the player they'd been expecting.
2. Rougned Odor has been a revelation
In the wake of Jurickson Profar's injury last spring, Odor came up and played a full season at only 20 years old, putting up an adequate .259/.297/.402 line. Expected to improve this year, Odor was instead so overwhelmed that he put up a .144/.252/.233 mark in 29 games and was optioned to the Minors on May 11. After performing well during a month in Triple-A (.352/.426/.639), Odor returned on June 15.
You might say it was a necessary break. Odor had three hits in his first game back and never stopped, putting up a .330/.363/.570 line (150 wRC+) with 10 homers and an AL Player of the Week Award since his return. As you'd expect, Odor is hitting the ball harder -- 90.75 mph, up from 86.42 mph before he went down. It's not just about hard contact, though, it's about making contact at all. Odor's contact rate has jumped from 78.1 percent to 88.3 percent in his two big league stints this year.
3. The pitching staff has largely turned over
After Yu Darvish had elbow surgery in the spring and Derek Holland injured his shoulder, the Rangers started the season with a primary rotation of Colby Lewis, Yovani Gallardo, Nick Martinez, Ross Detwiler and Wandy Rodriguez. Neftali Feliz was the closer in a bullpen that had too much Tanner Scheppers, Phil Klein and Roman Mendez. In the first half, a pitching staff that had a 4.22 ERA, tied for 25th in baseball, was a big culprit in the team's struggles.
But most of those names are gone now. Hamels, the recovering Martin Perez and Holland -- who shut out the Orioles on three hits on Sunday -- have arrived to join Lewis and Gallardo. Jake Diekman (who came over from Philadelphia in the Hamels deal) and Sam Dyson (who came from Miami on July 31) have teamed with Sam Freeman (who was called up in May) to create a useful middle-relief group.
Now, the two highest-leverage roles belong to Shawn Tolleson and Keone Kela, who were with the team on Opening Day but have grown into more prominence. Kela, who was briefly optioned in early August to get some rest, has been a particular find, as the flame-throwing 22-year-old has a 59/15 strikeouts-to-walks ratio in 53 innings and averages 96.38 mph on the fastball he throws nearly 70 percent of the time. As a team, Texas' 3.53 ERA over the past 30 days is the eighth best in the Majors.
If it looks like a different Rangers team, that's because it is. Adrian Beltre has been much better in the second half after being plagued with a thumb injury. Bobby Wilson and Chris Gimenez are the catchers rather than Robinson Chirinos and Carlos Corporan. Will Venable and Ryan Strausborger are playing left rather than Ryan Rua, Jake Smolinski and Carlos Peguero, with Josh Hamilton looming. It's a better team because it's a different team, and with Wild Card competitors in Baltimore, Los Angeles and Minnesota falling off, it's come at the right time. These Rangers are playoff-bound, even if "these Rangers" is a term that seems to change on a weekly basis.
Mike Petriello (@mike_petriello) is an analyst for MLB.com. This story was not subject to the approval of Major League Baseball or its clubs.