Dickerson feels closer to joining lineup
Weiss exercises caution as outfielder recovers from rib injury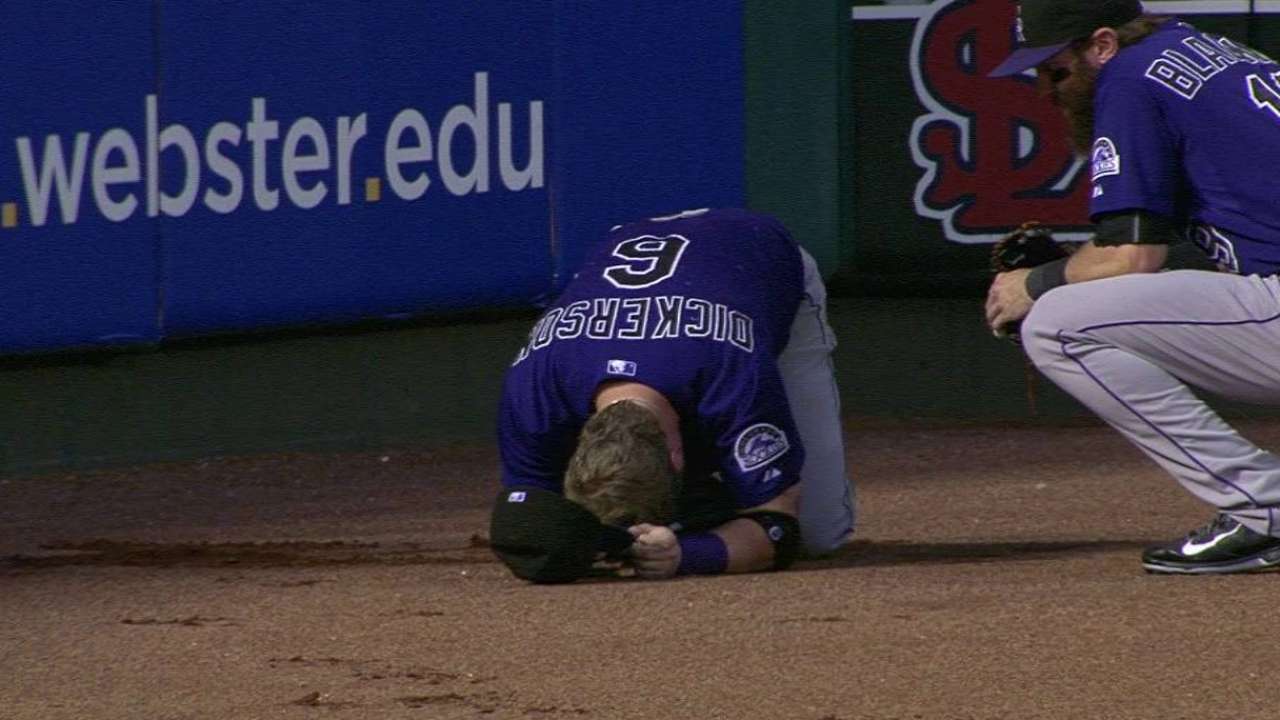 DENVER -- When asked for an update on his various injuries, Corey Dickerson didn't hesitate.
"[I] could play today," the Rockies outfielder said.
Dickerson, though, was only half joking. Although he hasn't played since suffering two non-displaced rib fractures on July 30 -- not to mention his nearly season-long battle with plantar fasciitis -- Dickerson was scheduled to take on-field batting practice before Monday's series opener with Arizona.
A pregame thunderstorm, however, washed that away, but Dickerson said he's been hitting in the cage for "four or five days" without any problems.
"I swing as hard as I can, and I don't feel [any rib pain]," Dickerson said. "So that gives me confidence, and I don't worry about it anymore. I was worried at first, but I don't even think about it now.
"With ribs, you just have to give it time. You have to make sure it heals properly, and I think I've given it the right amount of time so far. I think everything is going as planned, and there are no setbacks."
Dickerson said he could see himself coming back "very soon", but Rockies manager Walt Weiss is showing more caution. He said the Rockies will have to weigh the pros and cons of the unique situation, considering Dickerson is essentially battling two injuries.
Still, Weiss acknowledged that a return this season would give Dickerson some peace of mind
"As a player, you never want to go into an offseason as a rehab player," Weiss said. "It's always a lot better approaching the offseason having played."
Worth noting
• Justin Morneau will continue his rehab assignment at Double-A New Britain this week before returning to Denver -- likely on Thursday -- for a reevaluation.
Like Dickerson, Weiss said it could be mentally difficult for Morneau to go into the offseason without returning this year. But the Rockies manager added that "it's tough to talk about the long-term future of Justin with where we're at right now."
"I believe he still wants to play [this season]," Weiss said. "So far, things have gone very well for him, but it's been such a long road. It's hard to think beyond the next day."
• Weiss said Kyle Kendrick will be on a shorter leash than normal when he returns from right shoulder inflammation to start the second game of Tuesday's doubleheader. Kendrick threw a simulated game on Aug. 25 and a 30-pitch side session in Pittsburgh, but Weiss said the right-hander isn't all the way stretched out.
"He's just not built up to go out there and throw seven or eight innings," Weiss said.
Dargan Southard is an associate reporter for MLB.com. This story was not subject to the approval of Major League Baseball or its clubs.