Reed turns 'pen from concern to strength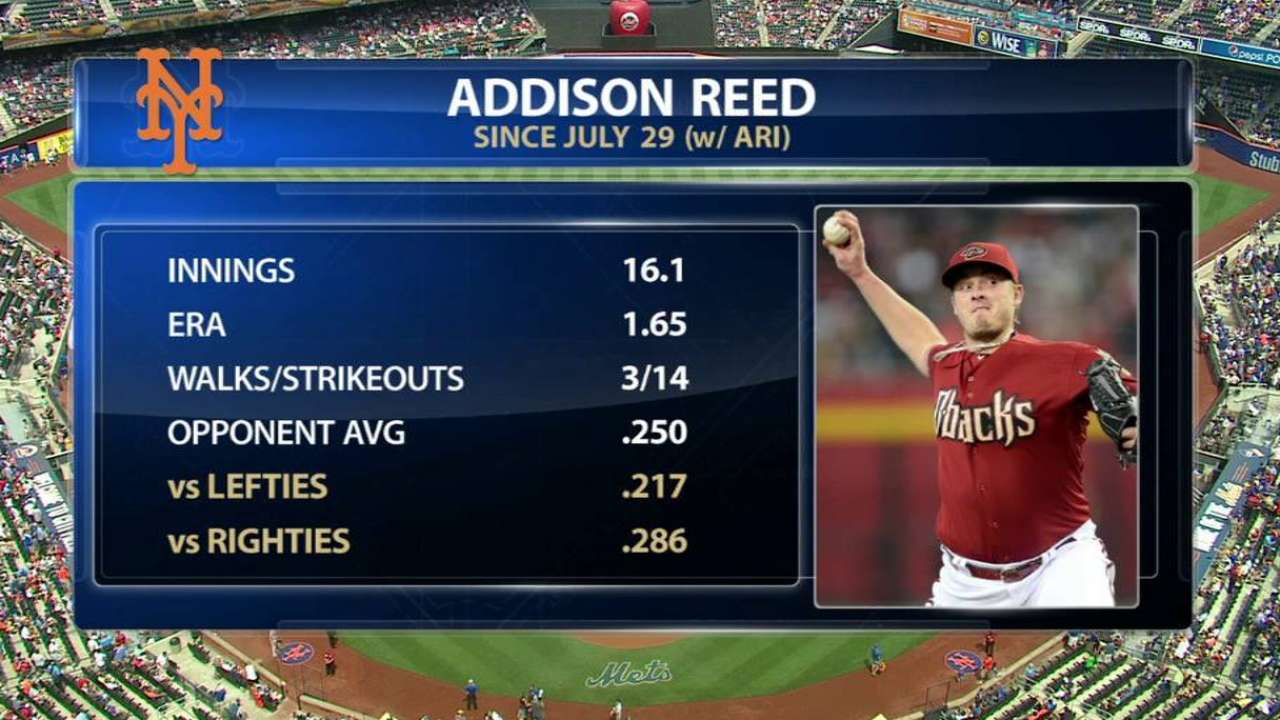 NEW YORK -- Addison Reed stepped into a Mets uniform for the first time on Monday. Bobby Parnell should return from the disabled list on Tuesday. With those two, and with Jeurys Familia and Tyler Clippard in tow, the Mets will spend September with four relievers boasting significant closing experience.
If the bullpen was a significant concern for the Mets during the second half of August, manager Terry Collins is convinced it no longer is.
"They're very good, all of them," Collins said. "When Bobby's healthy, he's dynamic. So it's going to make a big difference for us as we move into September, and we've got a lot of options and a lot of mixing and matching we can do with some quality relievers. So it's a good feeling to know that we've got some pieces down there. Three days ago we're just trying to figure out how we're going to get to tomorrow, to where we get some help. Then, boy, all of a sudden, Addison Reed pops up, and that's going to be a big help."
Collins pointed to Reed as his primary option in the seventh inning of games, with Clippard pitching the eighth and Familia the ninth. Parnell, ultimately, may have no role for the Mets come October, though the team will give him plenty of chances to prove he belongs over the season's final five weeks.
Only eight pitchers compiled more saves than Reed did from 2012-14 with the White Sox and D-backs, though he notched only three this season before a demotion to Triple-A Reno. There he worked to lessen what he described as an exaggerated front leg kick, re-establishing control over his mechanics.
The results have been plain to see. Reed allowed just three walks and no home runs following his promotion back to Arizona, posting a 1.65 ERA before the Mets made their acquisition of him official on Sunday.
"I couldn't have come to a better ballclub right now," Reed said. "When I was told I was coming over here, I was real excited and ready to get here. Whenever the phone rings and my name is called, I'm going to be ready."
Anthony DiComo is a reporter for MLB.com. Follow him on Twitter @AnthonyDiComo and Facebook, and listen to his podcast. This story was not subject to the approval of Major League Baseball or its clubs.