Brewers biding time with September callups
With Santana already up and raking, club content to wait for Minor League seasons to end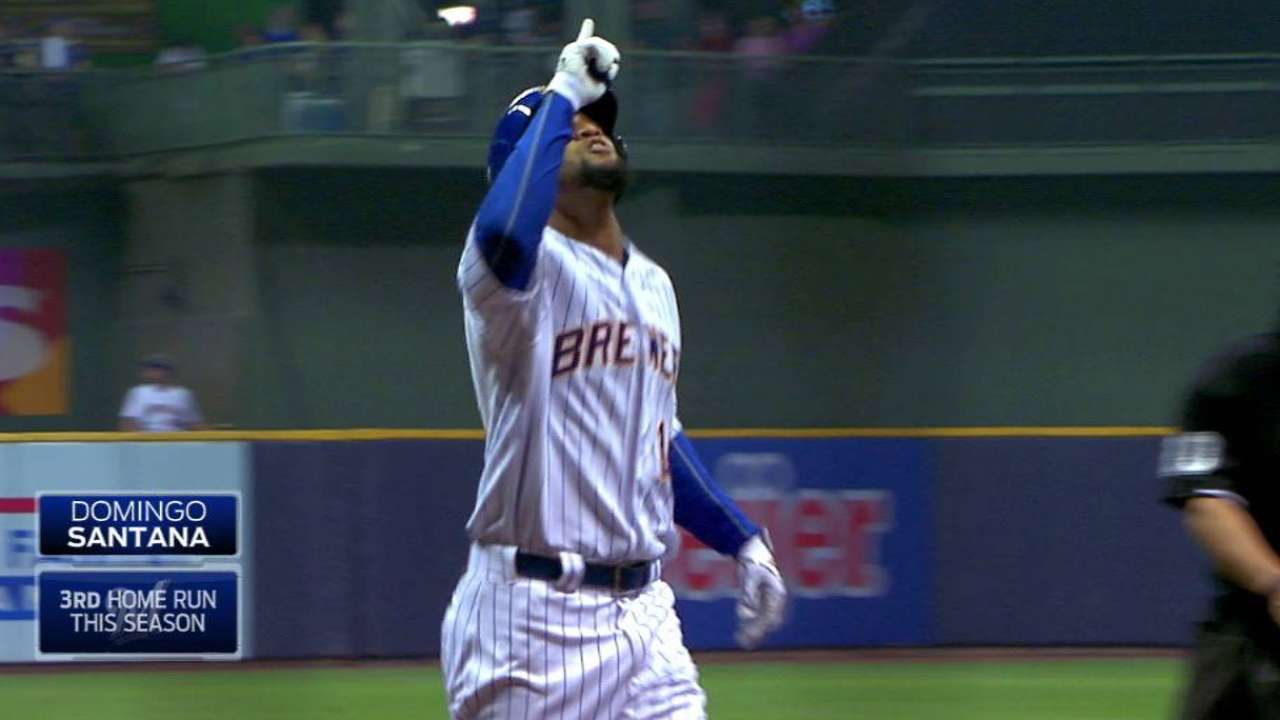 MILWAUKEE -- As expected, the Brewers didn't call many names when teams made their initial September callups on Tuesday, content to let players finish the Minor League seasons at Triple-A Colorado Springs and Double-A Biloxi before raiding those rosters for reinforcements.
All along, manager Craig Counsell predicted a modest group of additions to the active roster.
"I don't think we're looking to cover ourselves in bit roles. That's not where we're at," Counsell said two weeks ago. "There has to be a role for the player, or a development gain by bringing a player here."
Little has changed since MLB.com first looked at the callup candidates on Aug. 19, with one notable exception in outfielder Domingo Santana. Milwaukee's No. 4 prospect was promoted to the Majors on Aug. 21 and already has hit three home runs.
Santana may prove the Brewers' most notable late-season addition. Here is another look at some other big names:
Zach Davies, right-hander
A series of recent off-days has allowed the Brewers to operate without a fifth starter, but that's about to change; Davies was called up on Tuesday and will make his big league debut against Pittsburgh on Wednesday. Acquired from the Orioles in a non-waiver Trade Deadline deal for Gerardo Parra, the 22-year-old Davies needed to be added to Milwaukee's 40-man roster by November to avoid being exposed to the Rule 5 Draft, so there was little downside to giving him a late-season look in the big leagues. He's No. 11 on MLB.com's list of the Brewers' Top 30 Prospects.
"We're hoping Zach Davies can step into [Mike] Fiers' position next year," then-Brewers general manager Doug Melvin said after trading Fiers to the Astros and acquiring Davies the next day. "Starting pitching is always the toughest, because it's so expensive."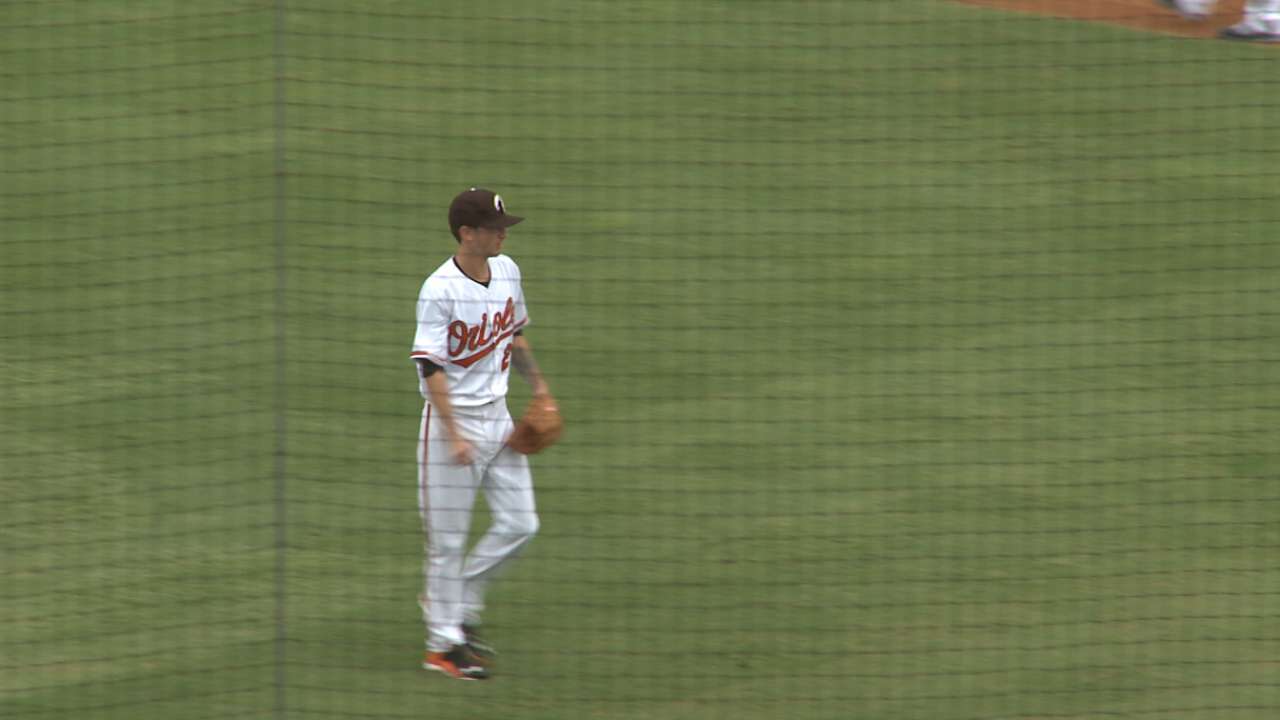 Luis Sardinas, infielder
Named the Pacific Coast League's Player of the Week for Aug. 10-16, Sardinas has already seen action for the Brewers this season and would provide coverage at second base, third base and shortstop. With Milwaukee out of the race, he could even serve as the starting second baseman in September if the Brewers want another extended look.
Orlando Arcia, shortstop, and Jorge Lopez, right-hander
Arcia is Milwaukee's consensus top prospect, and Lopez is No. 9. Like Davies, each must be added to the roster later this year to avoid Rule 5 Draft exposure. But neither Arcia nor Lopez will be available until later in September, since Biloxi has already qualified for the Southern League's postseason. If the Shuckers play deep into the playoffs, the question will be whether it's worth bringing these players to the big leagues for only a couple of weeks.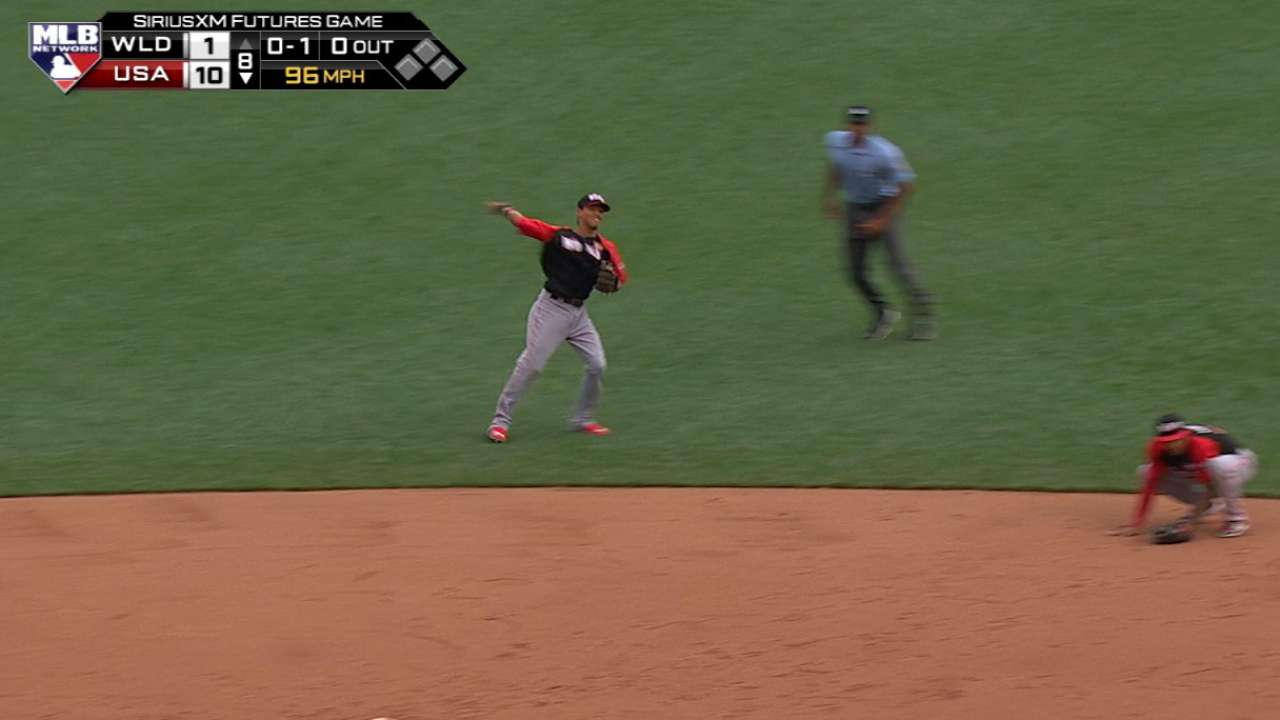 Yhonathan Barrios, right-hander
The Brewers acquired the hard-throwing 23-year-old from the Pirates in exchange for Aramis Ramirez. Barrios will be a six-year Minor League free agent at season's end, and the only ways for Milwaukee to ensure his return are adding him to the 40-man roster or working out a Minor League contract for 2016. If the Brewers do the former, a callup might make sense, but like Arcia, Barrios is part of the playoff-bound Biloxi club.
Other possibilities
• Teams almost always add an emergency catcher in September. Juan Centeno is already on the 40-man roster, and Robinzon Diaz and Nevin Ashley are also at Colorado Springs.
• If the Brewers want a bat with pop, they could call upon first baseman Matt Clark or third baseman Matt Dominguez. Clark is a left-handed hitter who made an impression last September. Dominguez is a right-handed hitter and former Astros starting third baseman.
• Expect the bullpen to get a reinforcement or two. But Milwaukee's choice is somewhat tied to the health of right-hander Tyler Cravy, who is currently on the disabled list with a right elbow injury. The Brewers think Cravy will be able to pitch again this season, and they would prefer to give him those innings over some of the candidates for a callup.
Adam McCalvy is a reporter for MLB.com. Follow him on Twitter @AdamMcCalvy, like him on Facebook and listen to his podcast. This story was not subject to the approval of Major League Baseball or its clubs.