Hurdle's vote of confidence helped Polanco rebound
Outfielder has excelled since manager's assurance he would not be demoted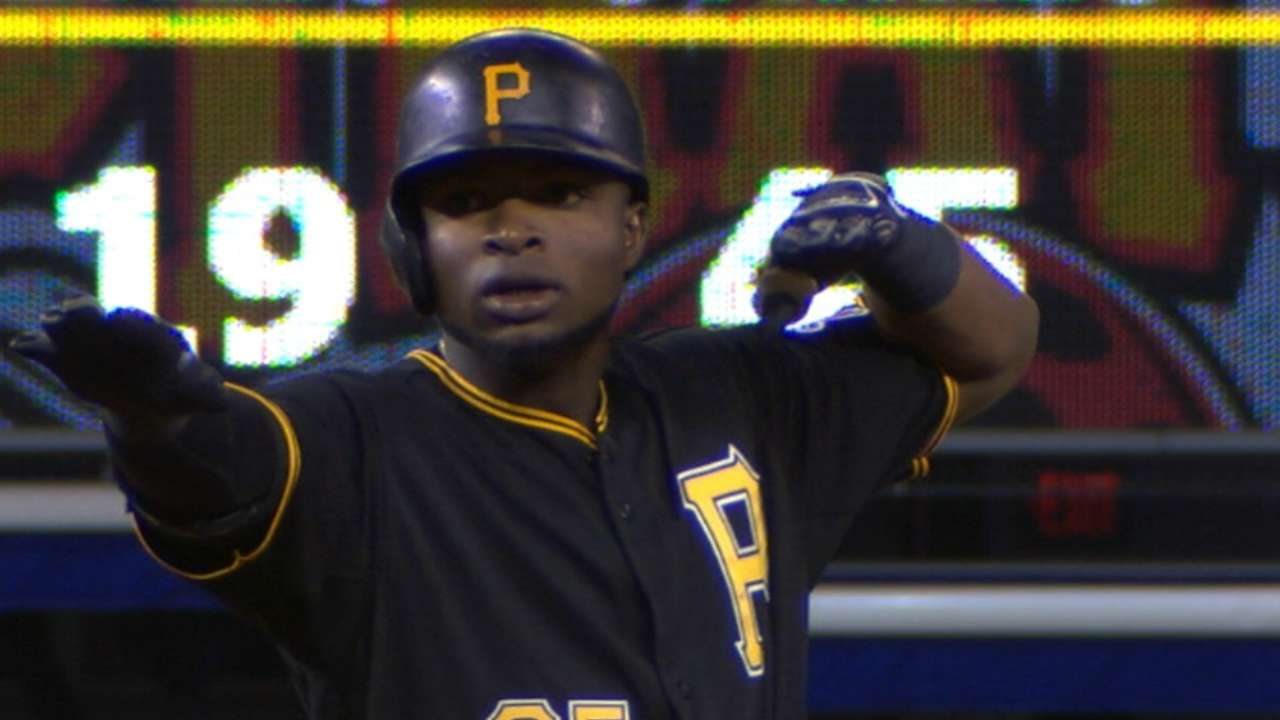 PITTSBURGH -- Gregory Polanco wasn't worried, but he was wondering. It was early July, and he wasn't hitting. Polanco hadn't really hit in about a year, truth be told -- at least not the way he wanted to.
Was Polanco heading back to Triple-A Indianapolis?
It was around that time that Pirates manager Clint Hurdle met with Polanco. Hurdle assured the earnest 23-year-old he wasn't going to the Minor Leagues, and the Dominican outfielder known as "El Coffee" has thrived ever since.
"You never know," Polanco said last week. "I was not doing good, so I was just thinking about it. ... That made me confident, a lot better."
Polanco needed the boost at the time. His numbers didn't match his potential, and the instant Major League success he experienced after being called up a year ago had long since evaporated.
The Bucs began a series at PNC Park against the Padres on July 6. Polanco entered the opener batting just .231 with a .300 on-base percentage.
That was when Hurdle asked Polanco if he was worried about getting sent back to Triple-A, as he had been last year. And Polanco sheepishly admitted the obvious: Yes, the thought had crossed his mind.
"[Hurdle] said, 'You're not going down,'" Polanco recalled. "'You're going to stay here. You're going to play.'"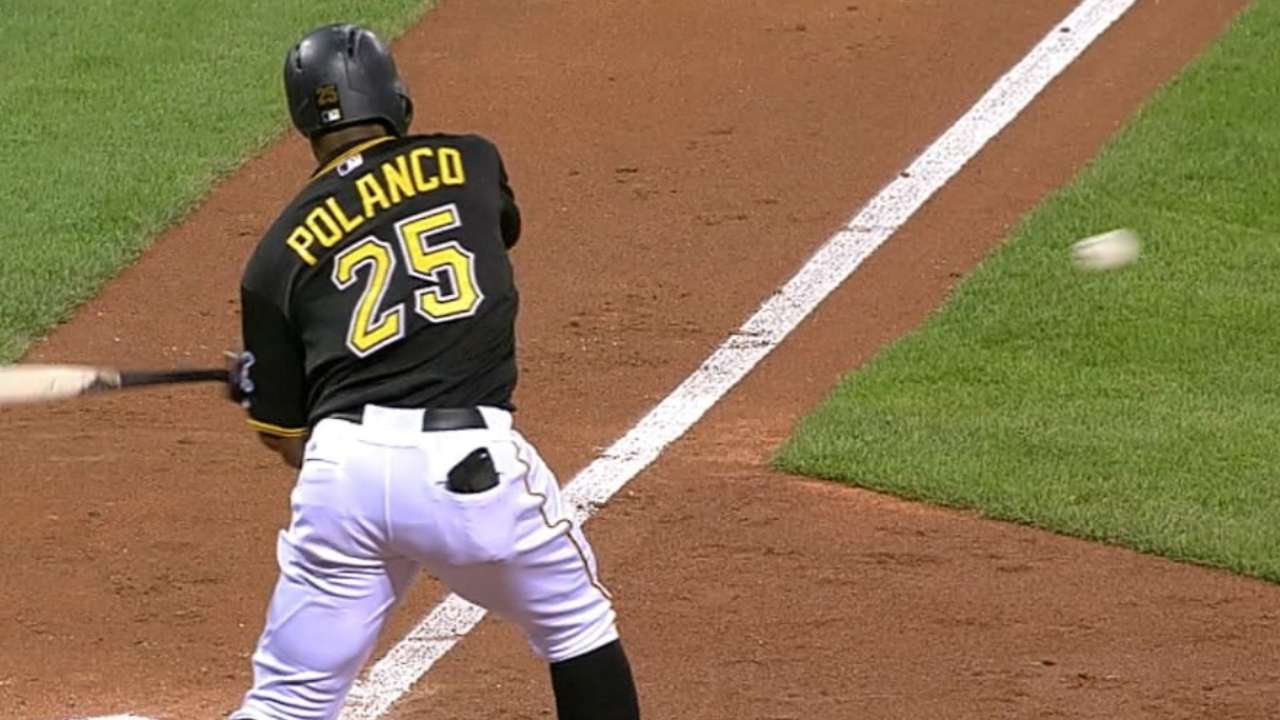 Since then, Polanco has hit .313 with an .859 OPS. He's playing with confidence, and his baserunning, defensive routes and throws from the outfield have improved along the way.
Earlier this season, Polanco was so focused on seeing better results that he constantly tried to adjust his game to meet that goal. The only thing he got better at while making all those changes, as Hurdle likes to say, was change.
Now, Polanco looks less like the slap-hitting ground-ball machine he turned into over his first year in the Majors and more like the former top prospect he was a year ago, the final piece of Pittsburgh's "Dream Outfield."
"That's the fun part about a young player, when he realizes he has the ability to play at this level and just goes and plays," Pirates general manager Neal Huntington said. "We are seeing Gregory Polanco turn that corner."
Polanco has always had a sound approach at the plate. He owns the Bucs' second-best walk rate (9.1 percent) this year, and his strikeout rate is a reasonable 18.5 percent. But now, Polanco is making more contact, and that contact often comes with authority, like when he scalded four hits to every part of Marlins Park on Aug. 24.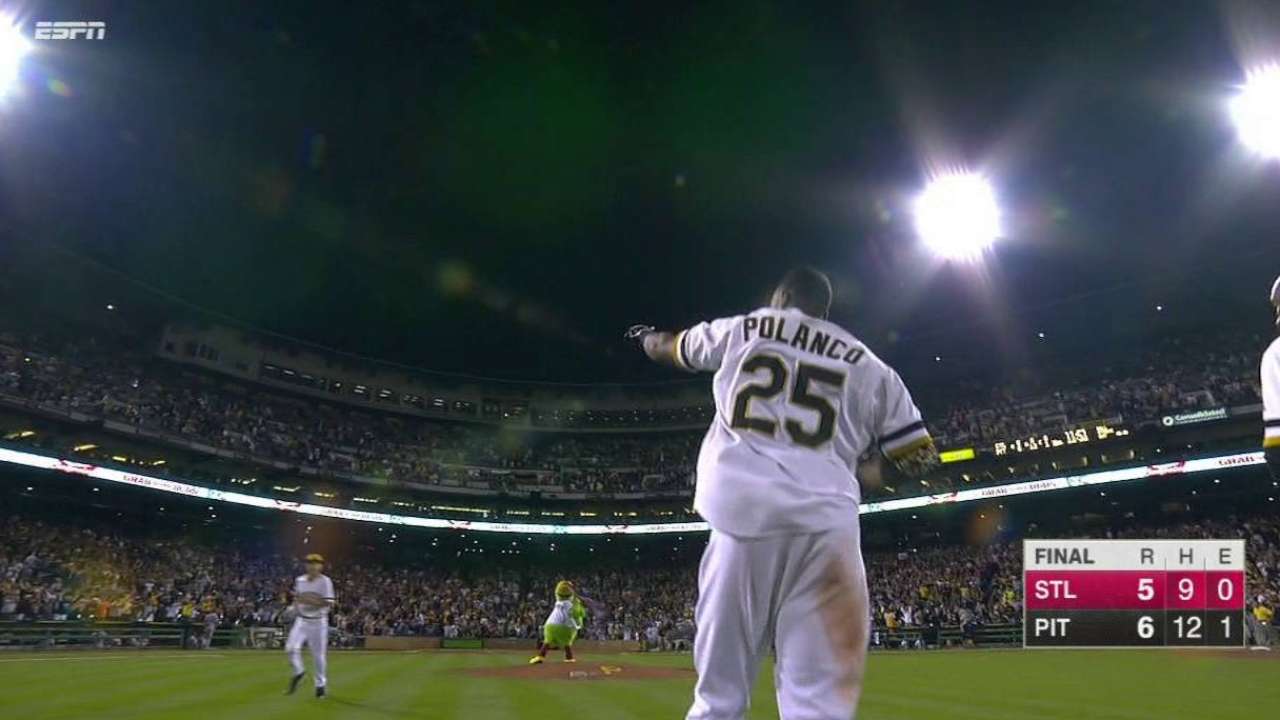 So, what's the difference? Hitting coach Jeff Branson and assistant hitting coach Jeff Livesey have helped contain Polanco's long limbs into a more compact swing. The adjustment has helped Polanco's balance, his swing path and the way his 6-foot-5 frame lines up in the batter's box.
"[Polanco] is letting balls travel. He's seeing balls better. So when he's firing, he's connecting. He's making firm contact," Hurdle said. "You're getting line drives. ... In this particular case, the mechanics are making a difference."
And as a result, Polanco is making a difference for Pittsburgh. He has improved against left-handed pitching, negating any possible need for a platoon partner in right field. Polanco has delivered in several key moments, most memorably with a 10th-inning walk-off single against Cardinals closer Trevor Rosenthal the day before the All-Star break.
Polanco has shown that he can hit elite pitching, too. Need proof? Remember the two-run homer he hit on July 24, on the 12th pitch of an outstanding at-bat against Nationals ace Max Scherzer?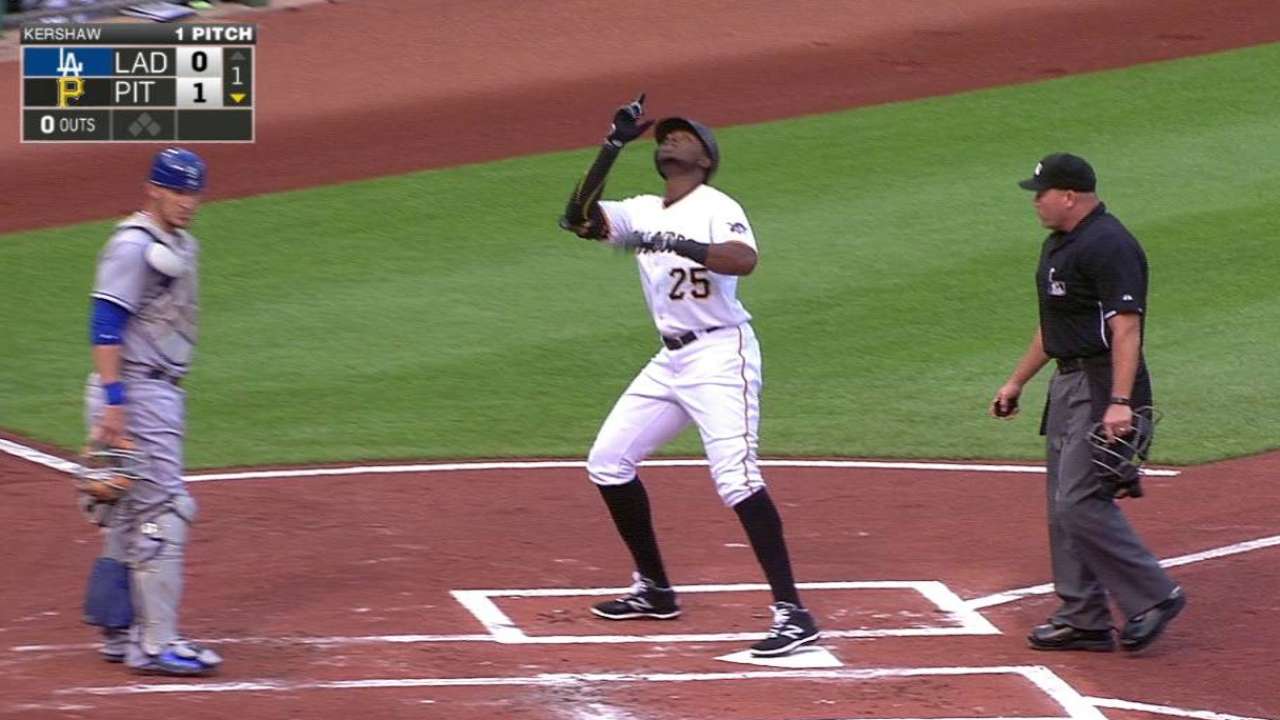 Or how about when Polanco snapped reigning National League MVP Award winner Clayton Kershaw's 37-inning scoreless streak on Aug. 7 by launching a leadoff homer on the first pitch he saw?
"He's a confident guy," Branson said. "That's a part of our job, being a psychologist every day, making them believe that they're better than the guy on the mound, regardless of who it is."
The Pirates gave Polanco a vote of confidence this offseason when they essentially removed any other competition to be the starting right fielder. Hurdle doubled down on Polanco in his office that day in early July.
But nothing creates confidence like success, and Polanco has had plenty of that lately. Now, he doesn't have to wonder anymore. He's not going anywhere.
"I feel very confident. You have to stay like that," Polanco said. "I'm trying not to change anything."
Adam Berry is a reporter for MLB.com. Follow him on Twitter at @adamdberry. This story was not subject to the approval of Major League Baseball or its clubs.