Dodgers in position for rare feat
Look to be one of few teams to make playoffs after suffering multiple no-nos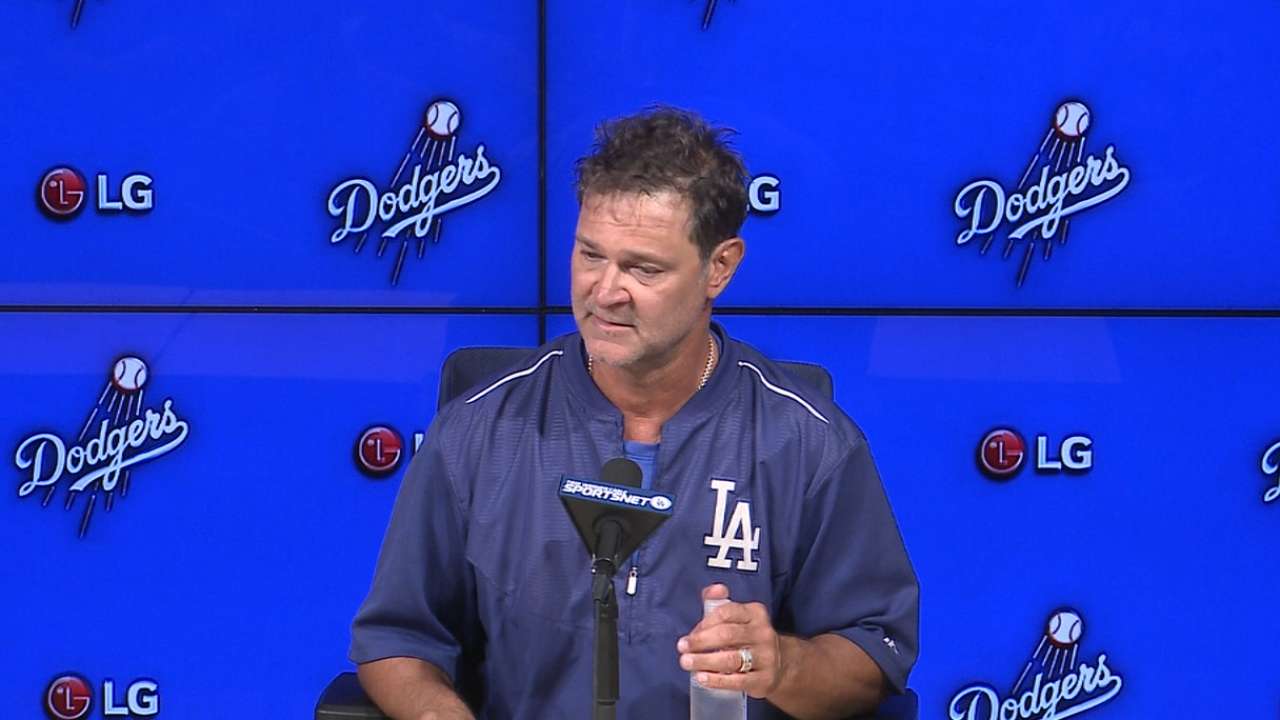 The Cubs' Jake Arrieta no-hit the Dodgers on Sunday night in Los Angeles, only nine days after the Astros' Mike Fiers did the same in Houston. Despite those setbacks, the Dodgers remain in first place in the National League West by 3 1/2 games over the Giants heading into the final day of August.
That combination puts Los Angeles in position for a rare feat. Only two teams since at least 1900 have made the playoffs while also suffering multiple no-hitters: the 1917 White Sox and the 2010 Rays.
However, the Dodgers will have to put their lead to the test this week, as they begin a three-game series against the Giants on Monday in Los Angeles. San Francisco will send
Jake Peavy
,
Madison Bumgarner
-- who went 5-0 with a 1.43 ERA in August -- and
Mike Leake
to the mound in the series. The Dodgers will counter with
Brett Anderson
,
Zack Greinke
and
Clayton Kershaw
before heading out on the road to San Diego on Thursday.
As for the company the Dodgers could join, Tampa Bay went 96-66 in '10, taking the American League East by a game over the Yankees before falling to the Rangers in the AL Division Series. Yet on May 9 of that year, A's left-hander Dallas Braden twirled a perfect game against them in Oakland. Less than two months later, on June 25, they drew eight walks against the D-backs' Edwin Jackson, who labored through 149 pitches for one of baseball's more unusual no-nos.
Back in 1917, there was no such thing as a division winner, as both leagues had only eight teams apiece. The White Sox went 100-54 that year, winning the AL by nine games over the Red Sox and then defeating the New York Giants in the World Series. But before that, Ernie Koob and Bob Groom of the St. Louis Browns no-hit Chicago on May 5 and 6.
Those back-to-back performances also set the record for least time between no-hitters pitched against the same team. However, the Dodgers have set a new NL record in that department, taking over for the 1971 Reds, who were no-hit on June 3 and 23 by the Cubs' Ken Holtzman and the Phillies' Rick Wise, respectively.
The last time any team saw a shorter span between no-hit losses was in 1923, when the A's suffered that fate on Sept. 4 and 7.
Andrew Simon is a reporter for MLB.com. Follow him on Twitter @AndrewSimonMLB. This story was not subject to the approval of Major League Baseball or its clubs.