MLB.com Columnist
Phil Rogers
No-hitter cements Arrieta's status among elite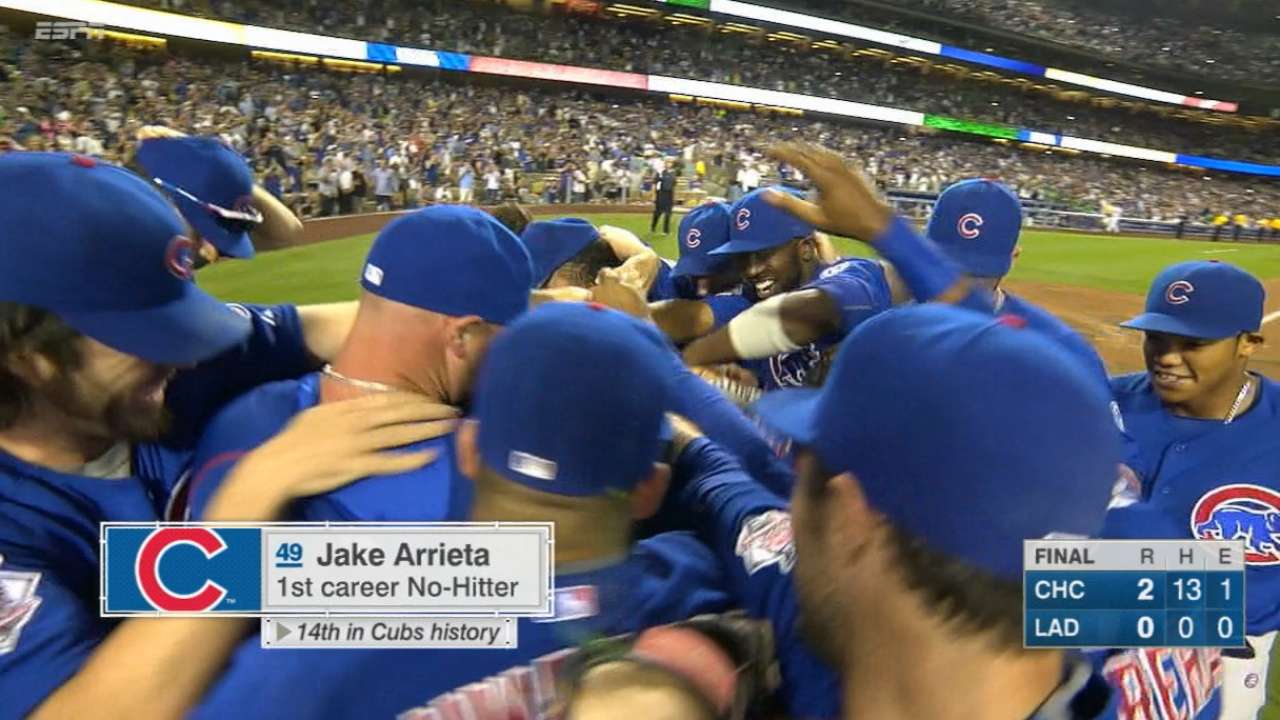 They've got the biggest payroll in baseball history, acquired through so many complicated financial transactions that it's difficult to even add it all up. The total is somewhere around $315 million, and on Sunday night, that allowed the Dodgers to load their lineup with seven All-Stars, including three hitters who were in Cincinnati for this year's All-Star Game.
Those seven hitters, with more than 100 World Series at-bats among them, all batted left-handed in a lineup that had been put together carefully. Enrique Hernandez, who hit eighth, and pitcher Alex Wood were the only right-handed hitters.
Yet with all that experience and platoon advantage, they seemed to have no chance against Cubs right-hander Jake Arrieta. His slider was breaking so sharply it practically created dust clouds above home plate, and it seemed he could pop Miguel Montero's mitt any time he wanted with a 96-mph fastball.
When Arrieta threw his final slider past Chase Utley, finishing off the 14th no-hitter in the Cubs' long history, in a badly needed 2-0 victory, he let himself smile for just a moment as he moved toward Montero. You would say he was stunned except this is the way that the determined, stoic 29-year-old from Plano, Texas, generally behaves on a diamond. Nolan Ryan, Arrieta's childhood hero, would approve.
As Arrieta kept his cool, Montero wrapped him up and other Cubs quickly joined in, with Anthony Rizzo pounding him with a flurry of left-handed jabs. When his teammates let him up for air, Arrieta embraced one uniformed Cub after another, saying the same word over and over.
"Unbelievable,'' he said.
Except it really wasn't. If you've paid attention to Arrieta since the Cubs acquired him from the Orioles two years ago, you know it was probably more inevitable than unbelievable.
Before Sunday's game at Dodger Stadium, Clayton Kershaw recalled when the Dodgers faced Arrieta early in the 2013 season at Camden Yards. He struck out six in four innings that day but gave up five runs, in large part because he walked five and hit one batter.
Kershaw remembered Arrieta featuring "some of the nastiest stuff we've seen.'' He said it's been clear this season that he's figured out how to use it.
Arrieta did a pretty nice job last season, too. The guy that was 20-25 with a 5.46 ERA over parts of four seasons in Baltimore leads the Major Leagues with 17 wins this year -- the first Cub to win 17 games since 2008, the last time they went to the postseason. He's 31-13 with a 2.48 ERA in his 61 starts for the Cubs.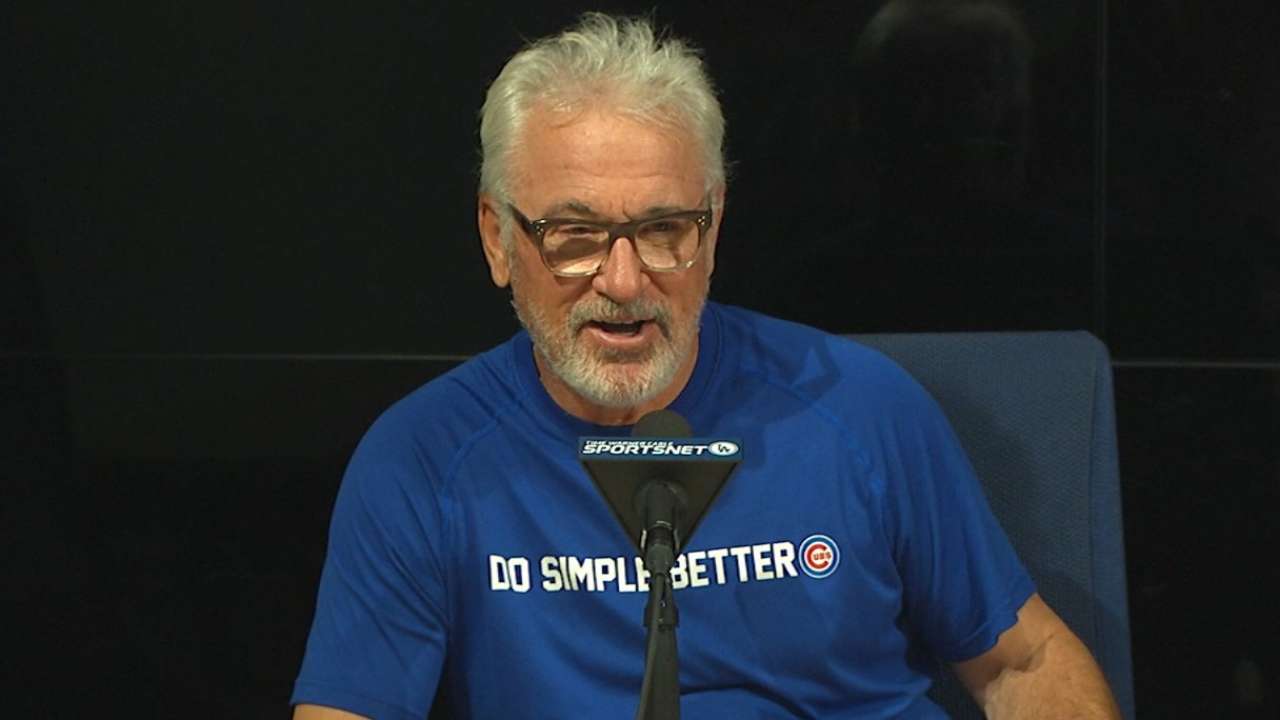 It's easy to forget at this point, but when Theo Epstein acquired Arrieta (along with Pedro Strop) for the Orioles for Scott Feldman, he let him make seven starts with Triple-A Iowa before bringing him to Wrigley Field to stay. He mowed down the Cardinals for seven innings in his first start as a full-time member of the rotation, and was off and rolling.
Arrieta, like Max Scherzer before him, harnessed his full complement of pitches about the time he turned 28 and has just continued to get more confident, more effective. This was his masterpiece, yes, but it was also the fourth time he's no-hit a Cubs opponent into at least the seventh inning.
This was not one of those no-hitters that comes out of nowhere, for sure. Arrieta rolled into Chavez Ravine having compiled a 1.17 ERA in his past 13 starts, with a 5-0 record and a 0.54 ERA in an August that rewarded him for his dedication to Pilates and some of the more conventional forms of conditioning. He's become one of the game's best pitchers, worthy of being mentioned alongside Kershaw, Scherzer, Felix Hernandez, Zack Greinke, Chris Sale and Madison Bumgarner.
Arrieta served notice in the early-evening twilight, with the Dodger Stadium shadows causing problems for hitters and fielders alike. He threw first-pitch strikes to nine of the first 10 hitters he faced, and had seven of his eventual 12 strikeouts in the first five innings.
There was a mini-controversy in the third inning, when Starlin Castro, recently relocated from shortstop to second base, was charged with an error on a grounder by Hernandez. The official scorer felt Castro should have made the play, and Castro surely agreed.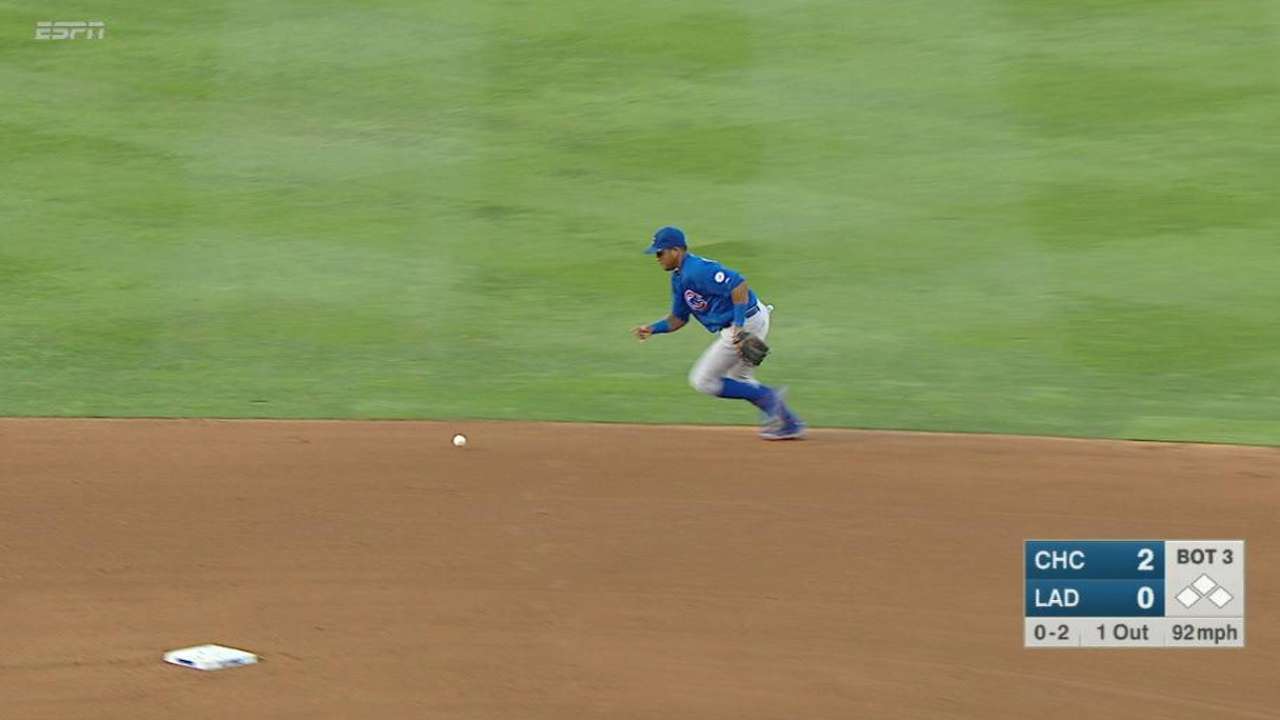 Arrieta said later that he thought it was a hit, but that says more about his standards and his professionalism than the call itself. The error was called correctly. This was Arrieta saying the exact right thing for the situation, as he did when he praised the fielders behind him for helping him finish off the no-hitter. The reality is that there was only a couple of tough plays to make, and Castro and shortstop Addison Russell made them.
The scariest moment may have come when right fielder Matt Szczur briefly lost a Joc Pederson fly ball in the gloaming, and the gifted outfielder from Villanova never panicked.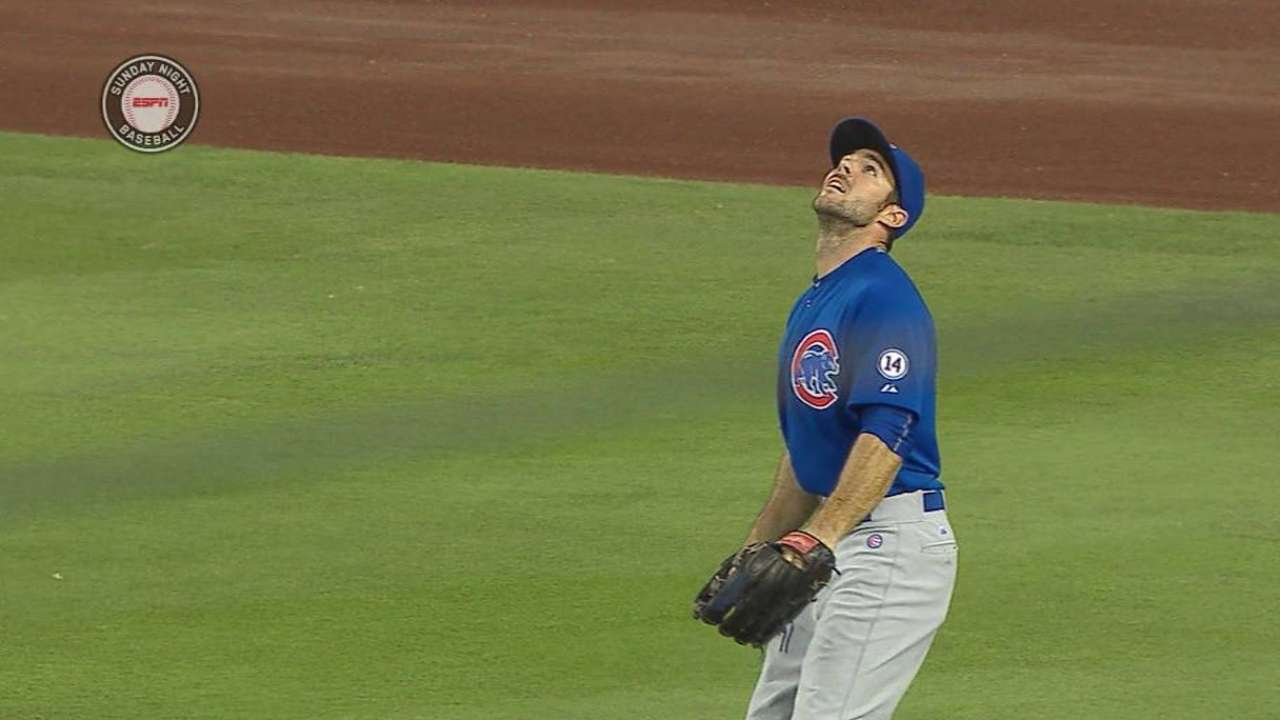 Arrieta took no chances in the ninth. He struck out the side to set up the stroll into Montero's arms. Justin Turner, who had entered as a defensive replacement, swung through a curveball in the dirt. Jimmy Rollins looked at a 96 mph heater on the outside corner, and Utley (career vs. Arrieta: 0-for-10) missed that final slider.
Oddly, the Dodgers knew this drill. Rollins, Utley and Turner -- in that order -- had been the final three hitters in a no-hitter by the Astros' Mike Fiers on Aug. 21. But don't make too much about the Dodgers twice being no-hit in late-August.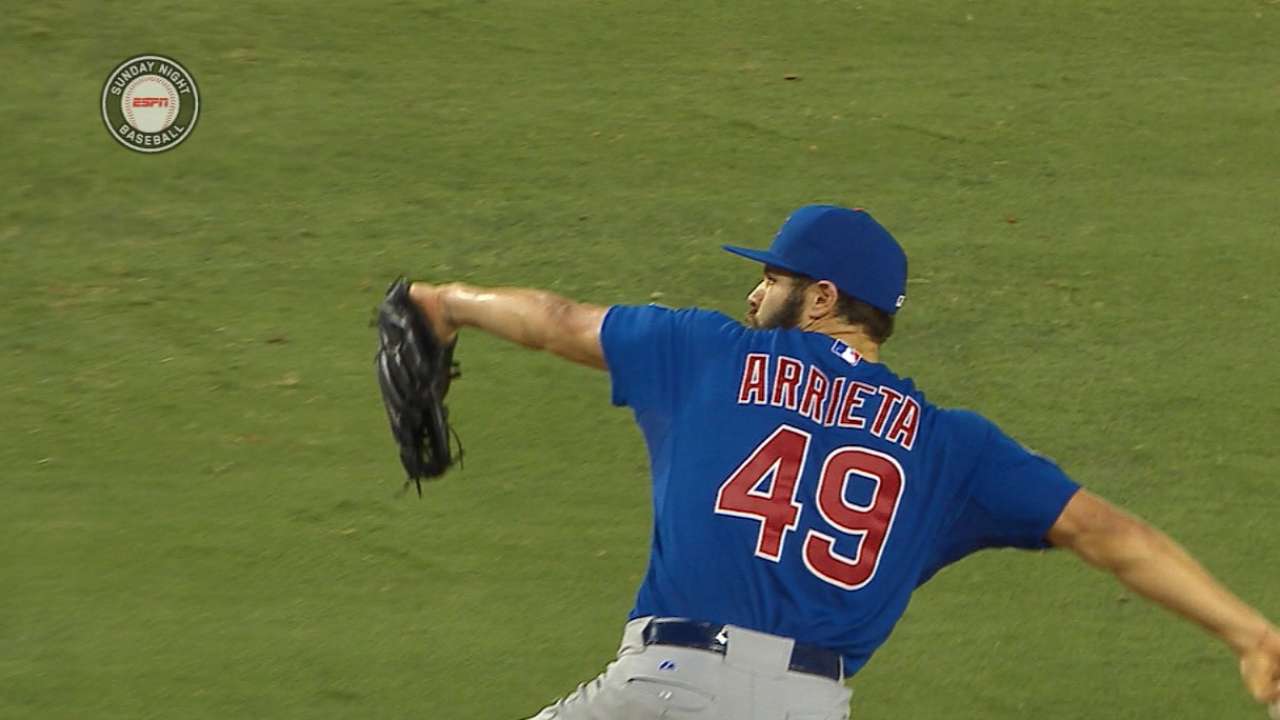 This is a first-place team, and in between those two games, it had gone 5-2, even as Don Mattingly continues to search for the lineup he wants down the stretch. This night was about Arrieta and the team that was smart enough to grab him when Buck Showalter ran out of patience.
This has been a magical season for Joe Maddon and the Cubs, but most recently, they had lost four in a row in San Francisco and Los Angeles. Their last win came when Arrieta went to the mound at AT&T Park, and the one on Sunday night sent an airplane loaded with pajama-wearing baseball players across two time zones for a homestand in which the Cubs will face the Reds and D-backs.
• Maddon has Cubs wear onesies on trip home
Maddon had planned the pajama party a long time ago, but even he couldn't have imagined how much fun it would be.
Five weeks remain in the season, and the Cubs have the fourth-best record in the Majors (74-55). They have a 5 1/2-game cushion over the Giants for the National League's second Wild Card spot.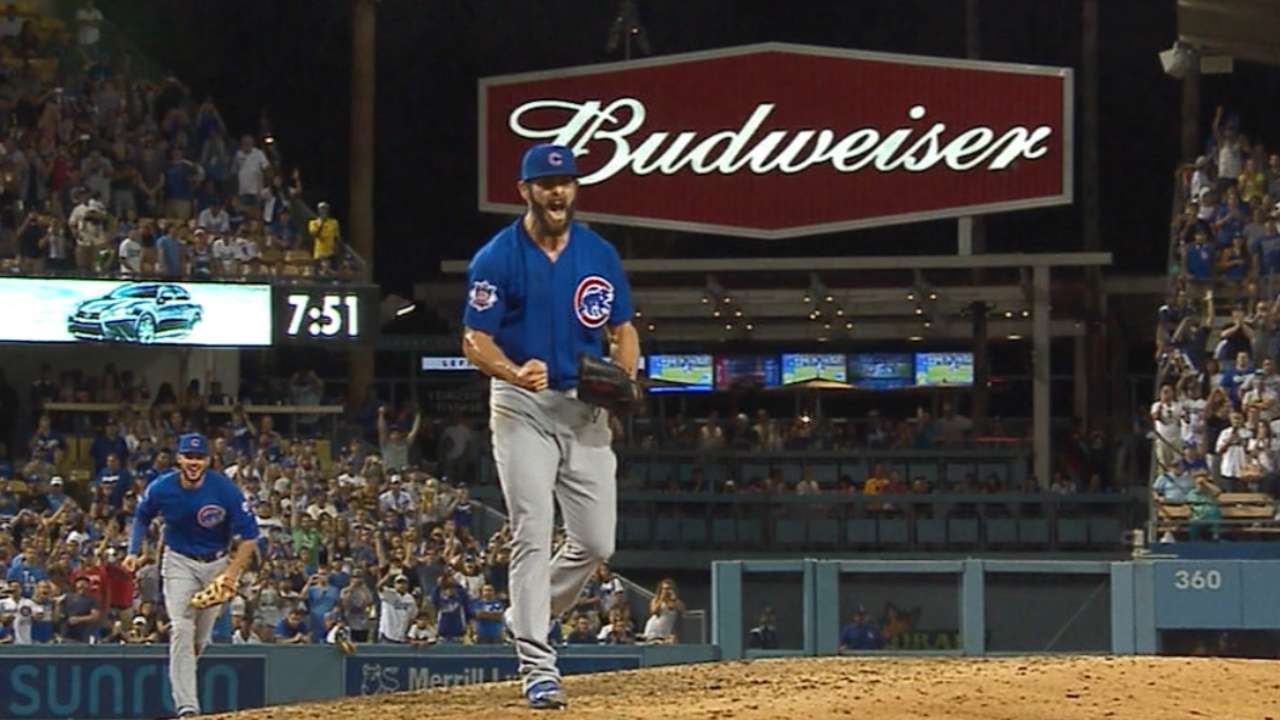 Arrieta won't wait too long to start preparing for his Saturday start against Arizona.
He knows he's come a long way but isn't kidding when he says his focus is on continuing "to get better'' and "to be a good teammate.'' Most of all, he wants to roll into October with Maddon at the end of the dugout and guys like Rizzo, Kris Bryant, Kyle Schwarber, Dexter Fowler, Chris Coghlan, Russell and Castro surrounding him on the field.
As special as Sunday night was for Arrieta, the really good times lie ahead.
Unbelievable? No, not really.
You could see this one coming.
Phil Rogers is a columnist for MLB.com. This story was not subject to the approval of Major League Baseball or its clubs.