Statcast: E4 in no-no was a bullet
On a Sunday dominated by afternoon baseball, Cubs pitcher Jake Arrieta provided a thrilling nightcap by twirling a no-hitter against the Dodgers.
Statcast™ was there to help document that feat, as well as for the rest of the day's action, which also included some excellence from Mike Trout, as well as great catches, big home runs and more. Here are six plays that stand out, starting with the no-no.
Hernandez reaches on Castro error
A scoring decision in the third inning helped preserve Arrieta's accomplishment. With one out and nobody on base, the Dodgers' Enrique Hernandez went with an 0-2 pitch away and smashed a one-hopper to second base that left his bat at a well above-average 101.43 mph. Cubs second baseman Starlin Castro tried to stay with it, but the ball bounced off him and caromed away to his right. By the time he retrieved it, he had no chance to throw out Hernandez, who reached a speed of 18.53 mph going to first. The play was ruled an error on Castro, helping set the stage for the no-hitter.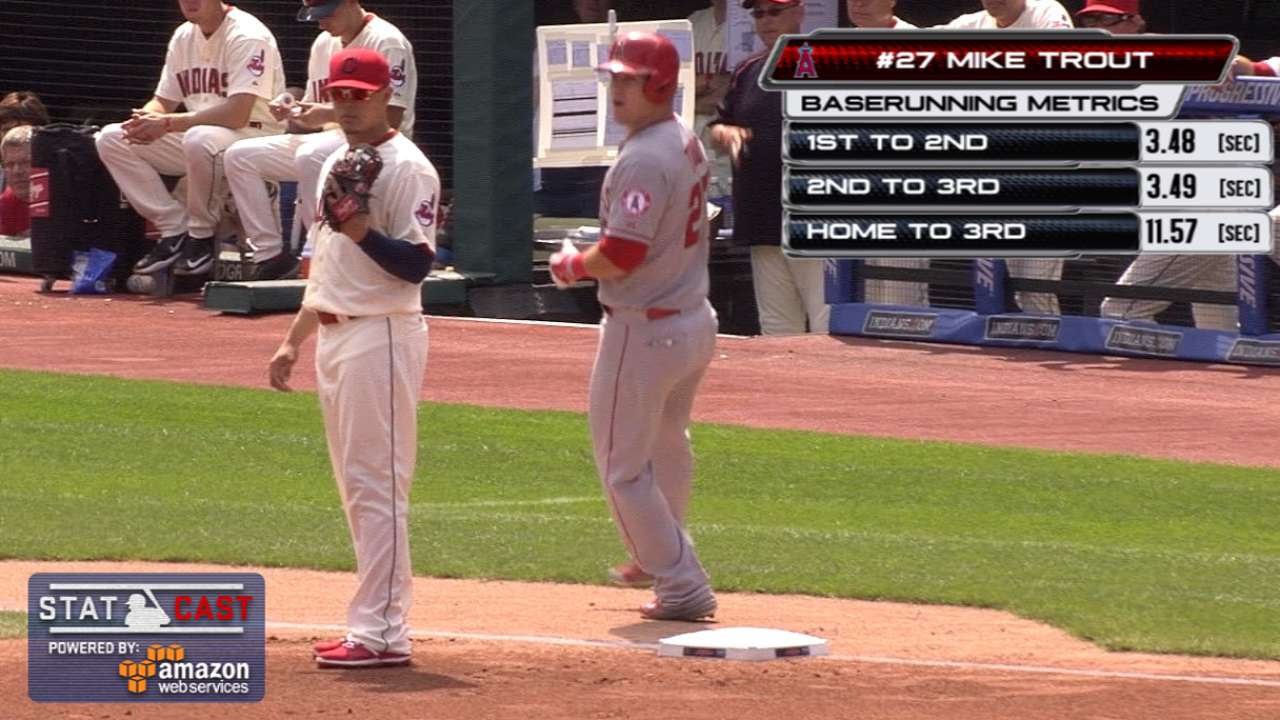 Trout legs out triple
Though the Angels fell, 9-2, to the Indians, Mike Trout did his part in the loss, going 4-for-4 and coming up a home run shy of the cycle. He almost went deep in the first inning against Cleveland right-hander Josh Tomlin, connecting on a fly ball that Statcast™ projected to travel 424.08 feet. However, the ball hit high off the tall wall just to the left-field side of center, caroming away from Tribe center fielder Abraham Almonte. Trout was off to the races, reaching a top speed of 20.022 mph as he zoomed from home to third in 11.571 seconds for an RBI triple. That time includes an impressive 3.476-second trip from first to second.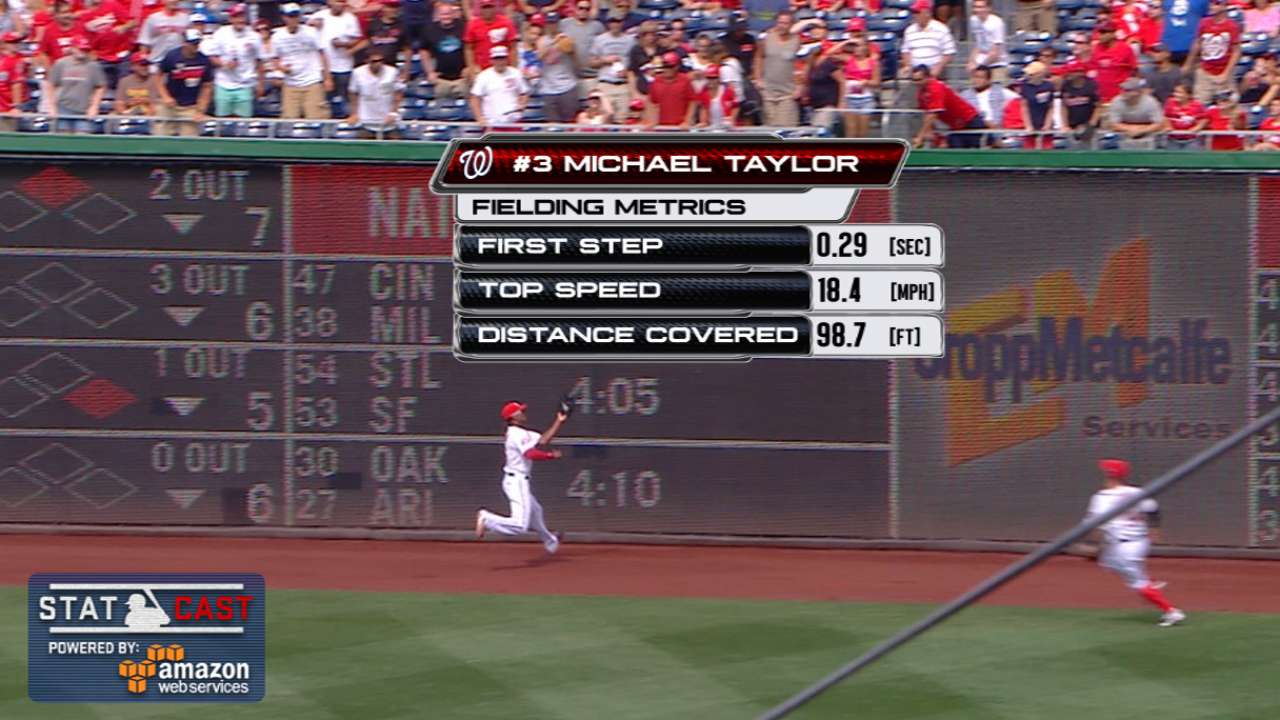 Taylor chases one down
On Thursday against the Padres, Washington's Michael Taylor crashed into the center-field wall at Nationals Park while chasing a fly ball and suffered a bruised right knee. Back in the starting lineup on Sunday, Taylor confronted a wall again, this time making a key play in a 7-4 win over the Marlins. With the Nats clinging to a 5-4 lead in the sixth inning and with the potential tying run on second, Miami's Jeff Mathis hit a fly ball to deep right-center. Taylor broke from his position 0.291 seconds after contact, reaching 18.394 mph and achieving 96.346 percent route efficiency in his pursuit. The rookie traversed 98.69 feet -- his fifth-longest recorded distance of the season -- making the grab on the warning track and getting his hands up just in time to prevent a face-first encounter with the out-of-town scoreboard.
"Just still trying to be aggressive," Taylor said. "I had a pretty good idea where the wall was. This one was a little shorter, so the wall didn't beat me up this time."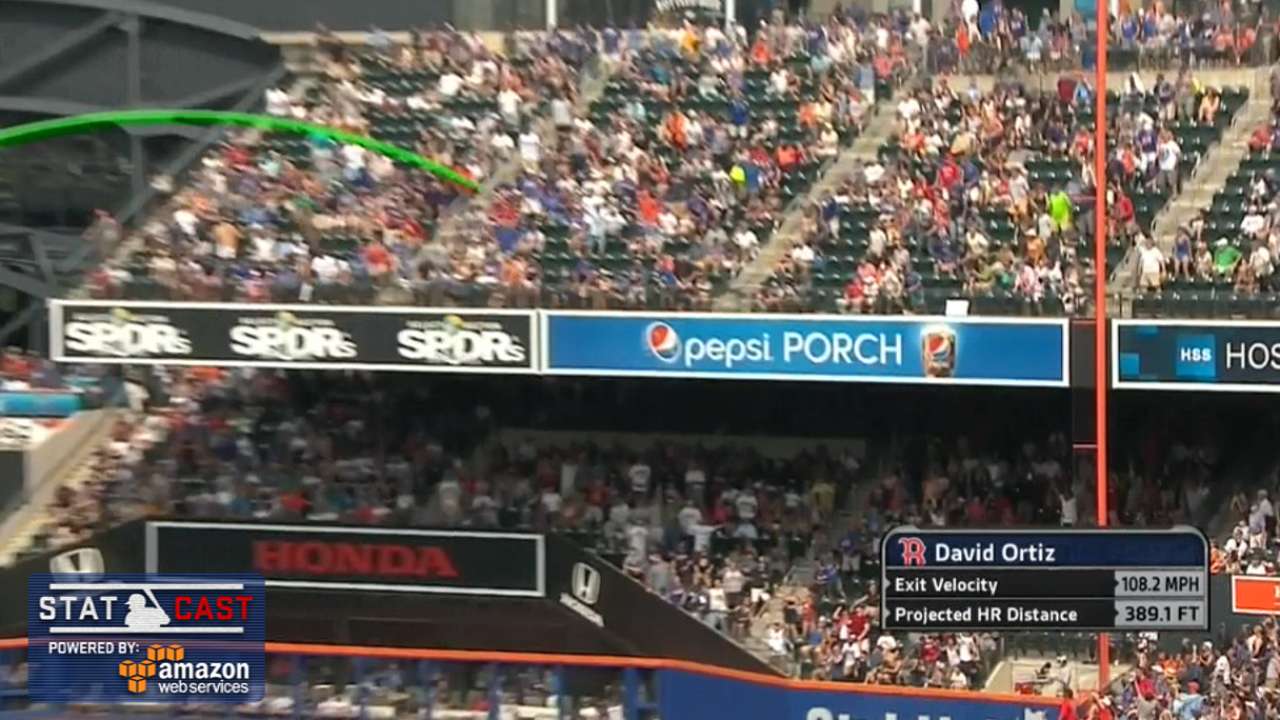 Big Papi bashes No. 494
It's been a tough season for the Red Sox, who absorbed a 5-4 loss to the Mets on Sunday. But David Ortiz has been swinging his way closer to a big milestone, and in the series finale at Citi Field, he came through with his 28th home run of 2015, the 494th of his career. That broke a tie with Lou Gehrig and Fred McGriff for sole possession of 27th place on the all-time list. Ortiz went deep for a two-run shot in the sixth inning, giving the Red Sox a 2-1 lead against Mets rookie Noah Syndergaard, who came at him with a 96.73-mph fastball. Big Papi turned it around with no problem, making contact at 108.69 mph and sending a screaming live drive a projected 391.29 feet into the right-field seats.
"Yeah, he waited him out, laid off some really tough pitches at the bottom of the zone, [offspeed pitches]," said Red Sox interim manager Torey Lovullo. "It was like he set up Noah in that situation waiting for the fastball and he's not missing his pitch. There's no secret to how hot he is right now. He's getting the pitch that he wants to swing at and he's driving it well."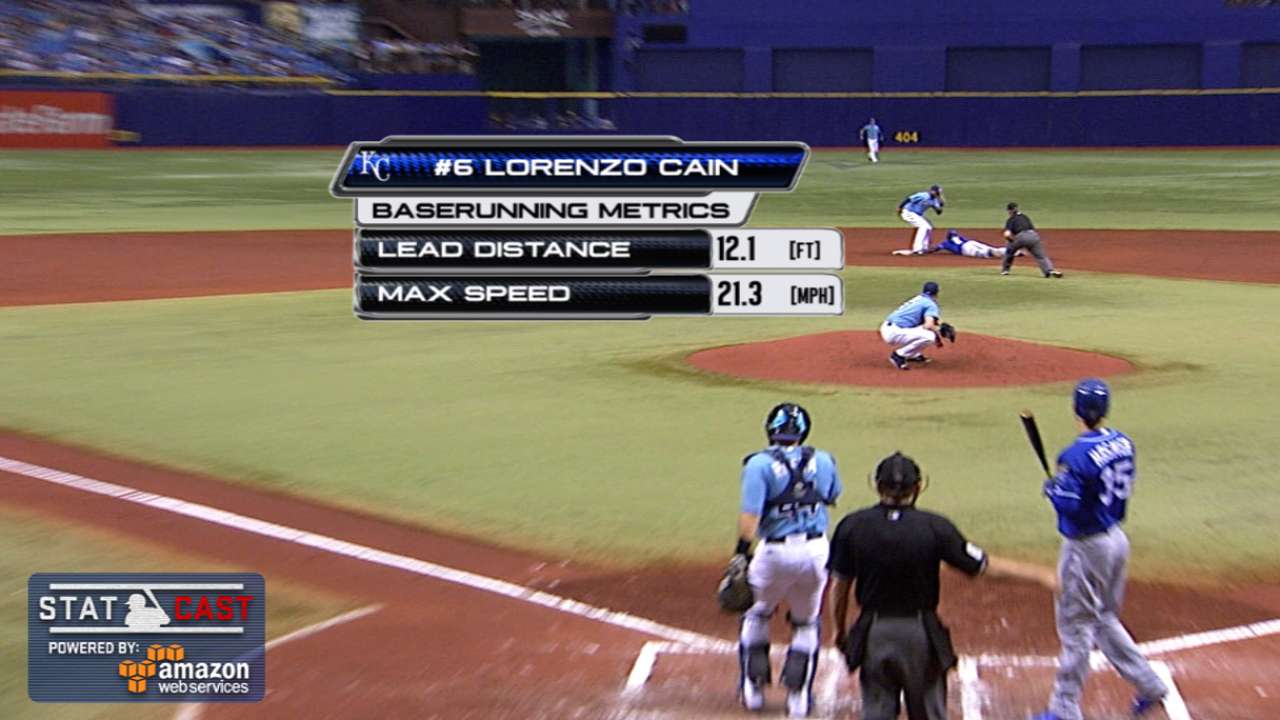 Cain swipes second
Lorenzo Cain has been a big threat on the bases this season, and Sunday was no exception. In the third inning of a 3-2 loss at Tampa Bay, the Royals center fielder was on first with one out and another runner on third. He took a lead of 12.08 feet, then took off on a 79.71 mph breaking ball from pitcher Nate Karns, with a first step of 0.198 seconds and a top speed of 21.312 mph, among his top 25 recorded marks this season. When Cain slid into second just ahead of catcher Rene Rivera's 80.258-mph throw, he had his 26th steal of the year, sixth-best in the Majors and two shy of his career high.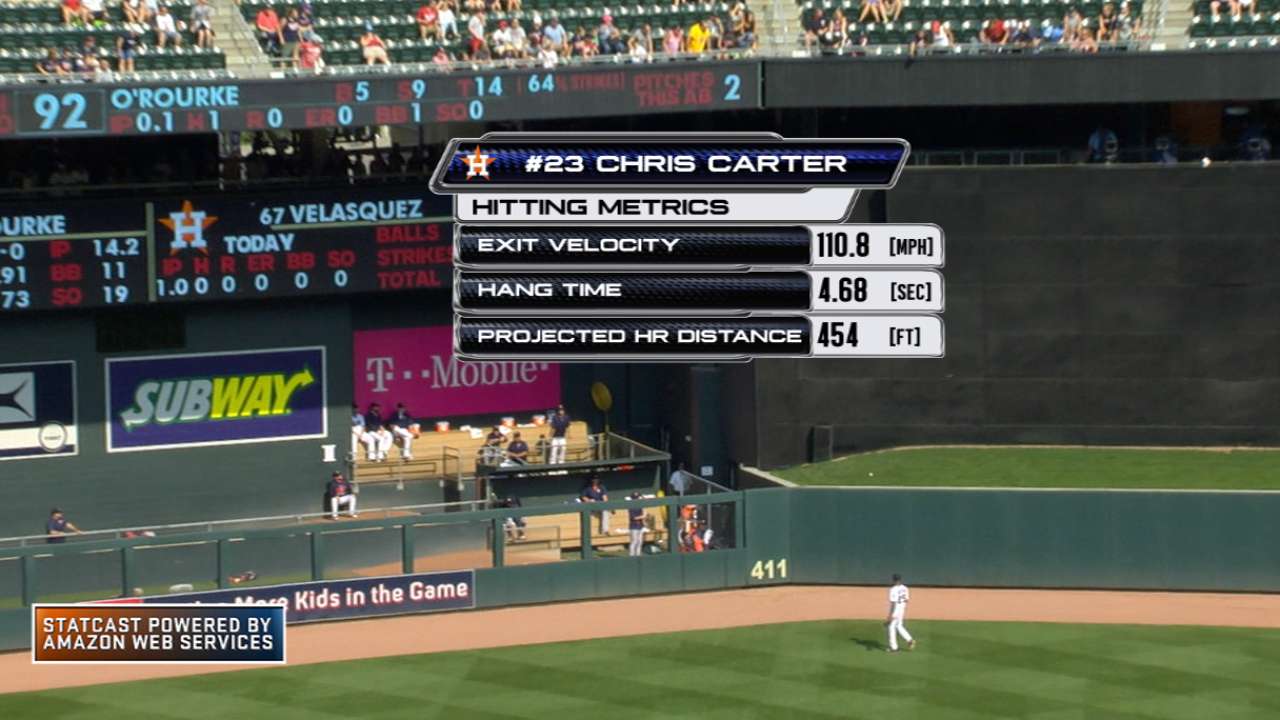 Carter's three-run blast
The Astros' Chris Carter broke up a shutout in style in the ninth inning of a 7-5 loss to the Twins at Target Field. The slugger stepped in against Minnesota lefty Ryan O'Rourke with one out and two runners on base but fell behind in the count 0-2 before getting a meaty 92.97 mph fastball out over the plate. Carter jumped on it, slamming a three-run shot over the center-field batter's eye for his 18th home run. The ball jumped off his bat at 110.84 mph, his fourth-best exit velocity of the season, while achieving a projected distance of 454.2 feet. That ranks first among the 15 Carter homers Statcast™ has tracked in 2015.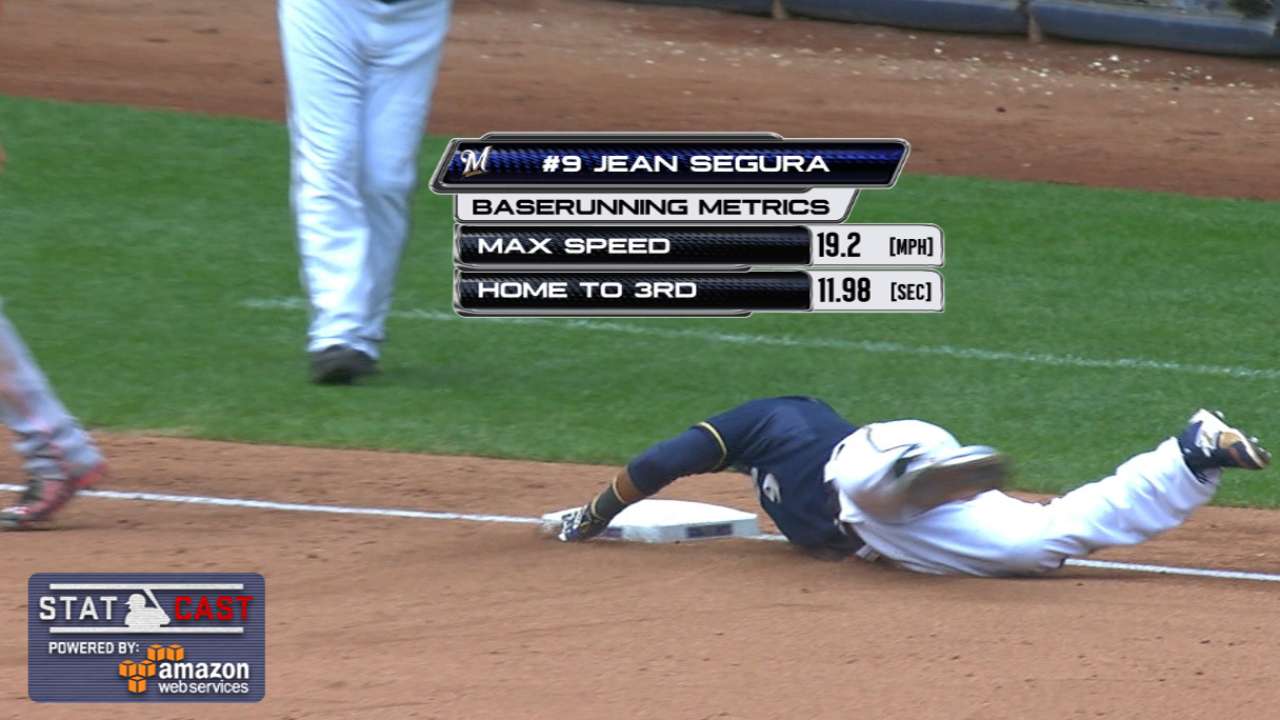 Segura flies on three-bagger
Though he wasn't so quick as Trout, Milwaukee's Jean Segura still moved fast on his RBI triple in the bottom of eighth inning of a 4-1 win over Cincinnati. Facing right-hander Sam LeCure, Segura ripped an 0-2 pitch down the right-field line and made it to third without a throw, though he still finished off the play with an awkward slide. While reaching a top speed of 19.174 mph, Segura went home to third in 11.982 seconds, including 3.542 from first to second.
Andrew Simon is a reporter for MLB.com. Follow him on Twitter @AndrewSimonMLB. This story was not subject to the approval of Major League Baseball or its clubs.