Peralta bright spot in disappointing homestand
D-backs left fielder hits .440; team goes 1-6 vs. Cards, A's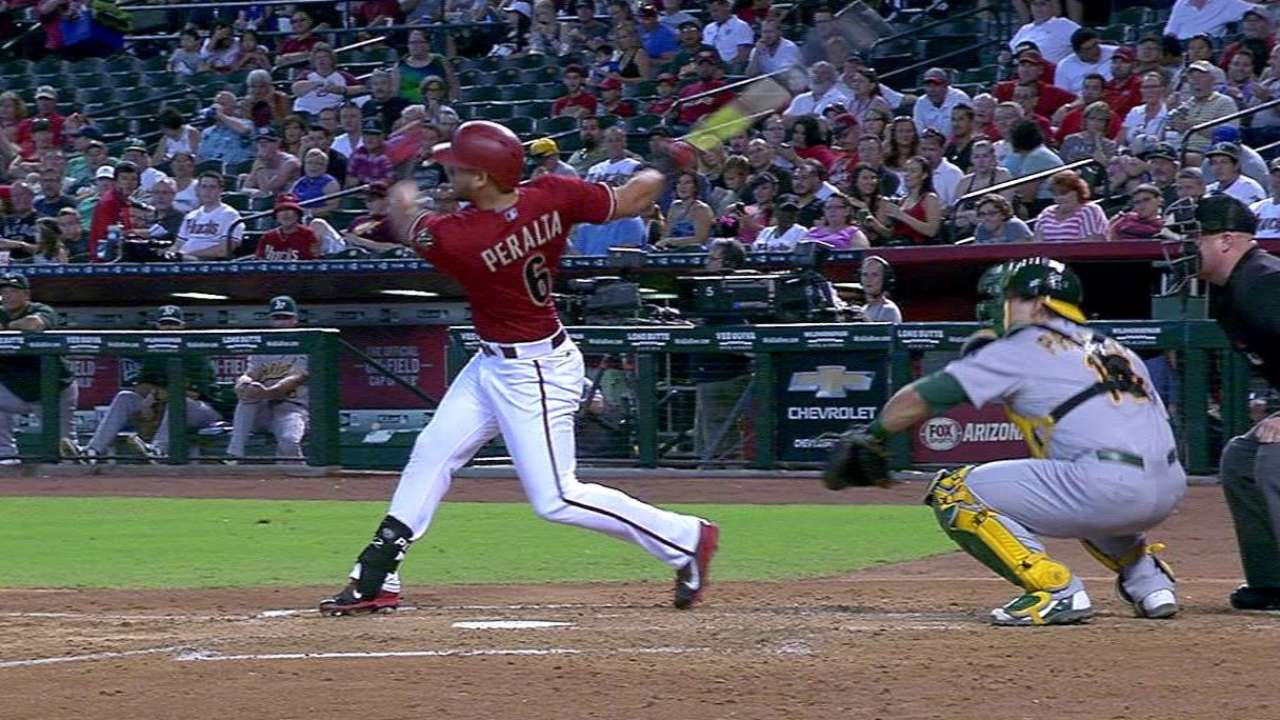 PHOENIX -- The numbers say D-backs left fielder David Peralta had a good week at Chase Field.
The standings show otherwise, and ultimately that's what matters most to Peralta and his teammates.
"We are always going to battle and stay positive no matter what the circumstances are," Peralta said in Spanish. "Things have not worked out the way we wanted, but we are going to keep fighting."
The D-backs started the week trailing the first-place Dodgers by only five games in the National League West standings after sweeping the Reds in Cincinnati. They finished it with four consecutive losses to the Cardinals and by dropping two of three games to the A's after Sunday's 7-4 loss.
"Our ball club is a young team. With maturity, you get more consistency. With immaturity, you have more inconsistency, with our rotation, especially," D-backs general manager Dave Stewart said. "We are an immature ball club that is learning how to play the game every day. I know for as good as I think we are, I still have to recognize that fact and avoid the frustration of the inconsistency."
This much is also true: The D-backs now trail the division leaders by 11 games.
"A whole lot of poor play on this homestand," D-backs manager Chip Hale said. "It's disappointing after coming off a pretty good series in Cincinnati, but we just for some reason have not played well. That's on me and our coaches. We probably have to do a better job of preparing them and keeping them focused on the task. I'll take the blame for this."
Peralta did his part Sunday, notching three hits in the losing effort.
In all, the D-backs' left fielder has hit safely in seven of his last eight games and is hitting .400 with four doubles, four home runs and 18 RBIs in his last 21 games. He's also hit safely in 13 of his last 14 home games. Peralta's third inning home run, his 14th of the season, tied the game at 3.
He also tied the game at 4 with a sacrifice fly in the ninth inning. The A's pulled ahead with three runs in the 11th.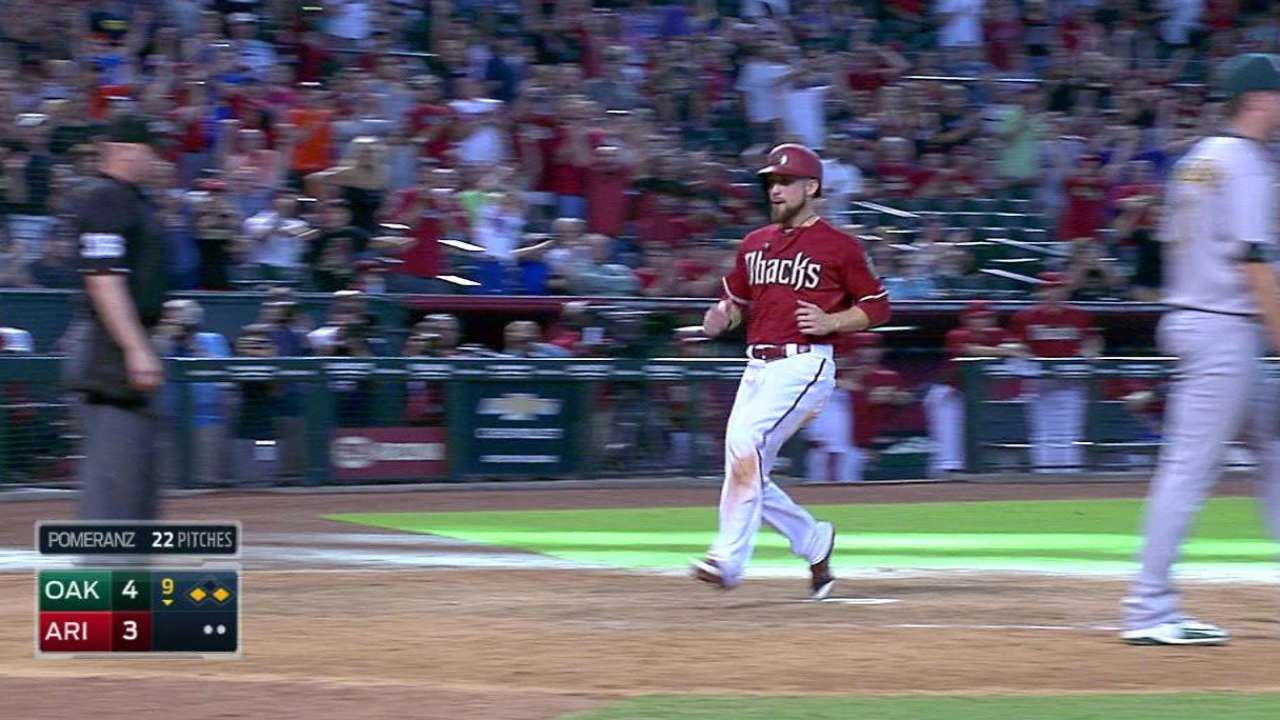 "I've been doing my best to help my team win and that's what matters the most," Peralta said. "I just have to keep doing what I can to help my team win and get to the playoffs."
Overall, Peralta had 11 hits in 25 at-bats during the homestand with a double, four RBIs, a walk and two runs scored.
The outfielder said he's not ready to give up on his postseason dream. He's not the only one.
"I don't think that any of us, at this point, will say that we won't get to the playoffs because we still have to play the Dodgers, we still have to play the Giants and we can kind of seal our own fate," Stewart said. "This team has been resilient and has played well after periods of time when it looked like we were done and they come right back and put together a bunch of wins."
Jesse Sanchez is a national reporter for MLB.com. Follow him on Twitter @JesseSanchezMLB. This story was not subject to the approval of Major League Baseball or its clubs.