MLB.com Columnist
Lyle Spencer
Giants face another big battle vs. Dodgers
Defending champs have had their way against LA so far in 2015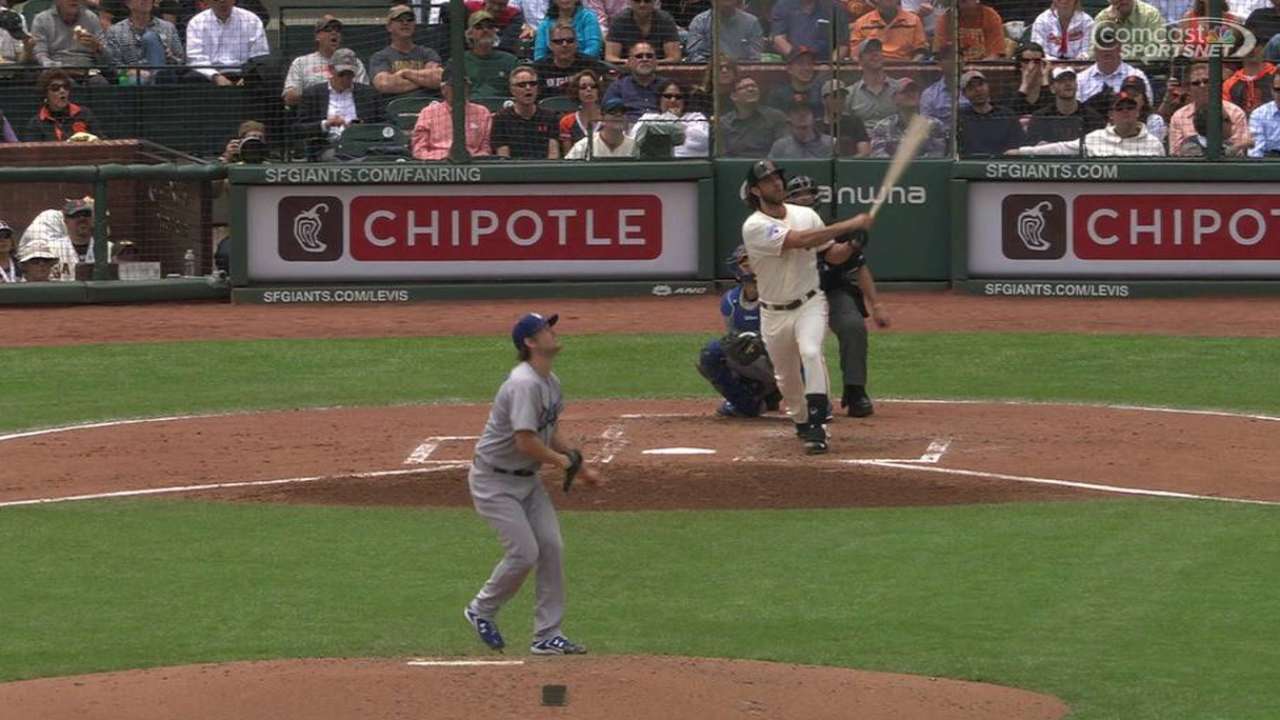 SAN FRANCISCO -- When the Giants and Dodgers get together at any stage of the season, it's big. When it is August merging with September and they're within shouting distance of each other atop the National League West, it's bigger than big.
"We're in the hunt," Giants manager Bruce Bochy said following Sunday's 7-5 loss to the Cardinals, who took two of three in the weekend series at AT&T Park. "We're not where we want to be, but there's baseball left.
"It's a huge series, a critical series for us. We have to execute, play our best baseball. They're good; they're on a roll now, playing good baseball. It's an exciting time of year. When you're behind, your best chance to catch up is to play the team ahead of you."
With Sunday's loss, the Giants couldn't gain on the Dodgers, who were no-hit for the second time in nine days. Los Angeles' NL West lead remains 3 1/2 games.
But heading south for three games at Dodger Stadium starting Monday night, the Giants can find comfort in having taken nine of 12 from the Dodgers. Without that advantage in the season series, the champs would be in dire straits.
Much has changed since the teams last saw each other in mid-June. New arms fill out the rotations: Mat Latos and Alex Wood in Los Angeles, Mike Leake in San Francisco. The big names are very much in play, but the supporting starters will go a long way in determining which side claims the wild West.
The show opens with ultra-intense Jake Peavy taking the ball for Bochy, engaging southpaw Brett Anderson. Then the superstar arms command center stage: Madison Bumgarner vs. Zack Greinke on Tuesday night, Clayton Kershaw facing Leake in Wednesday night's finale.
With a full month and 32 games left, the three-time World Series champions know they have time to push their eternal rivals to the finish line.
"It's a lot of pressure," said new Giants outfielder Marlon Byrd, who celebrated his 38th birthday Sunday with two doubles, a triple and four RBIs, giving him 11 in the past four games. "All these guys have gone through it. They've been champions. I had a taste of postseason in 2013 with the Pirates. I enjoy that atmosphere. I'm up for the challenge."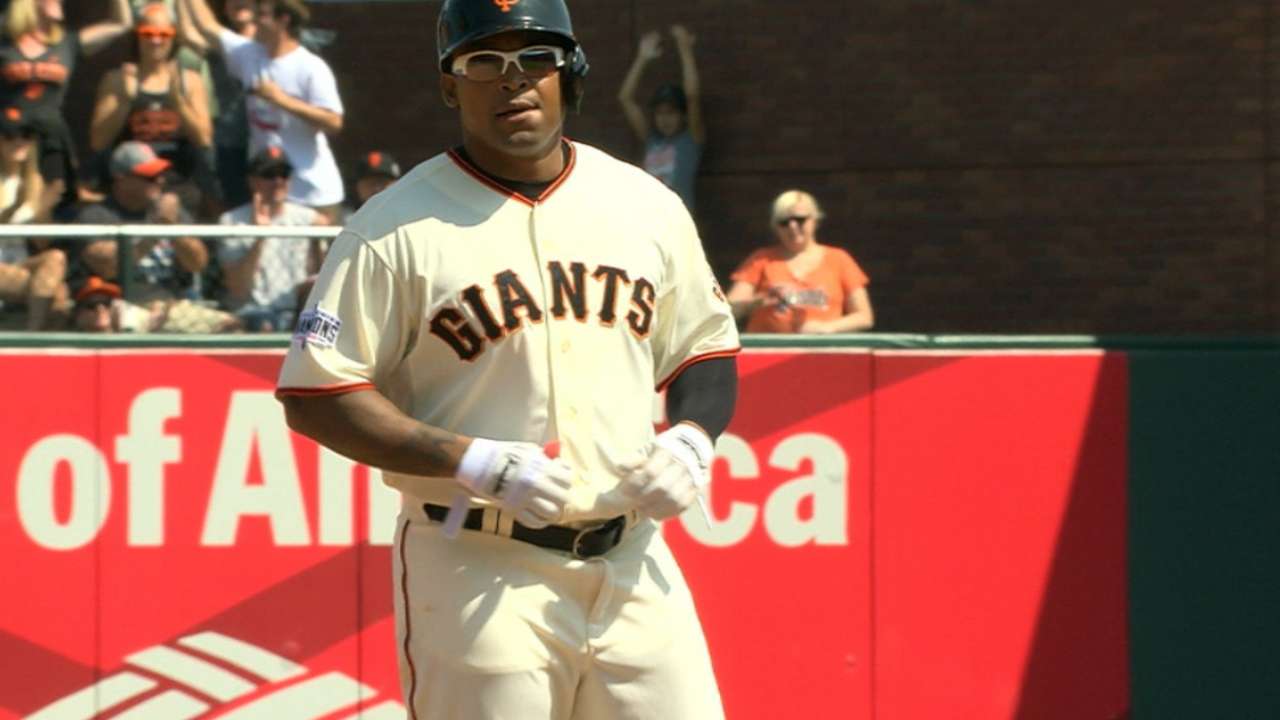 Byrd hit .364 with a homer and five RBIs in those six postseason games for the 2013 Pirates. He isn't sure why, but he has a history of mashing at Dodger Stadium, where he's a .356 hitter with a .529 slugging percentage and a .916 OPS in 23 games.
"Coming from the East like I usually have, getting out of the heat, it's a great place to play," Byrd said. "Whatever it is, I hope my luck continues there."
The Cubs' Jake Arrieta figures to have a strong argument, but it is possible Greinke, Kershaw and Bumgarner will claim the top three spots in the NL Cy Young Award balloting.
Greinke leads the league with his 1.61 ERA and a 0.85 WHIP. Kershaw leads with 236 strikeouts and is fourth in ERA (2.24) and second in WHIP (0.90). Bumgarner is one behind Arrieta with 16 wins, ranks third with 192 strikeouts and has blown through August (5-0, 1.45 ERA).
San Francisco has won all three of the Bumgarner-Kershaw duels this season. Greinke takes his shot this time.
"The last two games, we've got Greinke and Kershaw," Byrd said. "That doesn't make it any easier. We have to be ready for it."
The Giants are leaning on Peavy -- in a park that has been good to him -- to impose his will.
Peavy is coming off a strong effort against the Cubs, holding them to two runs across 6 1/3 innings. Dating to his days as the Padres' gunslinging ace, the 2007 NL Cy Young Award winner is 7-1 with a 2.83 ERA and a 1.10 WHIP in 14 outings at Dodger Stadium.
Peavy and San Francisco could get an emotional lift with the return of All-Star shortstop Brandon Crawford, who has been stalled with a pain in his side. Crawford, with 19 homers and 75 RBIs in a breakout season, is 5-for-8 with two walks and two RBIs against Anderson.
The Giants, given their string of injuries, must feel as if they've been hacking their way through a jungle without a sharp weapon. Since Aug. 6 they have faced nothing but contenders, going 10-13 against the Cubs, Astros, Nationals, Pirates and Cards.
"You look at the teams we've been playing -- without a full deck -- we've been fighting," Bochy said.
Finishing the series with the Dodgers, the Giants will embark on a 22-game stretch against clubs under .500 at the moment. But teams with nothing to lose can be just as dangerous as contenders.
There is no easy path to October's riches.
Lyle Spencer is a national reporter and columnist for MLB.com. Follow him on Twitter @LyleMSpencer. This story was not subject to the approval of Major League Baseball or its clubs.