White Sox battle back, capitalize on error
Score tying run on routine play for potential final out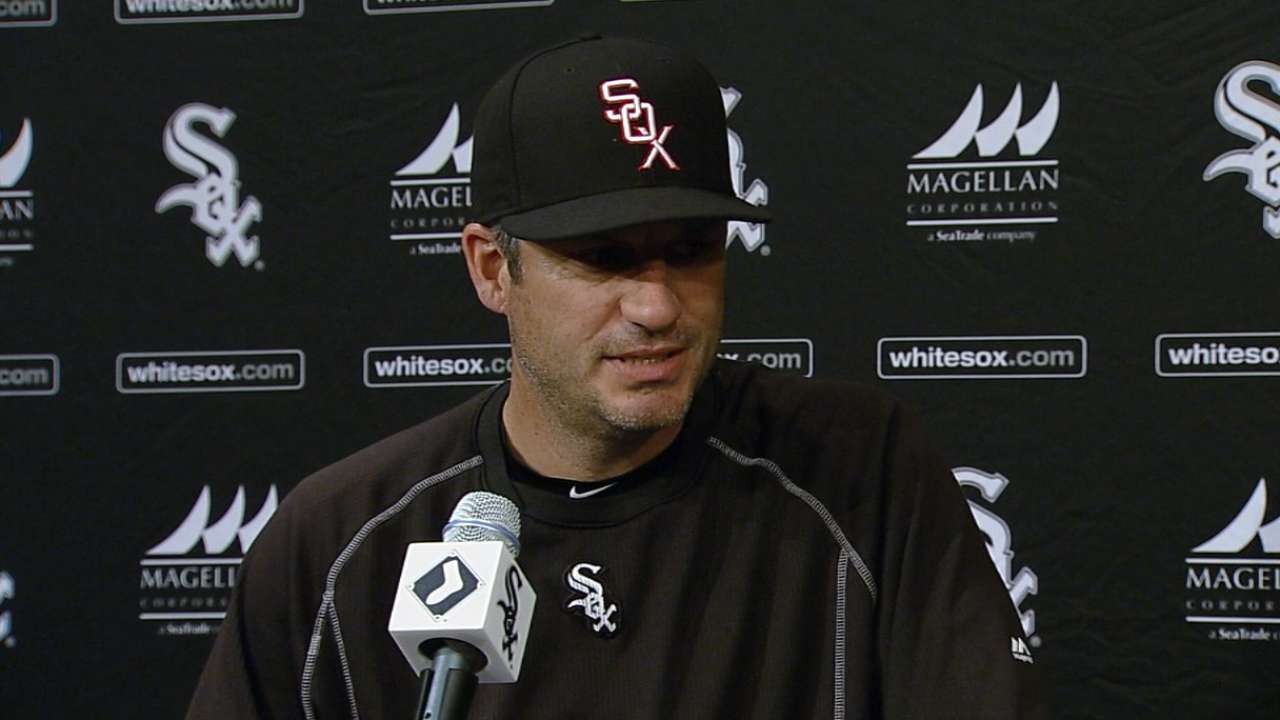 CHICAGO -- It can't really be said that the White Sox were down to their last out during Sunday's 6-5 come-from-behind victory in 11 innings over the Mariners at U.S. Cellular Field.
That statement becomes inaccurate because that last out was actually in progress on pinch-hitter Carlos Sanchez's routine grounder to shortstop Brad Miller with Trayce Thompson on second and two outs. But Miller's submarine-style errant throw past first baseman Logan Morrison brought the White Sox from a third straight loss to soon-to-be celebratory status.
"As long as you have a throw left on offense or defense, you always have a shot to win or lose," White Sox leadoff man Adam Eaton said. "It definitely came in our favor today."
"At that point, you're thinking hopefully it's slowing up or something and he can beat it out," said White Sox third baseman Tyler Saladino of the final play that wasn't. "From the side, you can't really tell where it's going to end up, but then you see it get thrown away and it's like a little bit of a momentum shift, I guess. New life and keep going from there."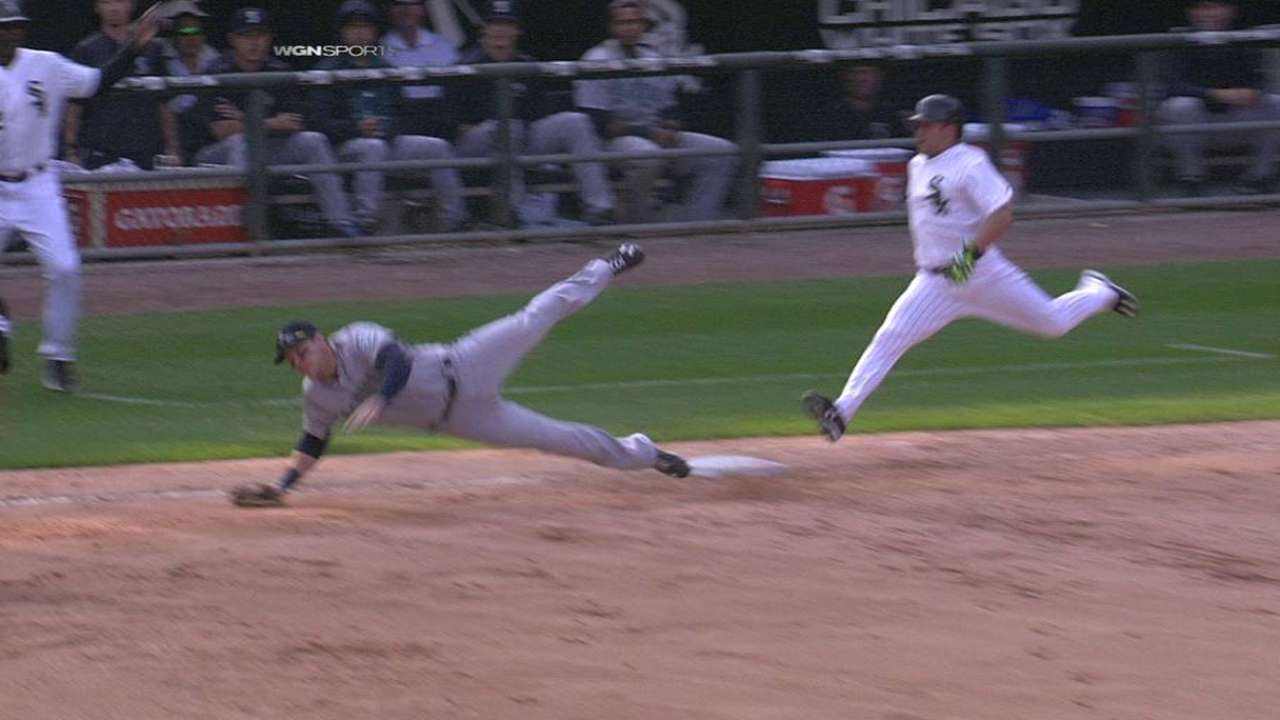 Miller's ninth-inning miscue, which followed Thompson's single, stolen base and two White Sox strikeouts, actually allowed Saladino to become the hero. And in similar fashion to this White Sox season, even the last victorious moment didn't come without a little doubt.
Alexei Ramirez reached base in the 11th with a one-out single off reliever David Rollins, moved to second on Tyler Flowers' four-pitch walk and took third on Sanchez's long fly out to right. Saladino dropped the first-pitch fastball into right for the White Sox 10th walkoff celebration of the season.
"That's what I'm looking for, the first heater there I can get on," Saladino said. "Not so much specifically that it's outside, but the first heater that's there, go for it."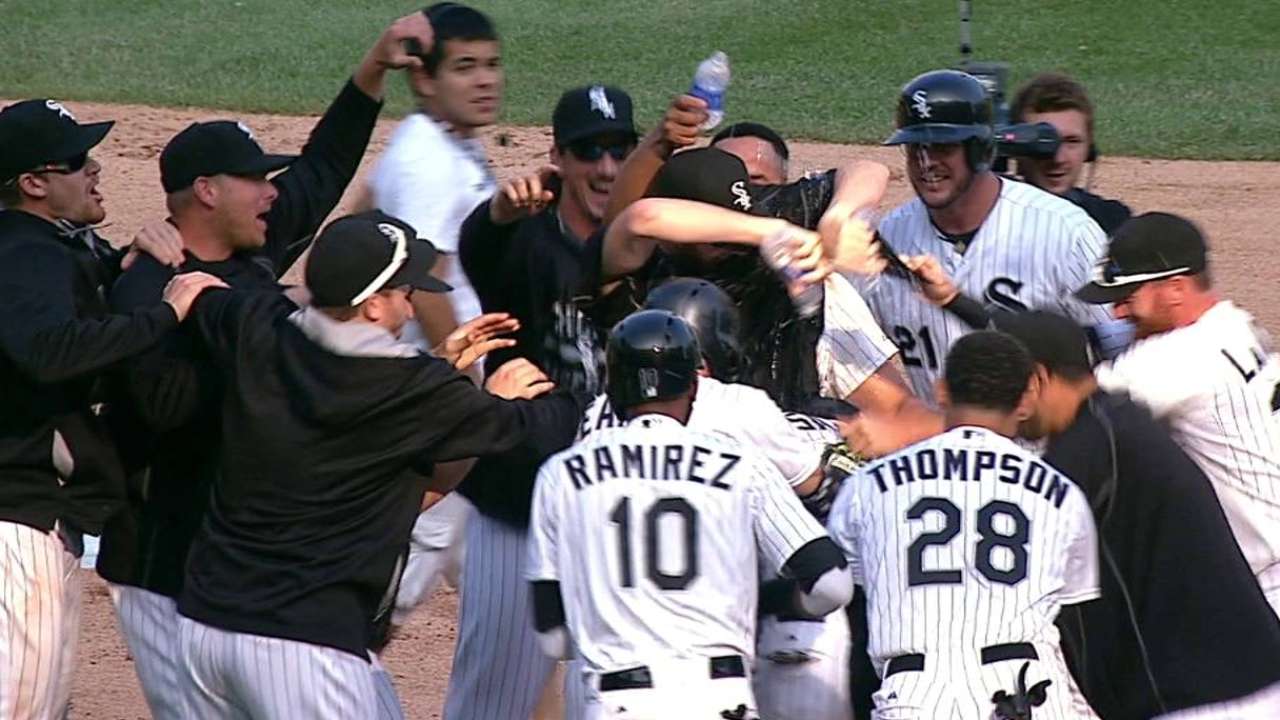 "Both teams had opportunities all day," said White Sox manager Robin Ventura, whose team left 16 on base and finished 2-for-18 with runners in scoring position. "There were a lot of people on base today. We feel good to be on top."
White Sox pitchers combined for 19 strikeouts, tying the single-game high in franchise history and marking the third time it has happened -- all in extra innings. The White Sox needed every one in a game where they avoided losing three out of four to a team in the same basic sub.-.500 predicament.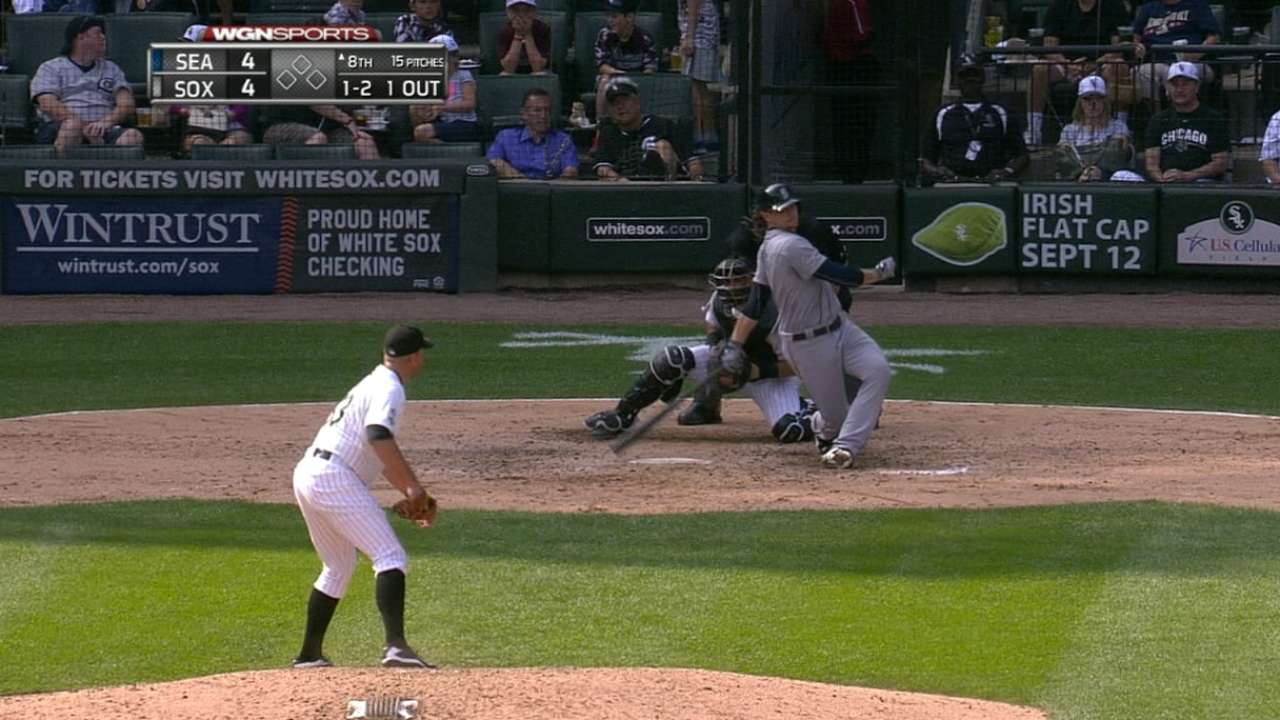 Sunday's game showed, if nothing else, the importance of playing the game until the very last second of the very last out. With seven games needed just to get to .500, it's a similar never-say-die mantra the White Sox will need over their final 33 games.
"If we stay consistent in the way we approach the game we'll be fine, but it's just been a real roller coaster for us," Eaton said. "With any team, a roller coaster is not a good thing. We're just going to take it into September, stay on an even keel and try to be consistent.
"When we get punched like we did today, we need to punch back, and that's big. We don't lay down."
Scott Merkin is a reporter for MLB.com. Read his blog, Merk's Works, follow him on Twitter @scottmerkin and listen to his podcast. This story was not subject to the approval of Major League Baseball or its clubs.