Lucroy delivers clutch single, extends streak
During eight-game stretch, the Brewers' catcher is hitting .452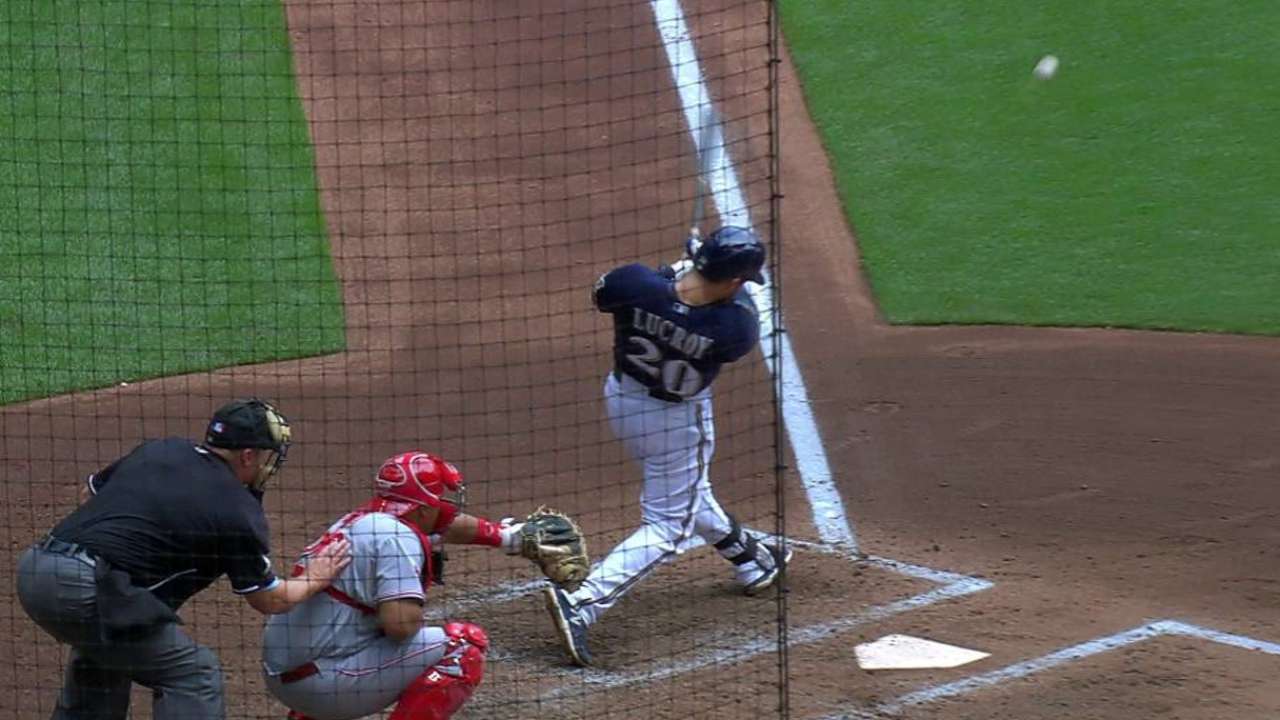 MILWAUKEE -- Jonathan Lucroy can't erase what has been a difficult year, but he certainly intends on finishing strong in order to take a positive feeling into the offseason.
Looking more like himself at the plate of late, Lucroy continued his torrid stretch by extending his hitting streak to eight games with the go-ahead single in the third inning of Milwaukee's 4-1 victory over the Cincinnati Reds on Sunday at Miller Park.
Lucroy, who also added a sacrifice fly in the eighth inning, is batting .452 (14-for-31) with 10 RBIs over his hitting streak.
"I'm just trying to hit the ball hard and have good at-bats, swinging at strikes," Lucroy said. "That's pretty much what it is. I've been working hard to try to be as consistent as I can."
Coming off a 2014 campaign in which he hit .301 with 13 home runs and a Major League-best 53 doubles, Lucroy had just a .133 batting average when he fractured his left big toe on April 20.
He returned to hit .280 in June and July, but only 14 of his 56 hits during that two-month span went for extra bases.
Lucroy was batting just .151 (8-for-53) in August before a three-hit game in Washington started what now is an eight-game hitting streak. Eight of Lucroy's 14 hits during the hitting streak have gone for extra bases, including three home runs.
"He's getting a pitch to hit and he's hitting it," Brewers manager Craig Counsell said. "When you're struggling, often you get a pitch to hit and you foul it off. Now, he's making good, hard contact.
"'Luc' is a good hitter. It was going to come. I'm not surprised by it. I don't think it was a big change. My message to him through this whole thing was there's no need to change the world here. It's little things and getting your pitch and hitting it. I never felt he was lost out there. He was just off a little bit."
Lucroy picked a good time to extend his hitting streak on Sunday. After Jean Segura struck out with Martin Maldonado on third base, Lucroy laced a two-out RBI single to left off Reds rookie starter John Lamb to put the Brewers up 2-1.
Another important at-bat for Lucroy came in eighth inning, when he lofted an 0-2 slider from reliever Jumbo Diaz deep enough to center field to score Segura to extend Milwaukee's lead to three runs.
"I'm not trying to do too much right there," Lucroy said. "You want to make him try to come to you. He left me a slider up enough to where I could get the barrel on it. I was just trying to hit the ball hard to the center of the field. Not really lift it, but try to put a good swing on it."
A bit of bad luck also has something to do with Lucroy's dip in production. The 29-year-old entered Sunday with a hard-hit ball percentage of 34.9, which is actually slightly higher than his 34.7 rate in 2014.
However, Lucroy's batting average is down from .324 to .281.
"Hard contact is a positive result, but we wipe it out immediately when the guy catches it," Counsell said. "It becomes a negative result. That's the trick of having a short memory and wiping out that negative association. You do your job when you hit the ball hard. That's the mental challenge of being a hitter."
Andrew Gruman is a contributor to MLB.com. This story was not subject to the approval of Major League Baseball or its clubs.