Orioles aim to right ship after difficult road trip
Club goes 1-6, falls 5 1/2 back in race for second AL Wild Card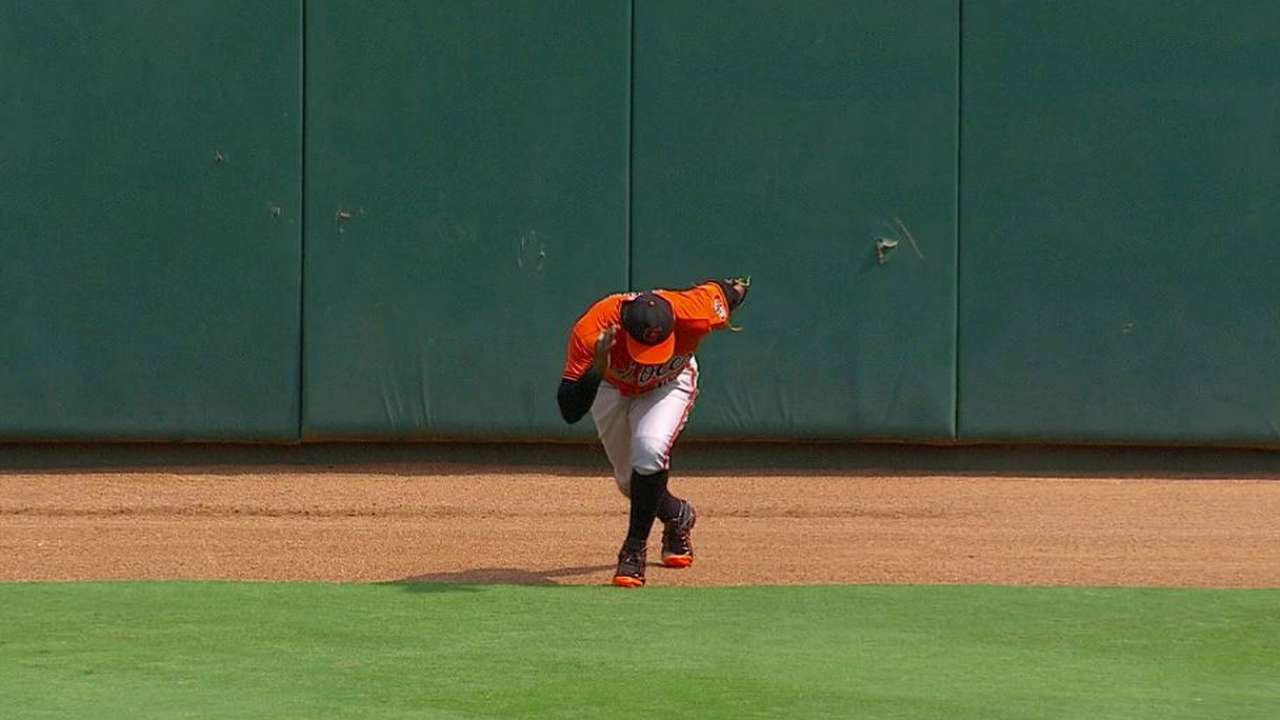 ARLINGTON -- An Orioles club that won the American League East by 12 games last year now sits 11 out of the division. Baltimore completed a dismal two-city road trip 1-6, with Sunday's 6-0 loss loss to the Rangers, and has lost 10 of its last 11 games to fall 5 1/2 games back in the race for the second AL Wild Card spot.
Nothing has gone right lately for an Orioles team that has already exceeded its loss total (67) from 2014 and faces a daunting schedule in the season's remaining five weeks.
"I've talked to the team, I talk to these guys every day. What do you want me to do? Bend them over and spank them? They're grown men. They understand the objective here," center fielder Adam Jones said. "It's not like, 'I'll just come play and have some fun in the Major Leagues.' No, we are here to win and they understand that. A lot of the guys were here last year and got a taste of what we were about and the way we play the game. Right now, we're just getting beat. That's how it works. You've just got to figure out a way to win. That's how it is."
We need #Birdland to show up mañana. We're still in this. Gonna need our support system to be behind us

— 10 (@SimplyAJ10) August 30, 2015
Over their recent skid, the Orioles have scored three or fewer runs in all 10 losses. They've also had rotation struggles, pitching to a 6.47 ERA on the seven-game road trip and -- despite scoring eight runs in their lone win -- were outscored 35-20.
"That's a question that gets asked every year in the sport and for every team out there and it's us right now, and we've got to keep working," Orioles manager Buck Showalter said of turning things around. "We've tried a lot of different things, trust me. It's not a time to point fingers. It's a time to rally around each other, which our guys have already tried to do and will do."
Baltimore is now four games under .500 (63-67) for the first time since June 7 will head home for a three-game series before heading to Toronto and New York.
"We go out there and play our tails off. Some days it looks pretty, some days it doesn't, but the effort is always there," Jones said. "For some people to say that our effort level isn't there, just because we struck out 11 times. We could strike out 20 times. But to say our effort level wasn't there, that's a slap in the face and I want to slap somebody in the face who says that."
Brittany Ghiroli is a reporter for MLB.com. Read her blog, Britt's Bird Watch, follow her on Facebook and Twitter @britt_ghiroli, and listen to her podcast. This story was not subject to the approval of Major League Baseball or its clubs.