Royals disagree with call on pivotal DP
Morales, Yost believe ball hit at Rays first baseman Loney was foul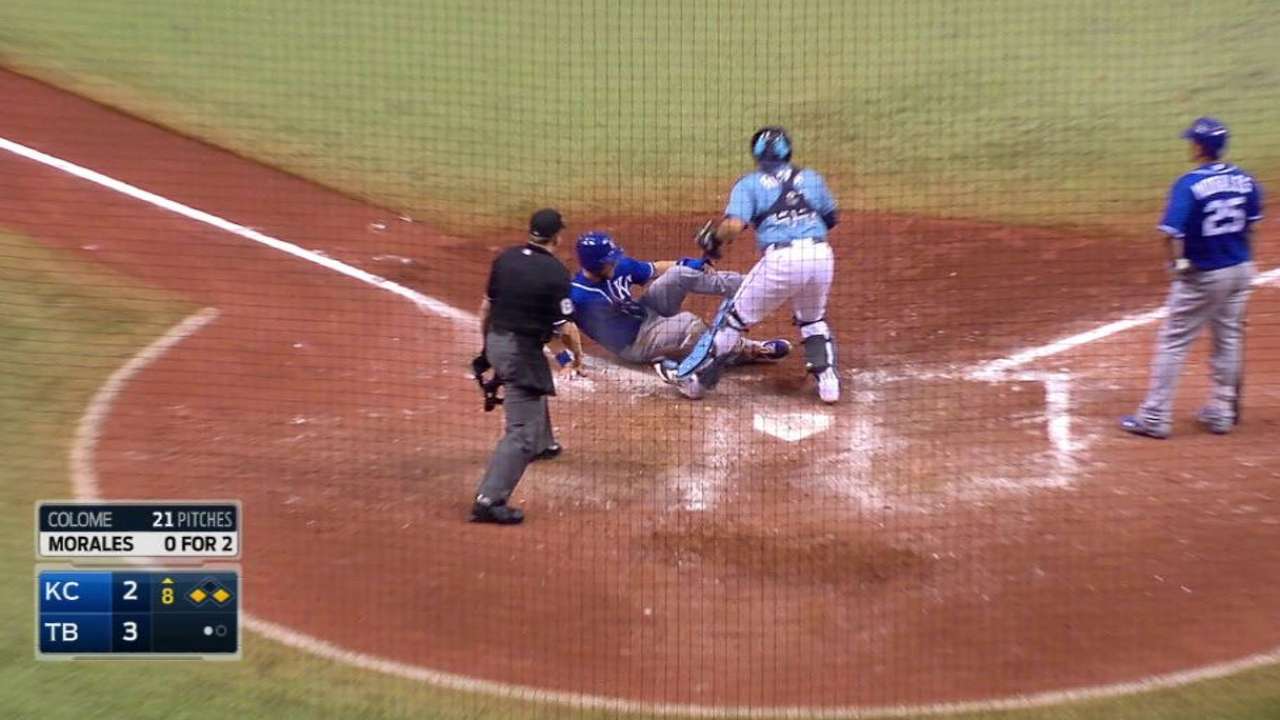 ST. PETERSBURG -- With one out in the eighth inning and runners on the corners during the Royals' 3-2 loss to the Rays on Sunday, Kendrys Morales chopped an Alex Colome changeup near home plate that first baseman James Loney fielded on a hop and fired to catcher Rene Rivera, who tagged out Ben Zobrist to prevent what would have been the game-tying run.
Morales, convinced that the ball had landed foul before arriving in Loney's glove, stood motionless as the play developed. But first-base umpire Alan Porter clearly signaled fair, allowing Rivera to tag out the Royals' designated hitter for an inning-ending double play.
While television replays were inconclusive -- even the Rays' clubhouse was divided as to whether the correct call was made -- one thing was certain: Morales' pivotal grounder, like all balls hit in front of an umpire, was not reviewable.
"In my eyes and in my opinion, it was a foul ball," said Morales through an interpreter. "[Porter] made the call, but the game shouldn't be decided on a play like that.
"It's a little bit frustrating. I think that play should be reviewable," added Morales when asked about the MLB rule that prevented a challenge by Royals manager Ned Yost. "It's not part of the rules but I think that it should be. I don't feel the game should end that way."
Yost saw the replay and was convinced beyond a doubt that Morales read the play accurately.
"[Porter's] judgment was that it was fair, but if you go back and look at the replay, it was clearly foul," said Yost.
Which is why Yost had no issue with Morales remaining in the batter's box as Loney and Rivera combined to execute what would prove to be the biggest defensive play of the game.
"We generally don't run on foul balls," Yost said. "It was a foul ball, so when he hits it, he sees that the ball is foul. It's not a play you instinctively run on."
Morales left three runners on base Sunday, finishing 0-3 with a walk. For the series, the veteran slugger was 3-for-12 with a home run and three RBIs.
Michael Kolligian is a contributor to MLB.com. This story was not subject to the approval of Major League Baseball or its clubs.