Dodgers have pitching decisions coming up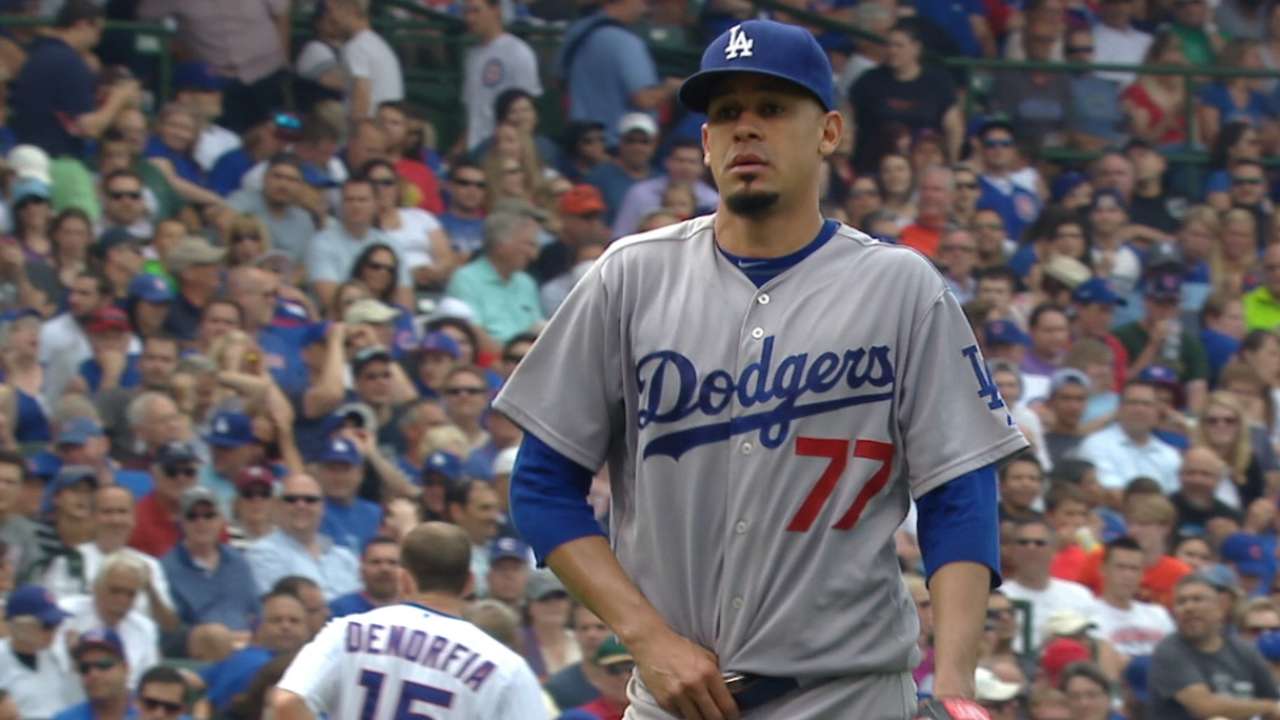 LOS ANGELES -- With the rosters expanding on Tuesday, the Dodgers have some decisions to make about their pitching reinforcements.
A pair of rehabbing relievers, Joel Peralta and Carlos Frias, figure to be a part of the equation.
"I'm not sure exactly what we'll do on [Tuesday]," manager Don Mattingly said. "I'm not sure exactly where they're at with Frias, if they want him to have another outing or two. I think Joel seems like he's ready. There's a few other guys we're talking about."
Peralta has been on the 15-day disabled list since Aug. 11 with a strained neck -- the second time this season that his neck has landed the 39-year-old on the disabled list. Peralta made a pair of rehab appearances for Double-A Tulsa on Wednesday and Friday, recording two scoreless innings.
Peralta owns a 5.40 ERA in 25 appearances for the Dodgers this season, with three saves.
Frias is on the 60-day disabled list with lower back tightness but made a rehab appearance out of the bullpen for Triple-A Oklahoma City on Friday. Though Frias was a starter for much of the year for the Dodgers, he would be in the bullpen for the rest of the season.
Frias was working his way back from injury in early August, but suffered a setback on Aug. 5 that removed him from his rehab start after just one inning.
"We thought he was healthy before," Mattingly said. "I think he's healthy. His velocities are up. If he's not healthy, we won't bring him up."
As for the starting rotation, Mattingly has discussed a six-man rotation to give his starters extra rest, and Mike Bolsinger is making a strong case to join the rotation. Bolsinger fired seven scoreless innings for Oklahoma City Saturday night, striking out 11. Bolsinger posted a 2.83 ERA in 16 starts with the Dodgers before being sent down when the team acquired Alex Wood and Mat Latos.
"[Bolsinger is] a guy we've discussed a lot. The benefits of one more start or having him here," Mattingly said. "I don't think we've finalized exactly who we're bringing, but he's definitely in that conversation."
Worth noting
• Brandon Beachy hasn't pitched since Aug. 19 for Oklahoma City and his season could be over. Beachy "felt something" in his arm that removed him from his last start after just three innings.
Mattingly said Beachy has bounced back and spent some time at the Dodgers' extended spring facility. Although Beachy isn't injured, the club isn't sure what one more start will do for the right-hander with the Minor League season winding down.
"The decision they're making with him is, 'Is it worth making one more start or saying we've had a pretty successful year?'" Mattingly said. "[He's] gotten back to the mound, [he's] gotten back to all this, how does [he] move forward?"
Steve Bourbon is an associate reporter for MLB.com. This story was not subject to the approval of Major League Baseball or its clubs.